She devoted her early years as a straw marqueter to restoring masterpieces from the 18th, 19th and 20th centuries, before deciding to dedicate all of her time to original pieces of furniture, objects and wall coverings. She worked under her own name, Lison de Caunes Créations, as well as in collaboration with some of the world's most renowned designers including Peter Marino, Cabinet Alberto Pinto, Maria Pergay, Hubert le Gall, Vincent Darré and Mathieu Lehanneur.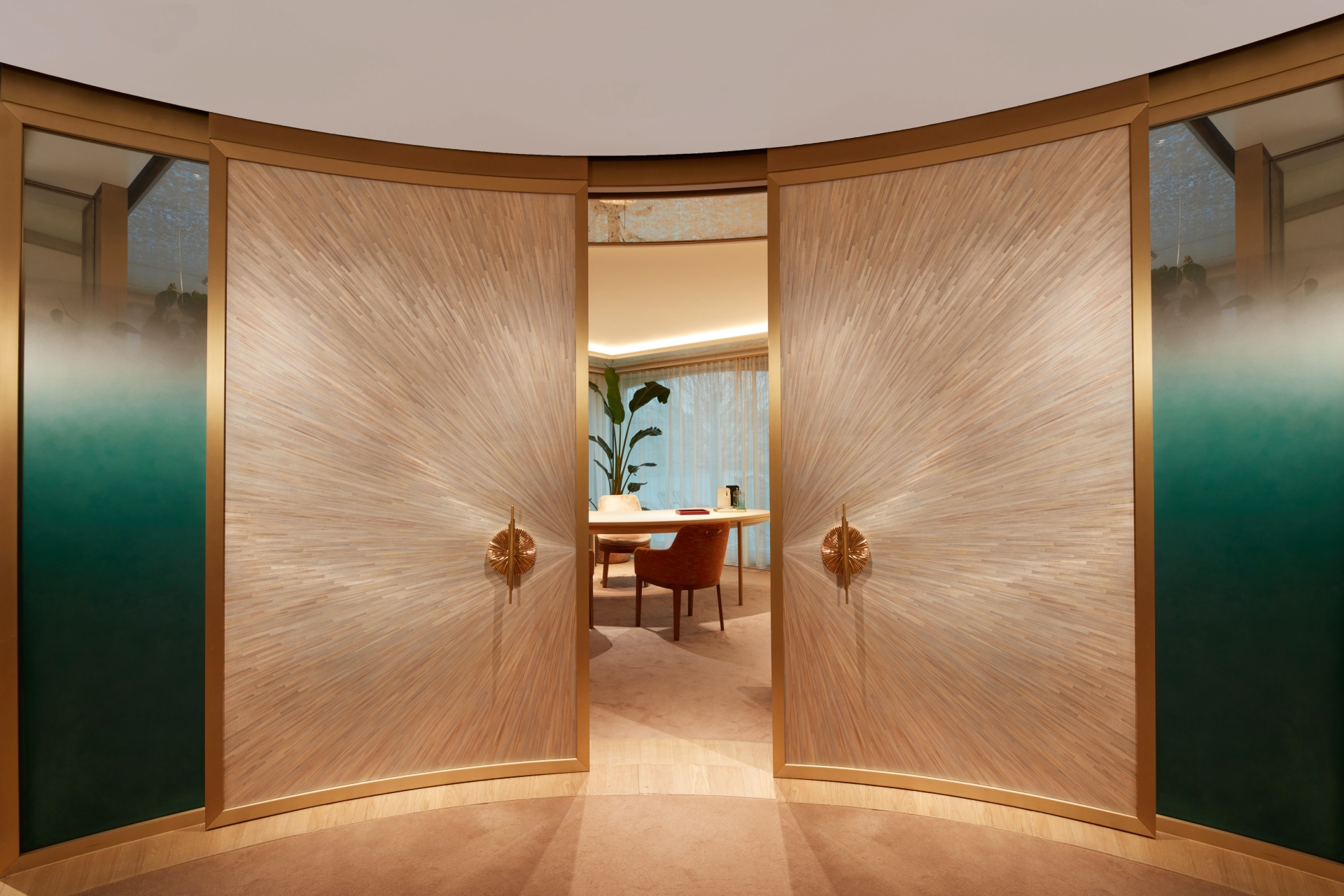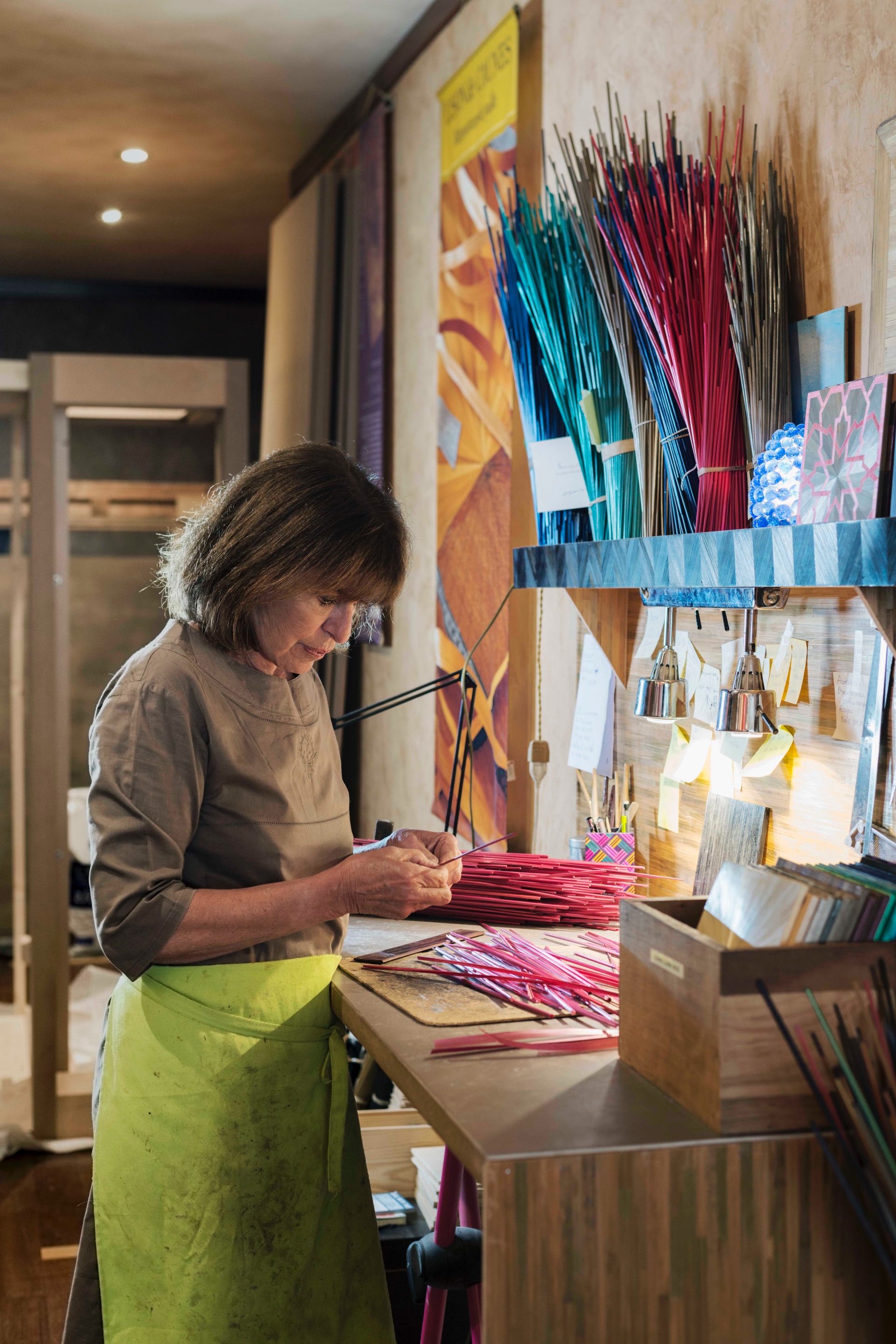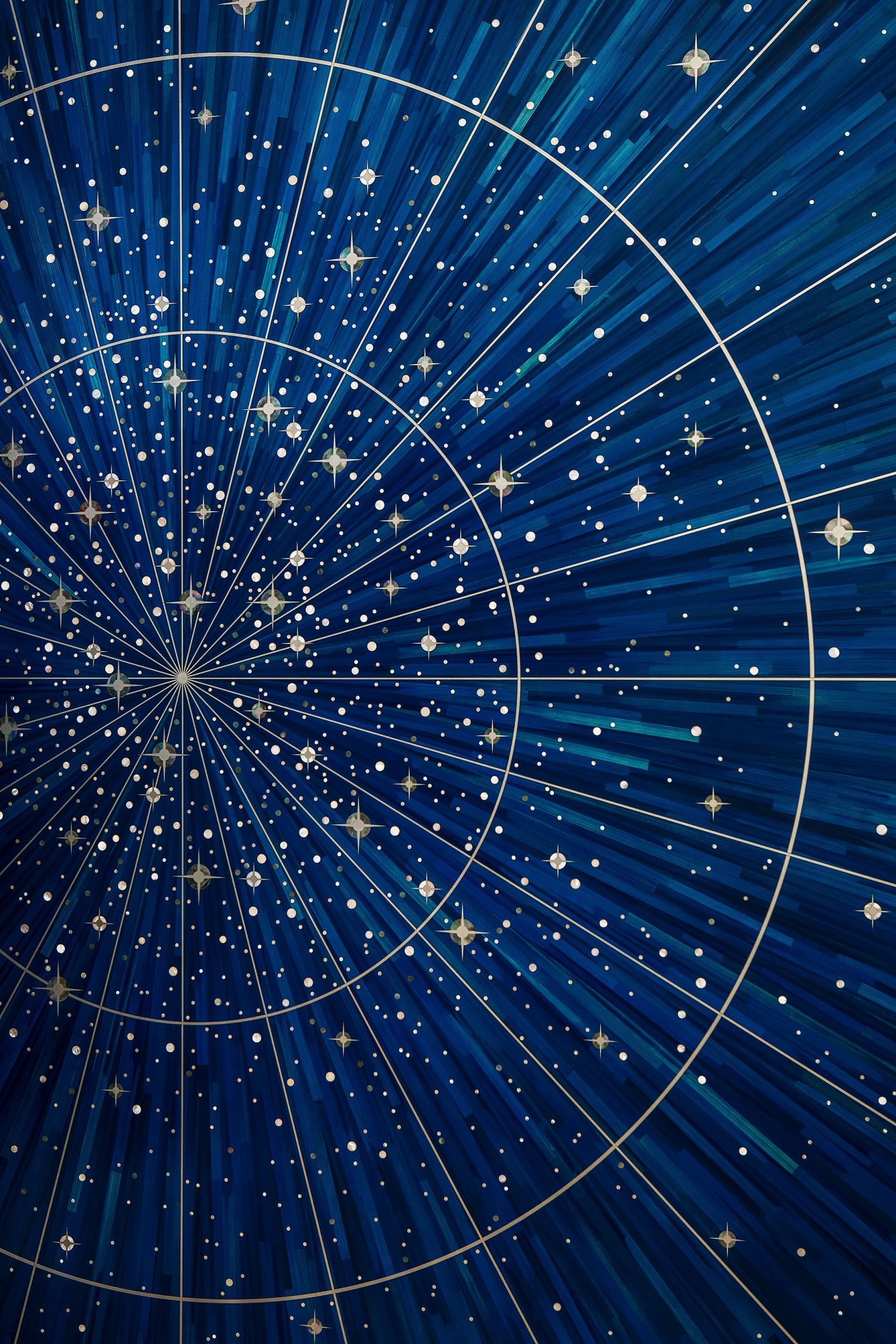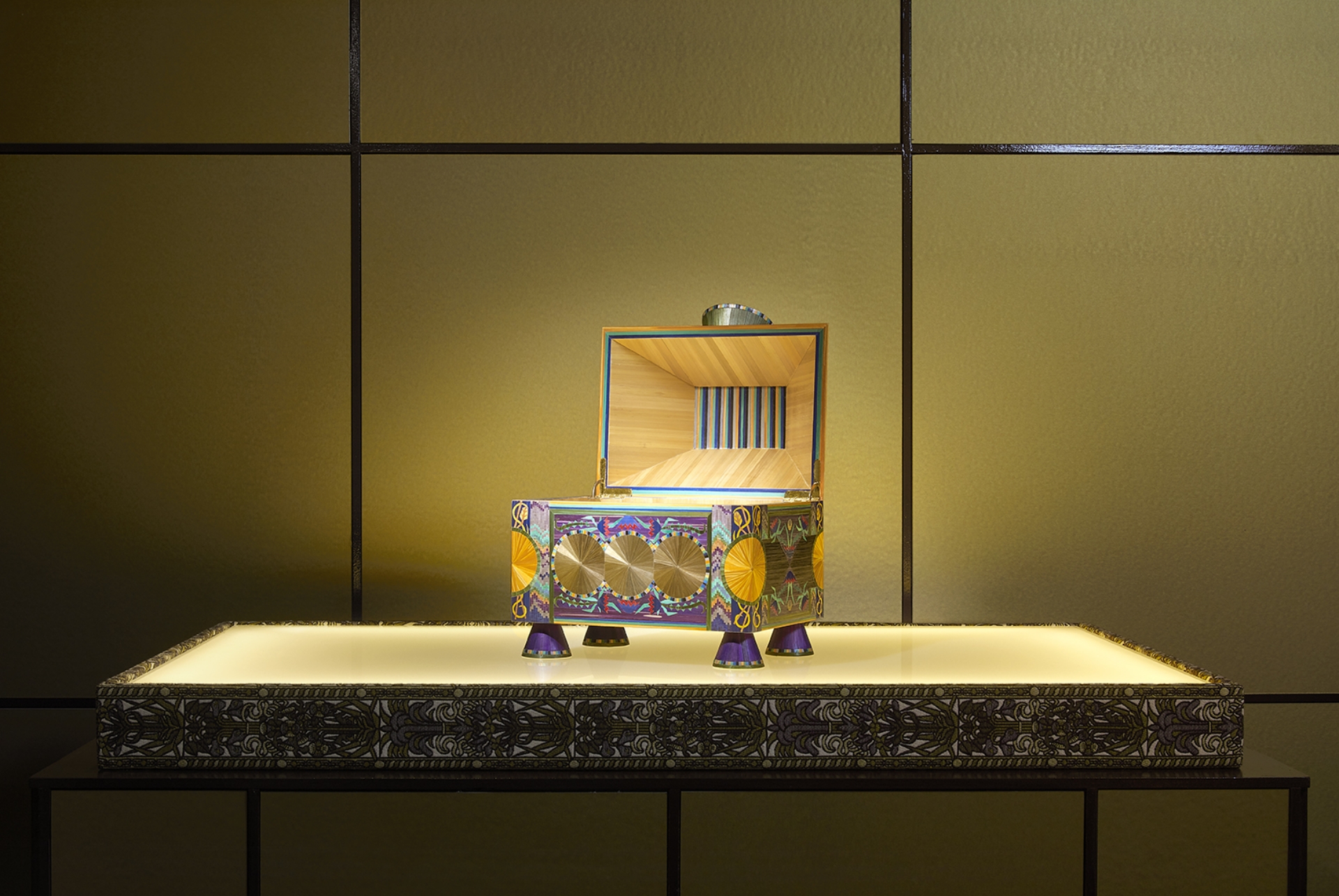 A number of luxury brands have commissioned her to create pieces for their flagship stores: the Guerlain parfumerie on the Champs-Élysées, the Louis Vuitton store on Place Vendôme, the Four Seasons Hotel in New York, just to name a few. Throughout the years, Lison de Caunes has continued to innovate and develop her craft, with her technique remaining entirely artisanal. Shimmering colours, poetic decors, textural effects... She has wonderfully modernised the art of straw marquetry. Associated with gold leaf, mother-of-pearl and molten glass inlays, she transforms this ancient material into precious objects, audacious formal innovations, and trendy motifs. On a dresser, straw marquetry becomes three-dimensional thanks to the "pointe-de-diamant" technique. On wall panels, it becomes a milky way of mother-of-pearl, aluminium stars and laser cut constellation inlays. In lighting, Lison de Caunes has also worked with Ozone on their minimalist lighting design to create bedside lamps, ceiling lights, and lamp stands.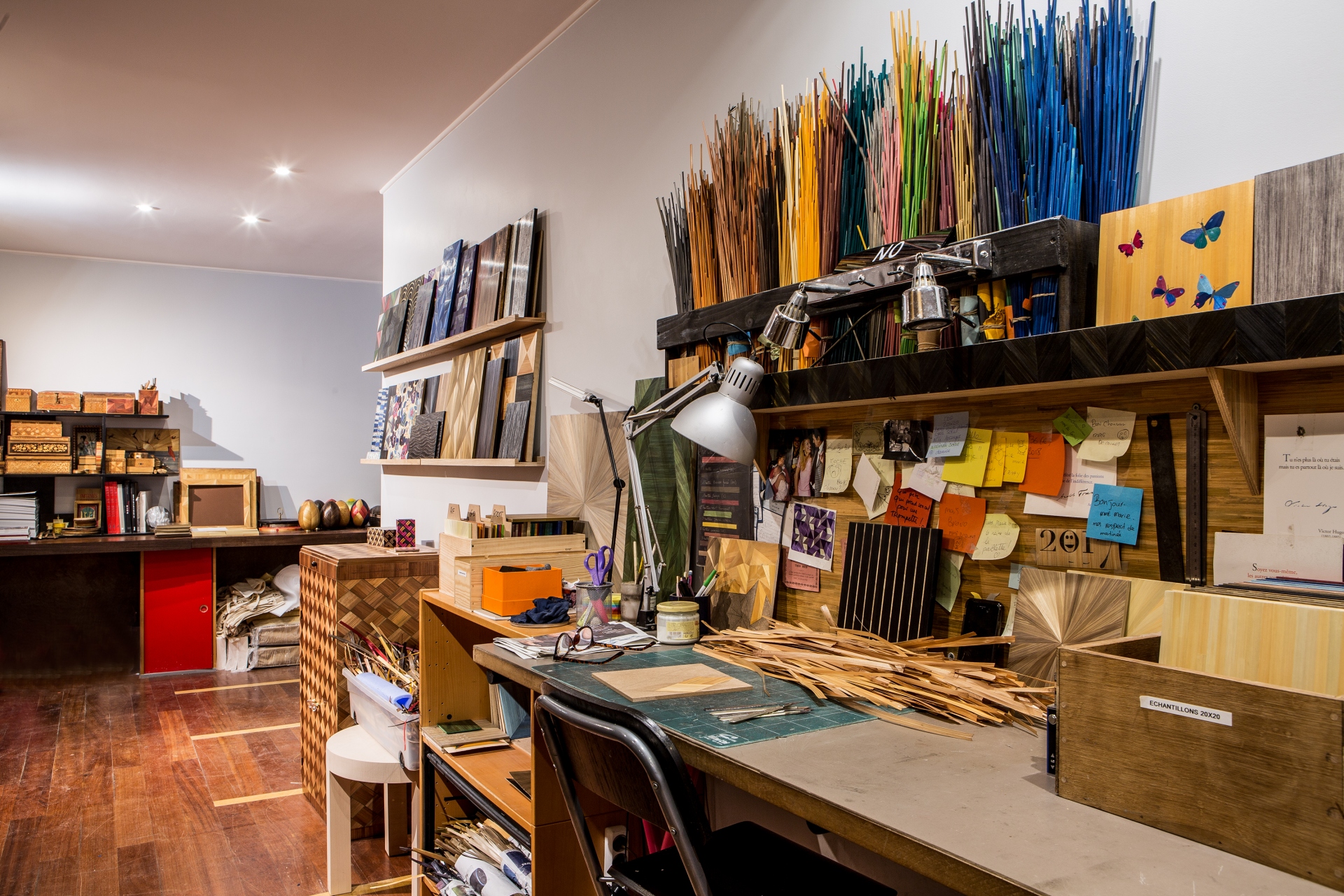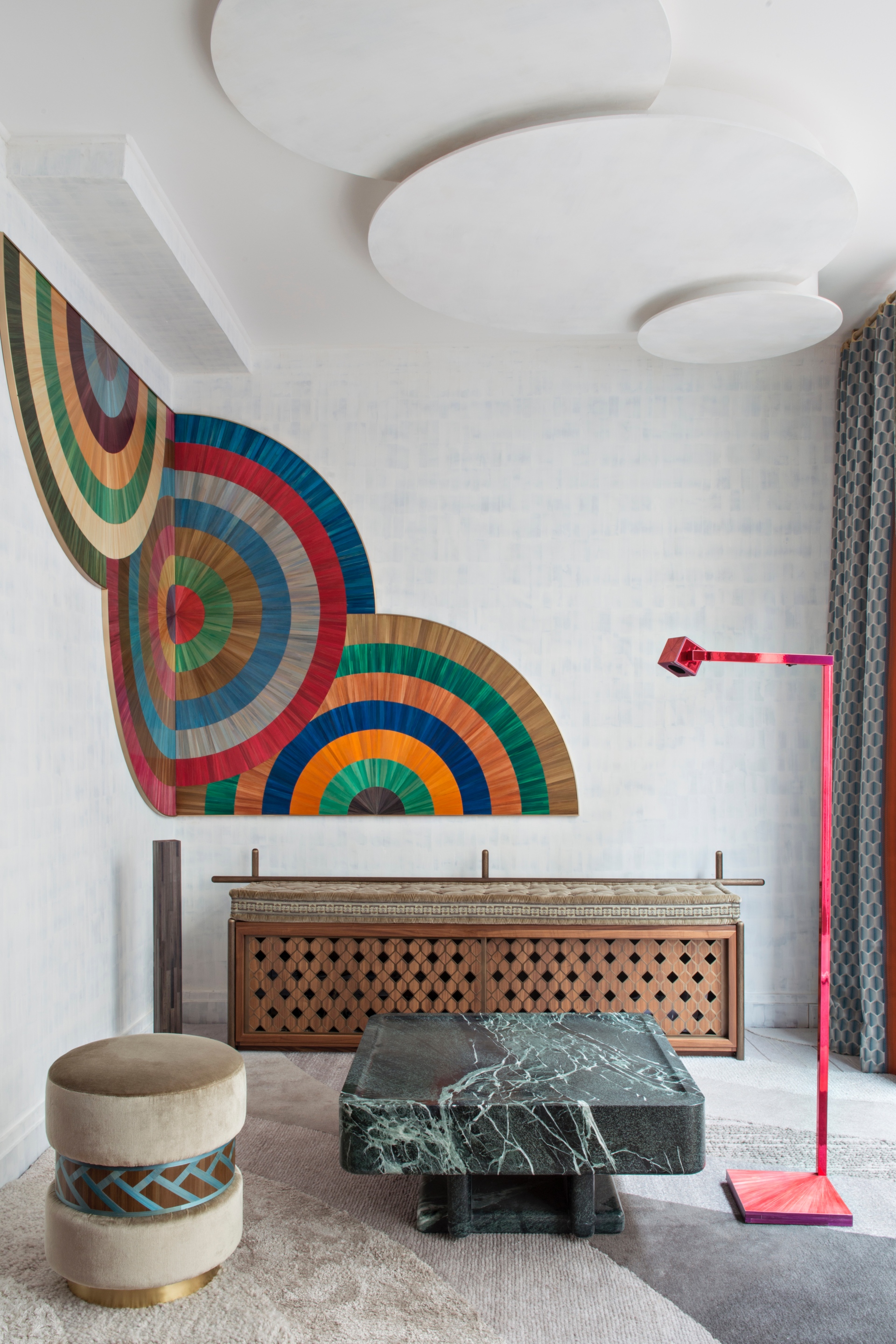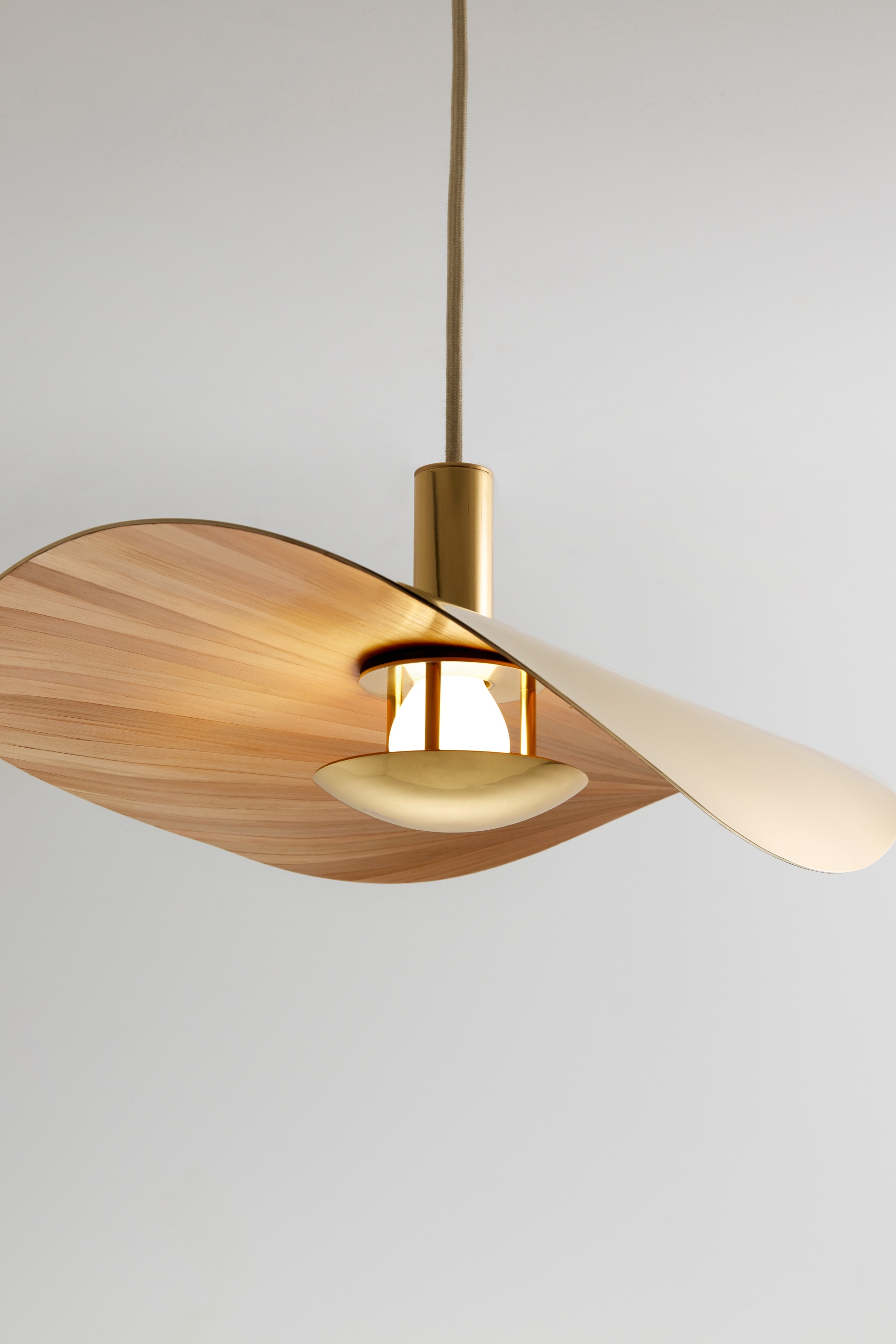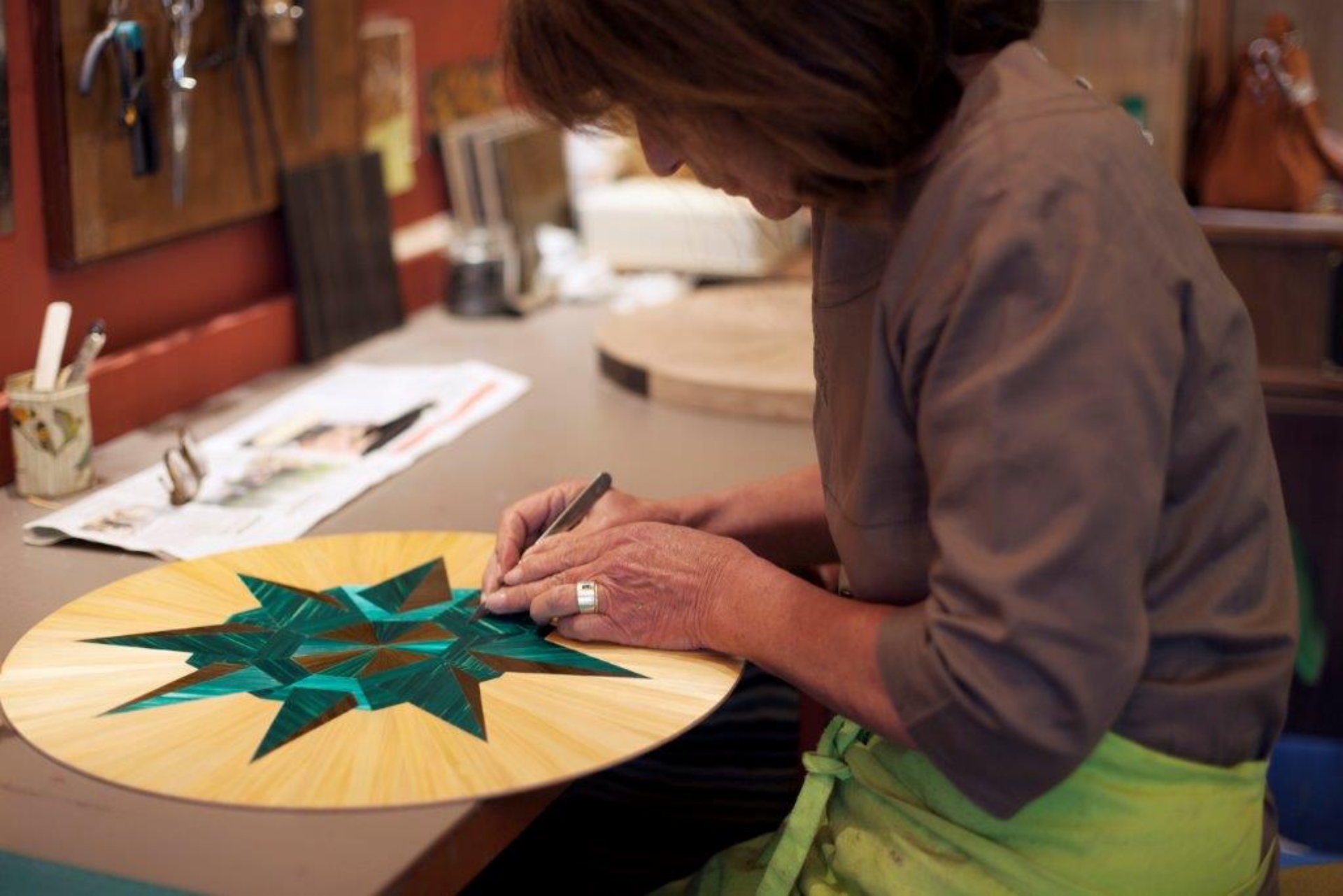 Having a grandfather who was a well-known decorator and one of the biggest names of the Art Deco movement, did you ever consider pursuing other possibilities/professions or was it more of a natural evolution for you to become a designer / artist?
I always was attracted by the manual work, craftsmanship and the materials my grandfather worked with such as sharkskin, parchment, or straw marquetry. Right after high school I had already oriented toward creative studies as I graduated from the Union Centrale des Arts Décoratifs in bookbinding and gilding. So, I guess I never thought of doing something not related to craftsmanship and working with my hands. I specialised in straw marquetry after a few years of owning my own workshops, most certainly inspired by my grandfather's work of course and because it is the material I really preferred. Also, the book binding tools were similar to working with straw marquetry, so it was easy to start.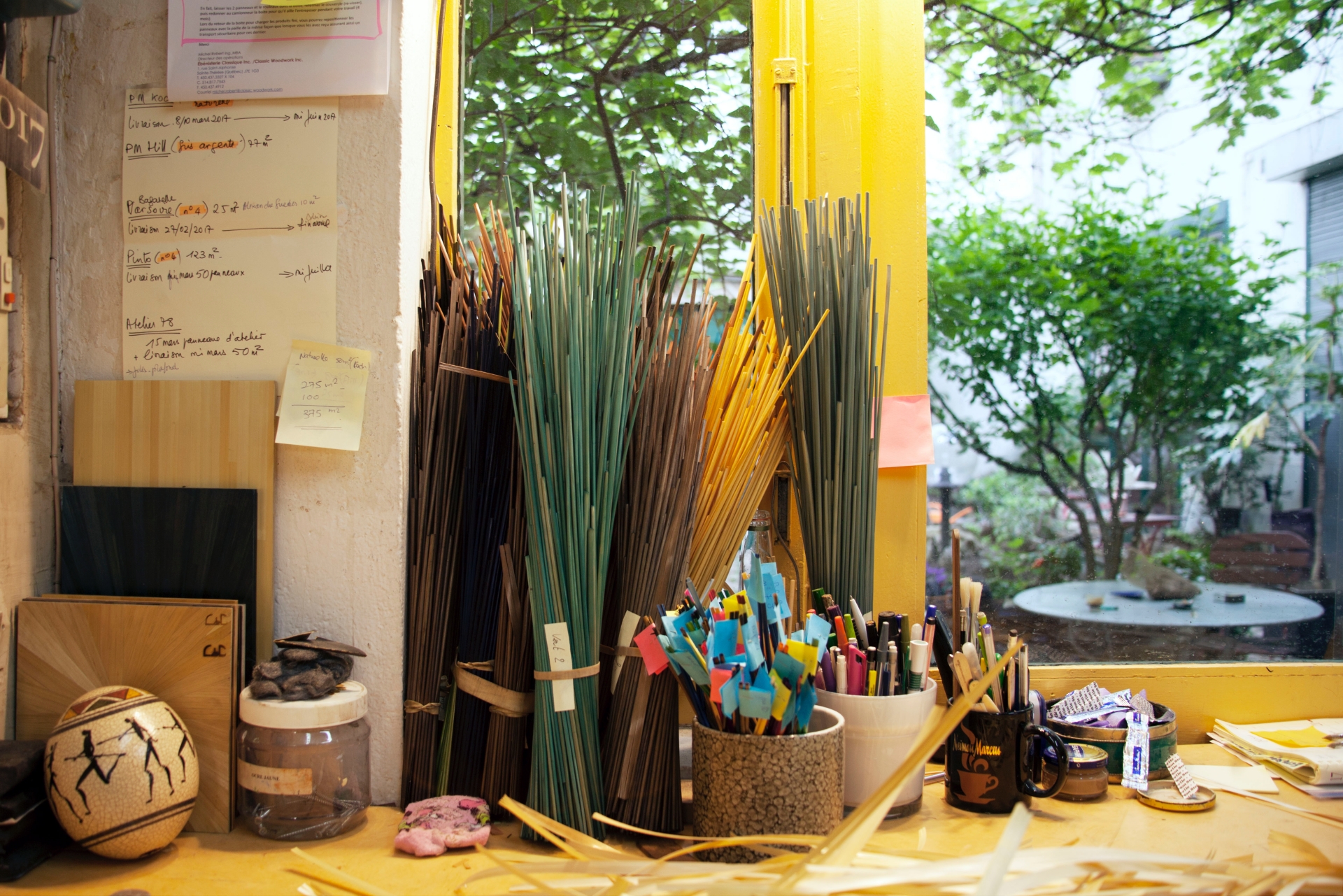 What's so fascinating about straw marquetry to you?
Throughout the history of straw marquetry, the technique has remained entirely manual. This means that the work requires an enormous amount of skillful craftsmanship. I think that straw marquetry is one of the only materials today that brings such a shine without a glittering effect and without adding varnish. The technique does not require water or machinery (no electricity) which makes it a low carbon footprint technique. Despite its seemingly fragile appearance, straw marquetry is much more resistant than you might think, making it a suitable material for wall applications as well as furniture.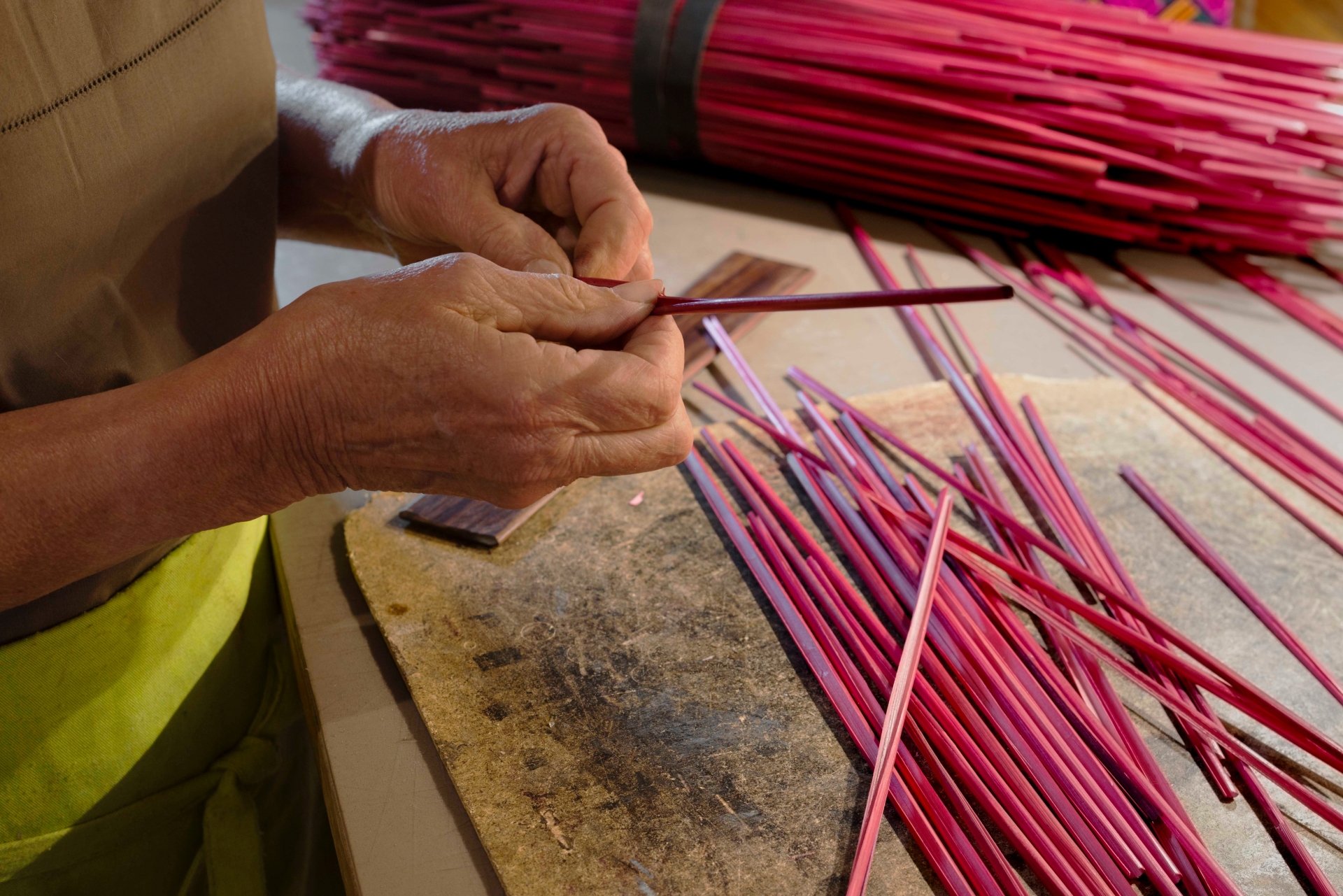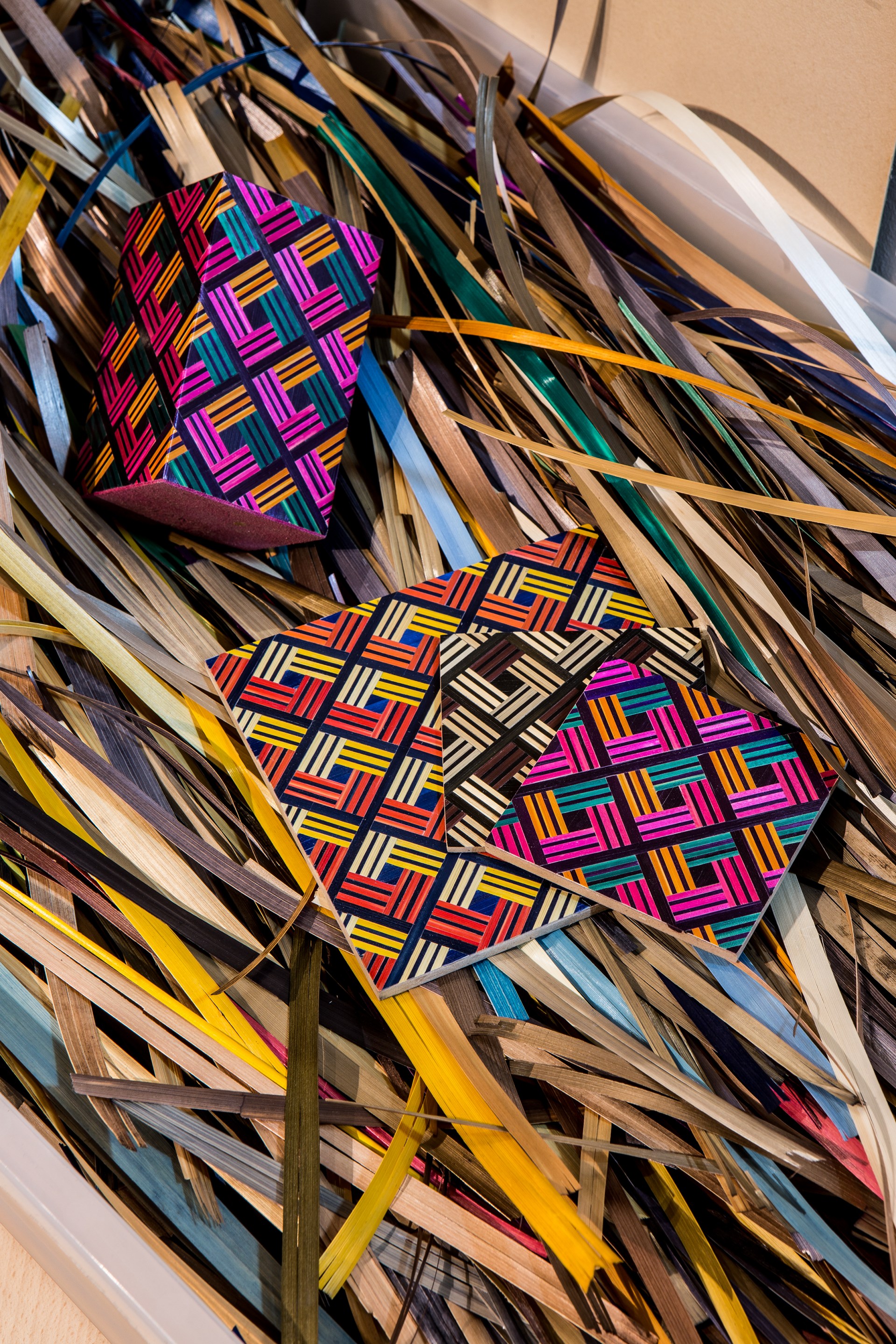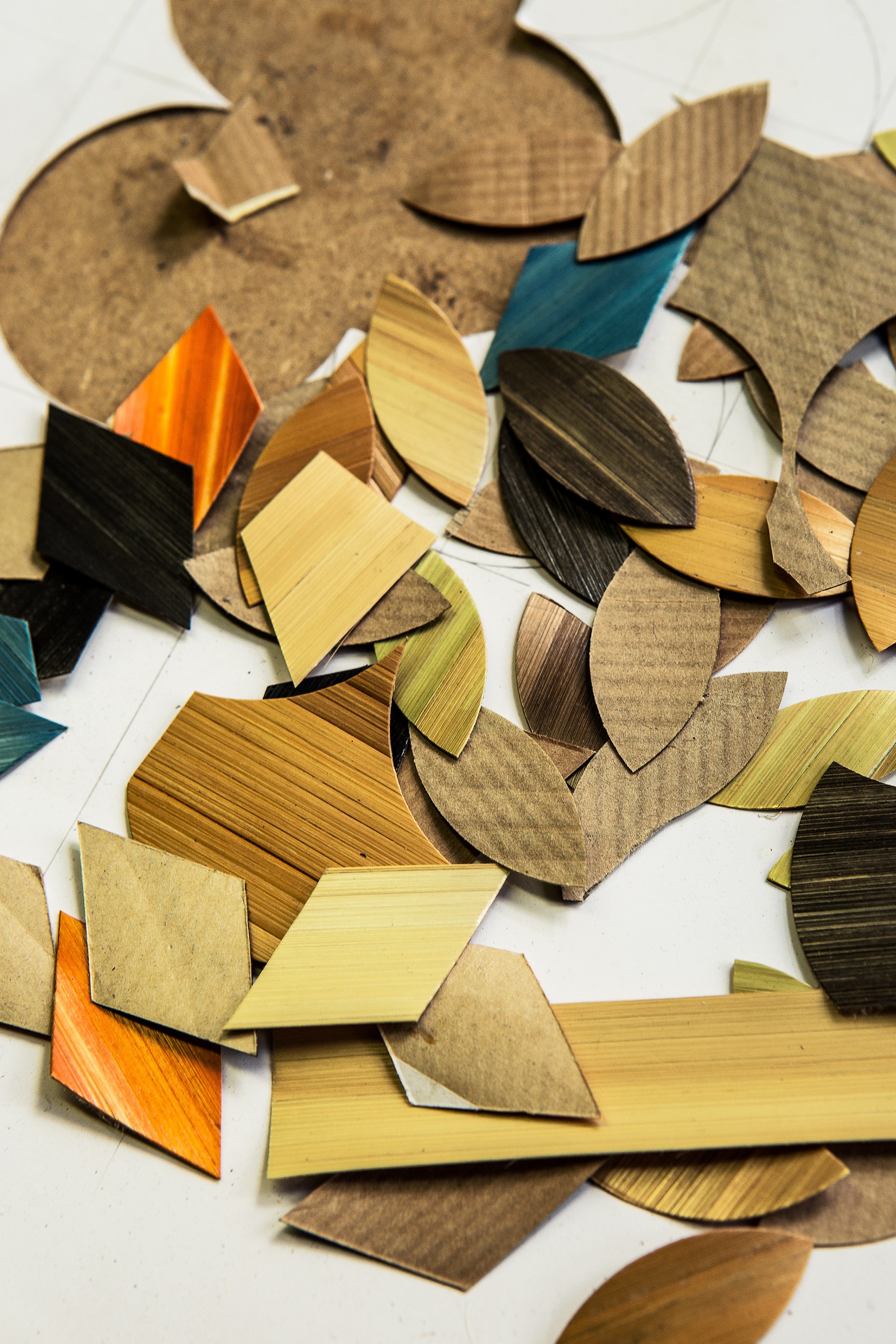 I am also fascinated by all the different things we can do with straw marquetry. One day I made a small egg, the day after a big piece of furniture and months later 200 square metres of wall panels! I love the fact that straw marquetry is based on a very simple and humble material and that it can be entirely transformed into something so luxurious and precious only with the help of the artisan's hands.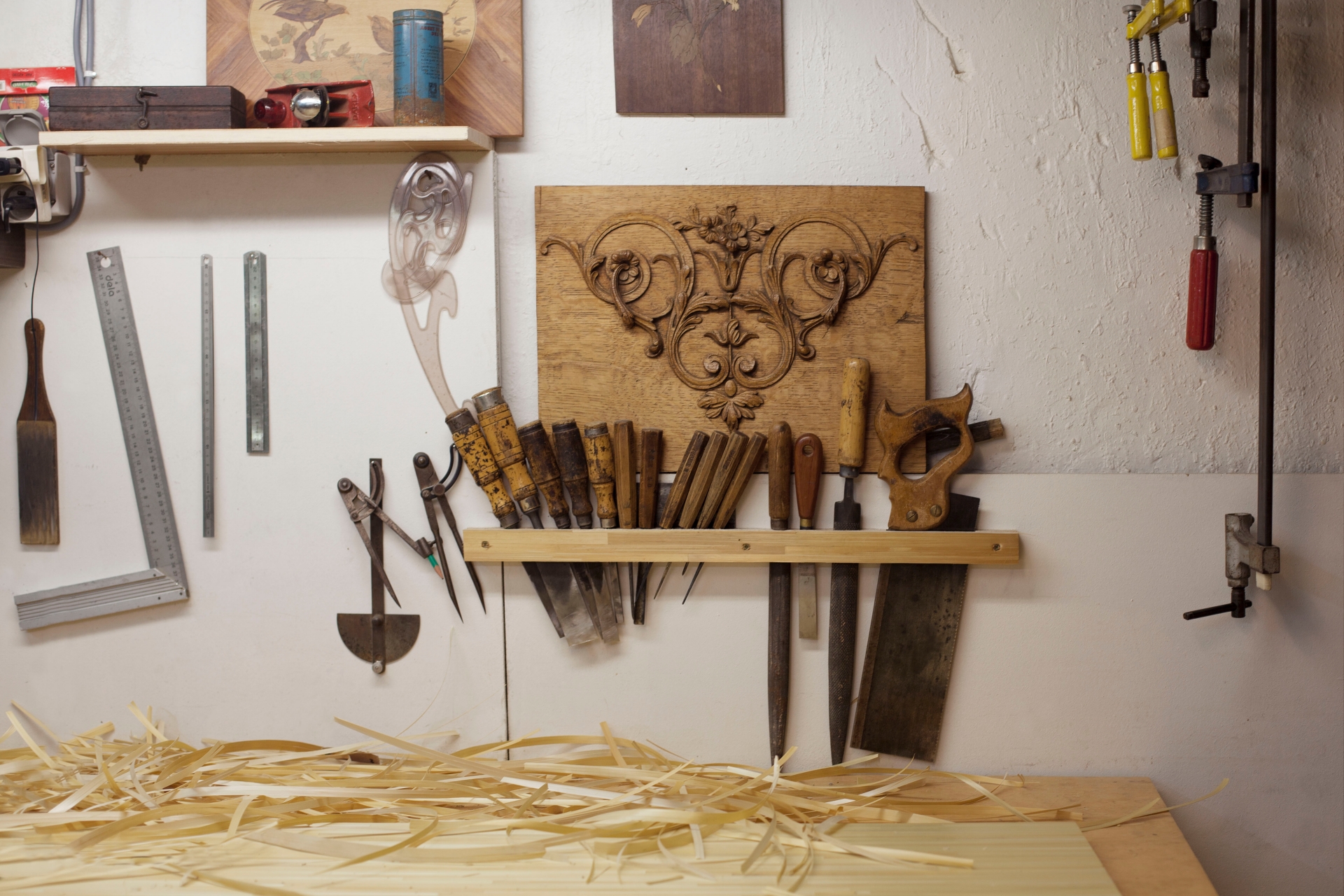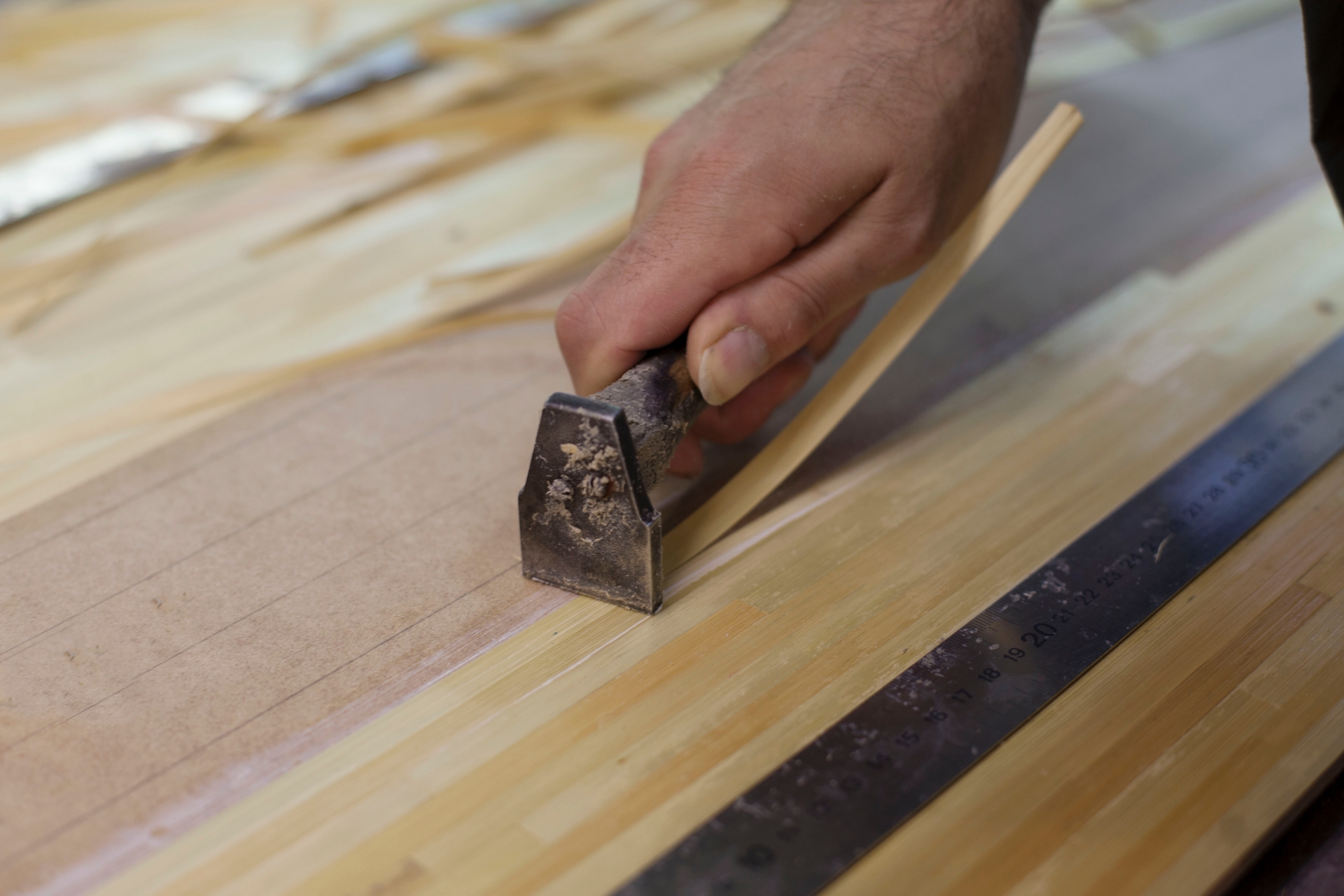 What are the repeated motifs or themes in your work?
Everything Art Deco! When I started and for several years afterwards, I only worked on projects that had a very art deco style because straw marquetry was a material only known by interior designers who had an interest in this period and therefore knew this material that was used a lot by Jean-Michel Frank and of course André Groult. Straight straw, sunburst, chessboard, and fans are what I did on every project for many years. Since my daughter Pauline joined me in 2018, she has tried to modernise straw marquetry and develop a lot of new patterns, new material associations and we now create motifs that have never been seen in straw marquetry before and that I think people didn't even think we could do!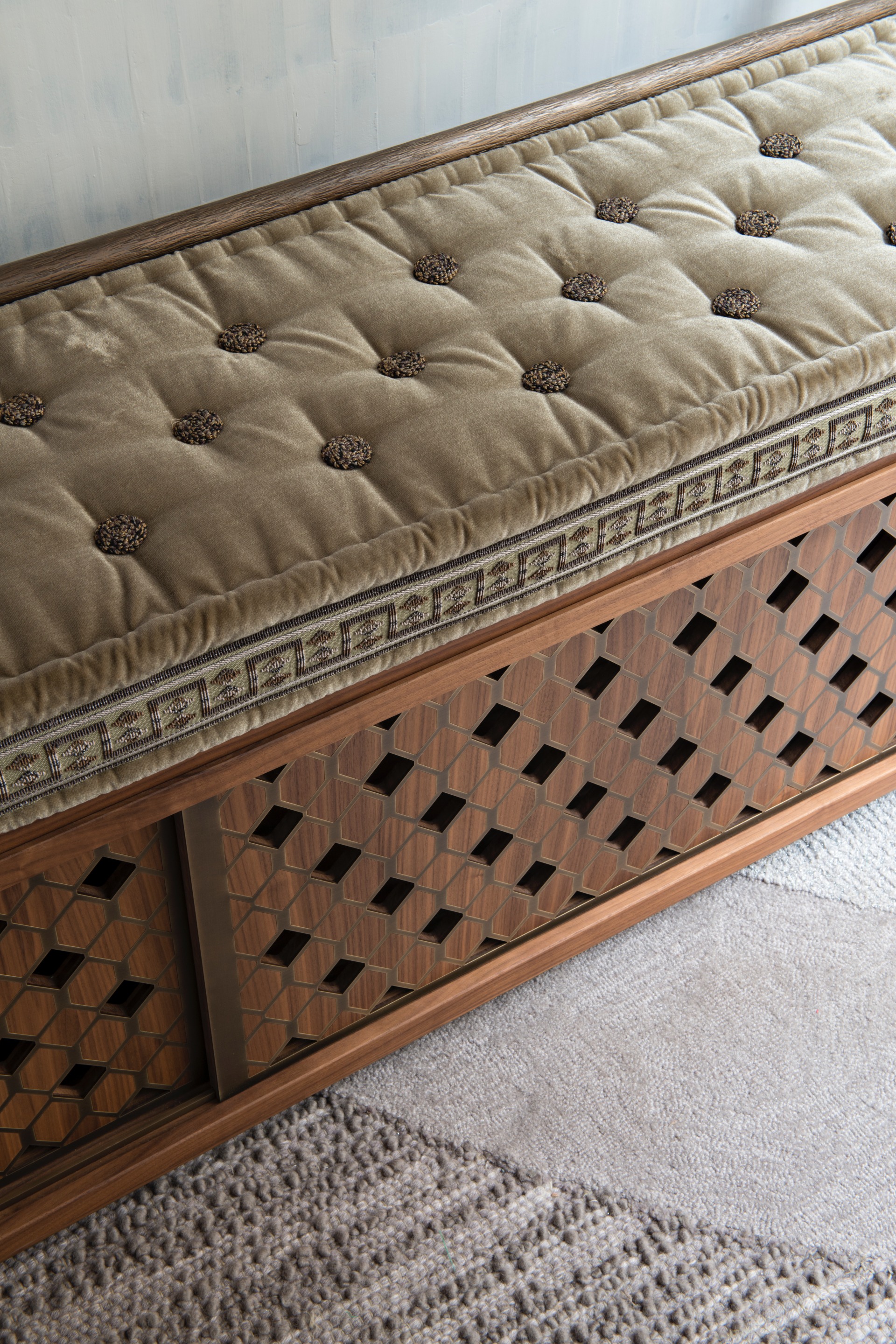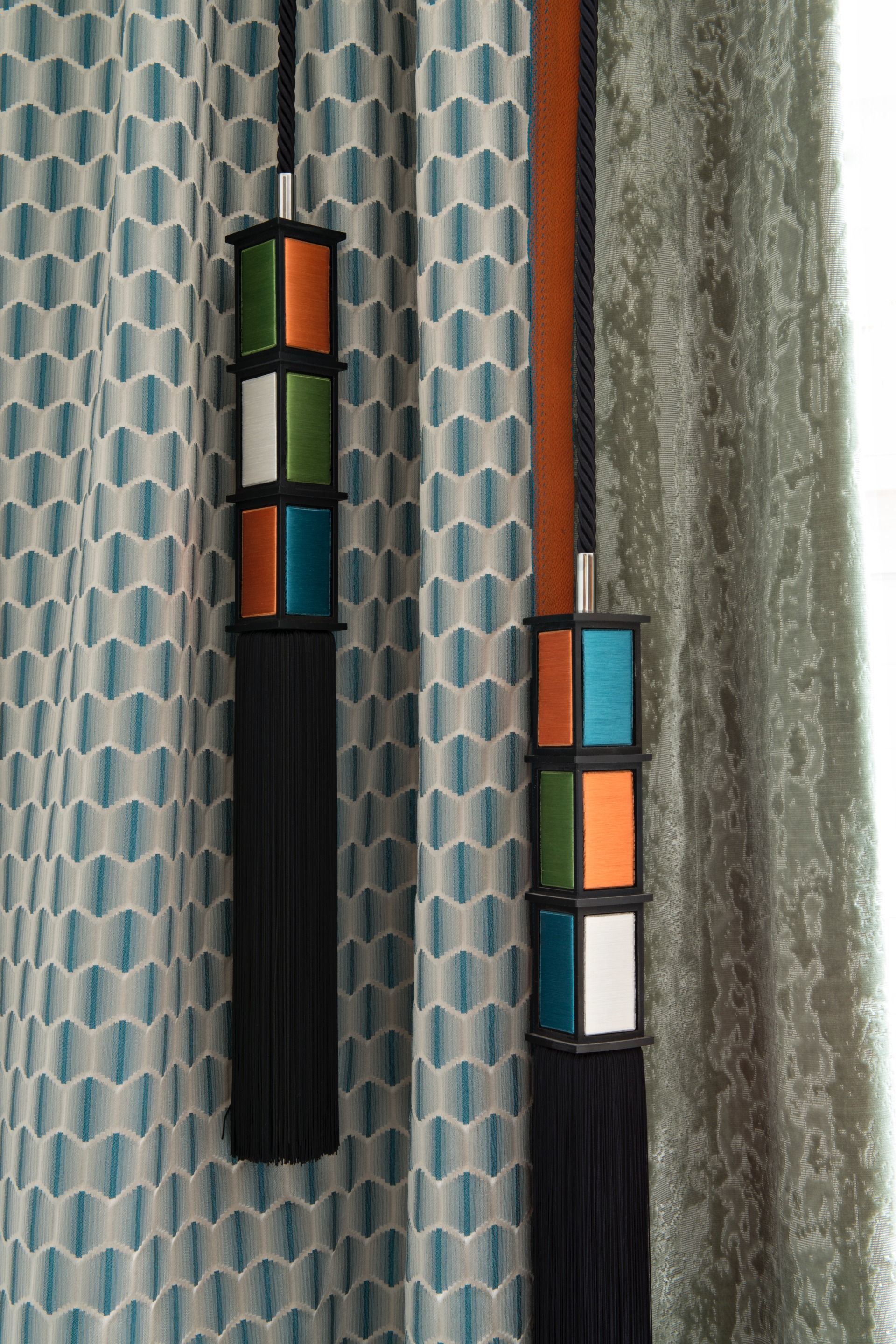 For the House of Cartier project in Geneva, how did the collaboration begin and what were the main messages / feelings the client wanted to prevail through the design and decoration?
We have been working with Moinard Betaille, who did this boutique for a while now on different Cartier projects. I think they wanted to have a panel that would look like an art piece while keeping the spirit of Cartier. This is why the straw marquetry with the panthers in lacquer by Anne Midavaine was an excellent idea.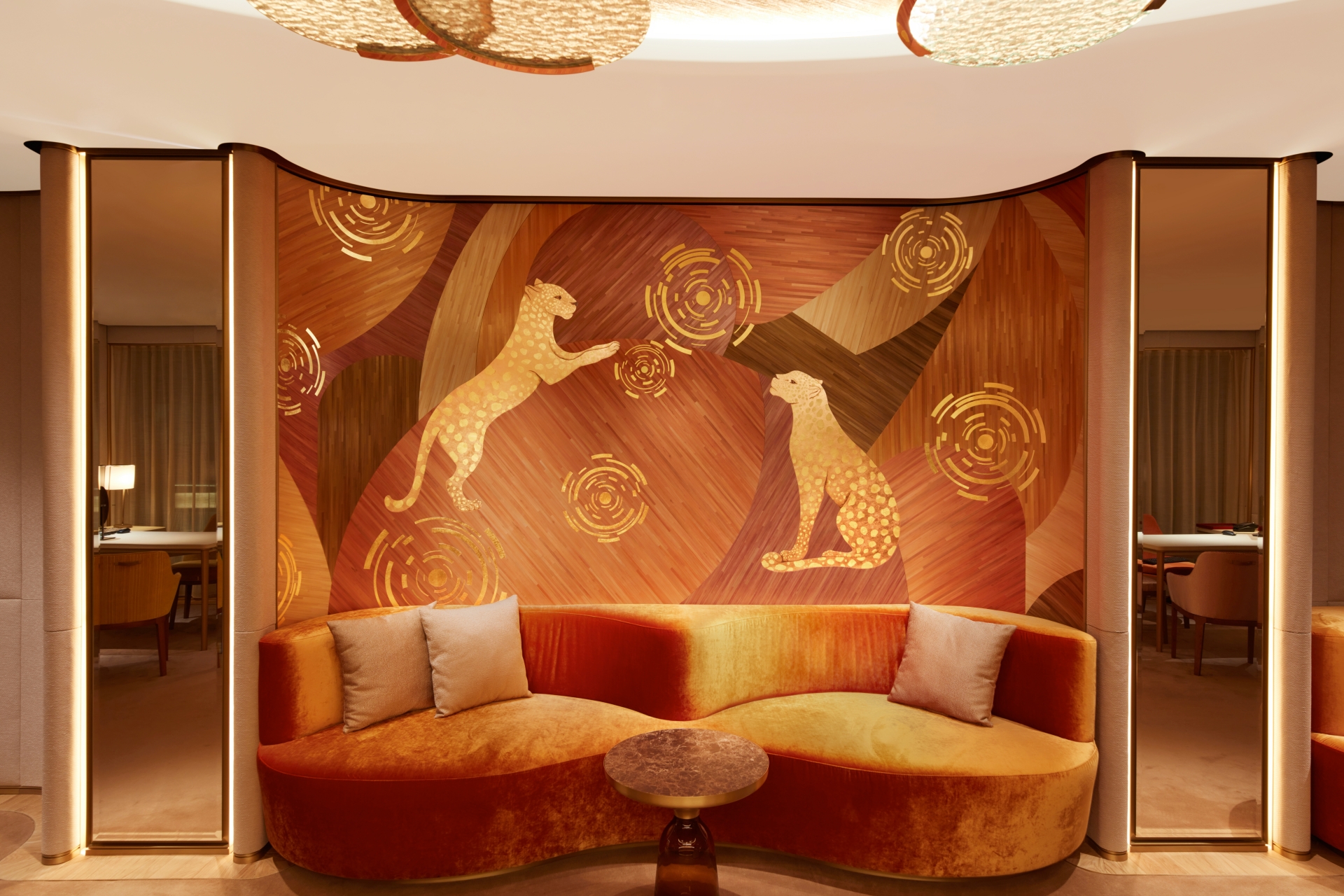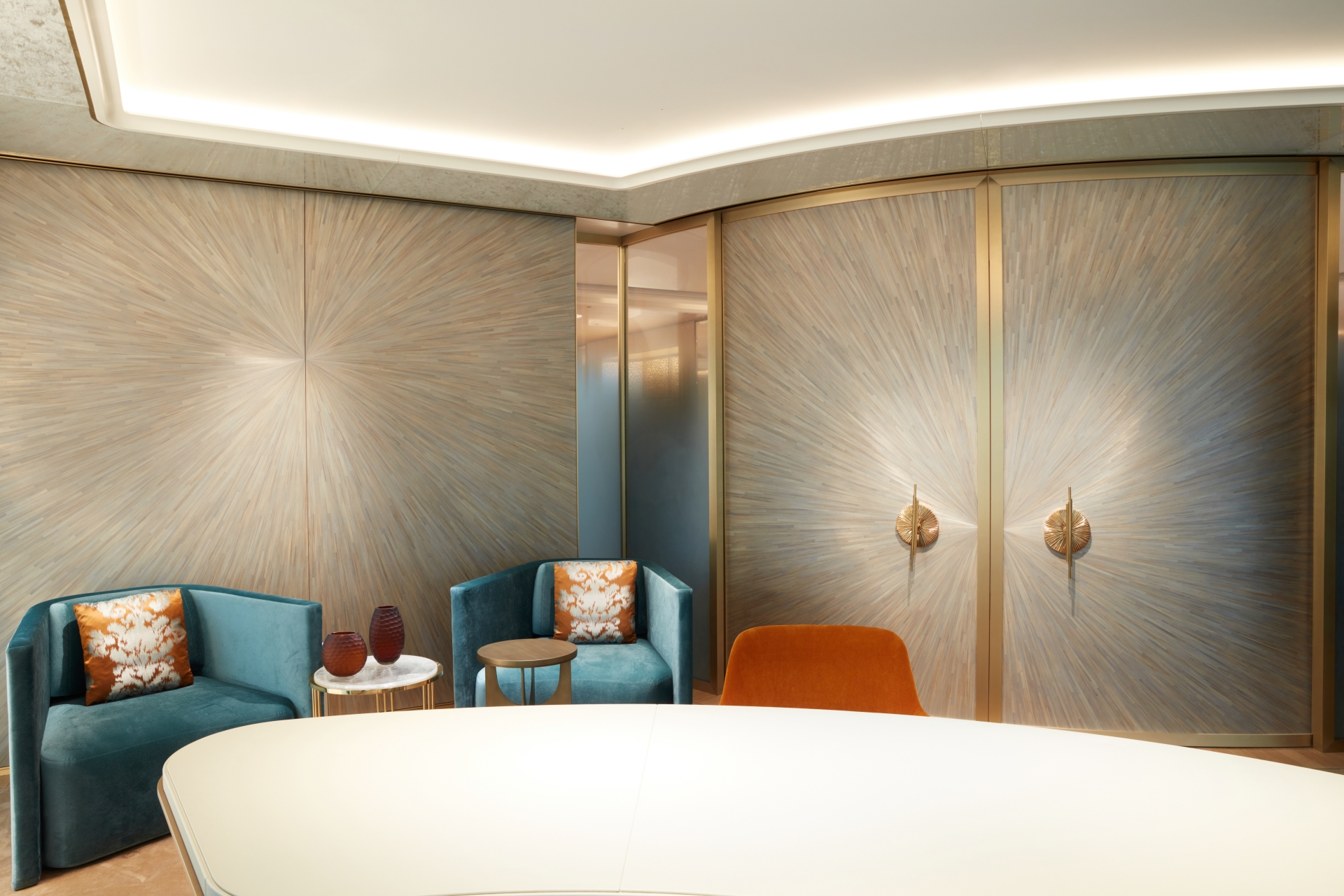 As for the big sunburst doors, I feel like it gives so much light to the space when coming up the stairs. The fact that the marquetry is applied on curved panels also gives a very nice sense of movement and makes the straw play with the light a lot. It allows a surface to be very luxurious without being tacky which I think is one of the main qualities of Cartier.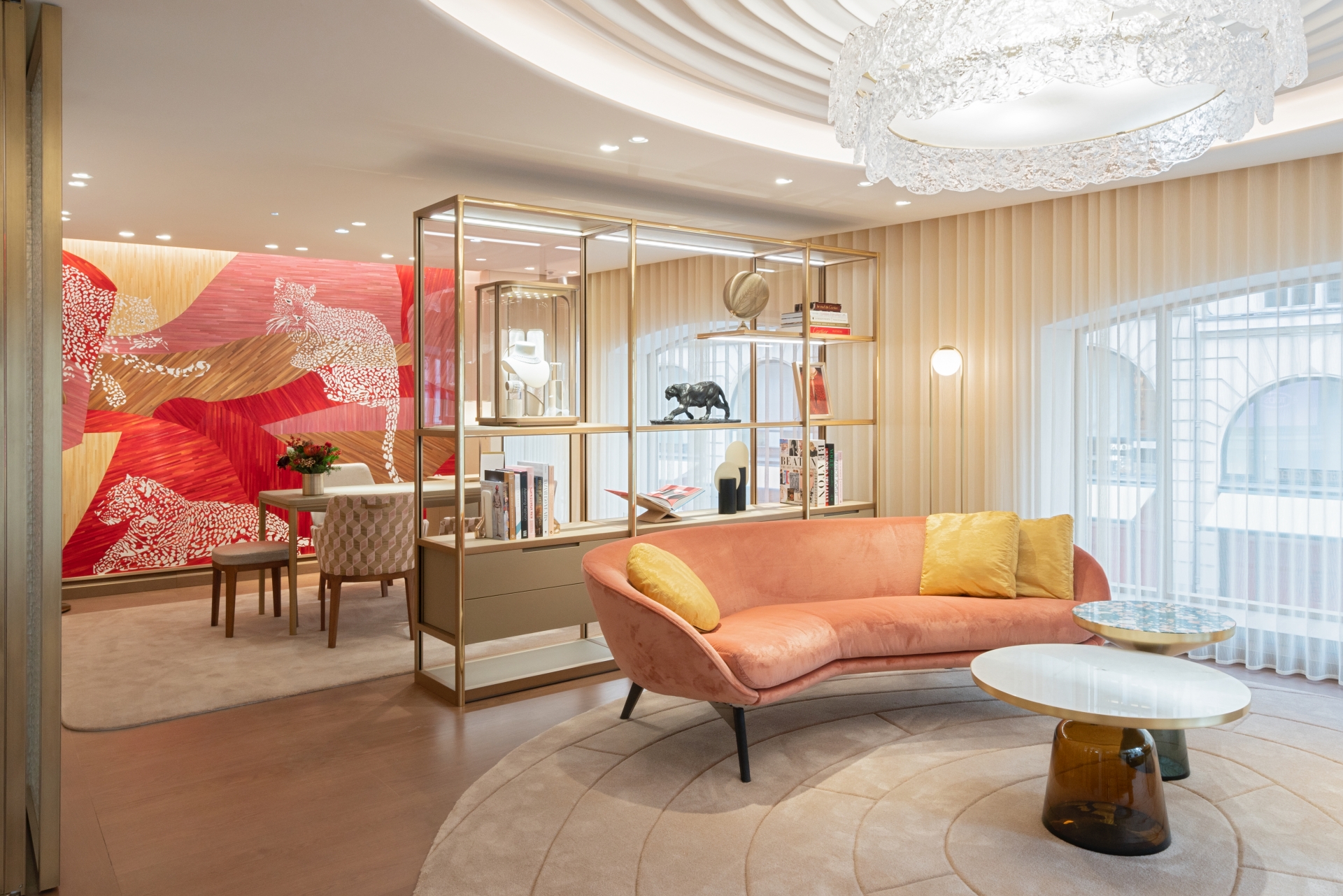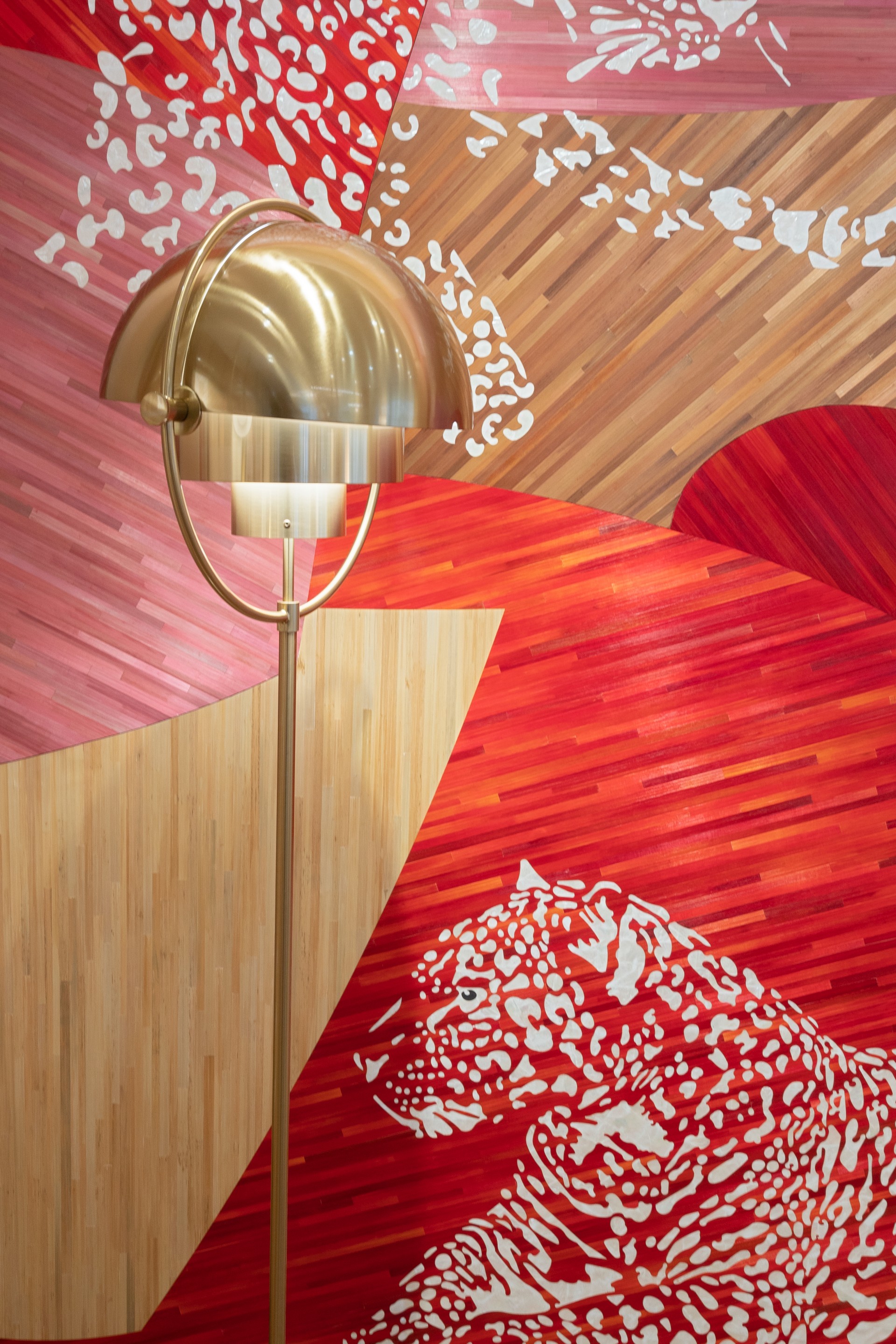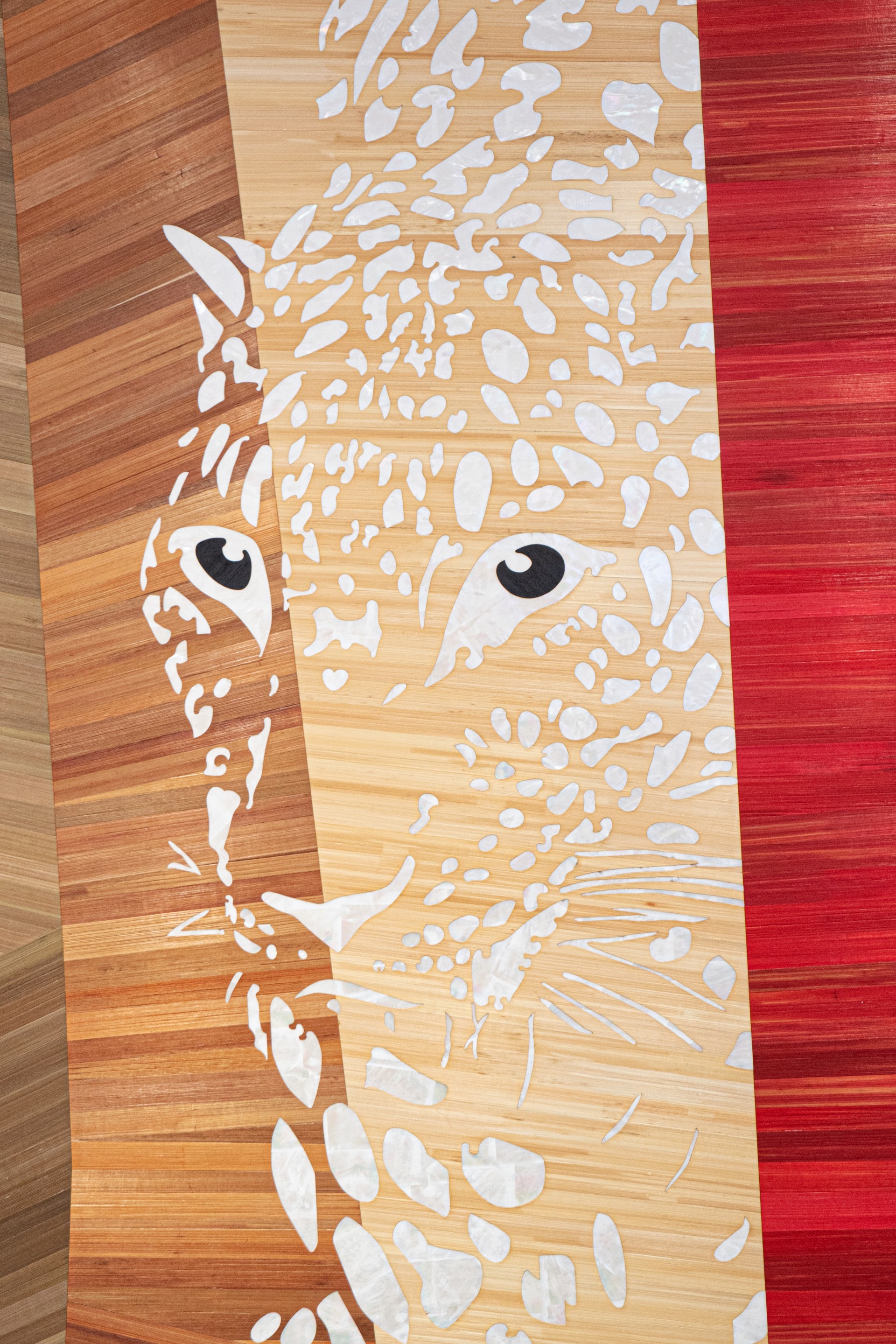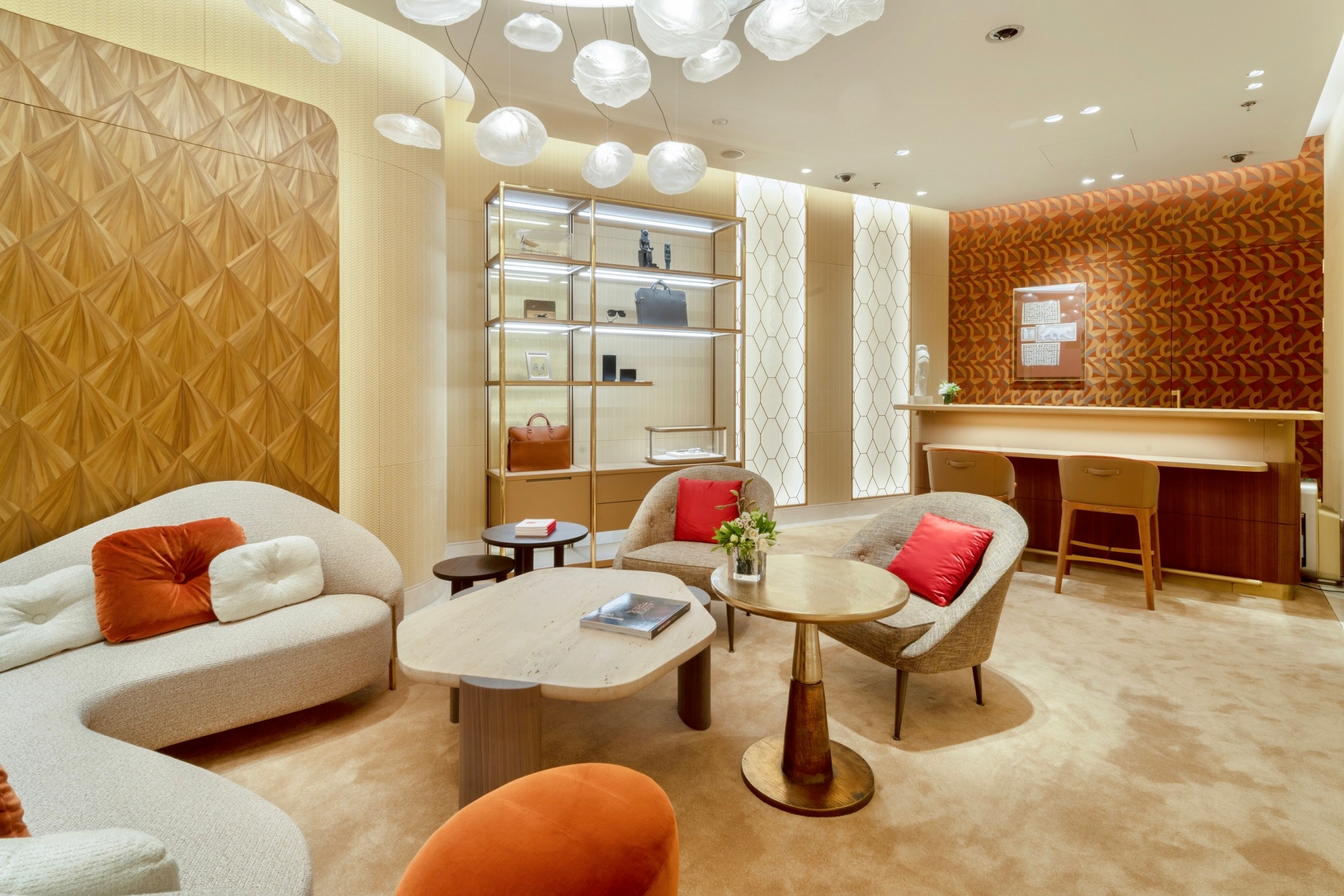 Could you please tell us about your most significant commissions?
About 15 years ago, Leila Menchari who created Hermes windows for years reached out to me and asked me to create eight Hermes squares entirely in straw marquetry in three months! This was crazy but I of course said yes. We worked almost day and night for this project, but the result was absolutely unique and breathtaking. More recently my friend and artist Pierre Marie also contacted me to create a mind-blowing little coffret with a crazy pattern inspired by the antique straw marquetry coffret I had from the 18th century. Those two projects were extremely challenging, but this is what makes them exciting, and I love to be challenged!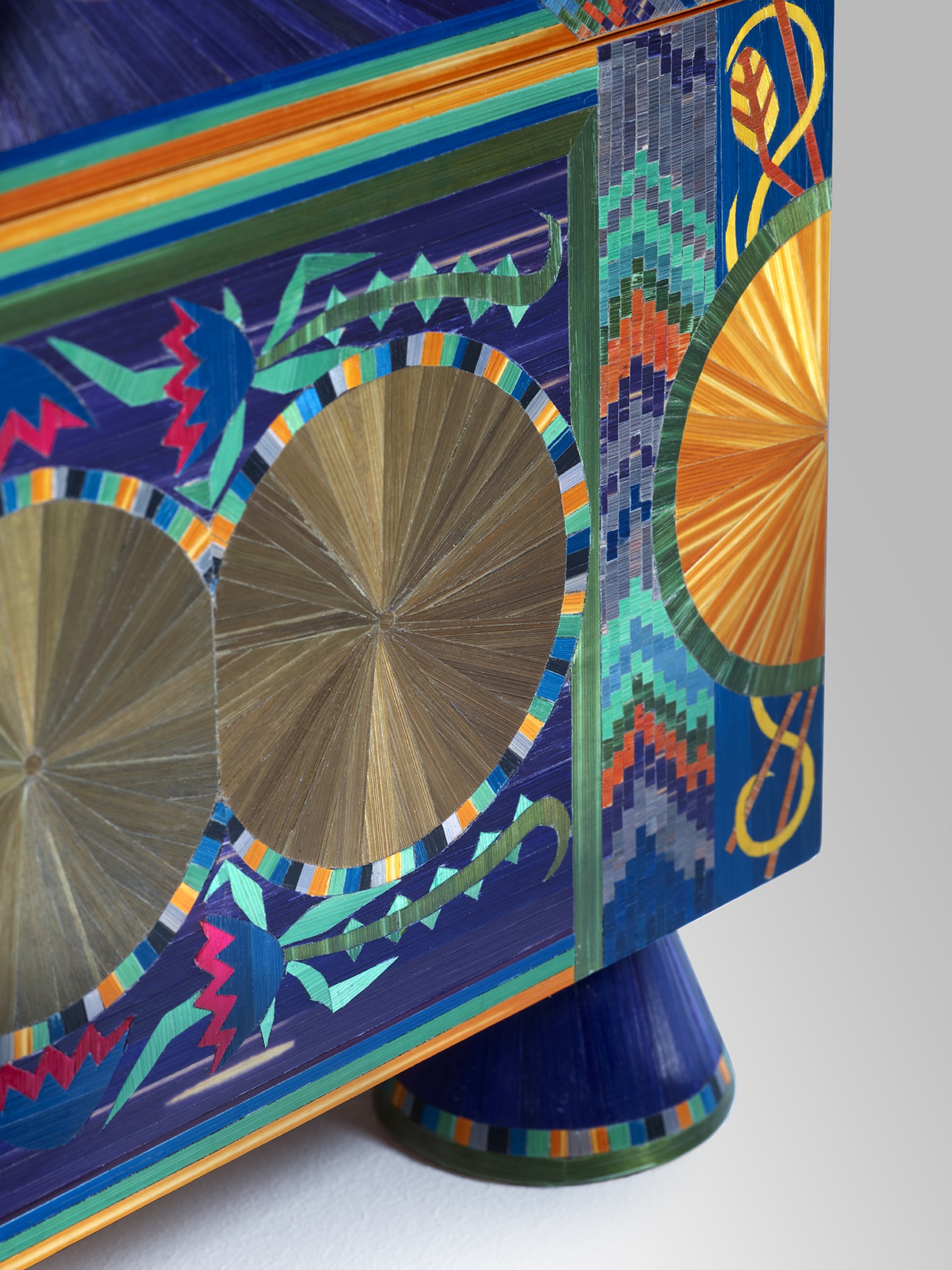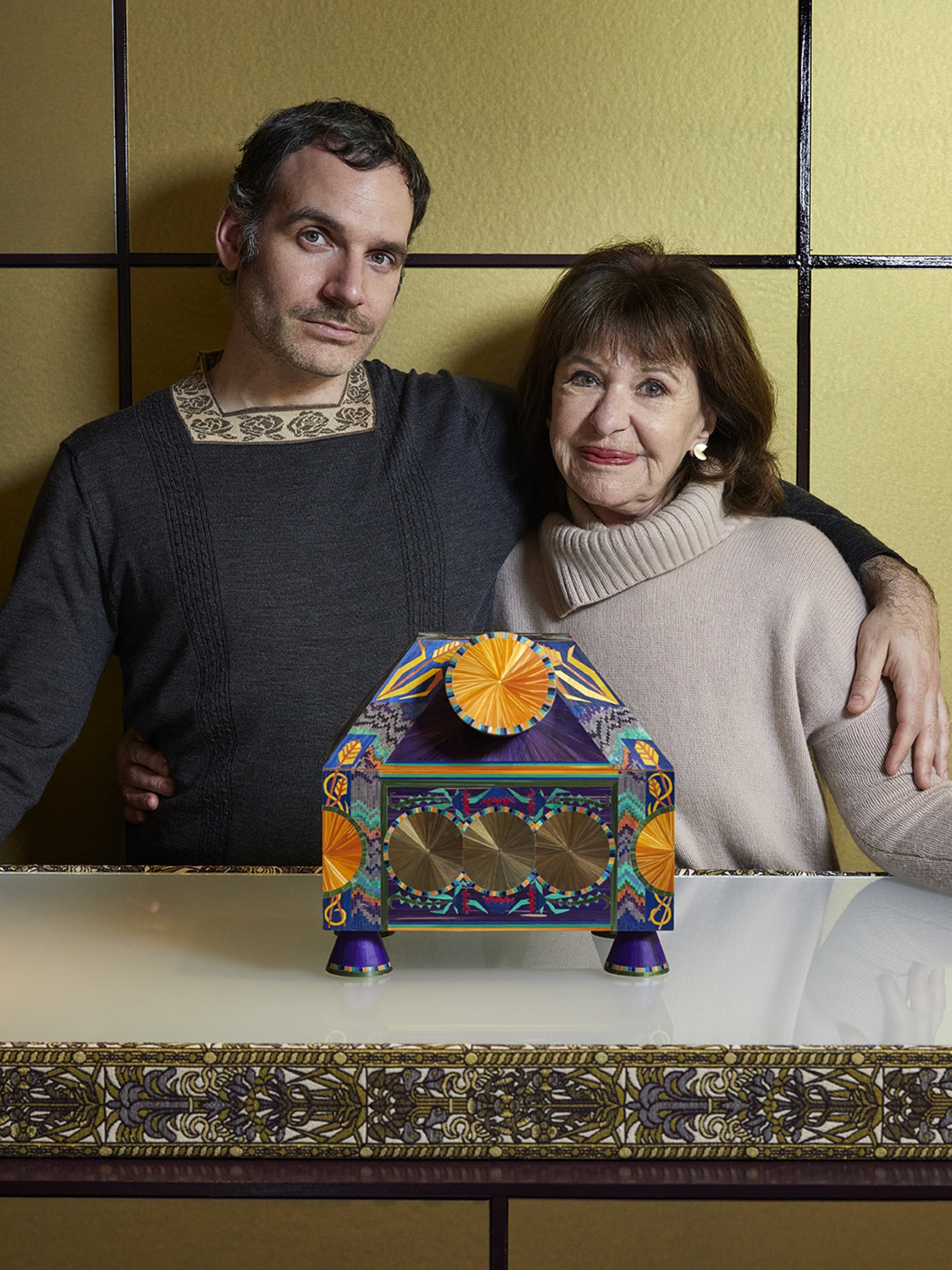 What is your largest source of inspiration?
I love everything vegetal. I garden a lot in my house in Britany and I absolutely love all the vegetal and floral wallpapers my grandfather designed which are for me a great source of inspiration. I really take my inspiration from everywhere - I created a table a few years ago inspired by an Indian sari from the 18th century or more recently a table and screen with a very modern camo pattern!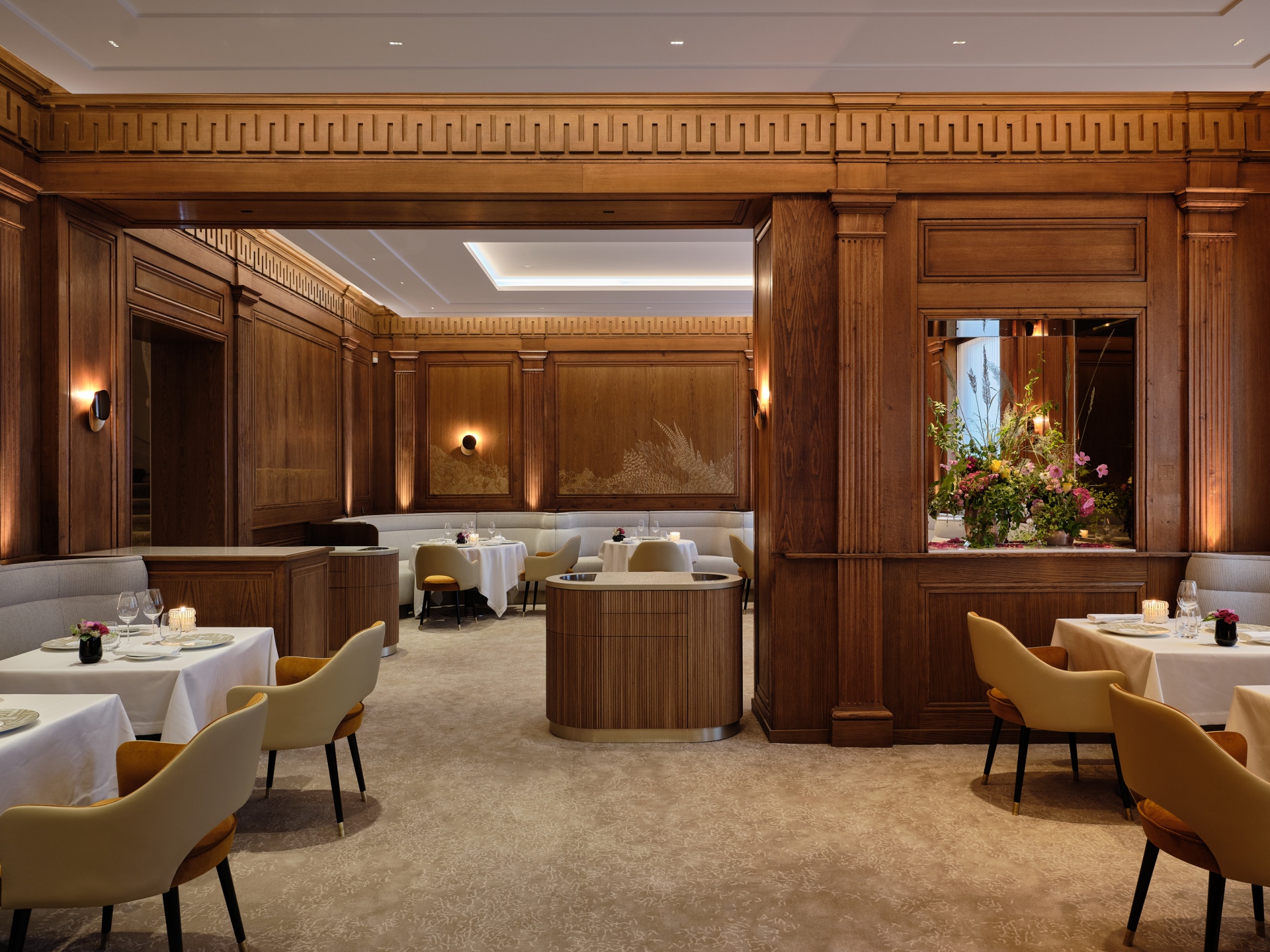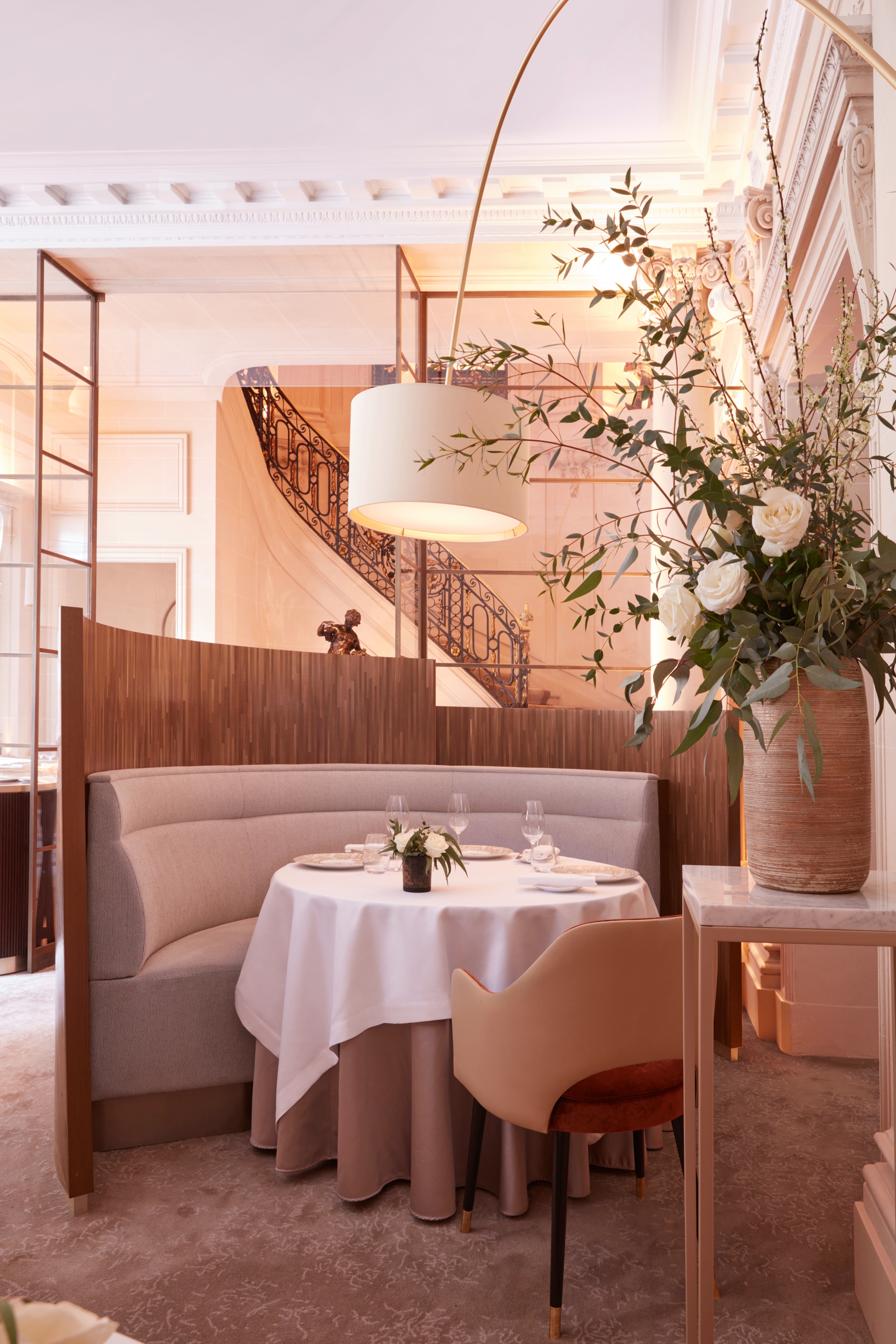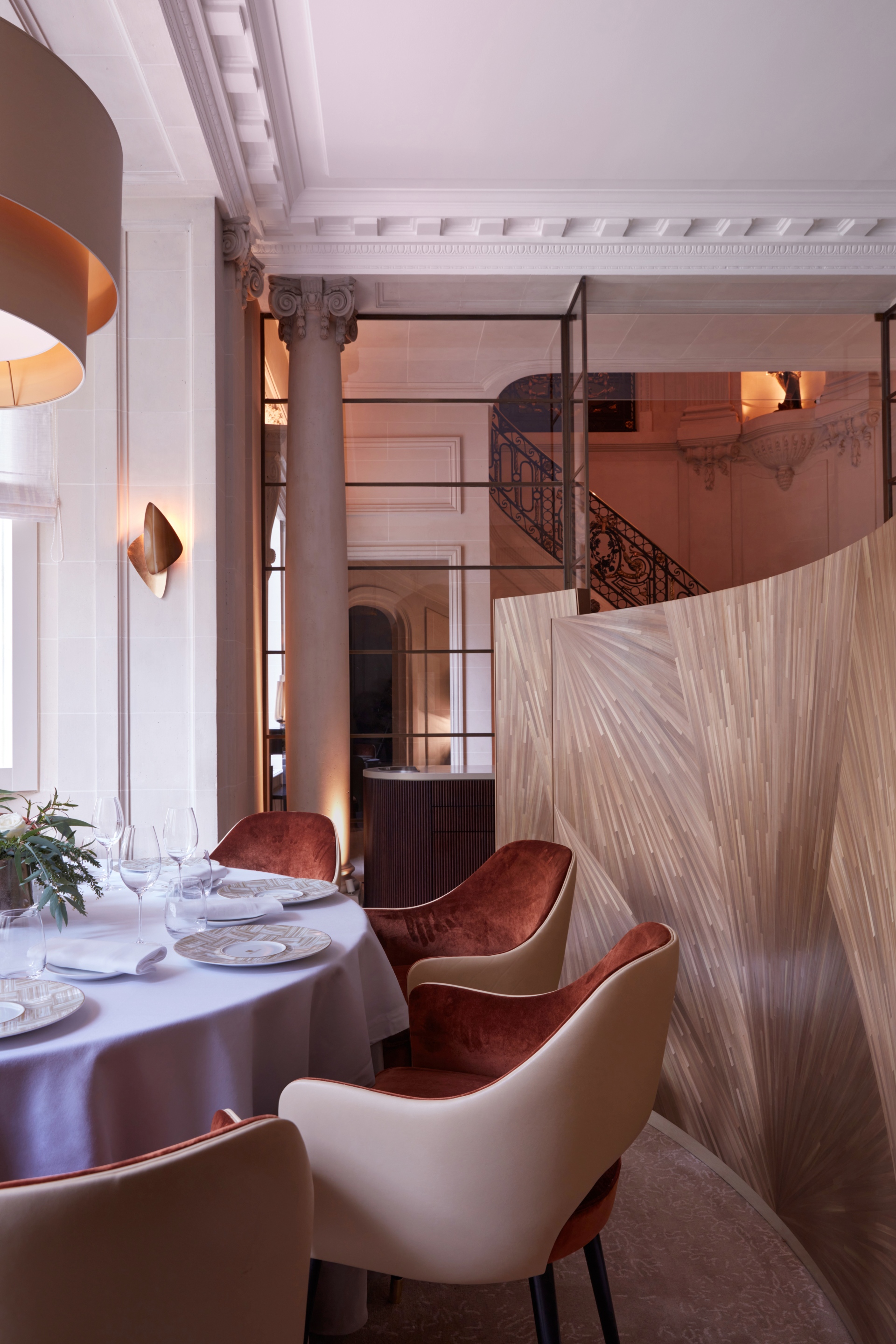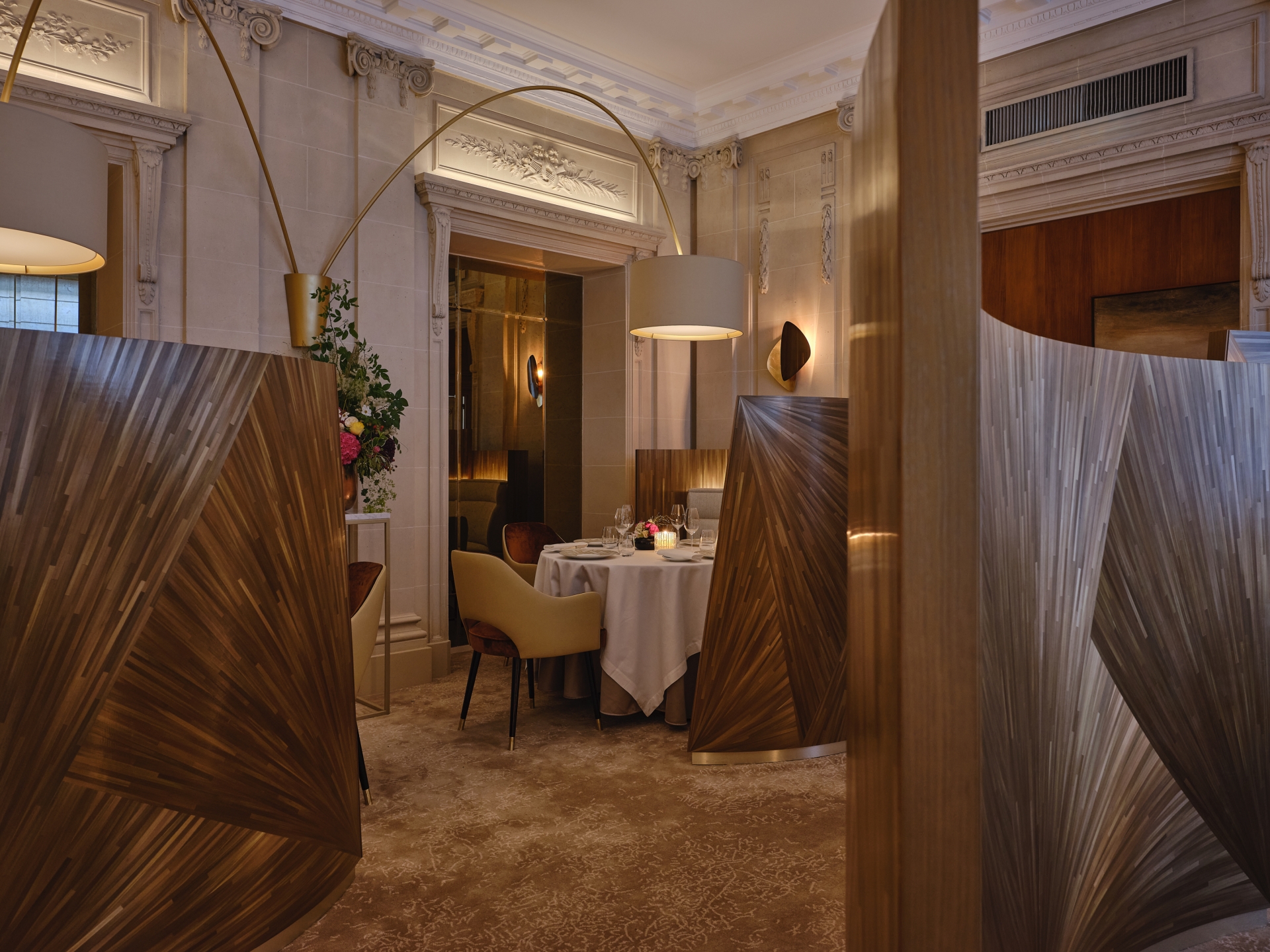 Where do you go to look at great design and art?
For great design, for me today the Invisible Collection is the best way to shop beautiful designer pieces. I go to museums a lot; I try to read as much art and design magazines as possible to nourish my imagination and stay on track with what is happening in the design and art scene. I am in New York as we speak, and the Neue gallery for me is one of the best museums in New York. I also visited the Donald Judd foundation which was a great discovery. It is a must see and it was funny to see a piece there by Frank Stella from the same series as the one I was inspired by to create the panel that is in my showroom in Paris in the Par Excellence space.