A pioneer of contemporary Chinese art, Zeng Fanzhi is celebrated globally for his constantly evolving style and subject matter, and the works on view herald his latest artistic breakthroughs that contemplate the intersection of Western art and style with traditional Chinese subject matter and philosophy. Consisting of ten works on canvas executed over the past few years – some of which are over ten feet tall – the exhibition at Hauser & Wirth Downtown Los Angeles South Gallery documents Zeng's latest advances in brushwork and color, celebrating his intuitive approach to painting. Vivid yellow, cyan blue and vermillion are set as the dominant colors that define each painting, while tonal variations remain nuanced as Zeng's signature inky black brushstroke creates a vibrant network of patterning. Adding further complexity to his brushwork, the artist uses broad sweeping strokes that are impressed, layer by layer, upon thick coats of paint, forming a compact and rhythmic wave-like texture. This body of work represents a turn to introspection and deeper contemplation, in which the artist deploys a more diverse pattern of brushwork to explore human consciousness and convey different elements of the human experience.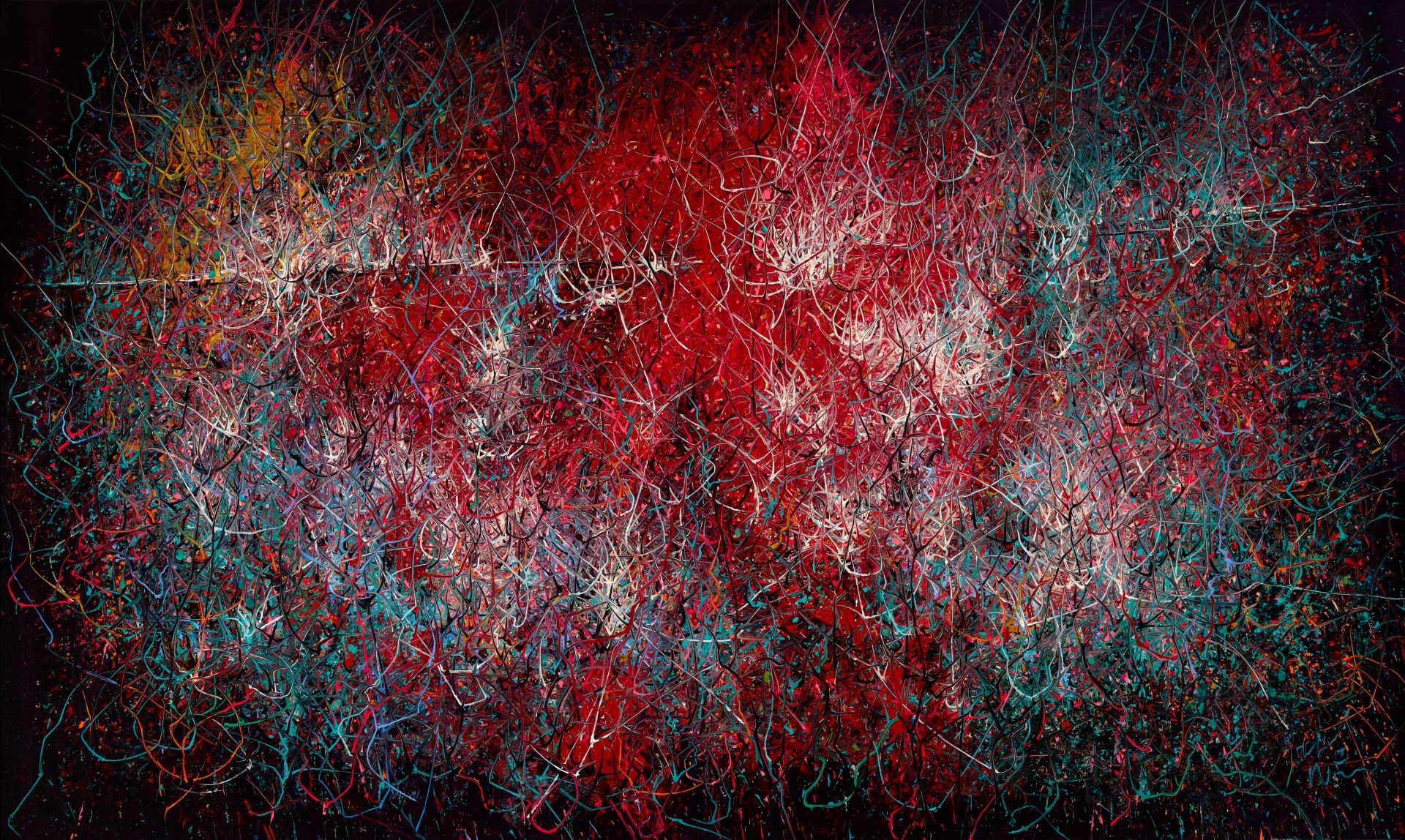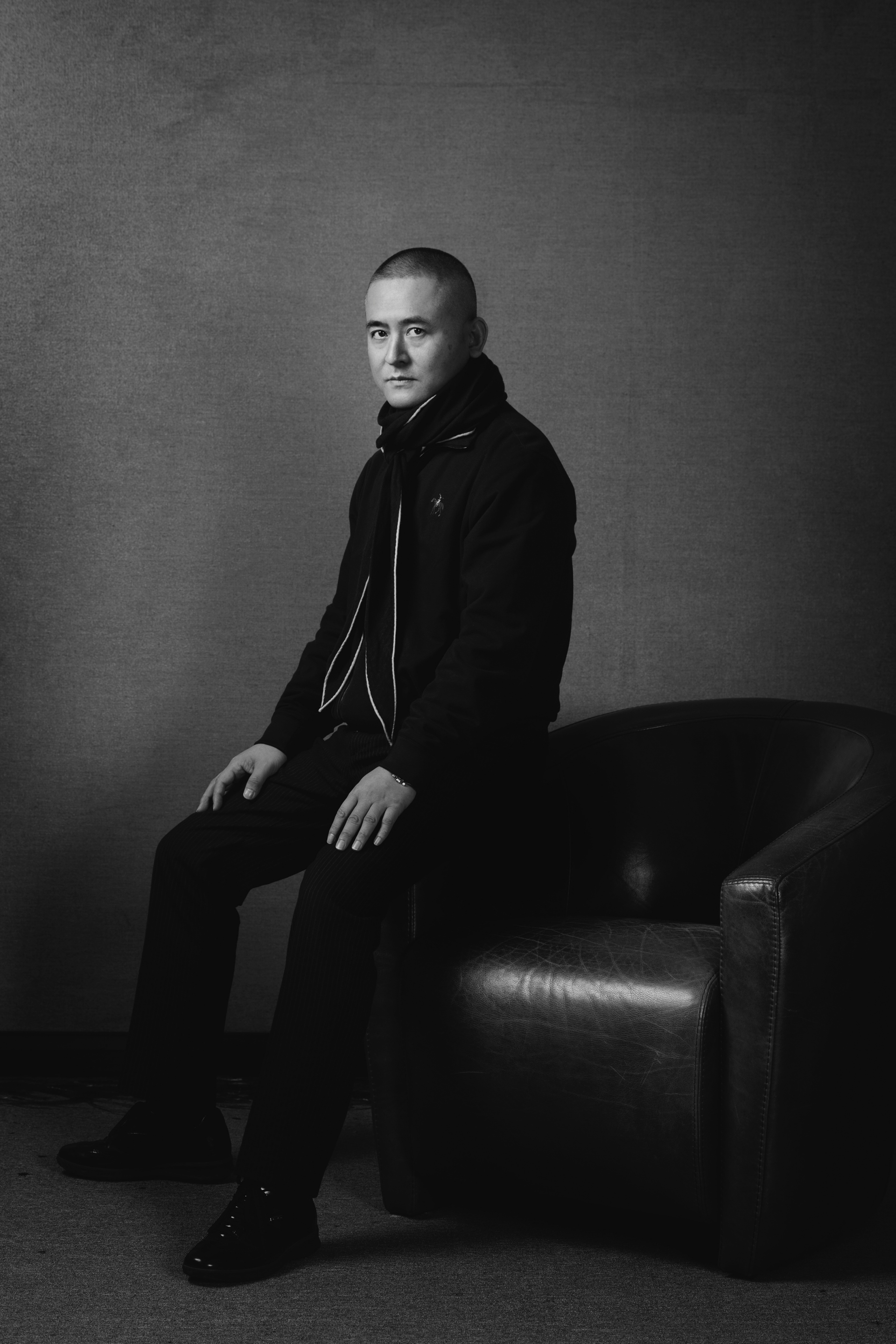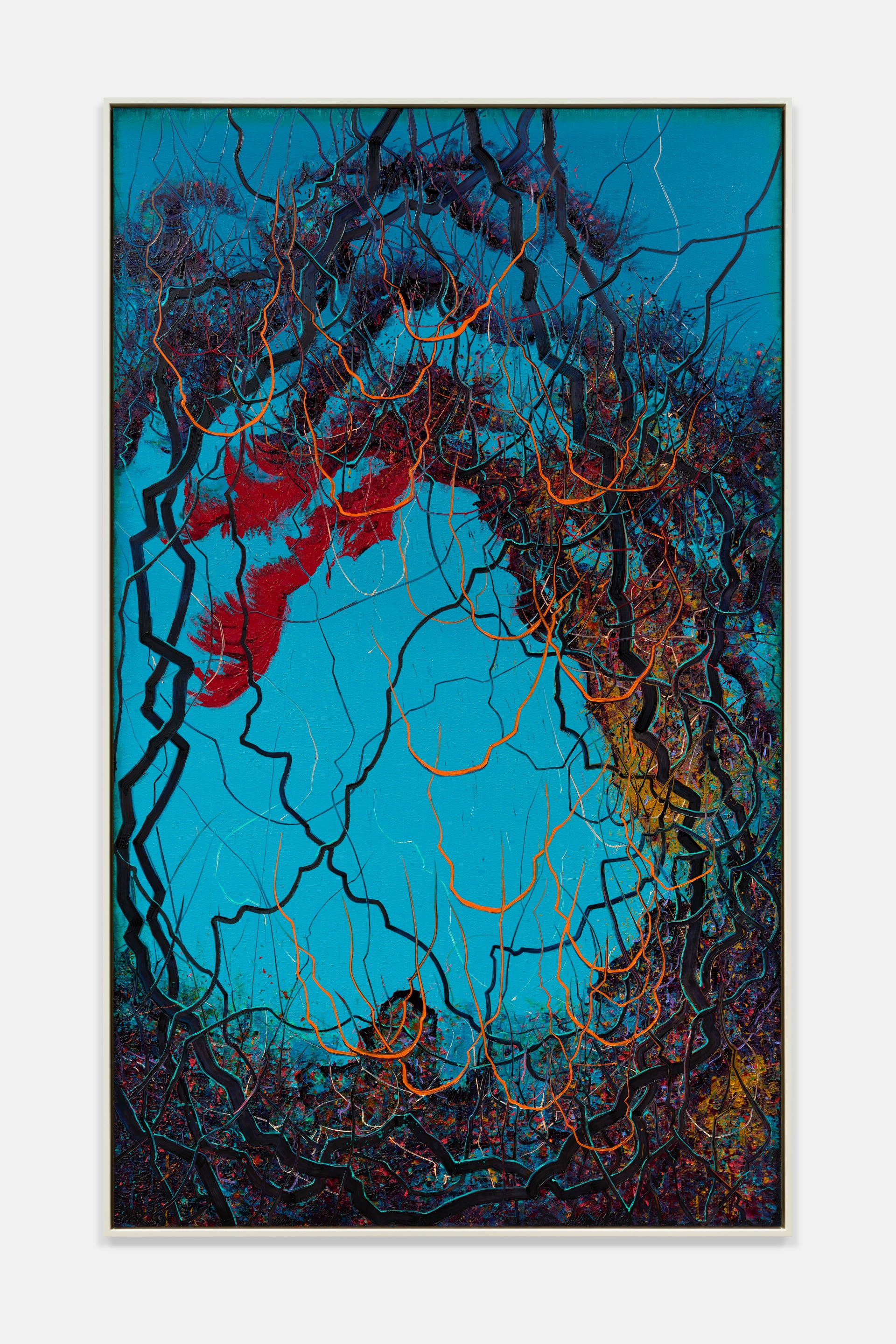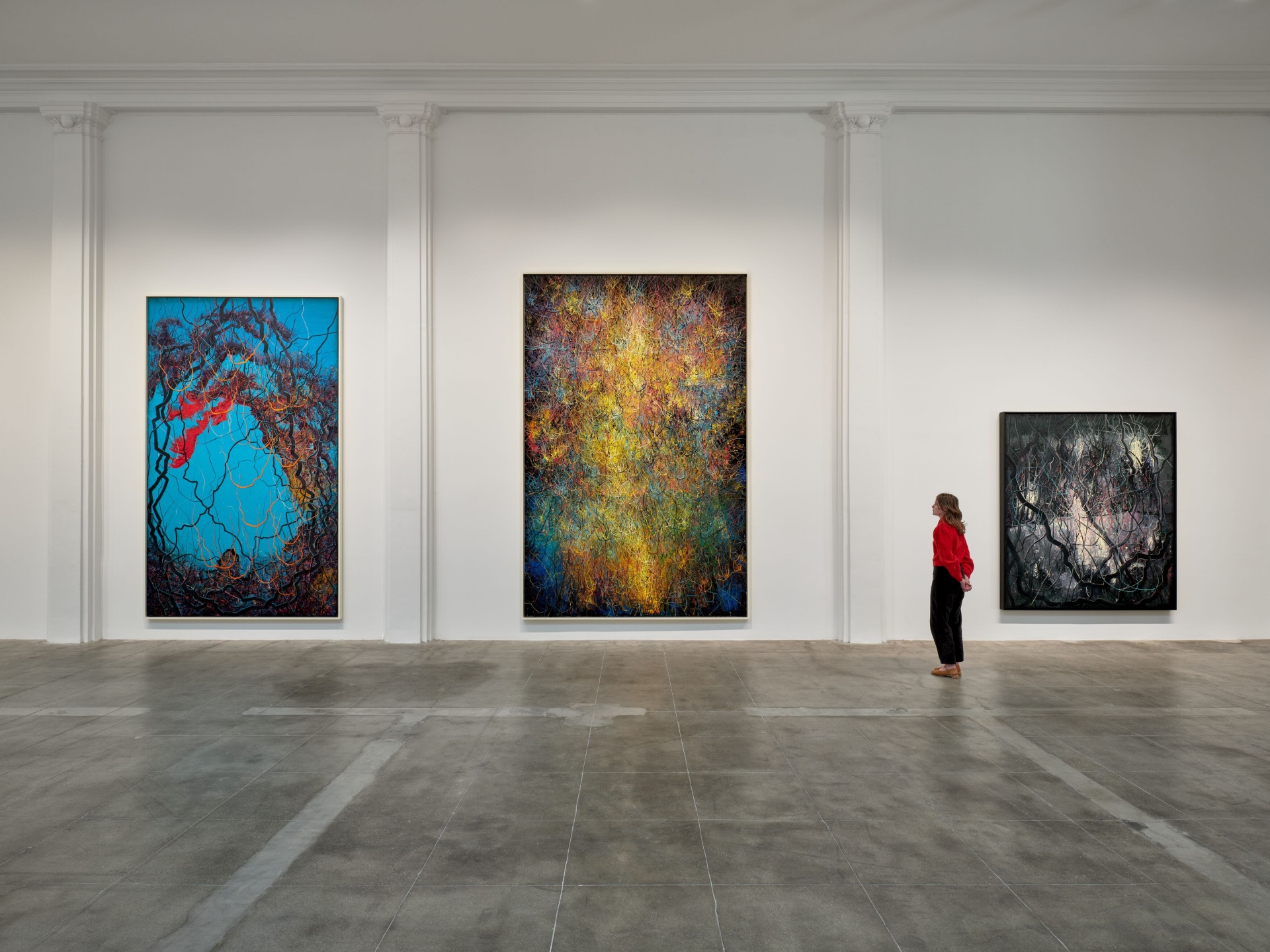 The effect that Zeng's technique creates is at once dramatic and intimate. In the paintings from the E Series, the artist creates an intricate, abstract landscape of sinuous lines that unfurl over a background of luminous cyan. A seemingly vast expanse of vibrant blue, closer inspection of the background reveals fan-like brushwork that Zeng intensifies with dabs of brilliant lilac, vermillion, and an inky black wavy texture that imbues the works with rhythm. By setting the blue in complementary contrast to the heavy, scarlet forms and the winding orange lines that grow brighter towards the center of the painting, Zeng demonstrates his fascination with 'mélange optique,' or optical mixing, a neo-impressionist color theory in which colors react with one another in a constantly changing and self- sufficient unity as they are simultaneously perceived by the eye, rather than being mixed into a single hue on the palette. In so doing, Zeng unleashes a symphony of visual texture, seemingly capturing tremors of light on canvas.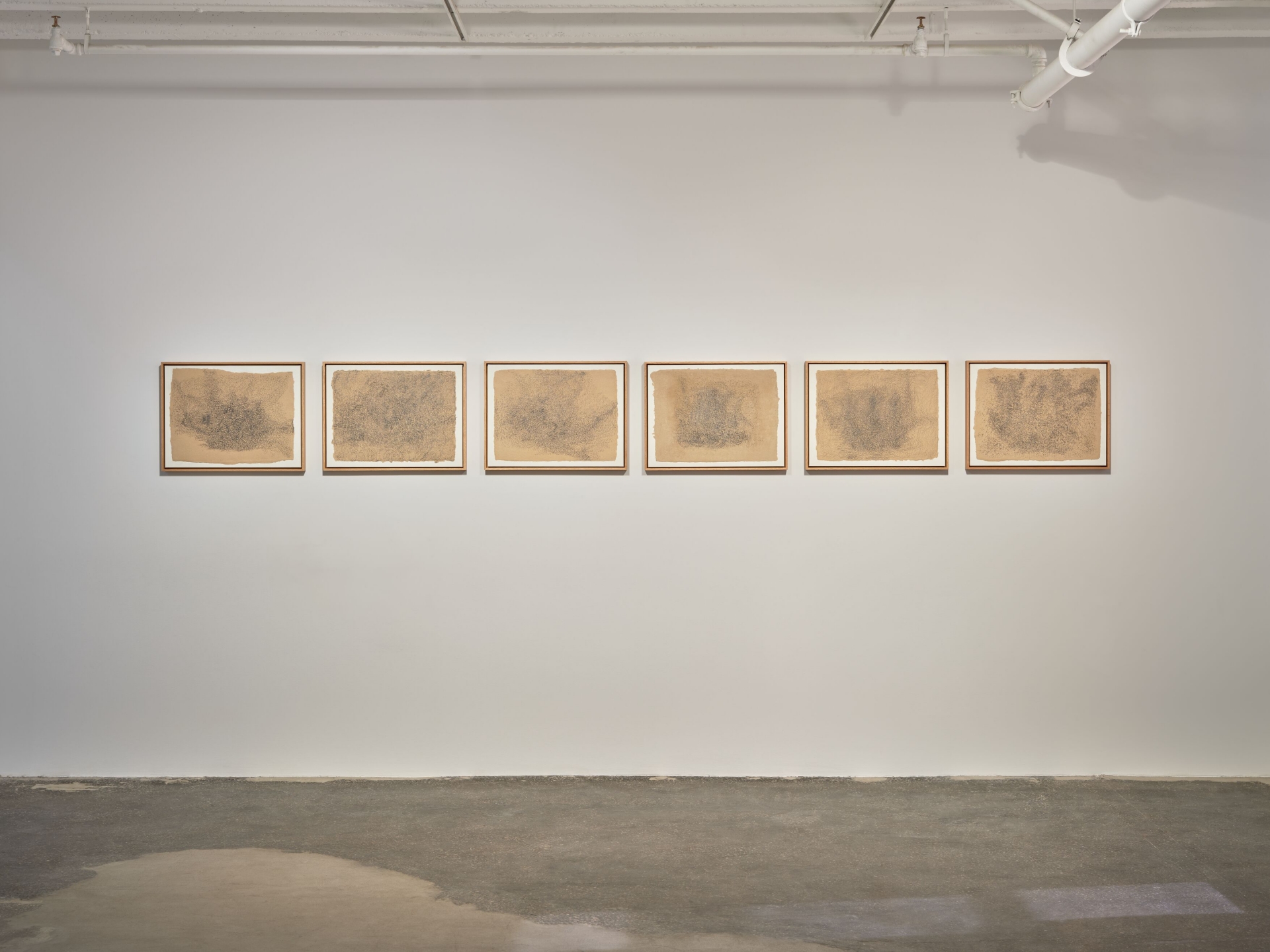 The works on view are deeply engaged with the centuries-old painting practices and literari aesthetic philosophy of the Song to Yuan dynasties that Imperial scholar-officials practiced as a means of self-cultivation, using painting to communicate human emotion. Indeed, Zeng states that the crux of his painting does not lie in formal likeness, but rather in his ability to reflect and transmit his own emotional experience through his brushwork. Explains the artist, "They are not real landscapes. They are about an experience of miao wu [marvelous revelation]... Miao wu is a kind of revelation. Instead of making something obvious, Miao Wu brought about an unmarked world, which underlies the deep strata of life, both novel and familiar... Miao wu constitutes a restless journey of discovery."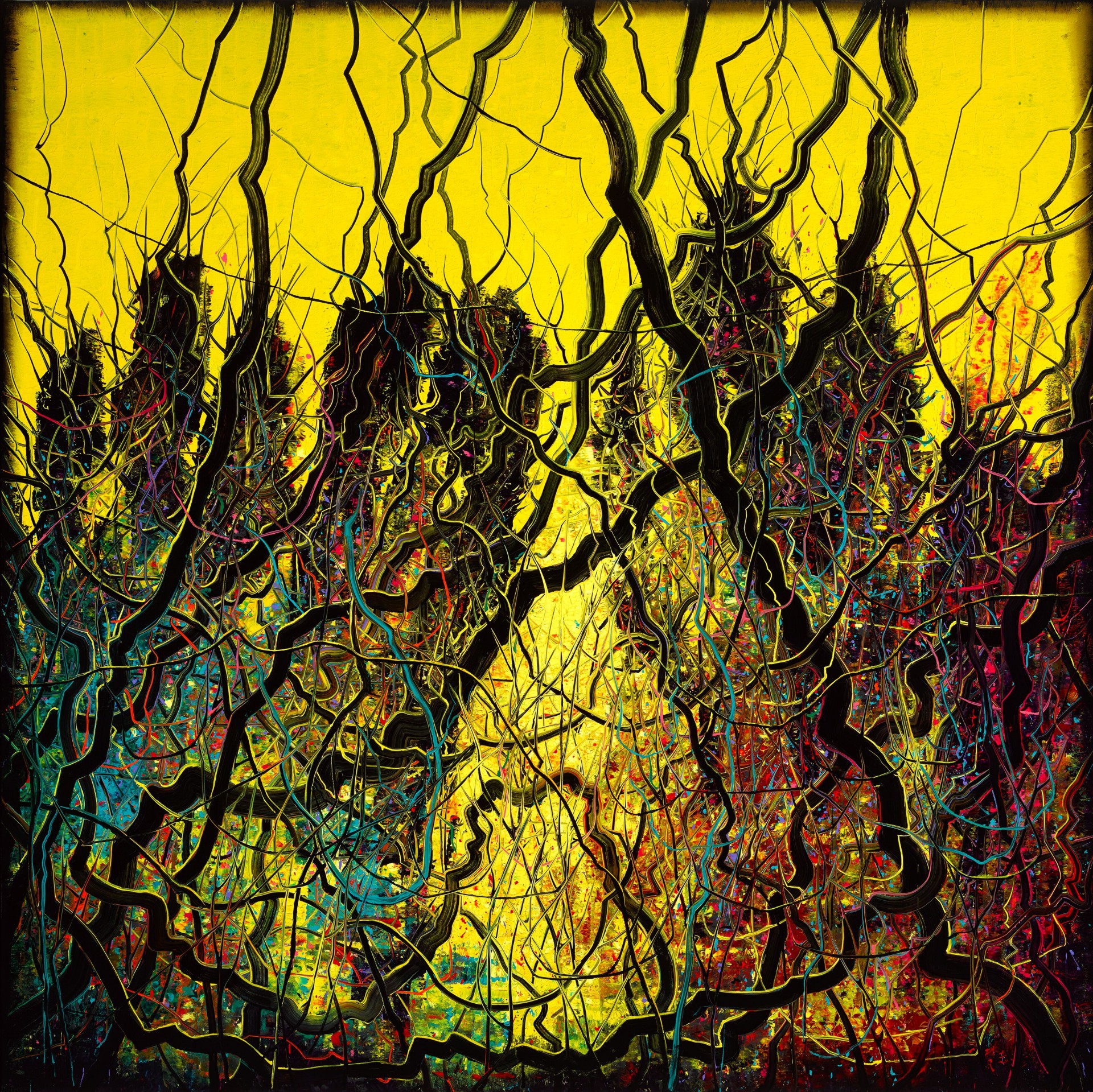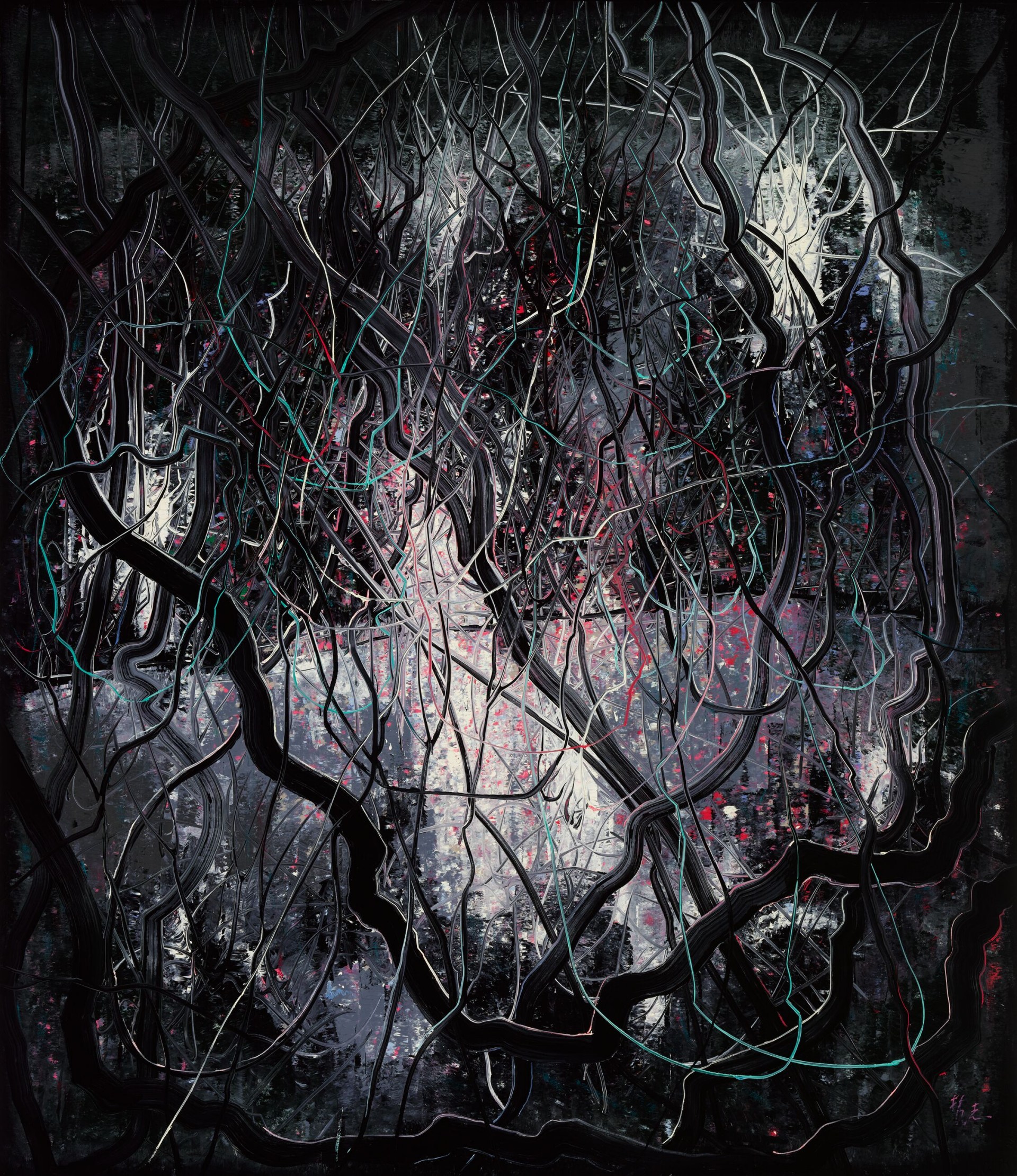 Accompanying the monumental series of paintings is a suite of six graphite drawings. Echoing the impressionistic abstraction of Zeng's paintings, these works on paper offer an intimate glimpse into the artist's process and technique. On the occasion of this exhibition, Hauser & Wirth Publishers will produce a fully-illustrated publication with essays by Stephen Little, Barbara Pollack, and Carter Ratcliff, who explore the relationship of the body of work to the history of Chinese painting, developments in Chinese contemporary art, and American abstraction, respectively. The book will be released in fall 2023.