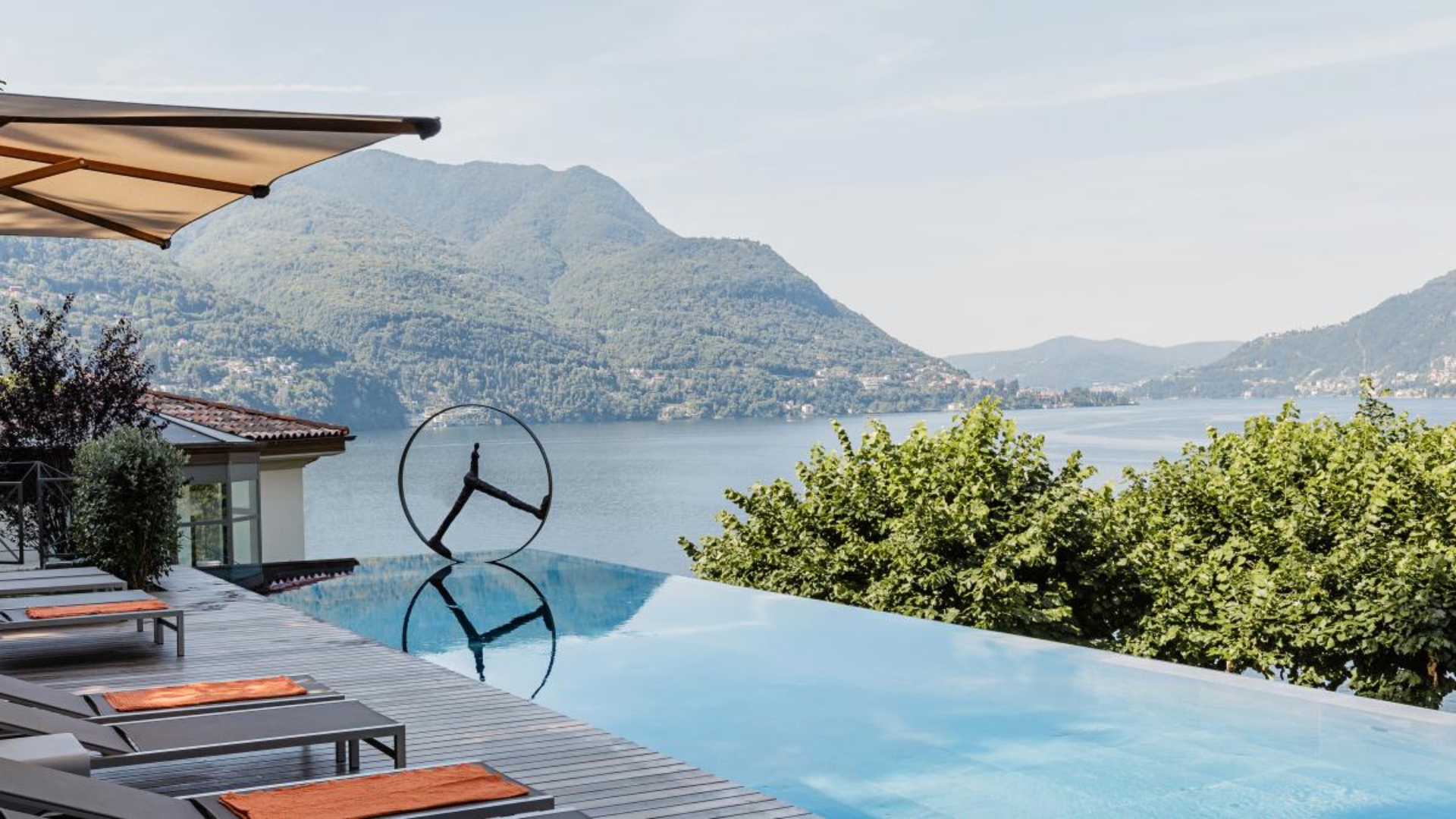 First Stop: Al Fresco Living in the Elegant Lakeside City of Lugano 
Switzerland is a nature lover's paradise of mountains, lakes, rivers, glaciers, scenic train rides, with unparalleled landscapes rich in culture, history and traditions. The fabulous cuisine on offer as well as the museums, galleries, and architecture make the destination a must visit. We were excited to explore this beautiful country and experience its offerings – unparalleled skiing, hiking, biking, boating and swimming in its many lidos and beaches. Armed with our small carry-on wheelies and our Swiss Rail Pass (which includes free use of public transportation [including ferries] in more than 90 cities and waived admission to hundreds of museums), we had no plans other than spending the first week with our friends in Lugano. We arrived to rain but that did not spoil the beauty of our setting in Castagnola - a village on the shore of Lake Lugano below the mountain of Monte Bre. If anything, it enhanced it. Low floating clouds hovered over the remarkable emerald-coloured lake below us and the vividly surreal green of mountains had a wonderfully ethereal quality. We felt spoilt and happy, and with a promise of a sunny day to come the following day, we were ready to explore all the area had to offer. This view continued to enchant us through the week like a series of paintings; a delightful vignette of sky, lake, and mountains highlighted by glorious sunshine.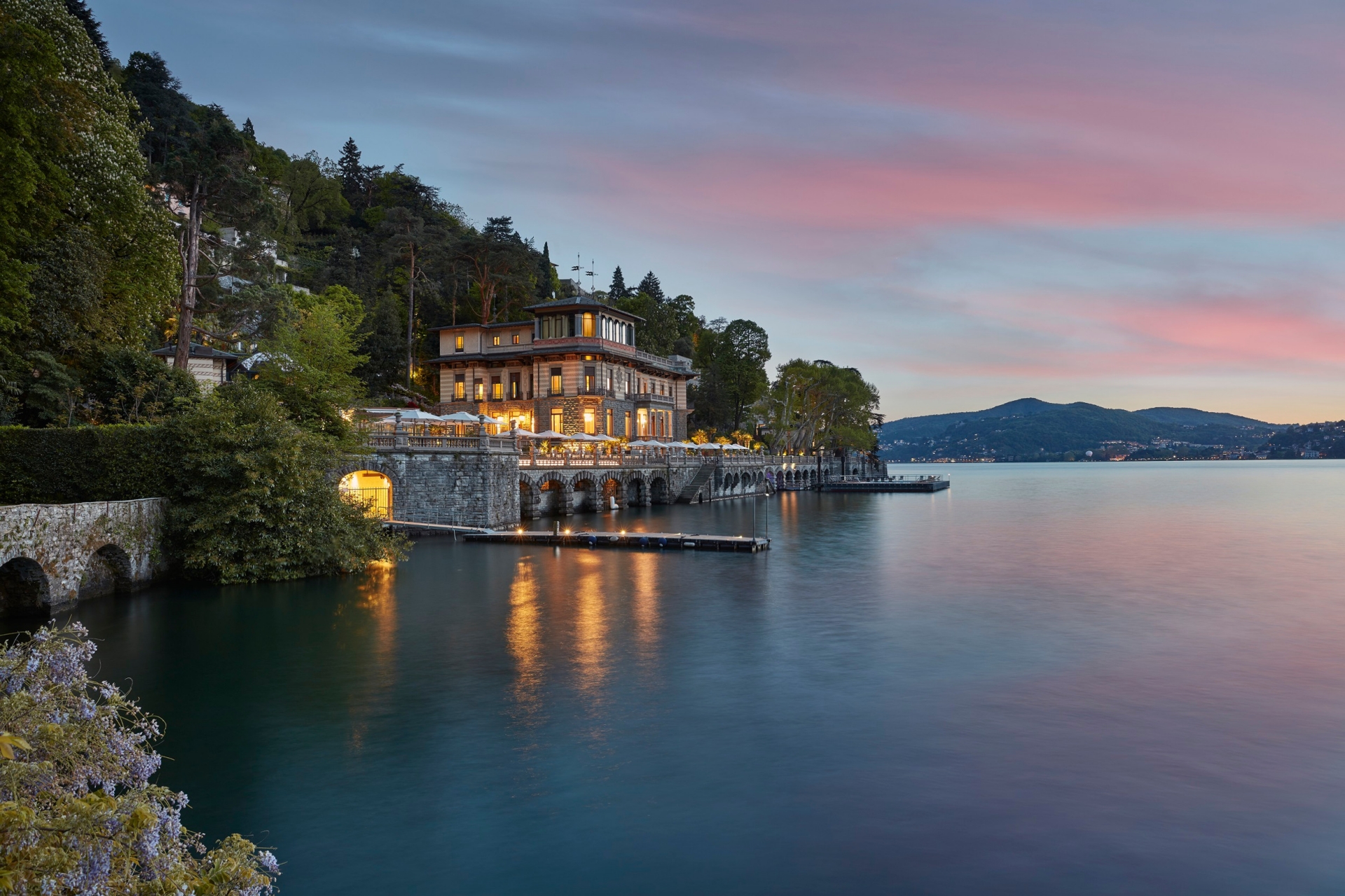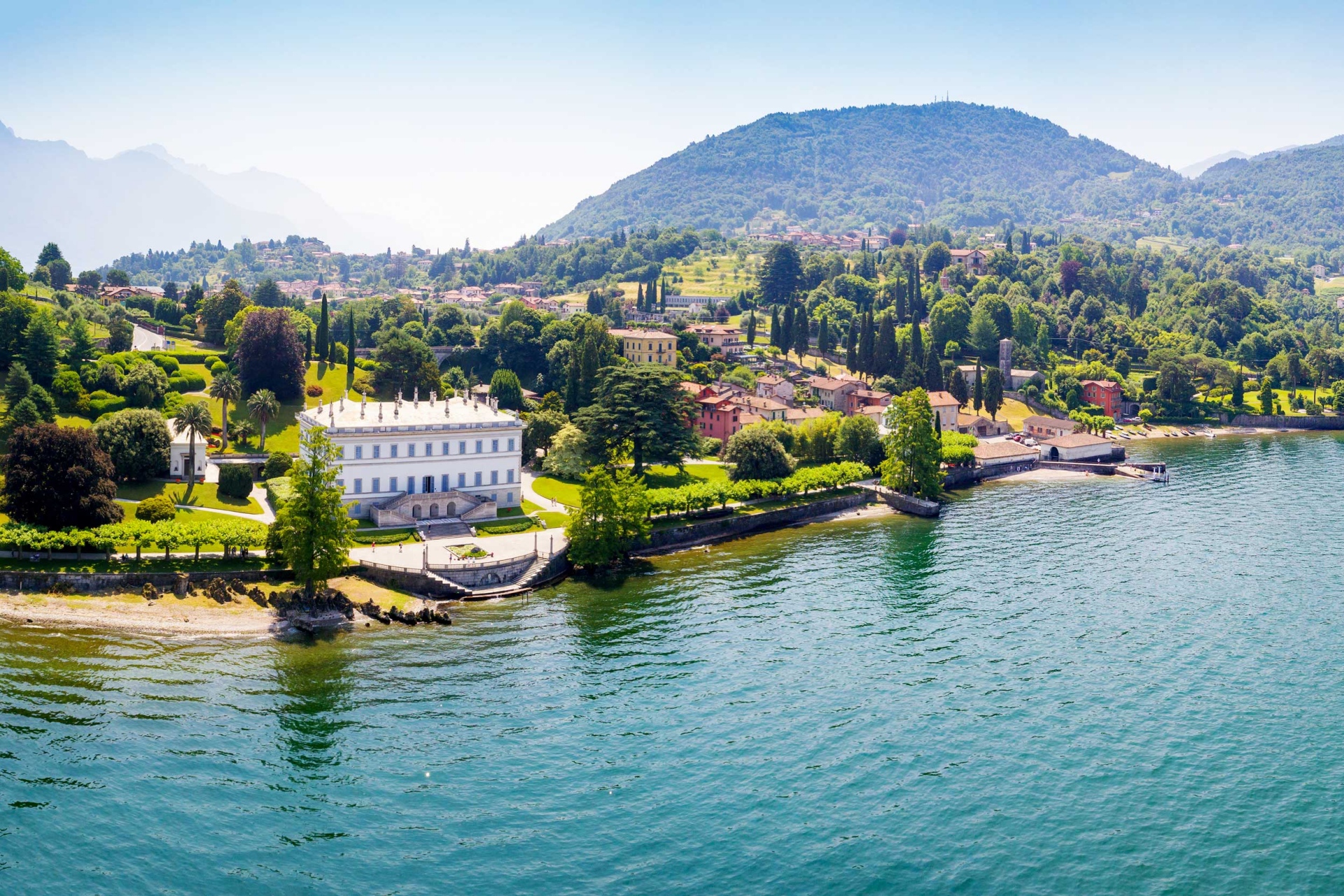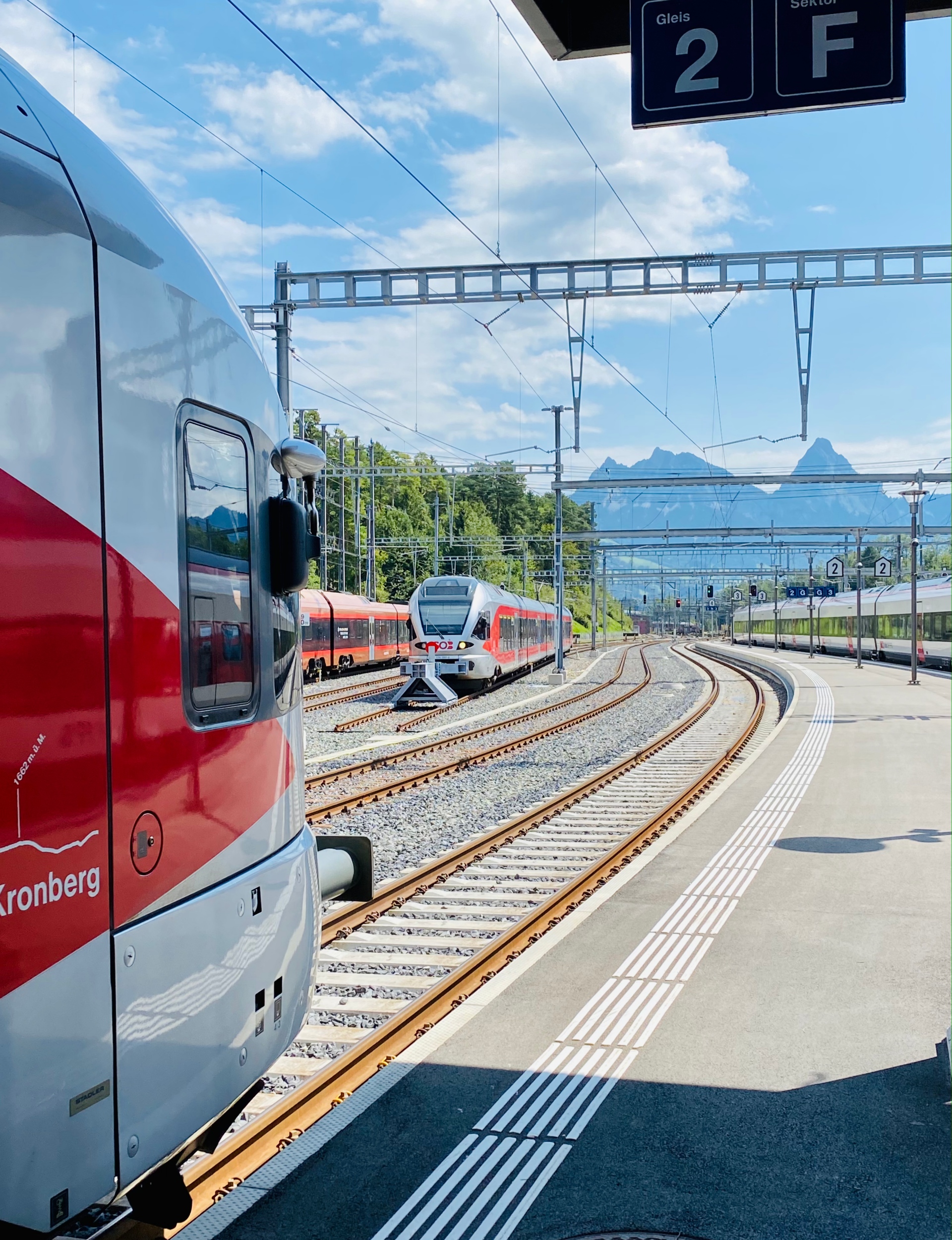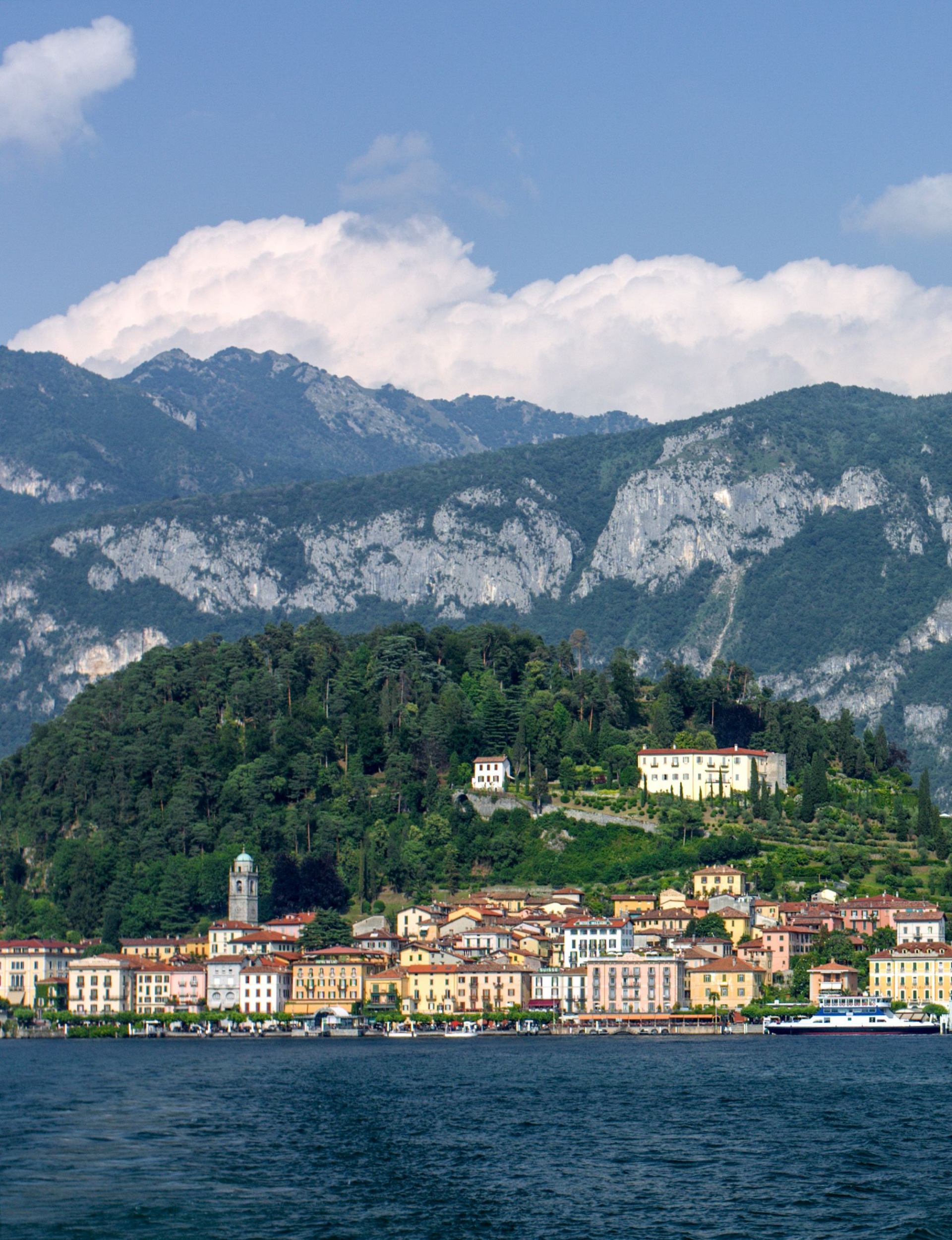 Lugano has a magnificent setting, situated on the northern end of the glacial Lake Lugano, sitting between the impressive peaks of Monte San Salvatore and Monte Bre, between Lake Como and Lago Maggiore. Its Mediterranean climate and laid-back atmosphere encourages "dolce far niente" (pleasant idleness). Lugano is a wealthy city that has retained the cachet of a small town that belies its world-class status as a banking city. Its nearness to Italy gives it an extra special quality—the best of both countries—and popping over the border an extra special treat. The best way to discover the city is taking a leisurely walk along the gorgeous lakeside promenade, about 5km in total. The promenade walk takes you to Paradiso, past some of Lugano's finest historic buildings. The walk begins at the "Rivetta Guglielmo Tell", a small terrace overlooking the Lake to Parco Ciani - a lovely park dotted with artworks and gorgeous billowing grass, by the waterside boardwalk (the place for Luganesi to gather in the evenings). At around the midway point of the promenade, you arrive at the Belvedere Garden. Behind it is the new Lugano Arte e Cultura (LAC), next to which is the famous Santa Maria degli Angioli Church, built-in 1499, and home to the city's most important Renaissance treasures. Here you can stop to explore Lugano's old town with its Mediterranean-style squares and arcades. The traffic-free historic centre's tiny alleyways are filled with Italianate Lombardy-style buildings. Relax at a cafe in the pretty square, Piazza della Riforma, ringed with pastel-coloured, neoclassical palazzi.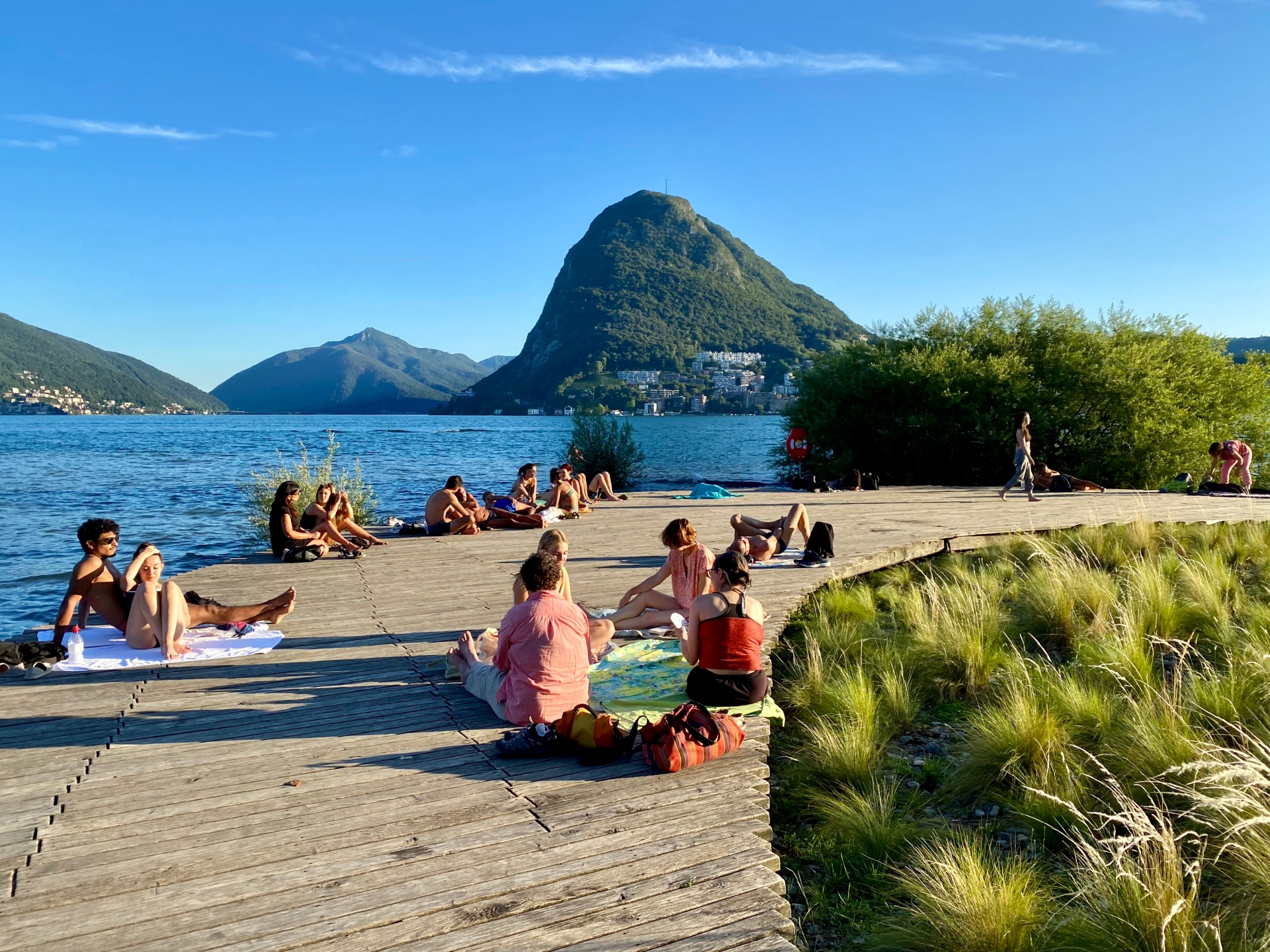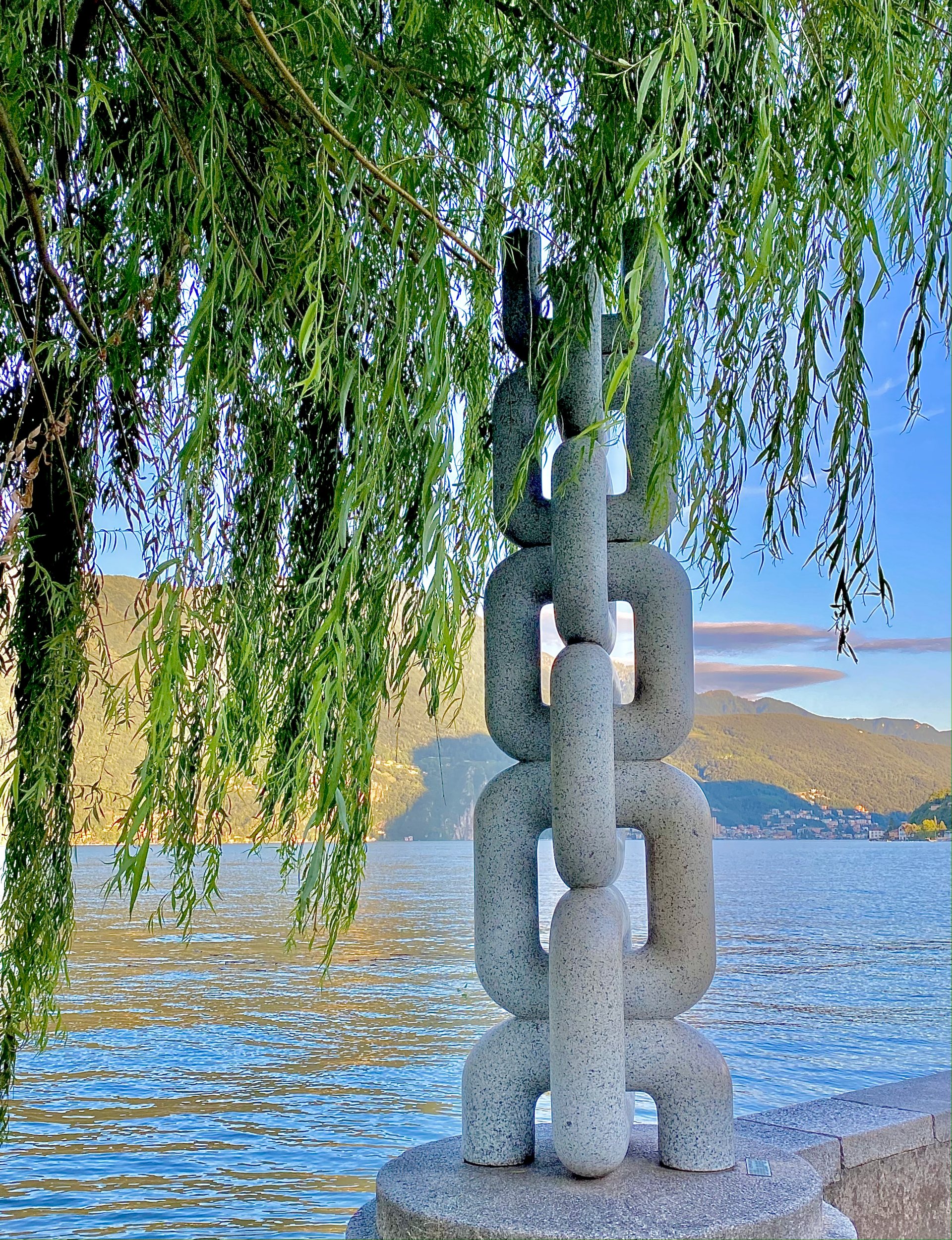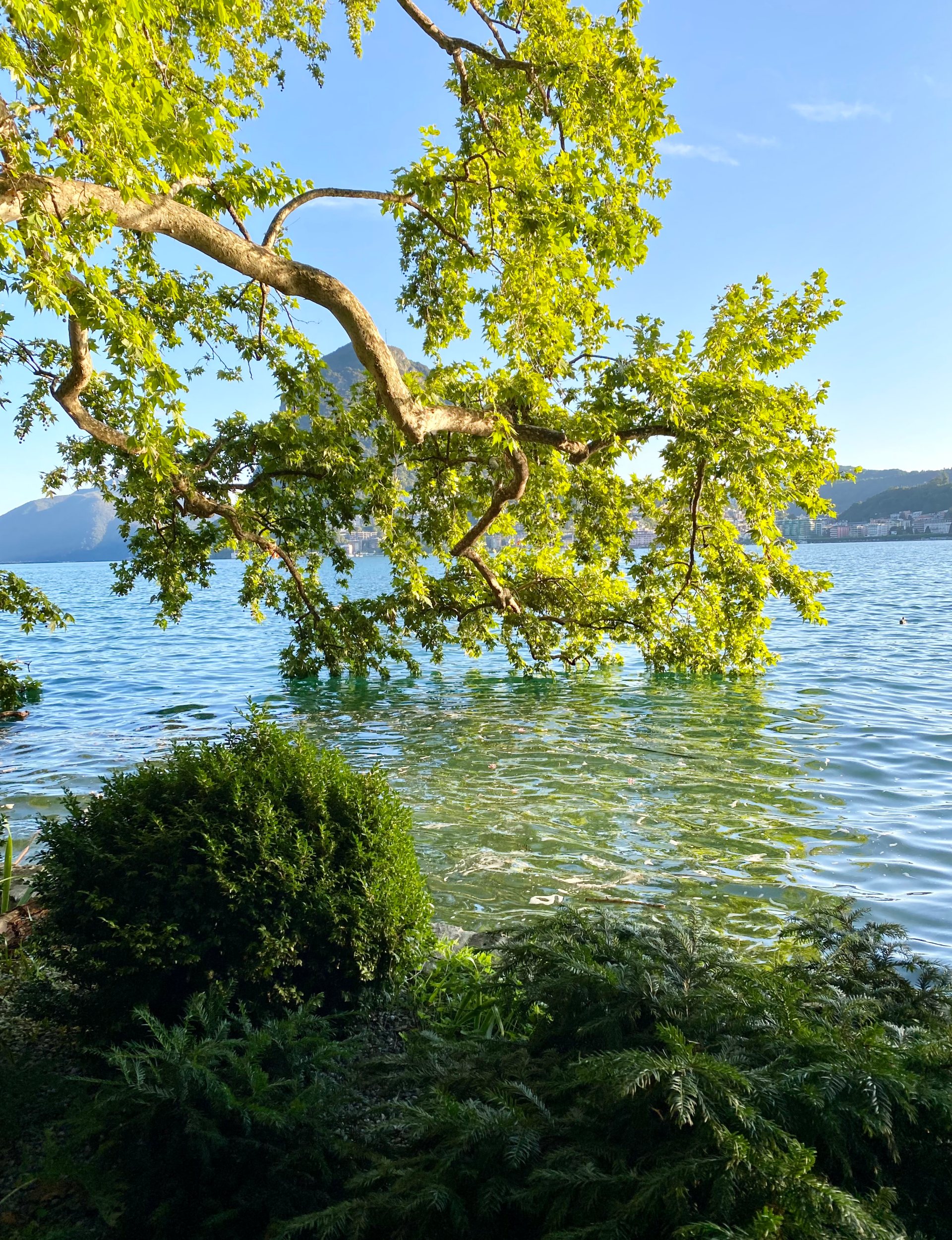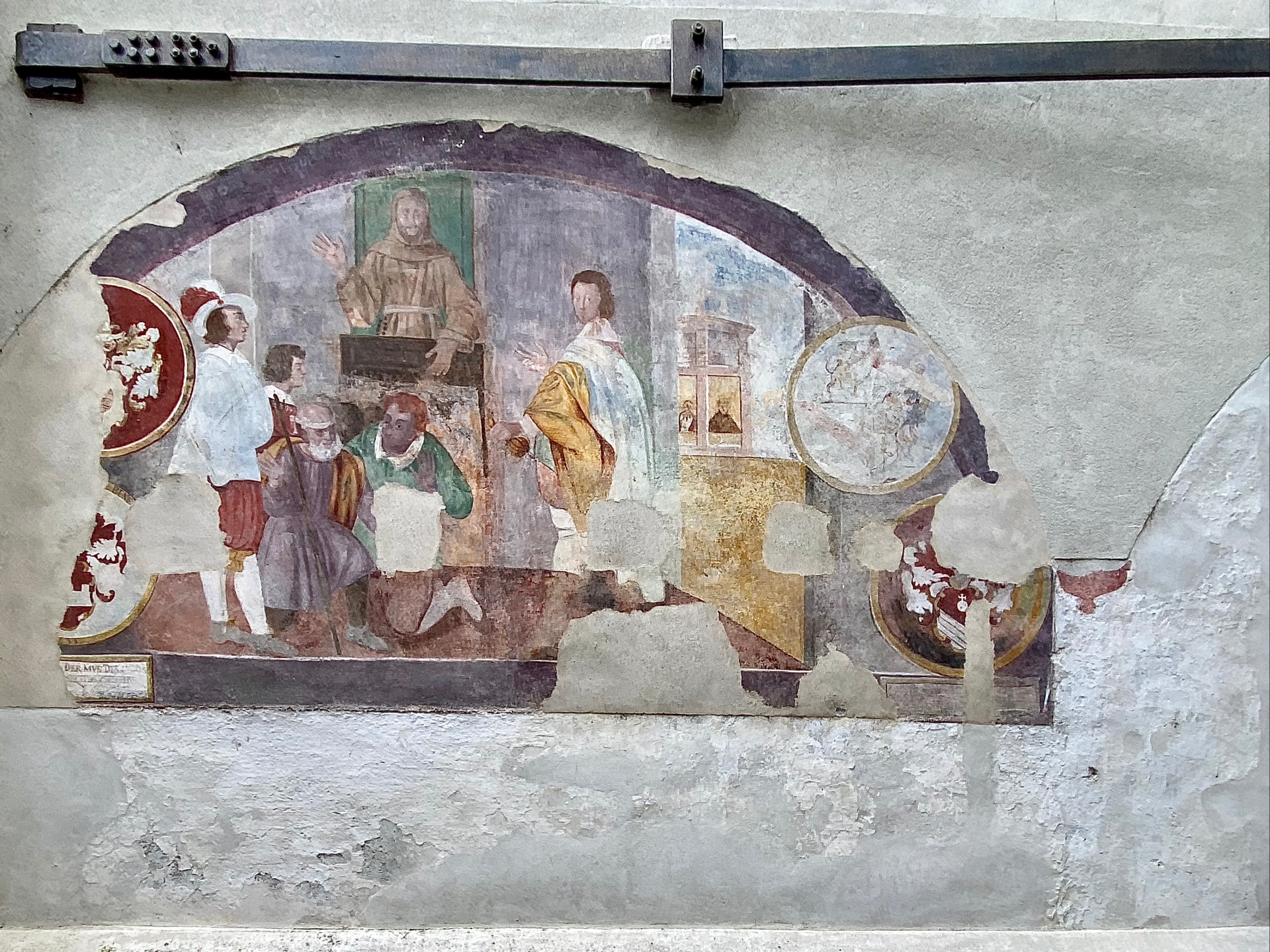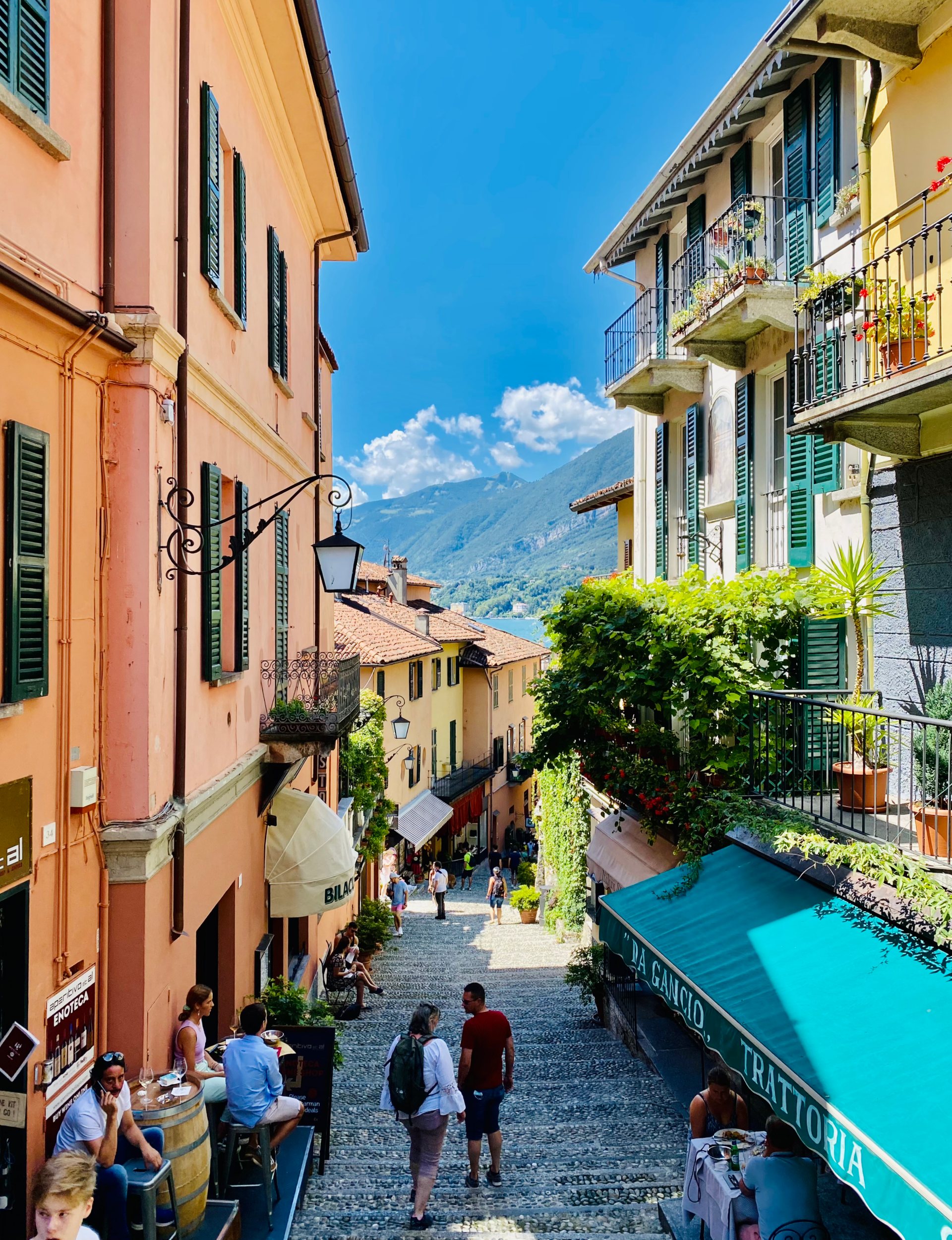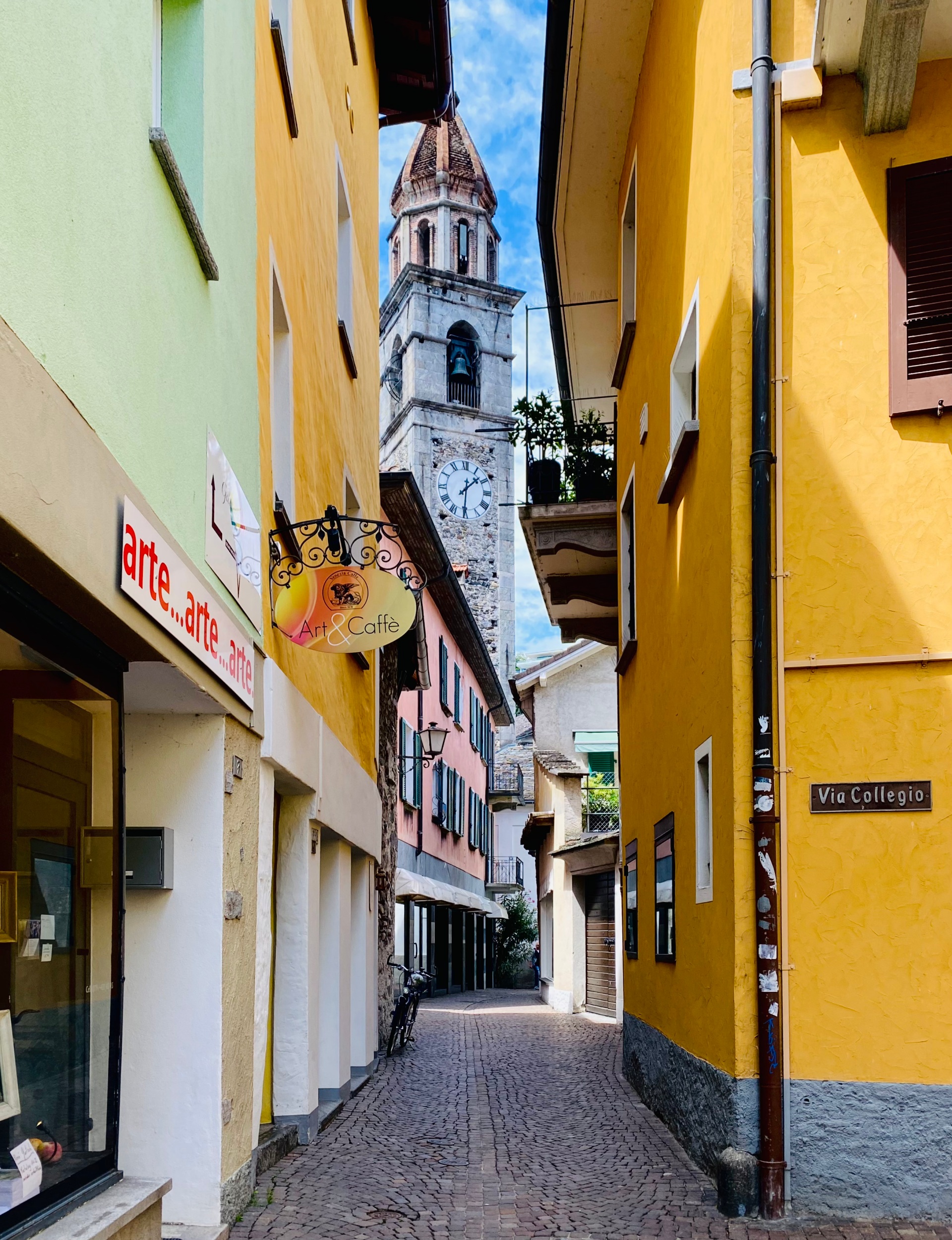 Via Nassa following the curve of the bay is lined with 17th arcaded buildings, which encompass smart boutiques, jewellery shops, department stores, specialist food emporia, and cafes. The tiny yet impressive Church of Santa Maria degli Angeli, which is home to Switzerland's most famous Renaissance fresco, the Passion and Crucifixion of Christ, attributed to Bernardino Luini (1480 - 1532), a disciple of Leonardo da Vinci. In stark contrast to the striking modern LAC enter overlooking the Lake, part of the Museo d'arte della Svizzera Italiana (MASI), a highlight for me was the opportunity to see the first solo exhibition of Nicolas Party. The Swiss-born artist works across a wide range of media is primarily known for his colour-saturated paintings and murals. He also makes painted sculptures, pastels, installations, prints, and drawings, works as a curator, and is one of the leading names on the international art scene. His "Rovine" (Ruins) exhibition is a fantastic collection of large site-specific murals, trompe l'oeil decorations, intriguing polychrome sculptures, and luminous pastel paintings. Totally absorbing, his portraits have a luminous beauty - his bold trompe l'oeil is the perfect backdrop and the depth of colour is so strong you feel you could just dive right in.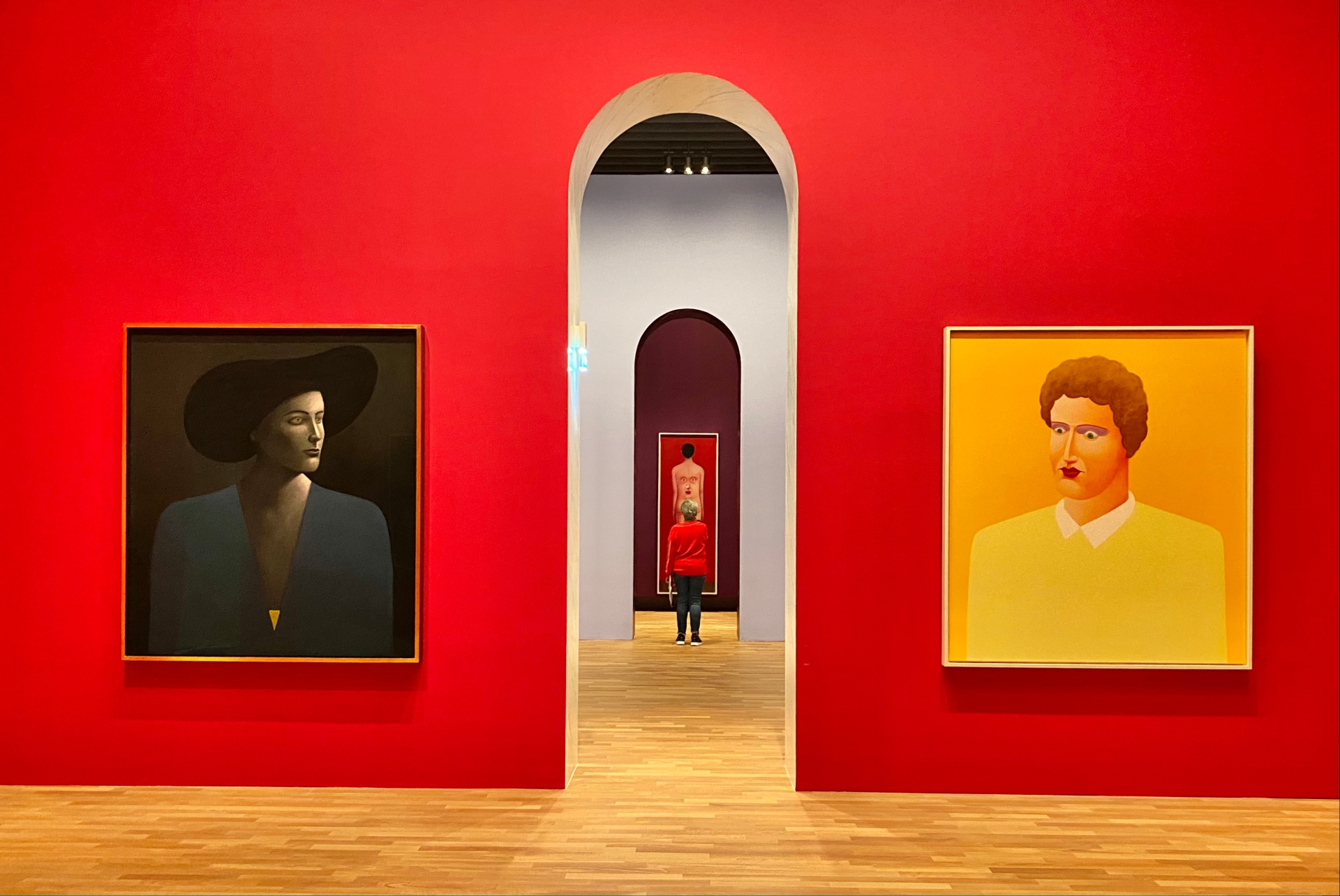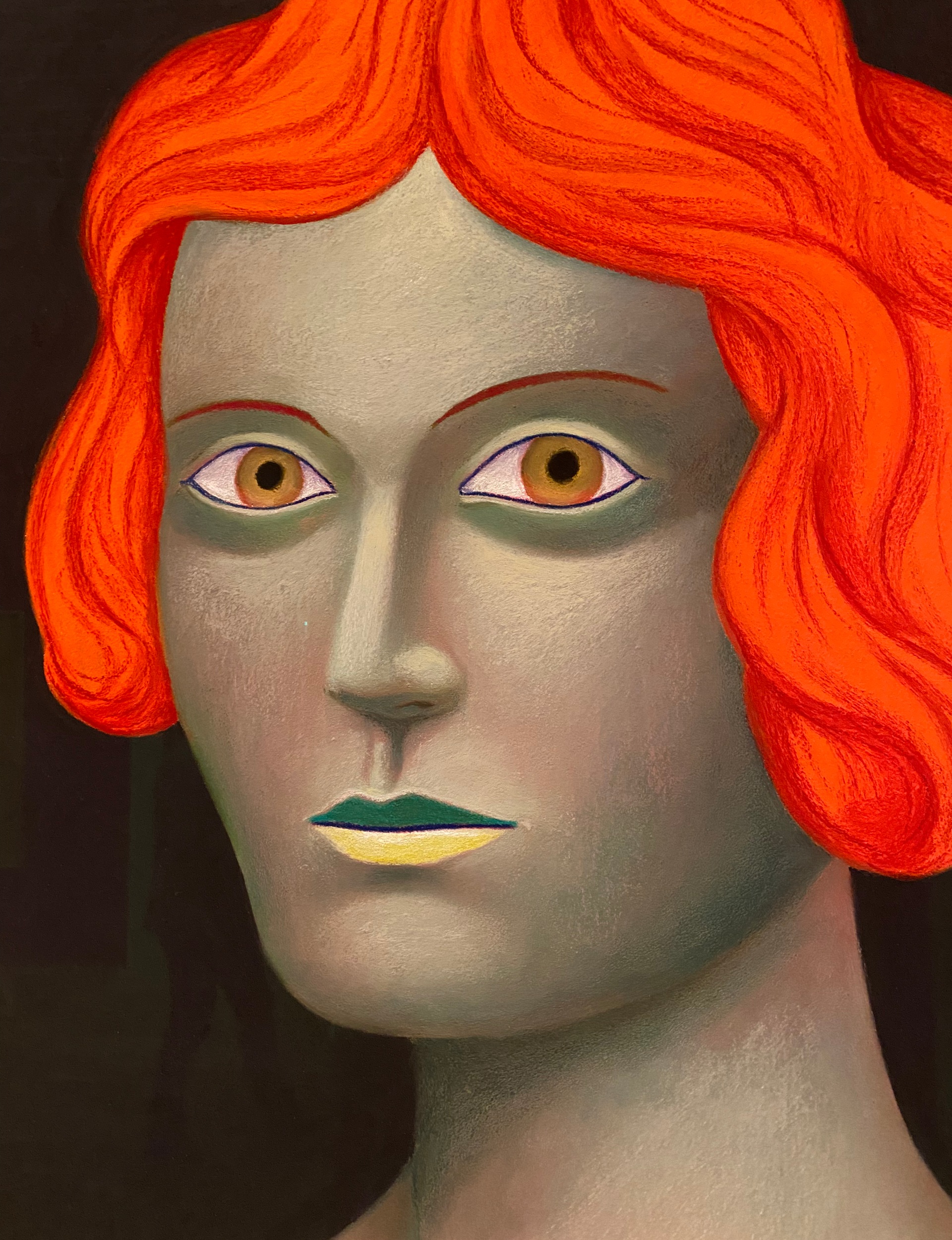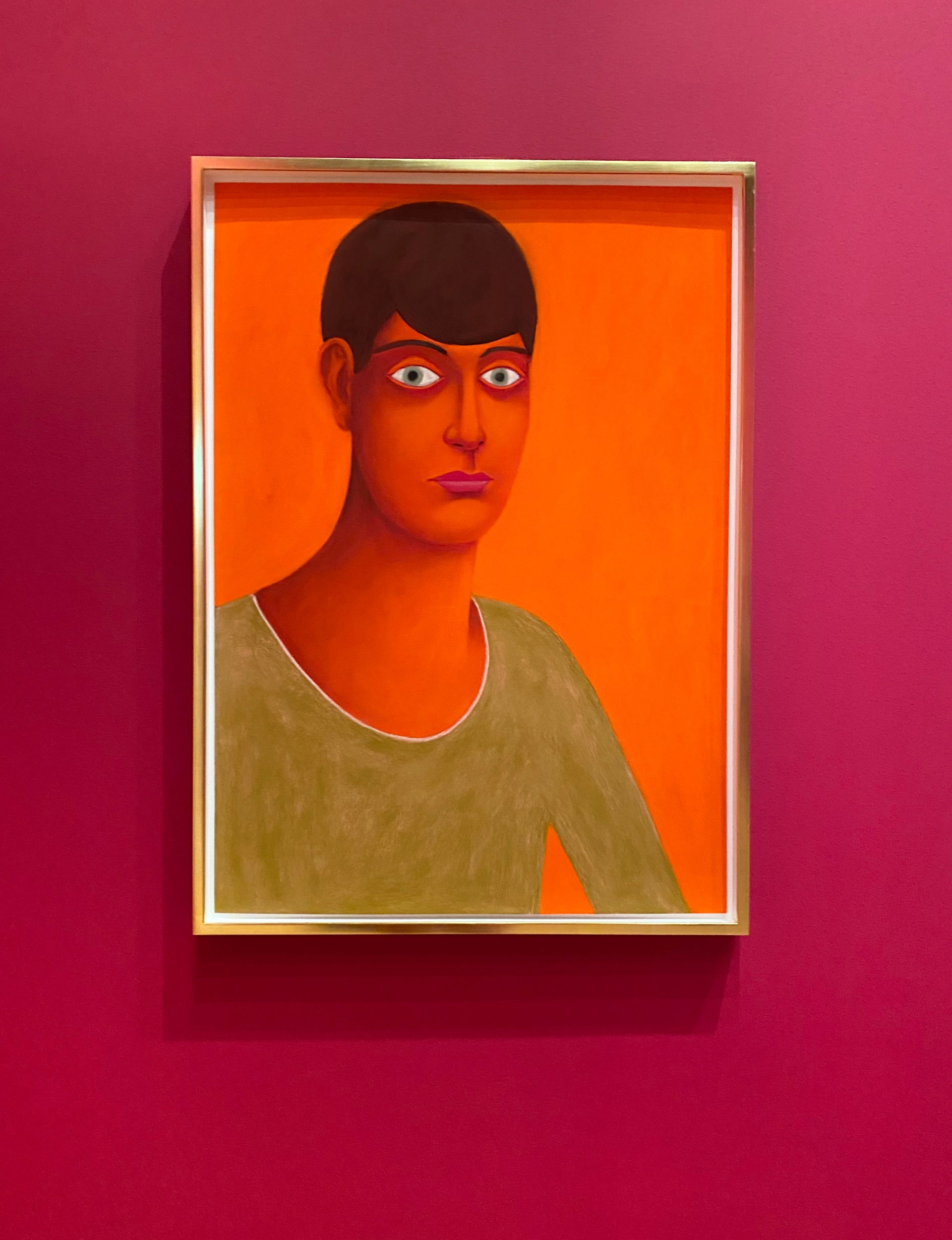 The promenade walk continues to the Paradiso landing stage, where you can take a funicular to the top of Monte San Salvatore for the most beautiful 360° view of Lake Lugano, the City, and the Alpine chain - especially lovely from the church's rooftop and the vast terrace of the restaurant. The walk down from Monte San Salvatore leads through the beautifully situated Carona to Morcote on Lake Lugano, which is revered as one of the most beautiful towns in Switzerland.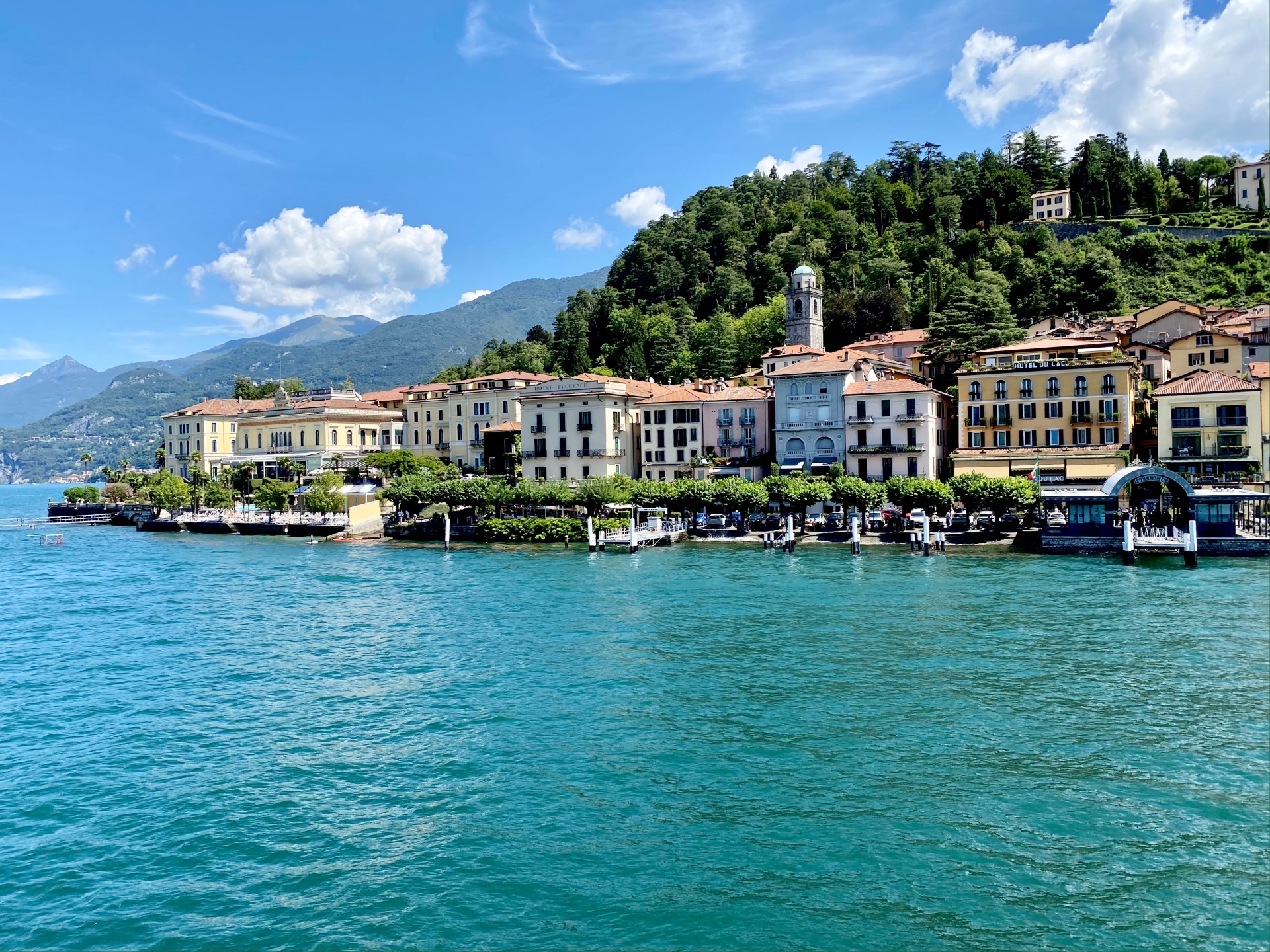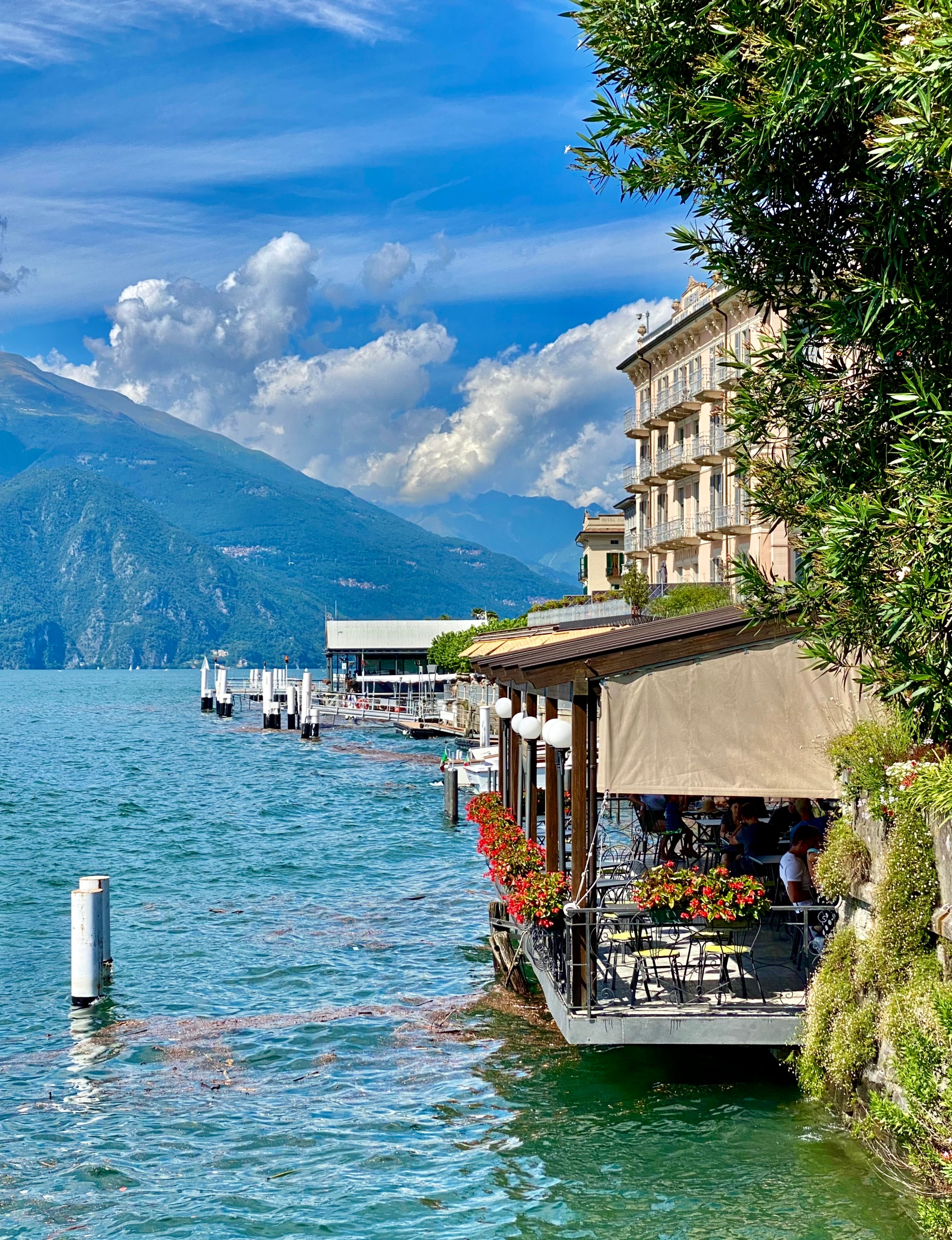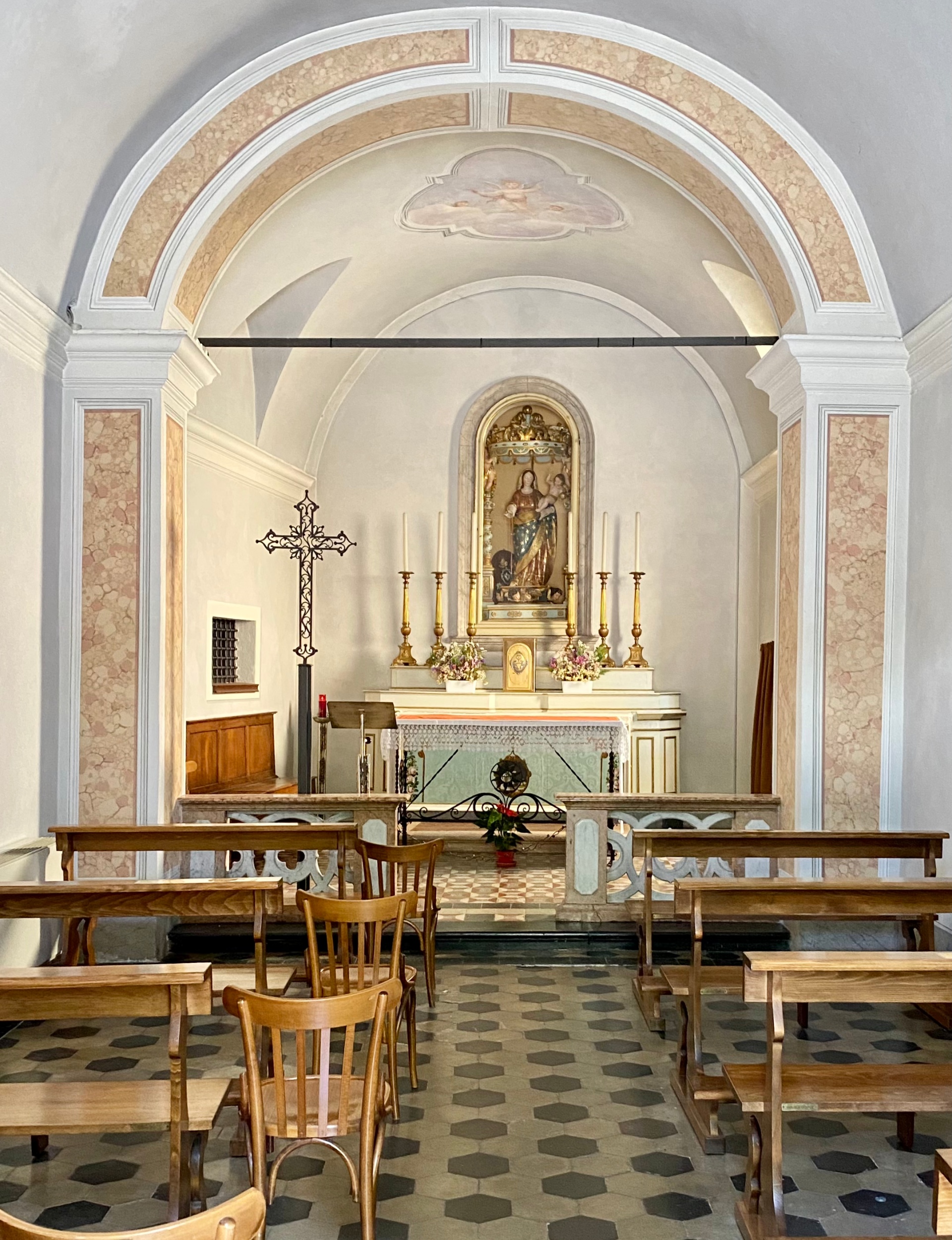 Sights and Senses to Behold
We ogled at the beauty of the blue dome, the rose window decorated with cherubs, and the intricately detailed floor and ceiling mosaics of the Cathedral of St Lawrence. The Cathedral was founded in the High Middle Ages but rebuilt in the late 15th century and built from white stone from Saltrio and Viggiù from nearby Lombardy and Carrara marble. On Tuesday and Friday mornings, the fresh produce market on Piazzale Ex Scuole sells cold cuts, flowers, cheese, and fruit.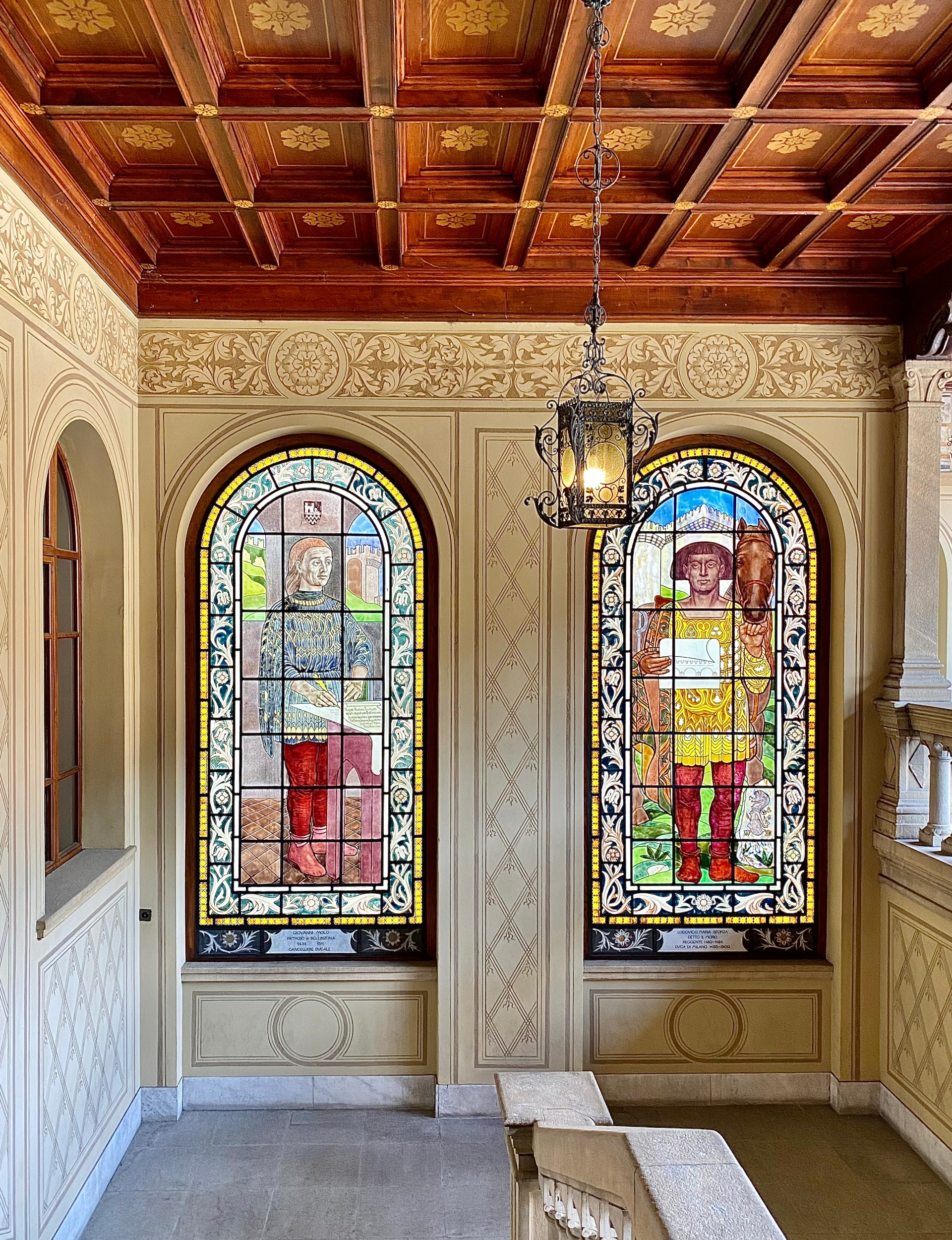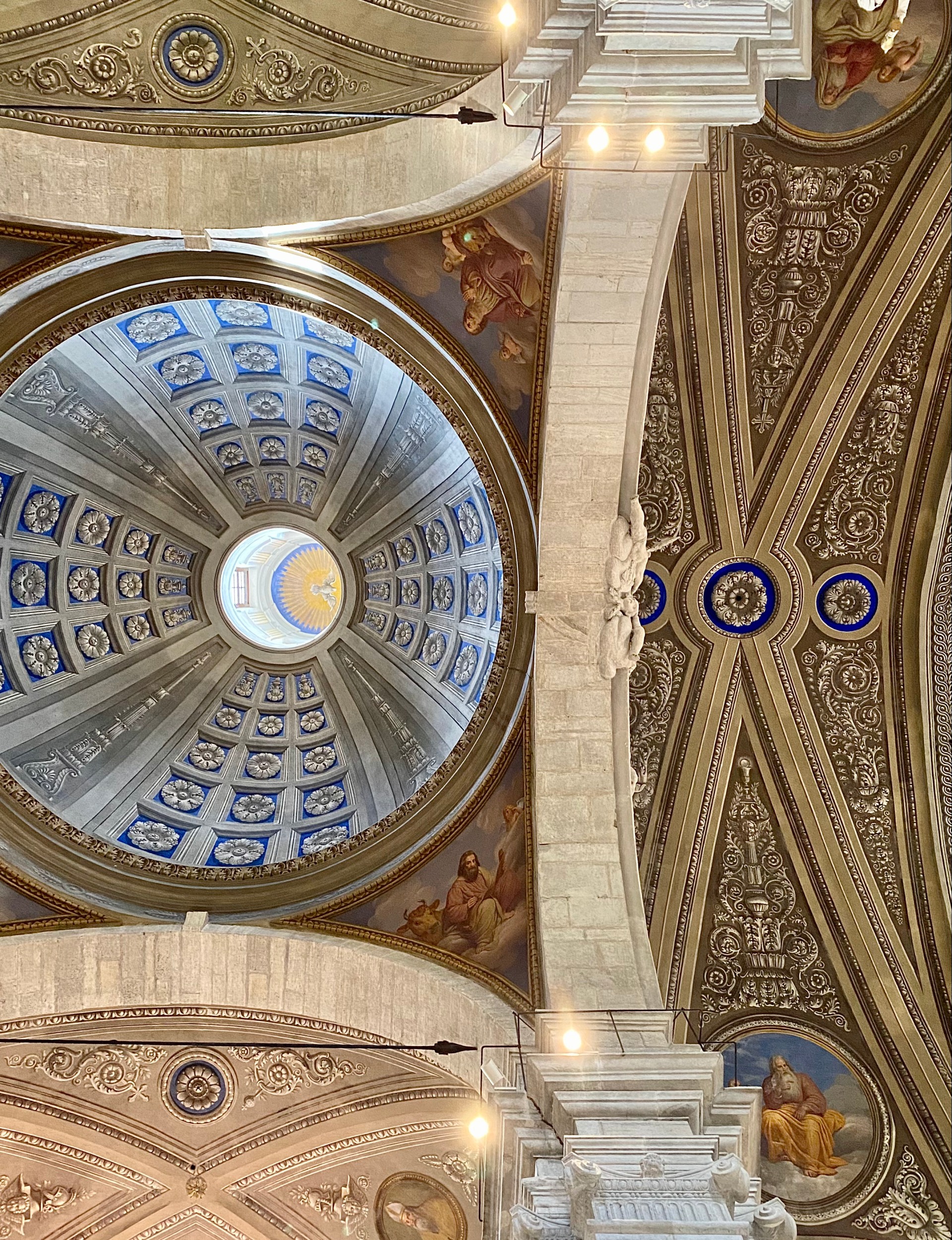 Lugano's Renaissance cathedral Cattedrale San Lorenzo is a real treasure. Carved from white limestone and Carrara marble, it dates back to the turn of the 16th century, and was constructed over a much earlier Romanesque building. Look up to see the rose window adorned with cherubs sculpted in the 1570s.
Taking a paddle steamer from the jetties at the Società Navigazione del Lago di Lugano on a tour of the lake in the evening when Lugano's lights twinkle from the shore is very pleasant.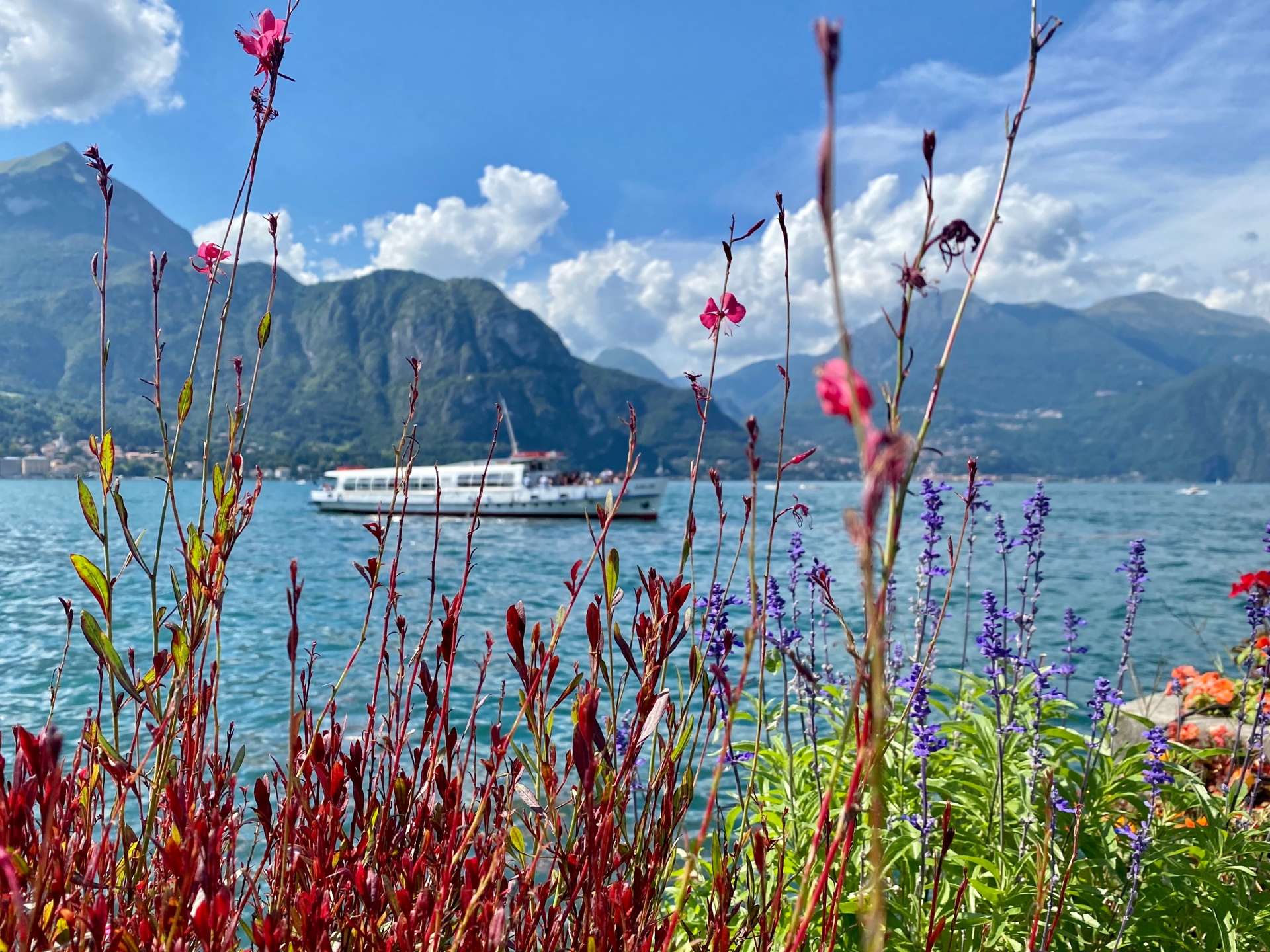 Mauri Concept - a designer boutique, beauty salon, and café-restaurant - is also not to be missed. Needless to say, alfresco dining under beautiful arcades surrounded by plants outside is a good choice for any time of the day.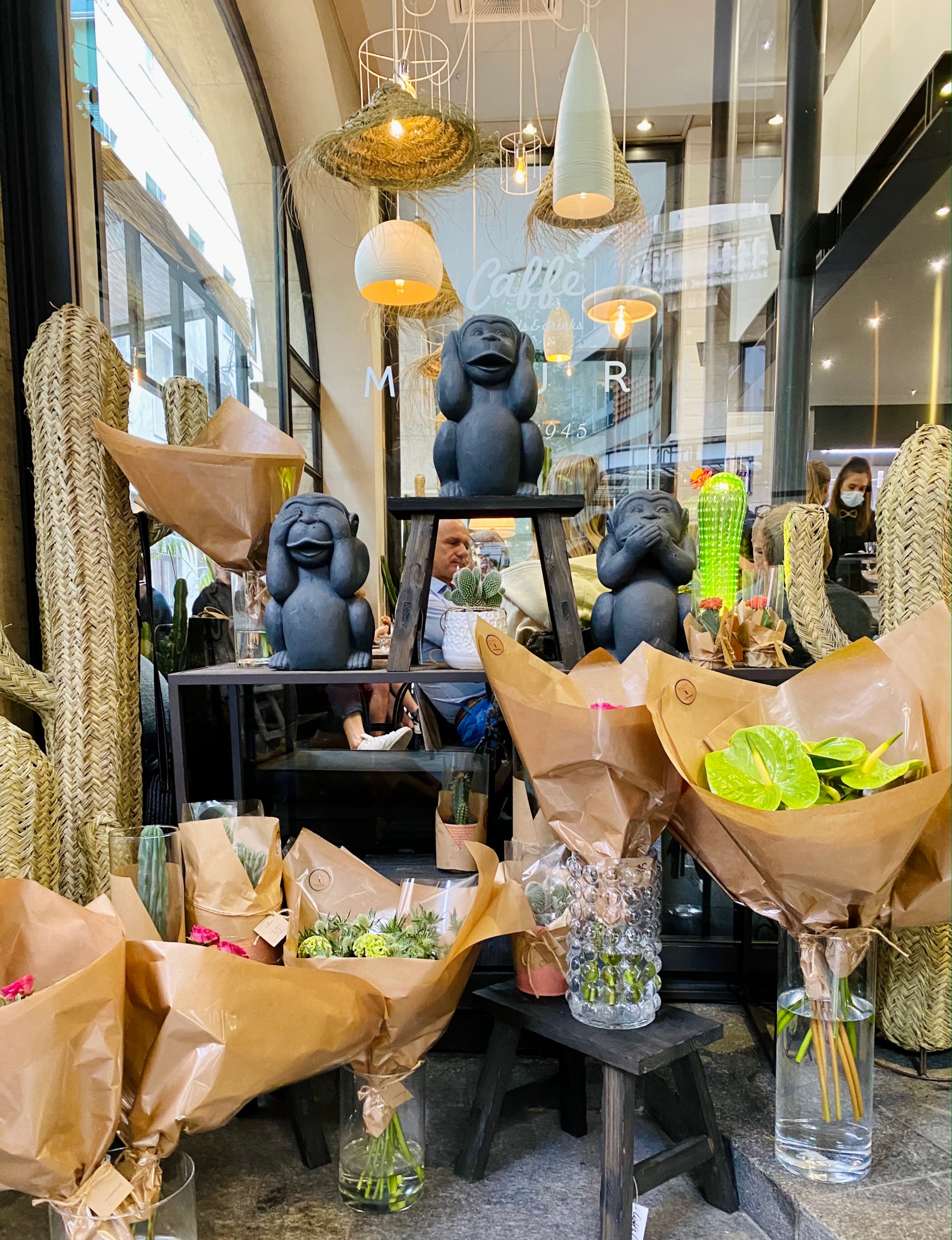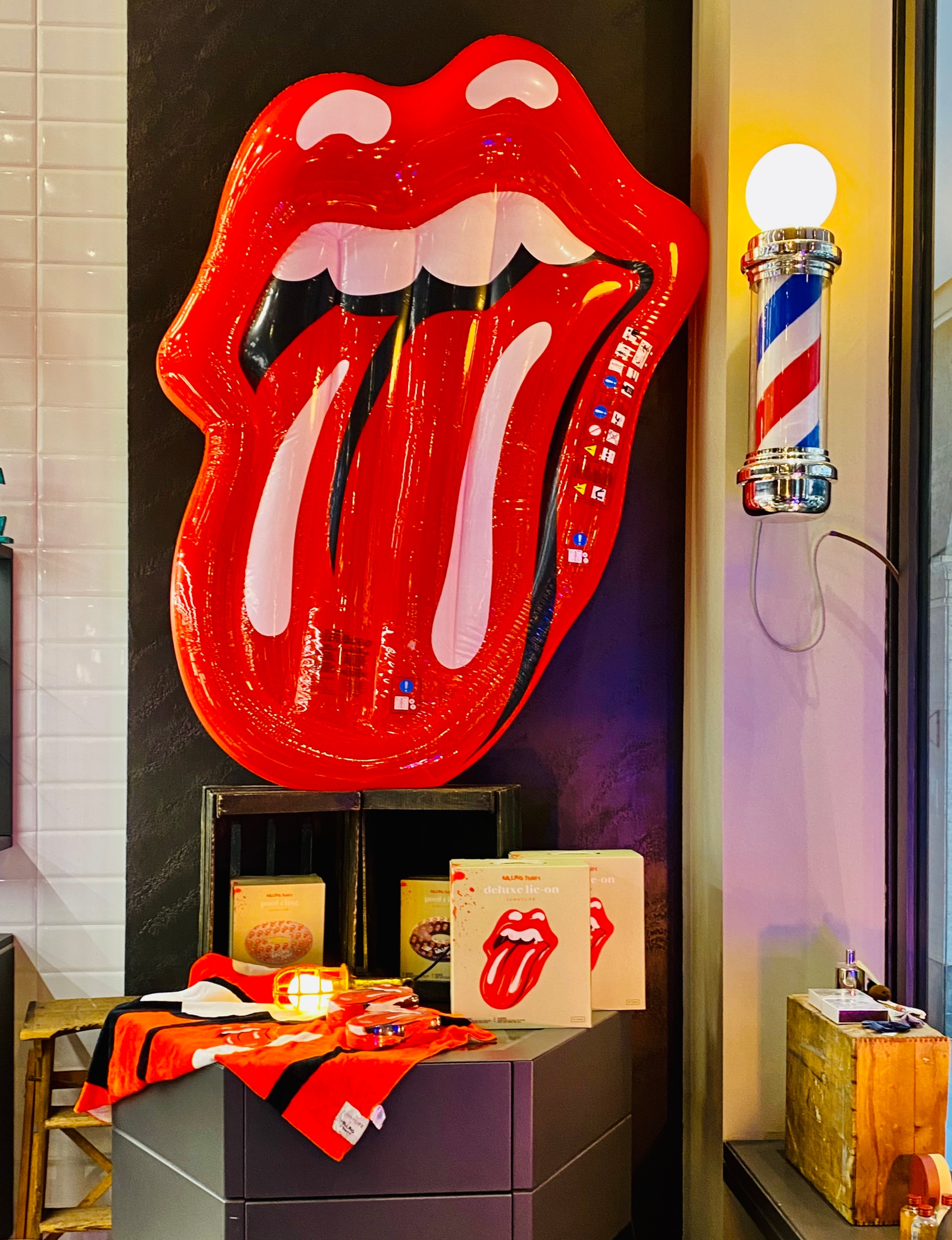 The Gandria Trail
A leisurely stroll along the Sentiero di Gandria (the Gandria Trail) clinging to the side of the Lake, is a lovely way to start the day. Breathe in the views and the tranquility as you head towards the charming unspoiled town that seems untouched by time. On the return journey, a detour from the main trail takes you up through the "Parco degli Ulivi" (Olive Park), with its century-old olive trees, which is the only place in Switzerland that produces olive oil. Nearby, Monte Brè is a small mountain east of Lugano that claims to be one of the sunniest spots in Switzerland; it's also the perfect place for a sunset tipple. We drove up, but you can take a boat from Lugano to the little harbour of Cassarate, where you can take the panoramic funicular that has been transporting visitors to the summit since 1912. On the way down, you can experience life at a slow pace in the tiny village of Brè with its lovely Ticinese houses and little church. You must not leave without a visit to the Grotto Castagneto on Monte Bre; this is a homely, picture-perfect family-run restaurant serving the most delicious homemade classic Ticino cuisine al fresco. Fresh local cheeses and seasonal fig preserve is fantastic, as are the local freshly made Ticino cheeses, Buscion, Formaggella, Gorgonzola, and deer salami - a local delicacy. Do leave some space for the homemade ice creams;  try a scoop or two of vanilla, walnut, grape, and lemon, better still, add a splash of the local nocin—a sticky dark brown walnut liqueur! It's enough in itself, but it's hard to resist the feast of hearty, mouth-watering homemade seasonal dishes. Then there is the wine that's a must to be sampled all over Switzerland. With a limited production, they keep most of it for themselves. Here in Ticino, with a microclimate similar to Provence, the vineyards are 90% Merlot grape. The red and white Merlot Bianco wines are both exceptionally good. 
For the best views, head to Monte Generoso. Take the old cogwheel railway from Capolago on Lake Lugano to the peak, and famed architect, Mario Botta's imposing building, the Fioreiore di Pietra, meaning "stone flower" in English for the way the towers resemble open petals. It sits perched on a small plateau overlooking a staggeringly steep 400 metre drop. On a clear day, you can see the Lakes of Lugano, Como, Varese, and Maggiore, the City of Milan, and the Apennine mountains, from the Gran Paradiso to Monte Rosa, the Matterhorn, Jungfrau, the Gotthard massif, and the Bernina mountains. There are two restaurants, one of which is Michelin starred, and an art gallery. It's rather lovely to think of Botta coming up here as a teenager and how it must feel to have created a new landmark. 
For bike lovers, there is 27km of bike trails and 51km of hiking trails in the Monte Generoso nature park. Monte Tamara is an adventure and nature park with hiking and biking overlooking Switzerland and Italy. 
The Perfect Day Out from Lugano: Bellinzona, Ancona-Locarno, and the Chiesa di San Giovanni Battista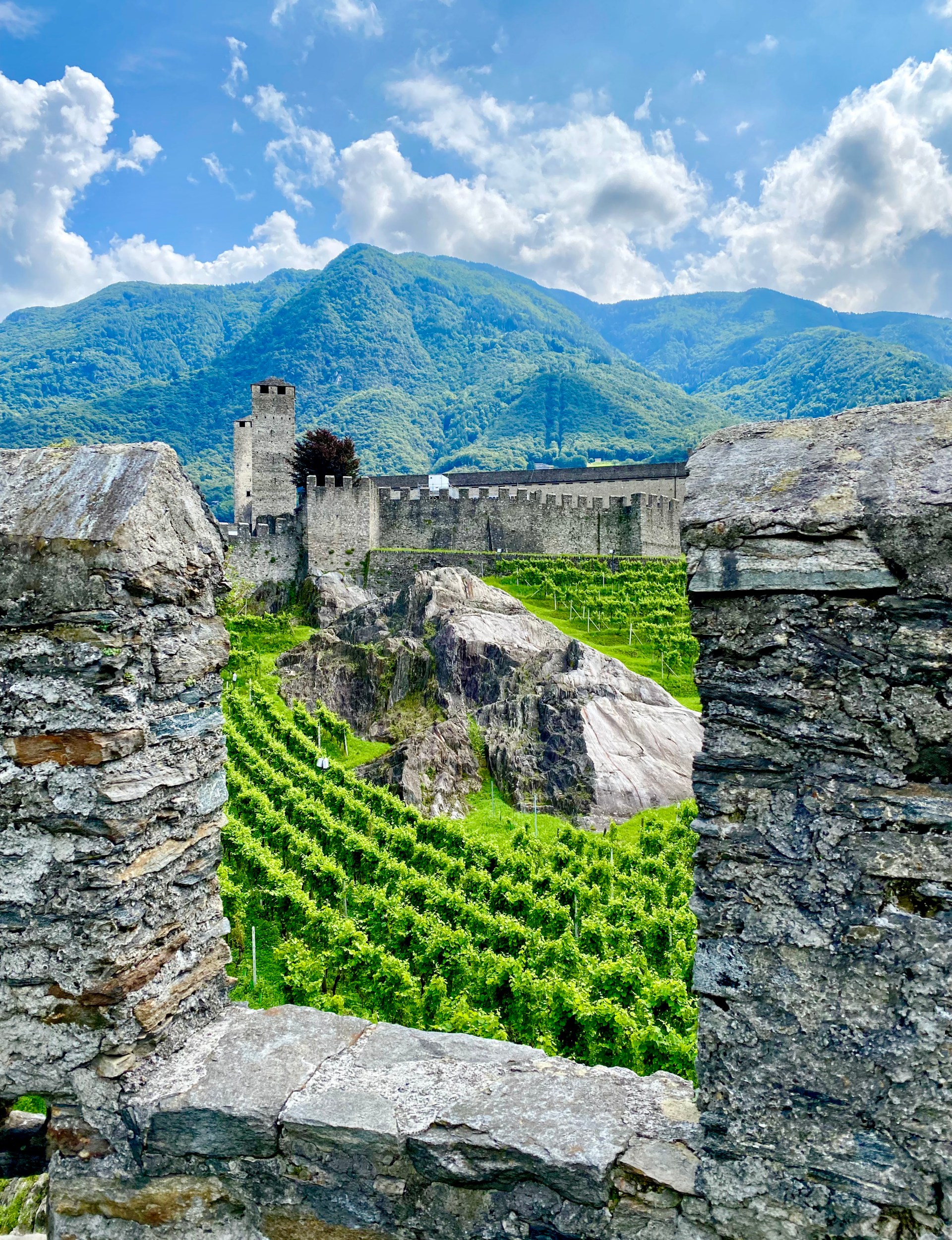 Bellinzona is known for its medieval fortifications, while Castelgrande and Sasso Corbaro, and Montebello are three of the best-preserved medieval castles in Switzerland. The "Tre Castelli" symbolize Ticino's capital and form a UNESCO World Heritage Site. It's a picturesque town, with alleyways filled with richly decorated and sympathetically restored patrician houses and beautiful churches, boutiques, cafés, and specialist shops with culinary delicacies. There is a big Saturday market happening every week in the historic city centre.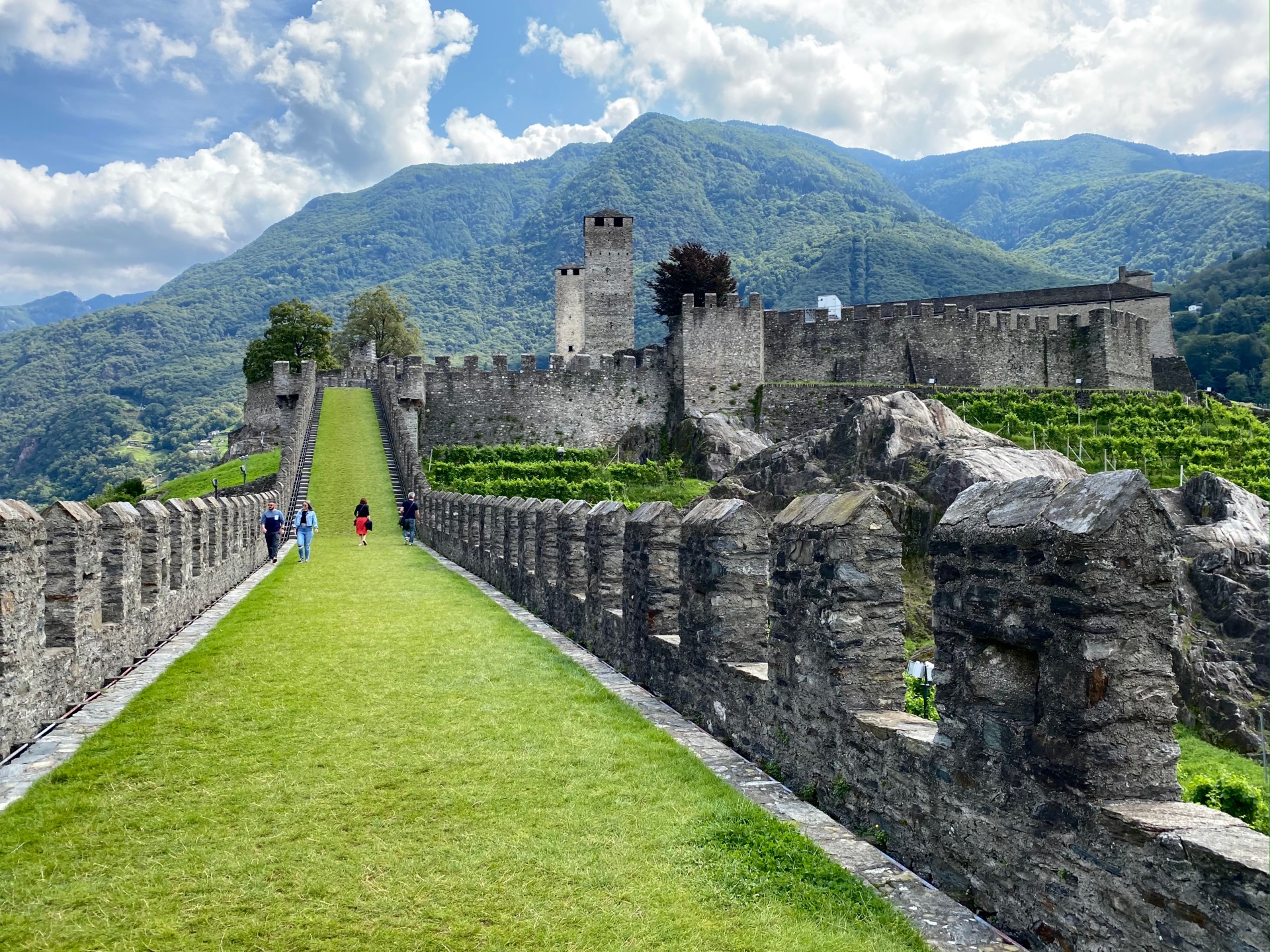 Ascona on Upper Lake Maggiore
Known as the St. Tropez of Switzerland, Ascona is a charming little town in upper Lake Maggiore. It delivers la dolce vita in spades with its panoramic vistas of glacier-tipped alps as a backdrop to its palm trees. Its buzzing sun-soaked lakeside eateries are perfect for lazy lunches and sunset sipping. There's a lively piazza for shopping and many lovely places to stay a night or two. You can swim, rent stand-up paddleboards, hire a Riva or a sailboat, and spend the day island- hopping. The annual Ascona Jazz festival has more than 200 free concerts in June and July along the lakefront. From here, and a must-stop for all architecture lovers, is another of Mario Botta churches - the Chiesa di San Giovanni Battista - in the tiny hamlet of Mogno in the gorgeous Maggie Valley. It's an elliptically shaped building made of alternating layers of native Peccia marble and Vallemaggia granite, with an oval-shaped slanting roof. The interior is a dizzying black and white checkerboard design. The only lighting is the natural light that streams in through the glass roof, casting an ever-changing dancing shadow through the day. It's a magical, meditative space that encourages you to linger. Then, take a stop for a refreshing dip in the nearby river, pick up some yummy local produce for an indulgent picnic, take a hike in the mountains, or sample local delicacies in the roadside restaurants, depending on how you feel before or after visiting the church.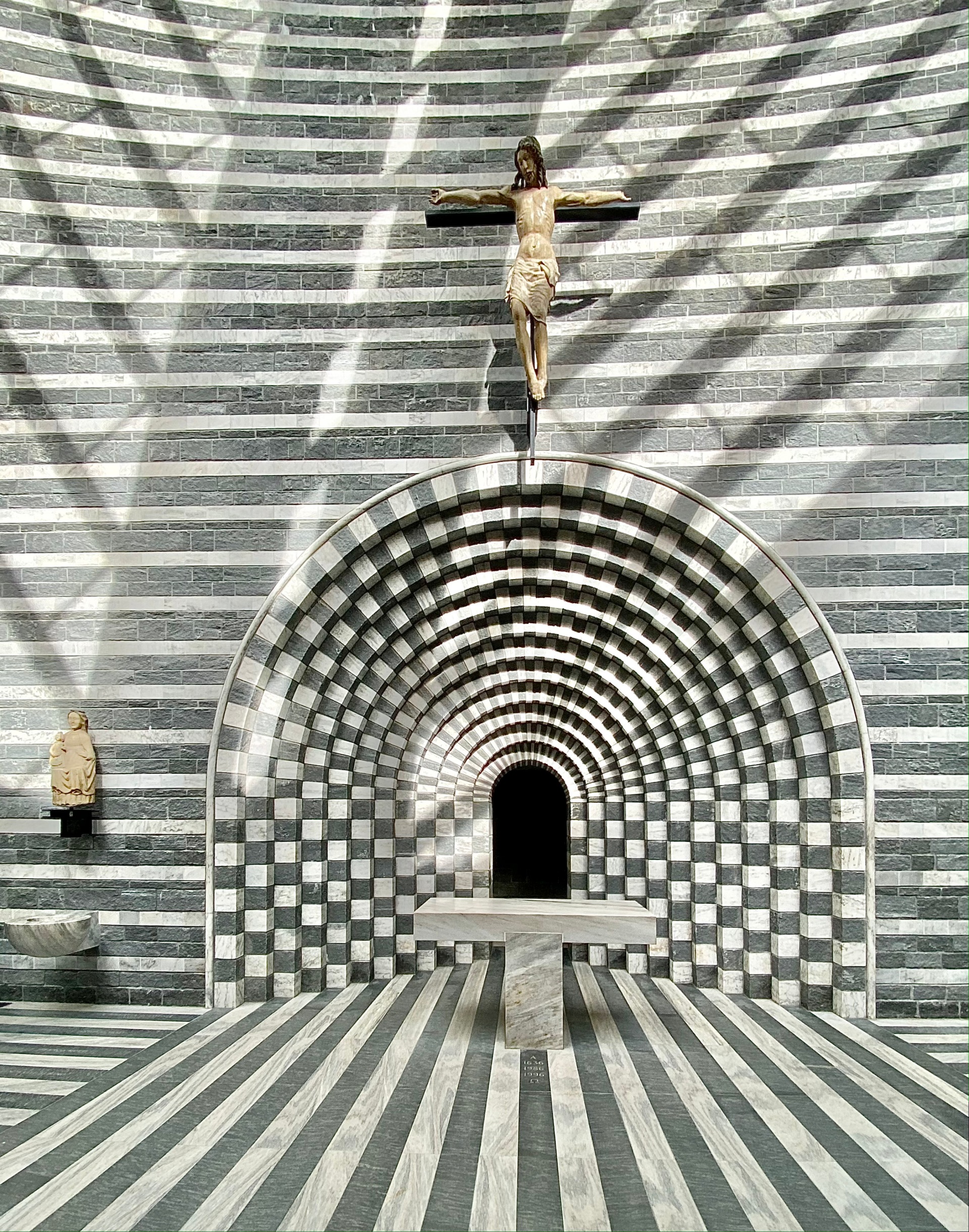 Must Visit Towns and Accommodation 
Excitingly, it is only 23 kilometres to Bellagio and 32 kilometres to Lake Como in Italy from Lugano. Lake Como boasts a picturesque setting with lush greenery, historic lakeside villages, ornate centuries-old villas, quintessentially Italian architecture, elaborate gardens, tiny churches, and endless scenic walks and hikes, all framed by the backdrop of the Italian and Swiss Alps. You can spend several days exploring the villages. Bellagio is probably the most famous town here; its beautiful villas overlook the water, and small charming cobbled alleys are full of tempting shops, boutiques, and restaurants. Toc is the traditional dish of Bellagio, made from Missoltini - a preserved local shad served drizzled with vinegar and oil, with a slice of polenta, and dried peppers. Bellagio is also known and appreciated worldwide for the artisanal Christmas decorations.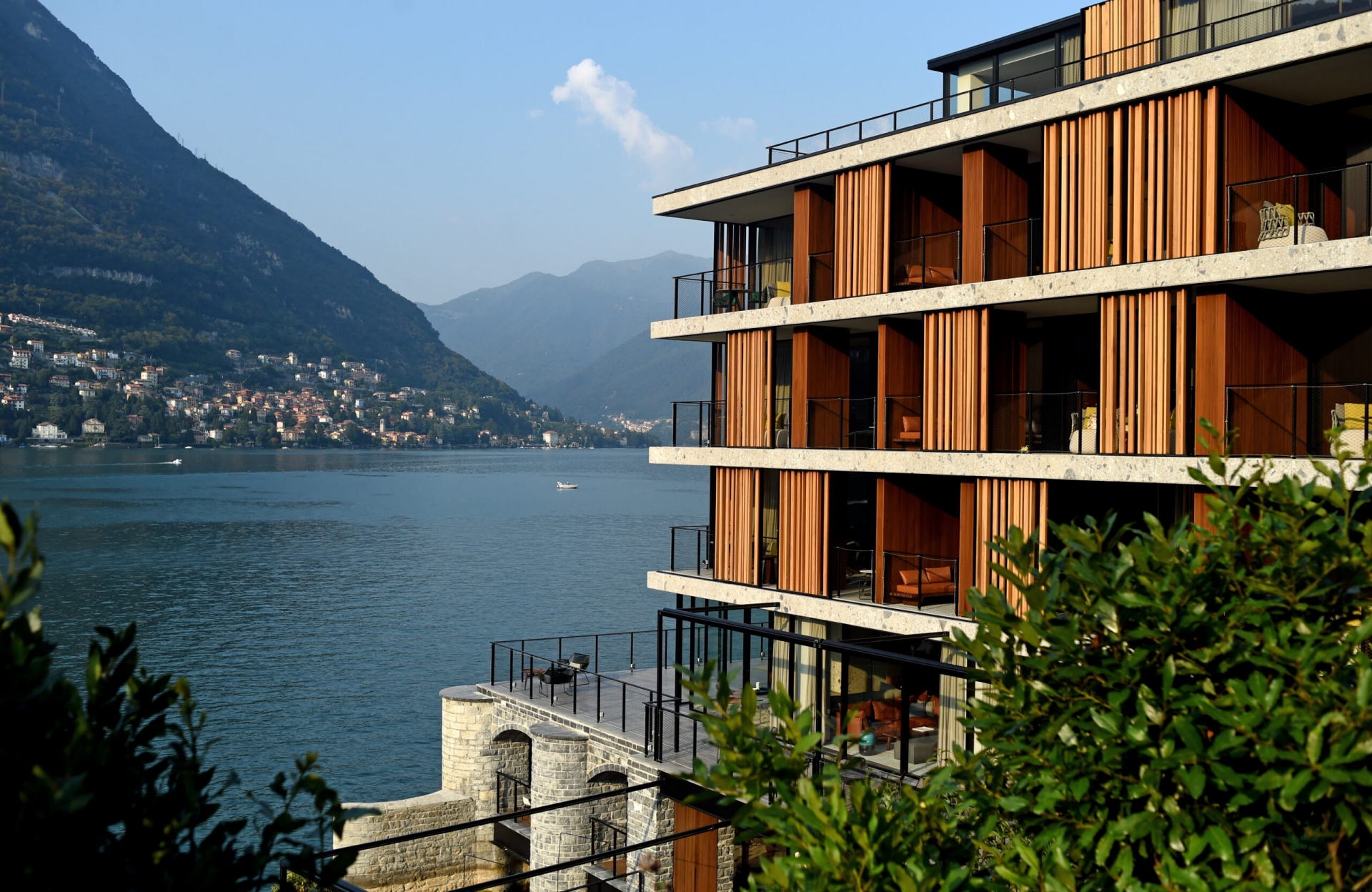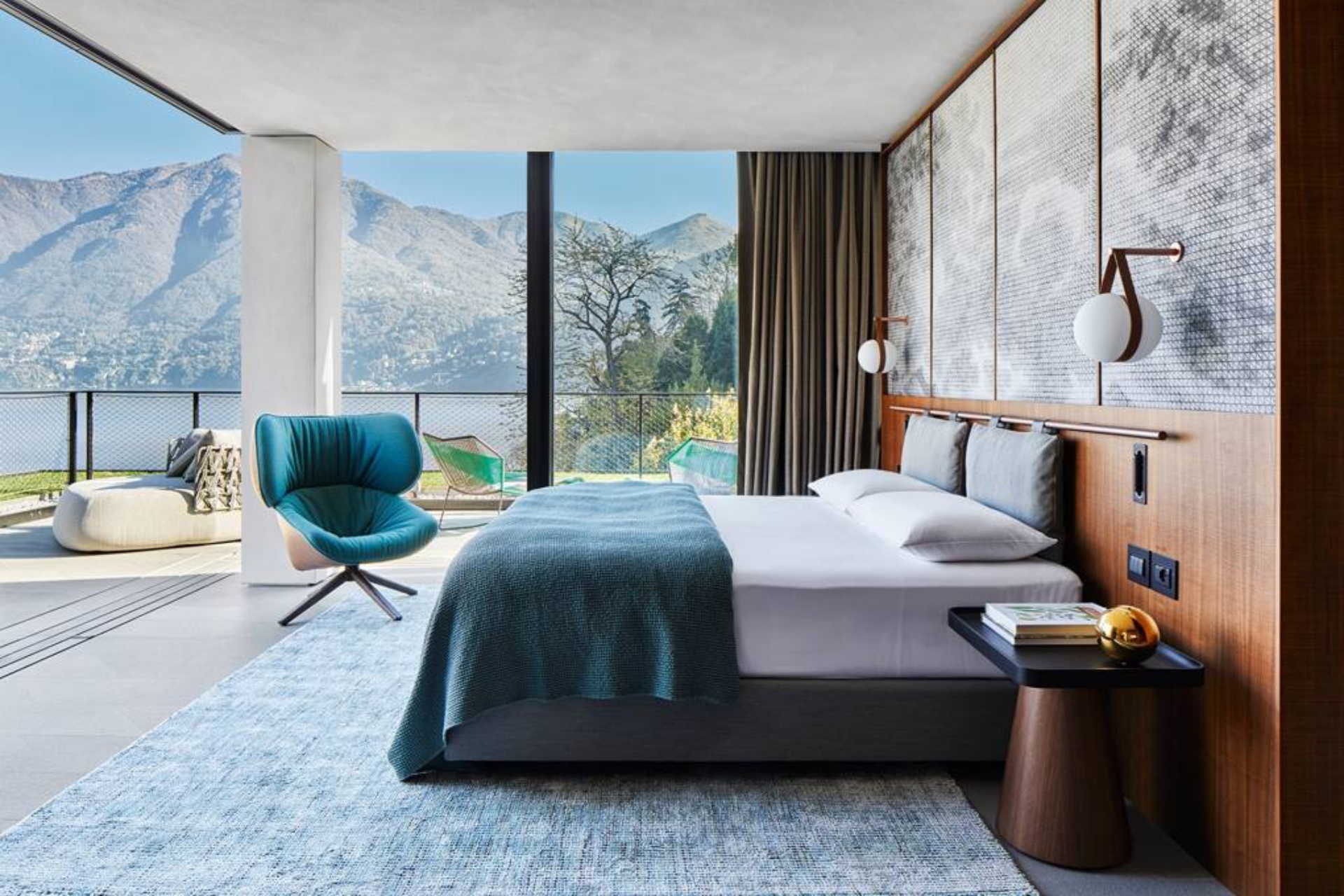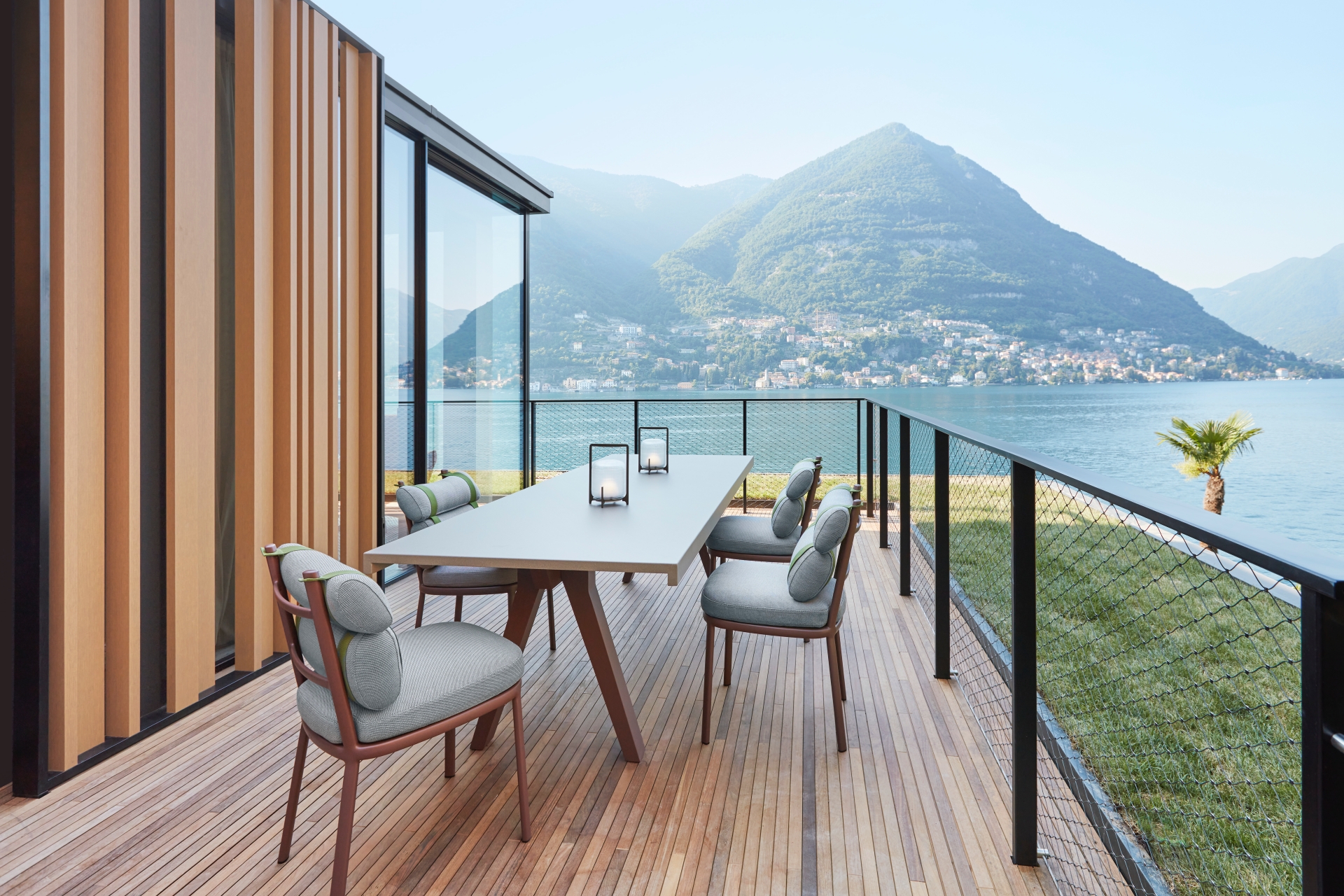 Sitting across the Lake from Varenna, Menaggio is one of the largest and most beautiful towns on Lake Como and not far from Bellagio. These three towns are linked by ferry and form a "golden triangle." There is so much to see here that you might want to consider staying over at Il Serano, the only new hotel built on Lake Como in decades. Designed by famed architect and designer, Patricia Urquiola, it's an intimate hotel located in the town of Torno, overlooking the natural beauty and dramatic vistas of Lake Como and the southern Italian Alps. Urquiola's architecture and contemporary interiors soothe in gentle palettes of greens, blues, and taupe that echo the colours of the Lake. This is staged staggeringly with French botanist, Patrick Blanc's vertical living wall, that makes a dramatic and lush backdrop for sipping cocktails with views over the Lake. While Il Serano is a refreshing move away from the existing traditional and more opulent villa hotels. Villa Làrio is an intimate, contemporary lakeside retreat with nine suites in two converted 19th-century patrician villas and their surrounding gardens. Another new kid on the block in terms of accommodation is the Mandarin Oriental, which has a staggering setting with its pool within Lake Como.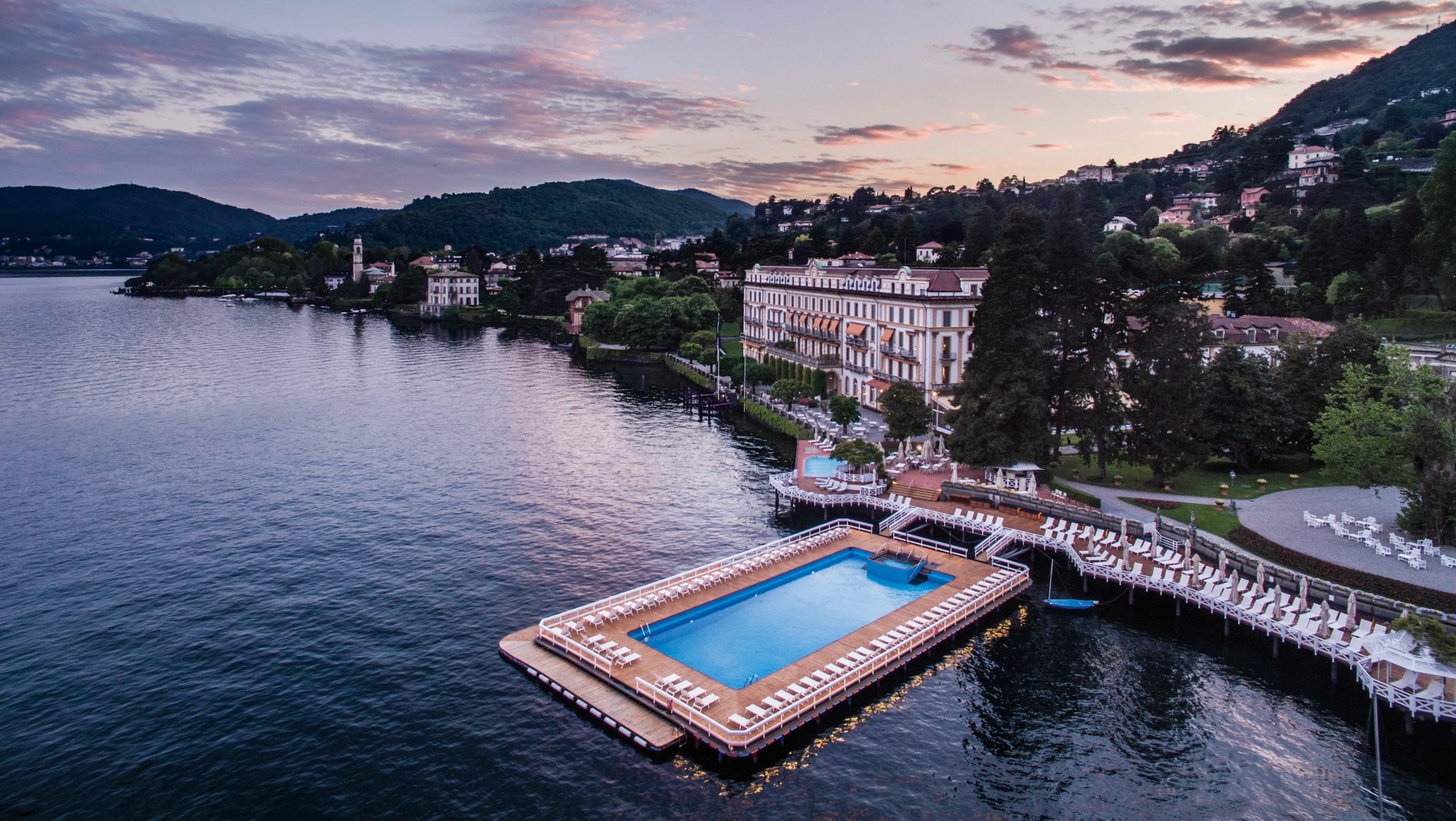 Despite us buying new hiking boots for this trip, they remain unused; we didn't have time to venture on any of the 310 hiking routes around Lugano. Nor did we get to chill on one of the four Lidos. But we know we'll be back. Next stop for us is a fabulous boat trip to Luzern. Stay tuned.