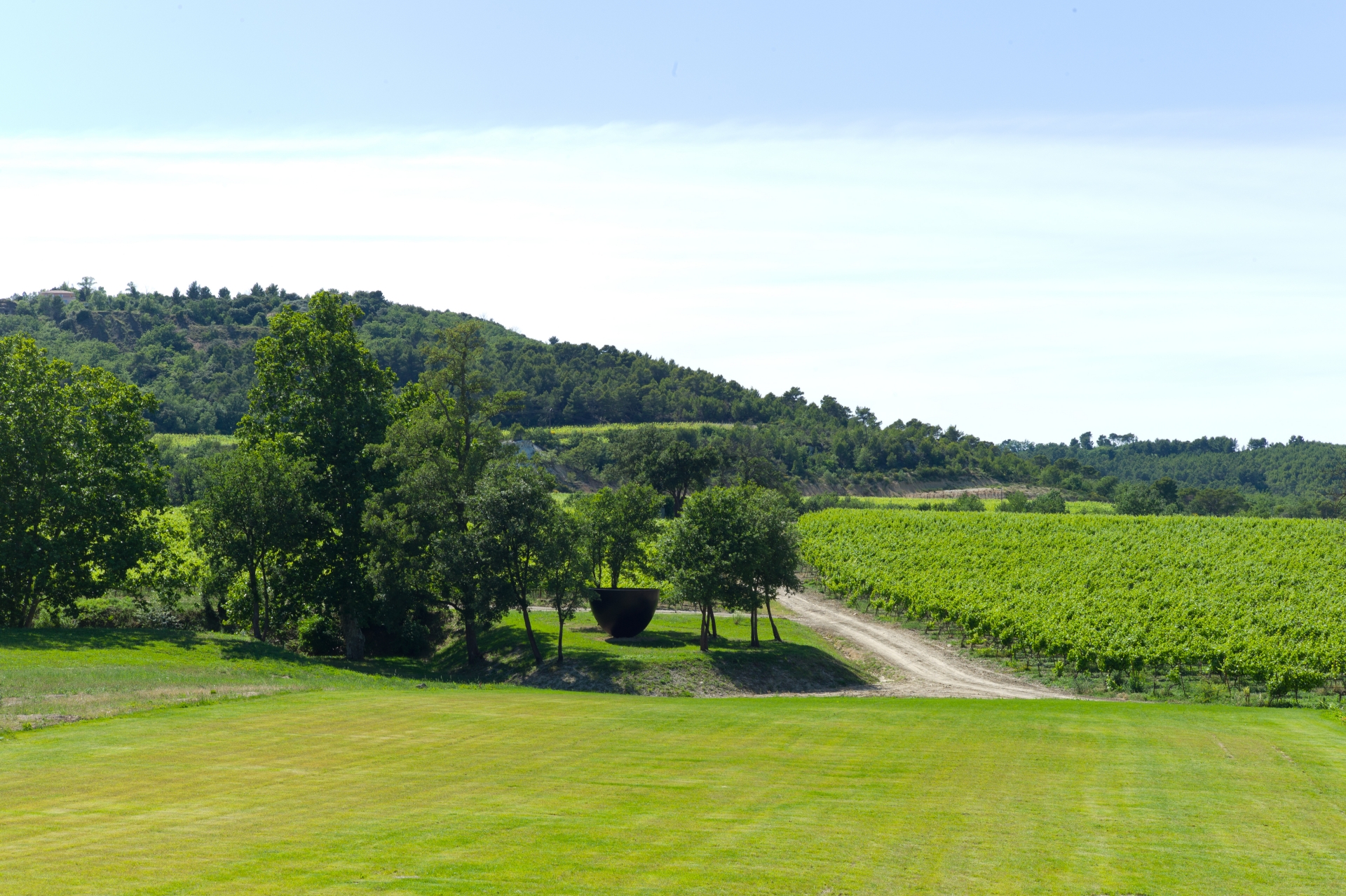 A slice of paradise 15 kilometres north of Aix-en-Provence, accessed via a winding country road through typical picturesque Provençal countryside, nestled amongst vineyards and rose bushes clinging to the hills, surrounded by oak and olive trees and trickling streams - it's blissful. Château La Coste, previously a rather ordinary wine farm, was brought to life by the Irish hotel owner and property magnate Patrick (Paddy) McKillen, whose portfolio includes London's iconic hotels, The Connaught, The Berkeley and Claridge's. McKillen discovered Château La Coste in 2002 while searching for a home in the French countryside. He looked at many places but instantly knew that Château La Coste was the property he'd been searching for; he felt it had a magical feel and quickly saw its potential to become something much more than it was. He already had the Calder, ''Small Crinkly", a 1976 mobile and was looking for a place to put it, somewhere outside, not locked away somewhere, and Château La Coste made a perfect home for it.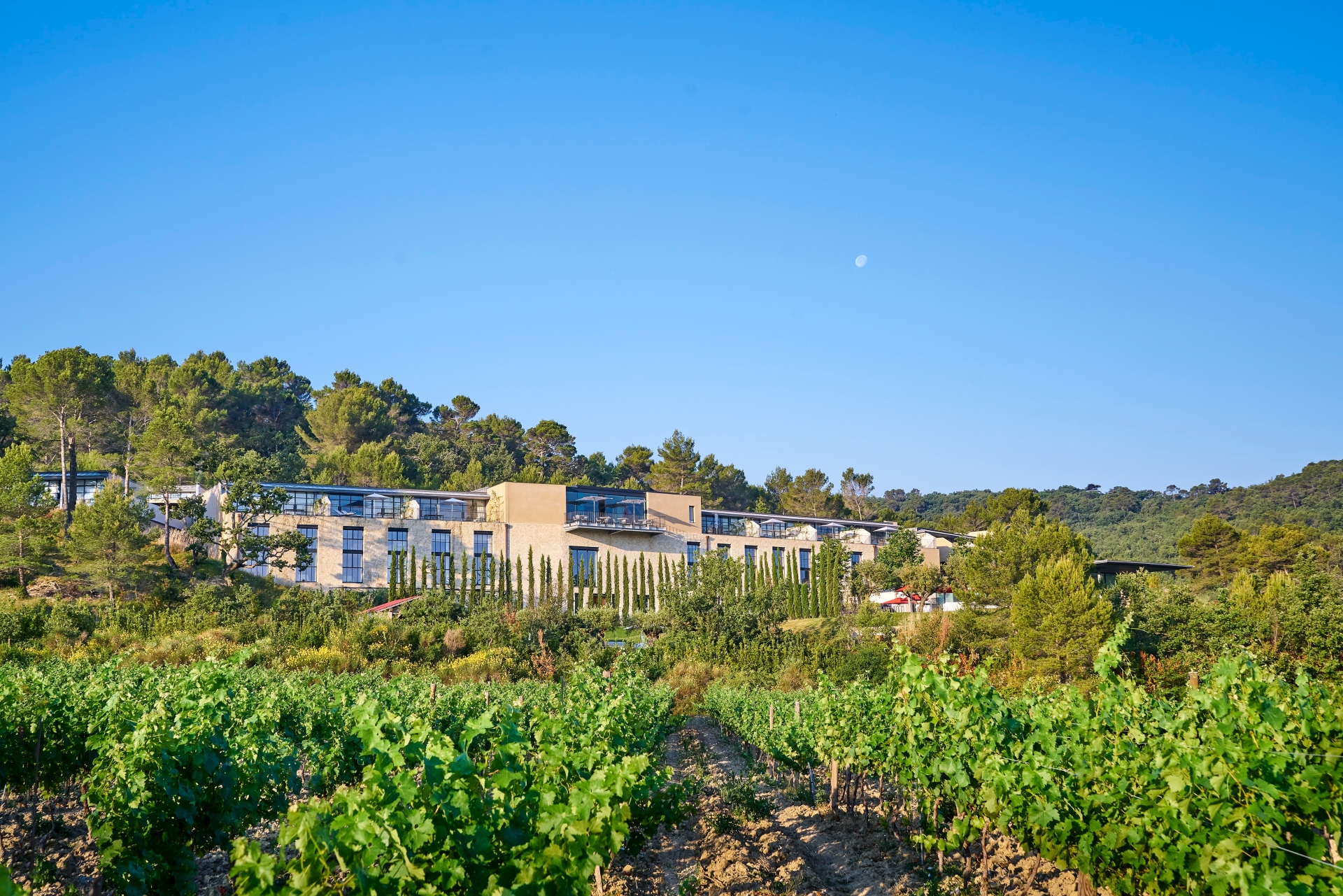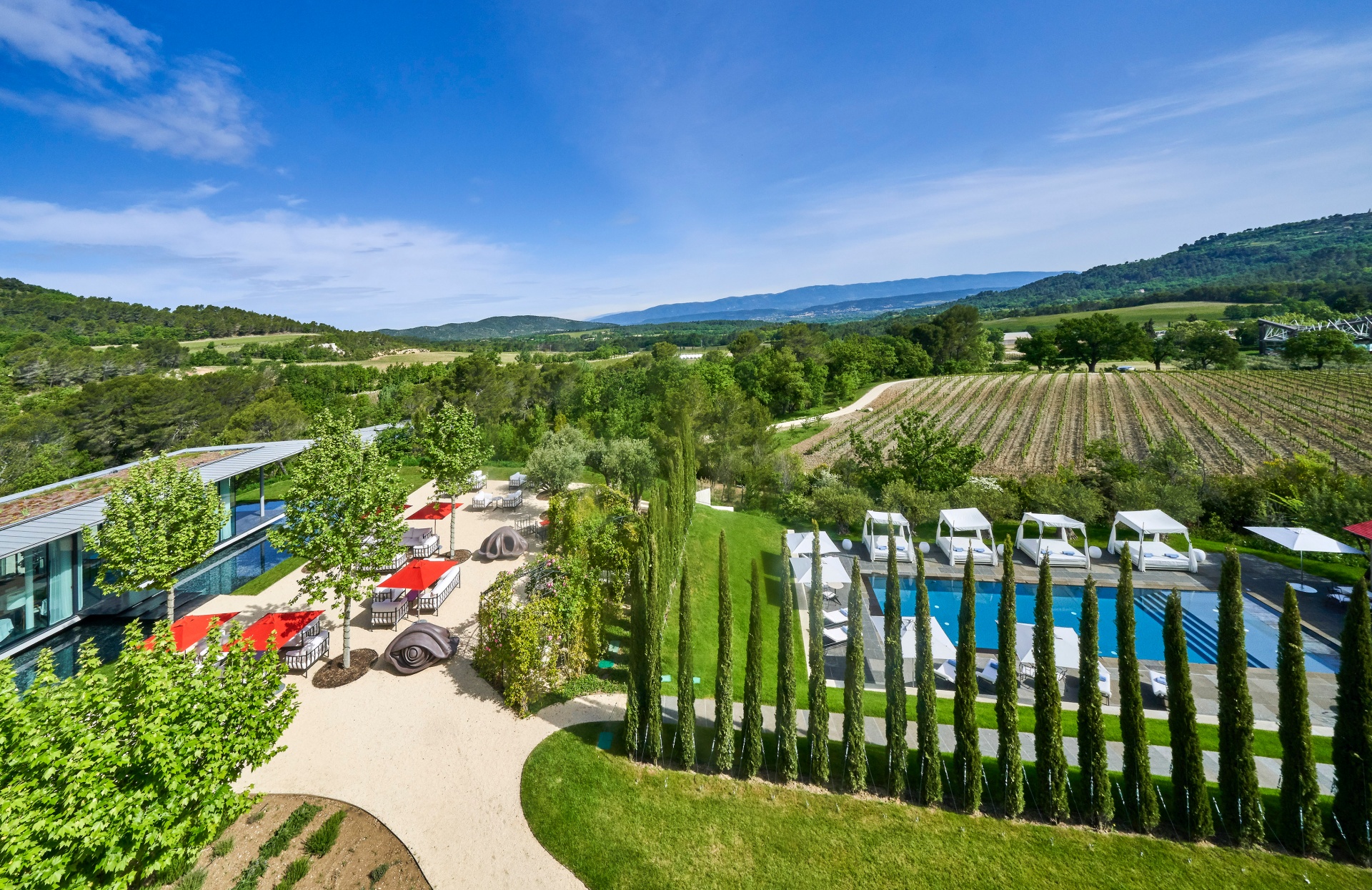 It now stands near the Tadao Ando-designed art centre - a spectacular, V-shaped concrete building with bold geometric lines, enclosing a shallow pond and overlooking Hiroshi Sugimoto's sculpture Mathematics Model 012 (2010). Herewith the journey began. Next, McKillen started lengthy negotiations with Louise Bourgeois to secure one of her bronze spiders. "Crouching Spider" (2003) now greets all visitors to the estate. Jean Nouvel designed the winery, and has since turned his 500-acre vineyard into a fabulous open-air art gallery. The sculpture park opened in 2011, although McKillen says he didn't set out to create a "sculpture park". The rest, they say, is history. An avid art lover and friends with many "starchitects", McKillen invited artists to visit and work at the estate, giving them carte blanche as to where their work will live. The only guideline is respect for the landscape; they must not touch the trees or the restanques – the drystone walls from Roman times used to structure the terraced agriculture. There is currently an incredible 34 site-specific works of art, large scale sculptures, immersive installations and full-blown land art, small buildings and pavilions from renowned artists and architects such as Frank Gehry, Jean Nouvel, [Jean Nouvel Cellars, 2008], Tadao Ando, [Art Centre, Four Cubes pavilion, and Chapel, all completed in 2011] alongside works from Sean Scully, Andy Goldsworthy, Richard Serra and Tracey Emin all sitting in the gently rolling landscape. Renzo Piano's Art pavilion, 2017; Frank O. Gehry's Music Pavilion, 2008. The contemporary creations reveal themselves as you travel along the Art Walk via a winding pathway through the hills.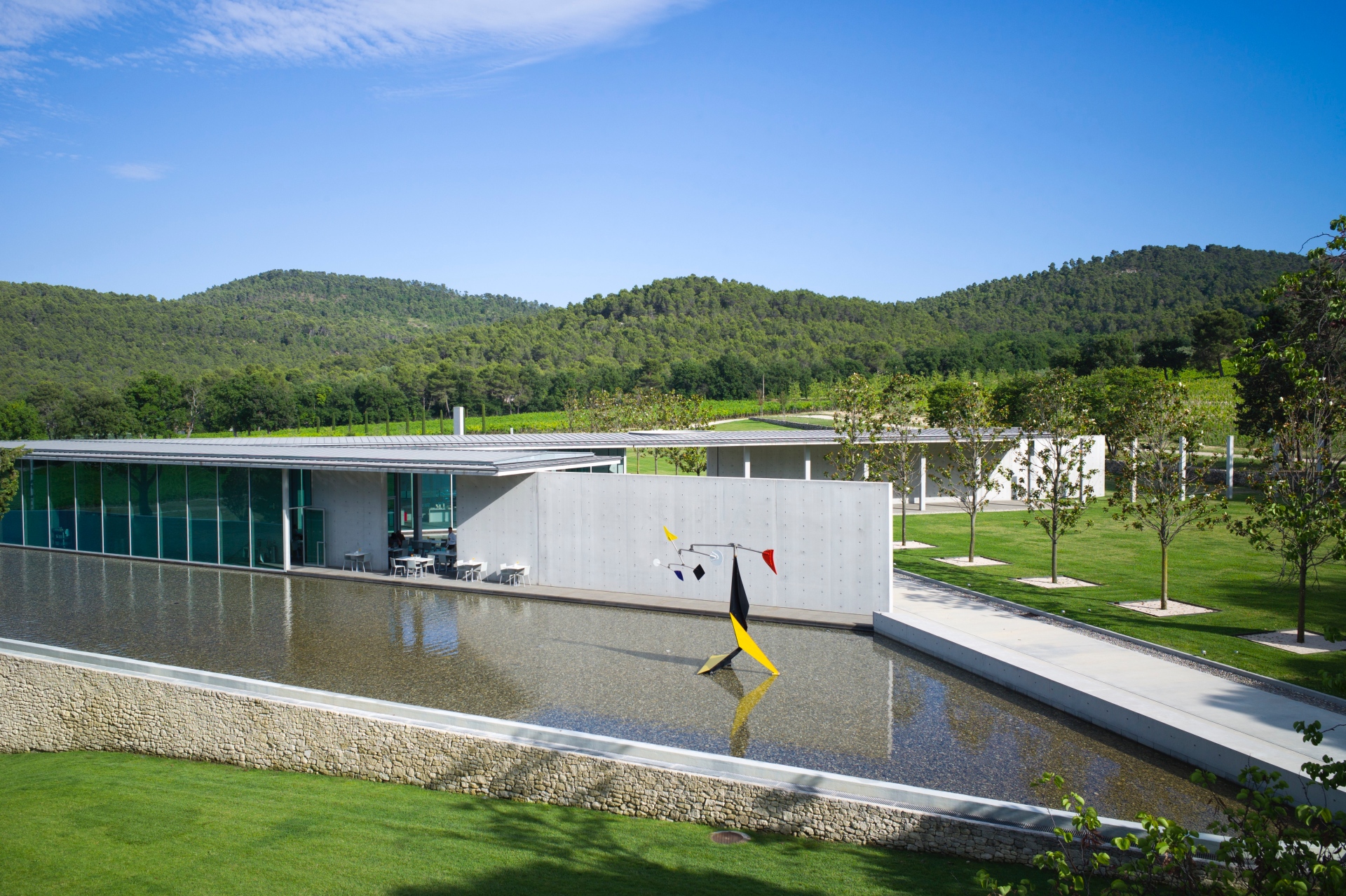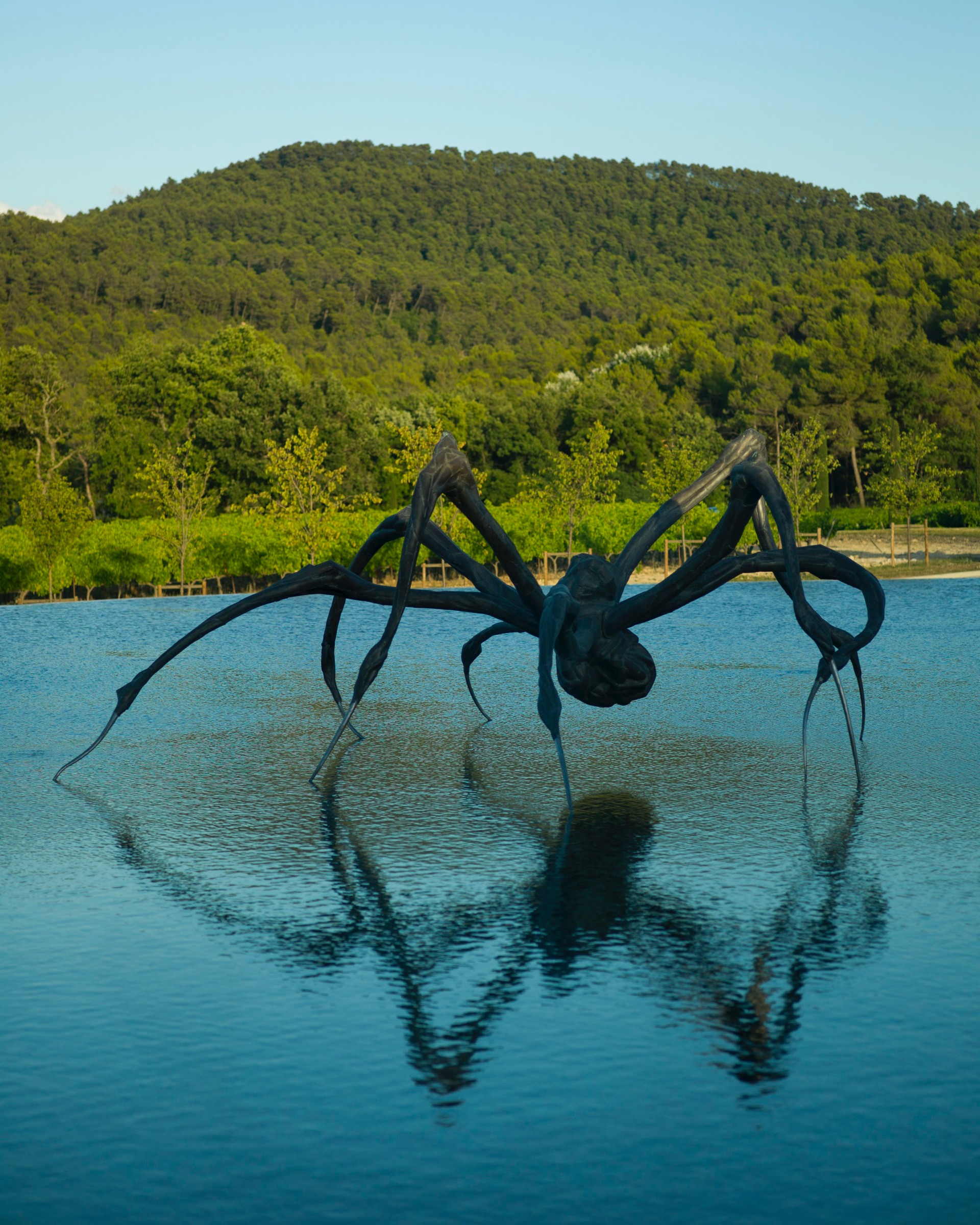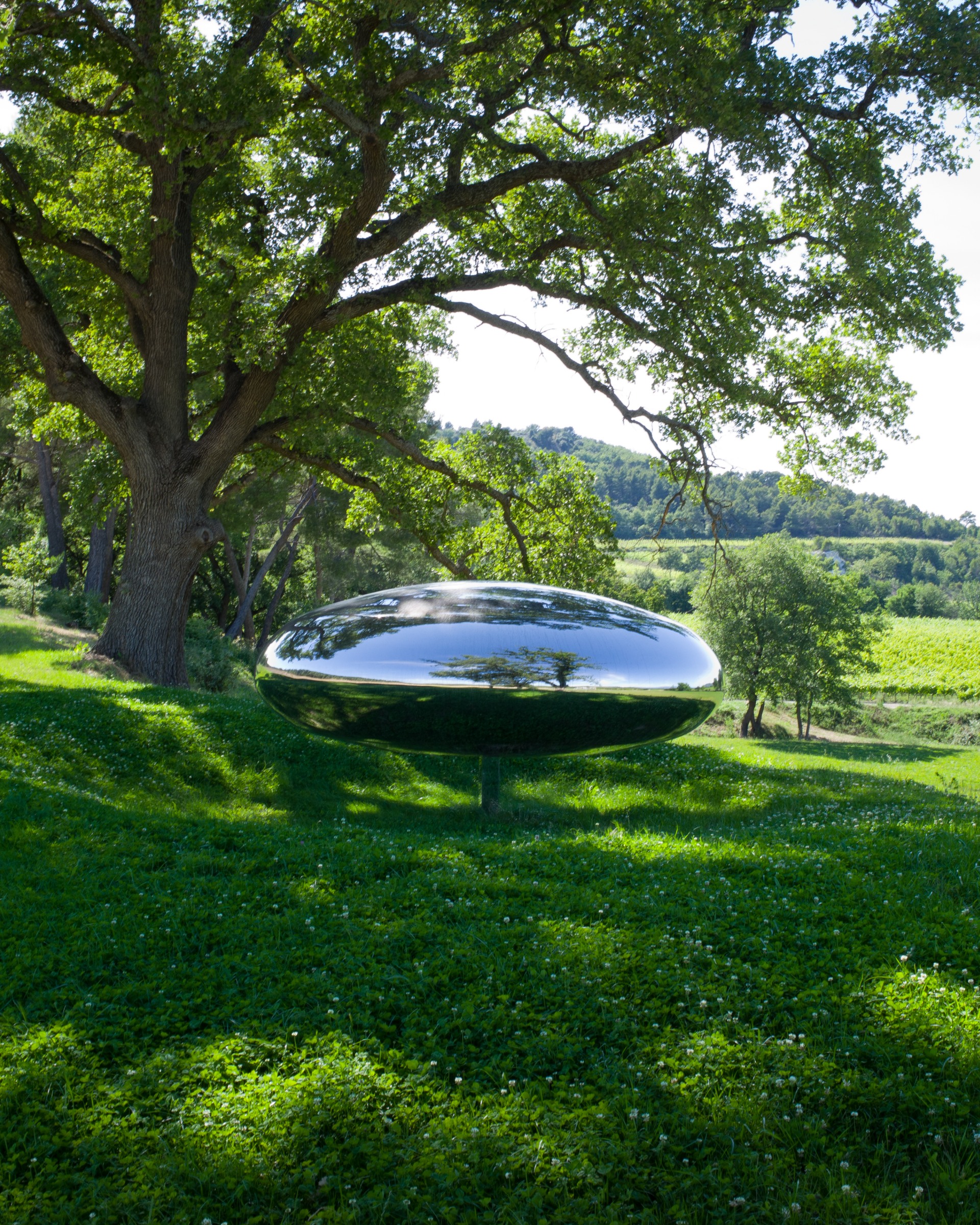 THE ART WALK
All of the artworks are uniquely spectacular. New this year is Richard Rogers Drawing Gallery, a dynamic bright-orange structure cantilevered gravity-defying pavilion. And this May, Bob Dylan's largest-ever metal welded sculpture, Rail Car – an immersive, ironwork freight car installation set on train tracks features motifs of ladders, wheels and tools. Motifs are seen in Dylan's art and related to aspects of his past. The Oak Room is a combined tomb, nest, and cave integrated into an ancient restanque by land art pioneer Andy Goldsworthy made from interlinked oak logs and branches to form a circular shape. Frank Gehry's Pavillon De Musique (2003), last seen at the Serpentine Gallery in London. Ai Wei Wei, Lee Ufan, Paul Matisse, Tracey Emin, Richard Long, and Sean Scully are just some luminaries who have left their mark. Ai Wei Wei's Ruyi Path is a new pathway made with recycled cobbles from Marseille ports. The path weaves its way through trees connecting two ancient routes on the property. It takes its name from the traditional S-shape of the ceremonial sceptre that symbolises power and good fortune in Chinese folklore. The structure is a mix of sculpture and architecture that is both traditional and modern. At the top of the walk, Tadao Ando's Tadao sits at the end of the sculpture trail chapel, offering a space for contemplation. The metal frame structure with glass filters light and reflection in Richard Serra's metal plate sculpture bursting from the earth.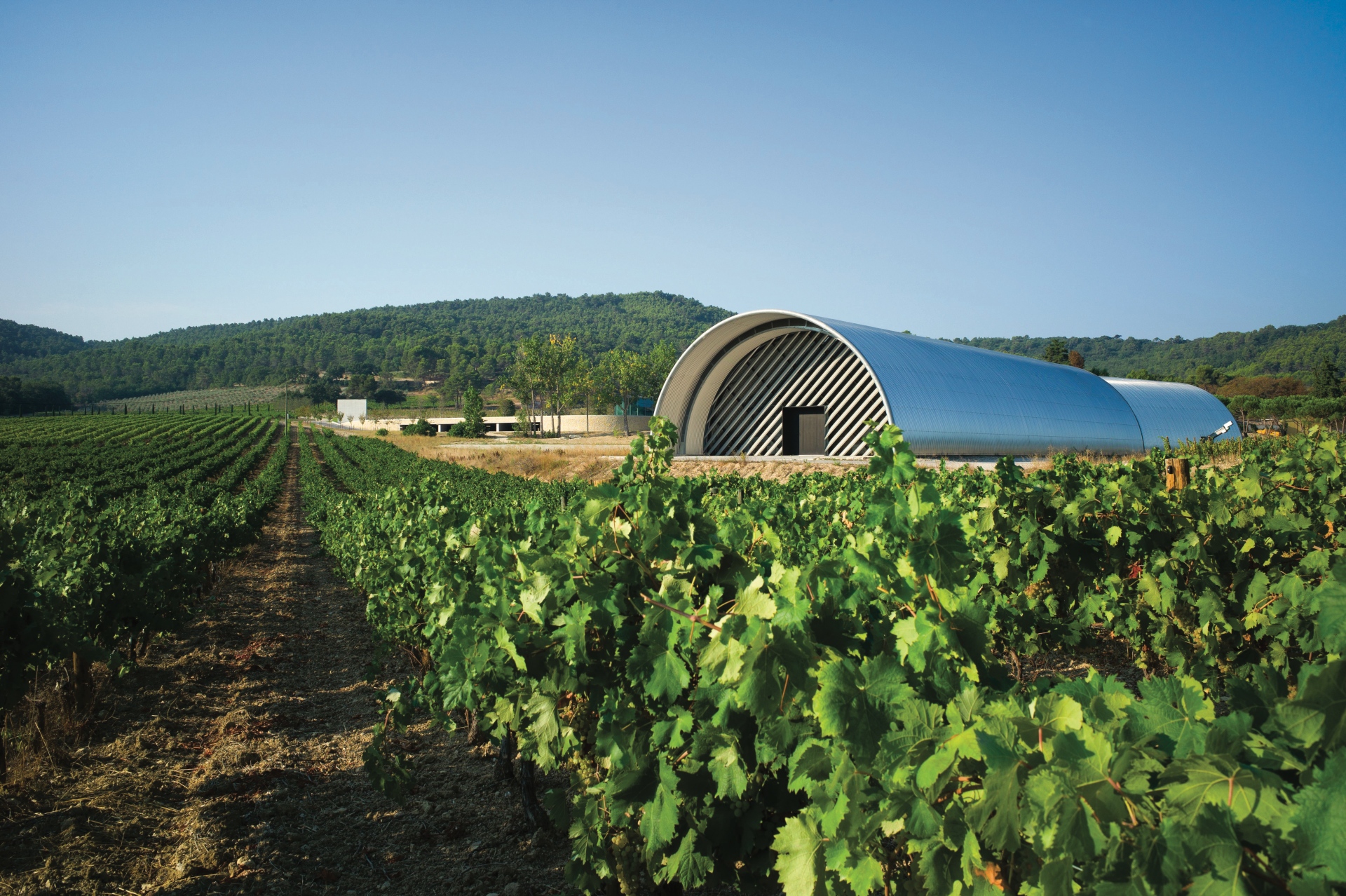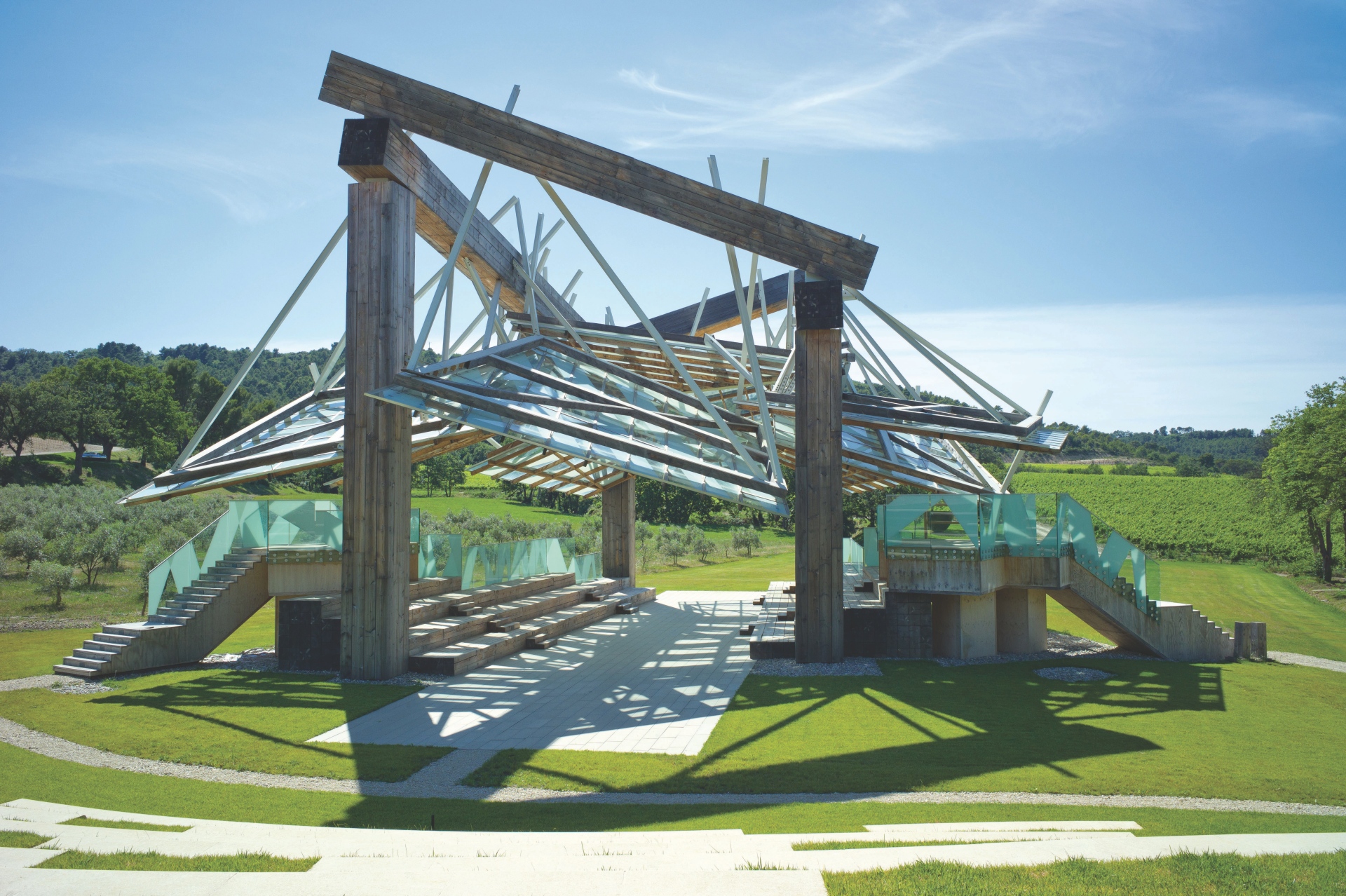 VILLA LA COSTE
The luxurious uber-contemporary Villa La Coste hotel opened in 2016. McKillen not only conceptualised the hotel design with his in-house architects and the Marseille-based architect Christopher Green, he also curated the art that hangs on its walls. The stone building blends perfectly into nature with its refined contours and green roof overlooking the property's vineyards. There are cool stone floors and walnut doors. In the lobby, the centrepiece is a banquet-size wooden table by Jean Nouvel with a polished stainless-steel sculpture by Tom Shannon sitting on top. Sketches by Swiss sculptor and painter Alberto Giacometti sit behind the check-in desk, and a Damien Hirst psychedelic spin painting sits opposite Sean Scully's Robe Red Red canvas. Above a Charlotte Perriand table, pages from Louise Bourgeois's embroidered fabric book Ode à la Bièvre sit in a grid-like formation. Hong Kong-based architect André Fu designed the bar, library, and 12-room spa with a 'contemporary Provençal' and a 'relaxed luxury' feel and aesthetic. In the bar, a striking spider marble is a sleek backdrop to the expansive view of the Luberon Valley, visible through floor-to-ceiling sliding-glass doors.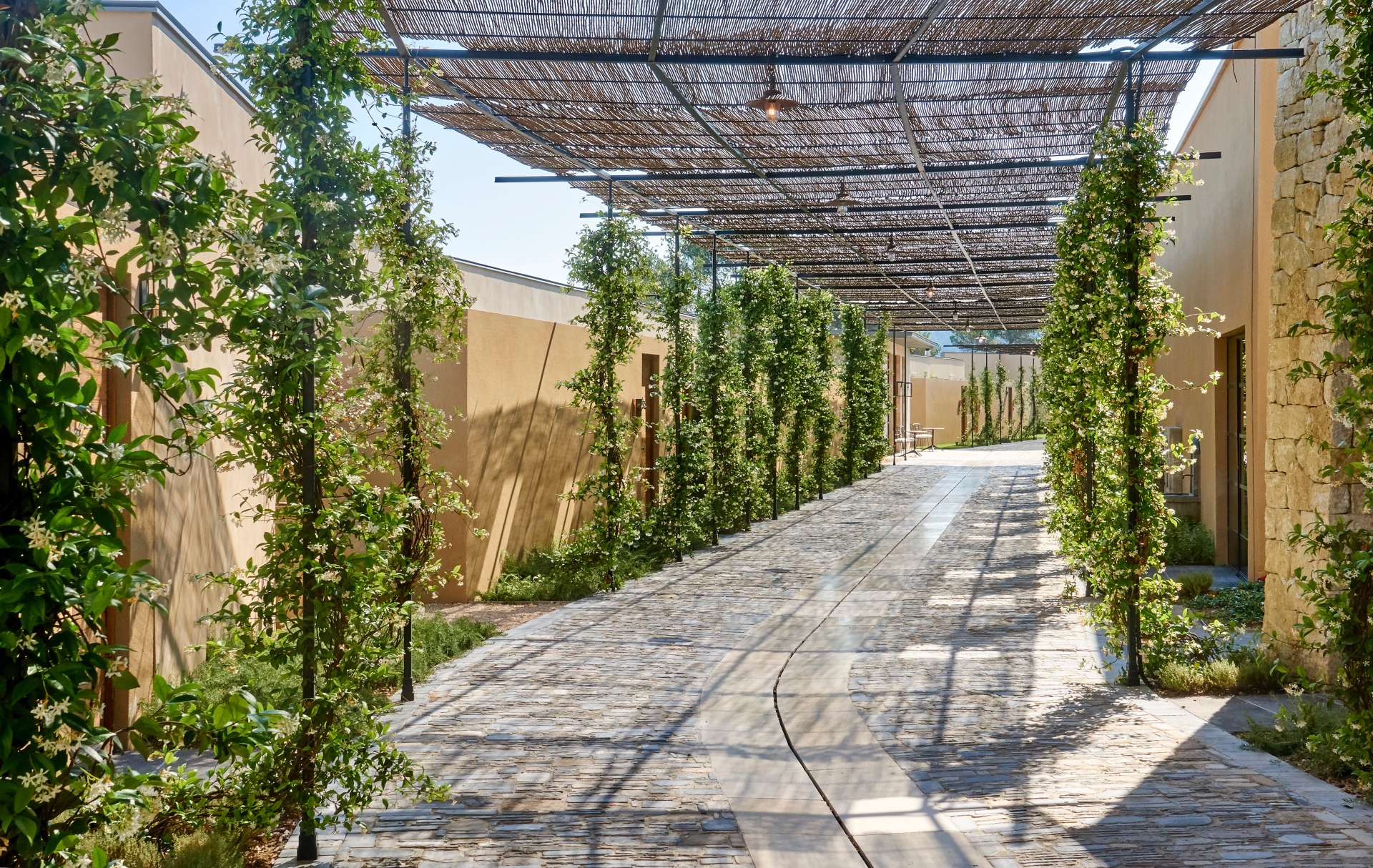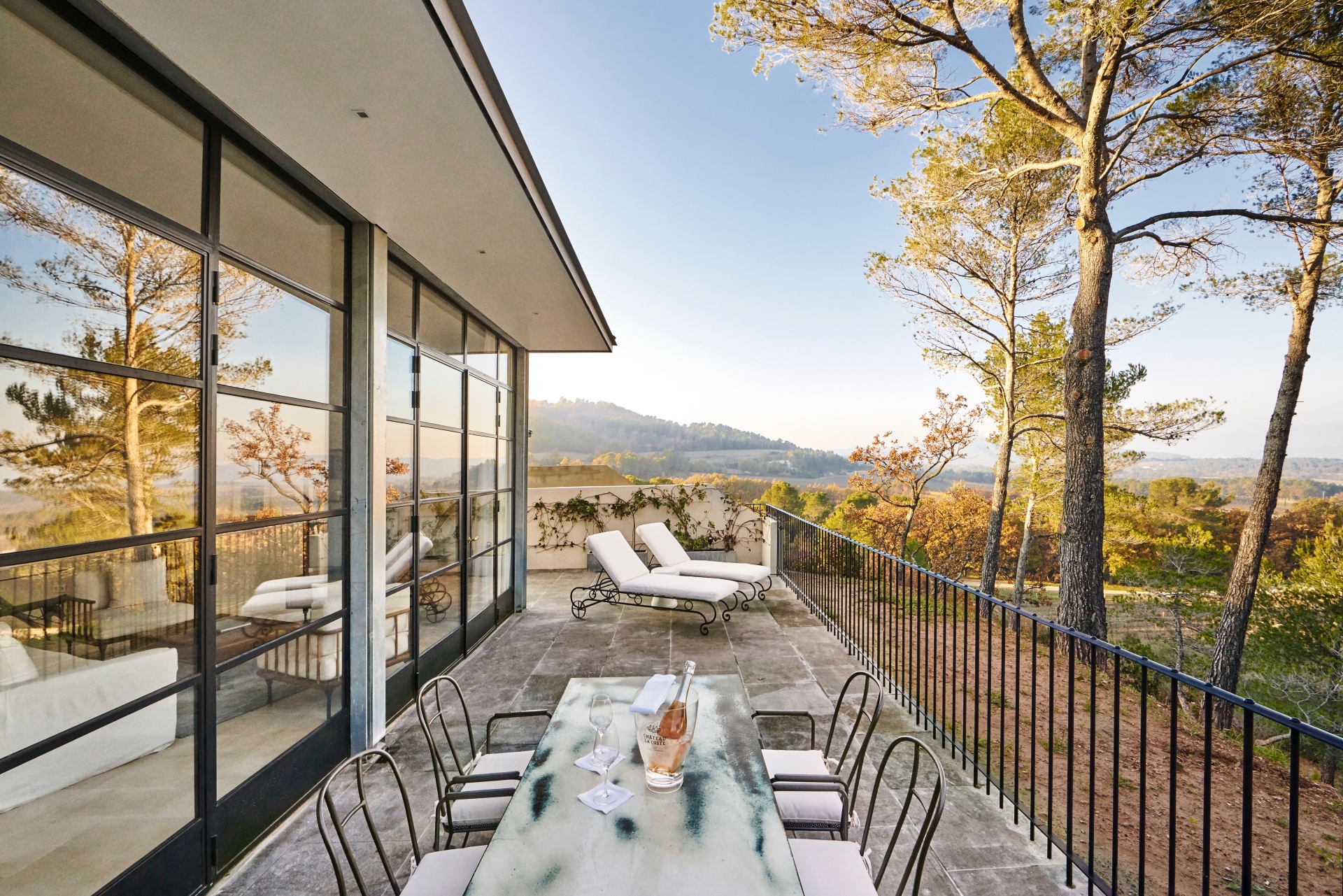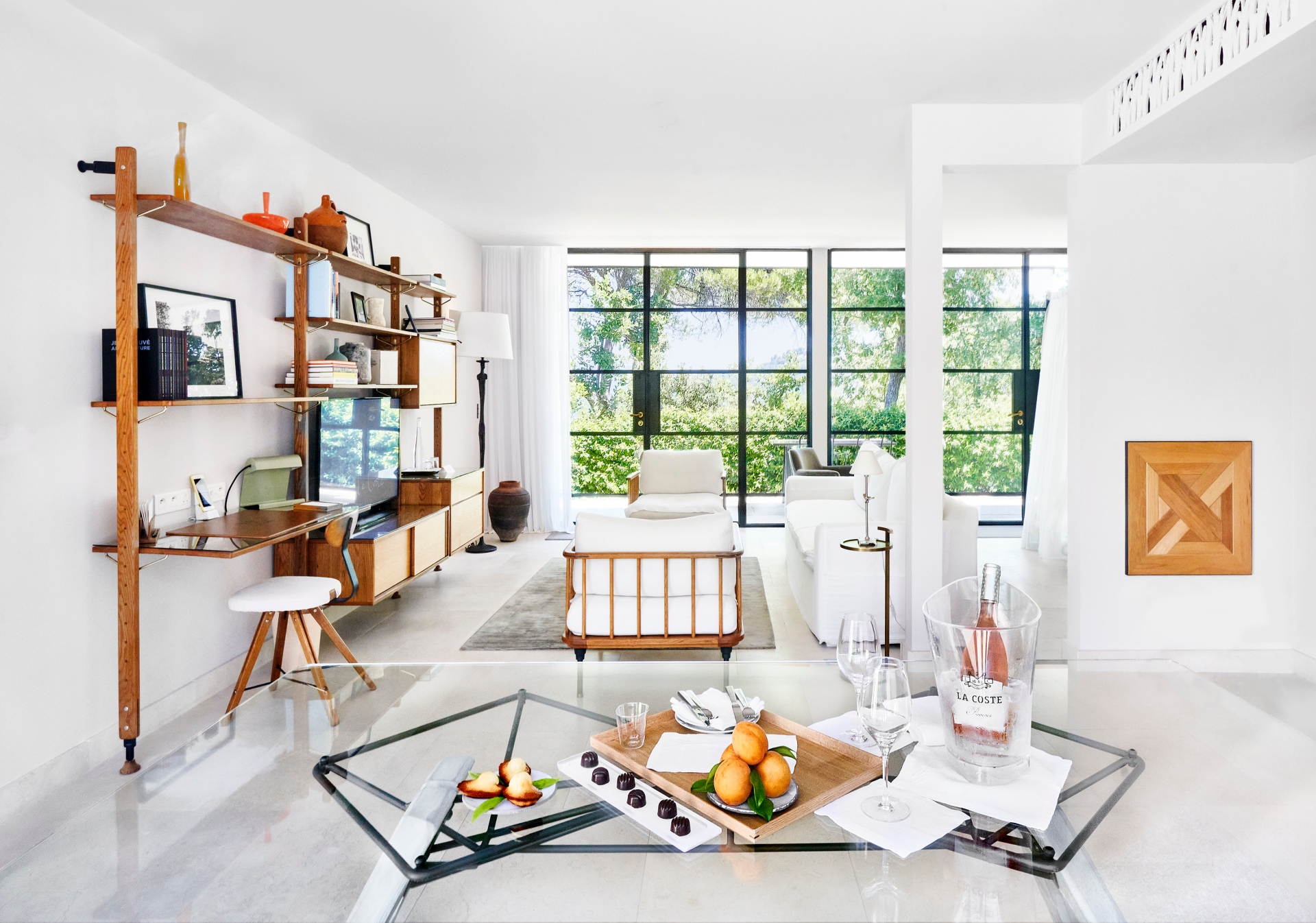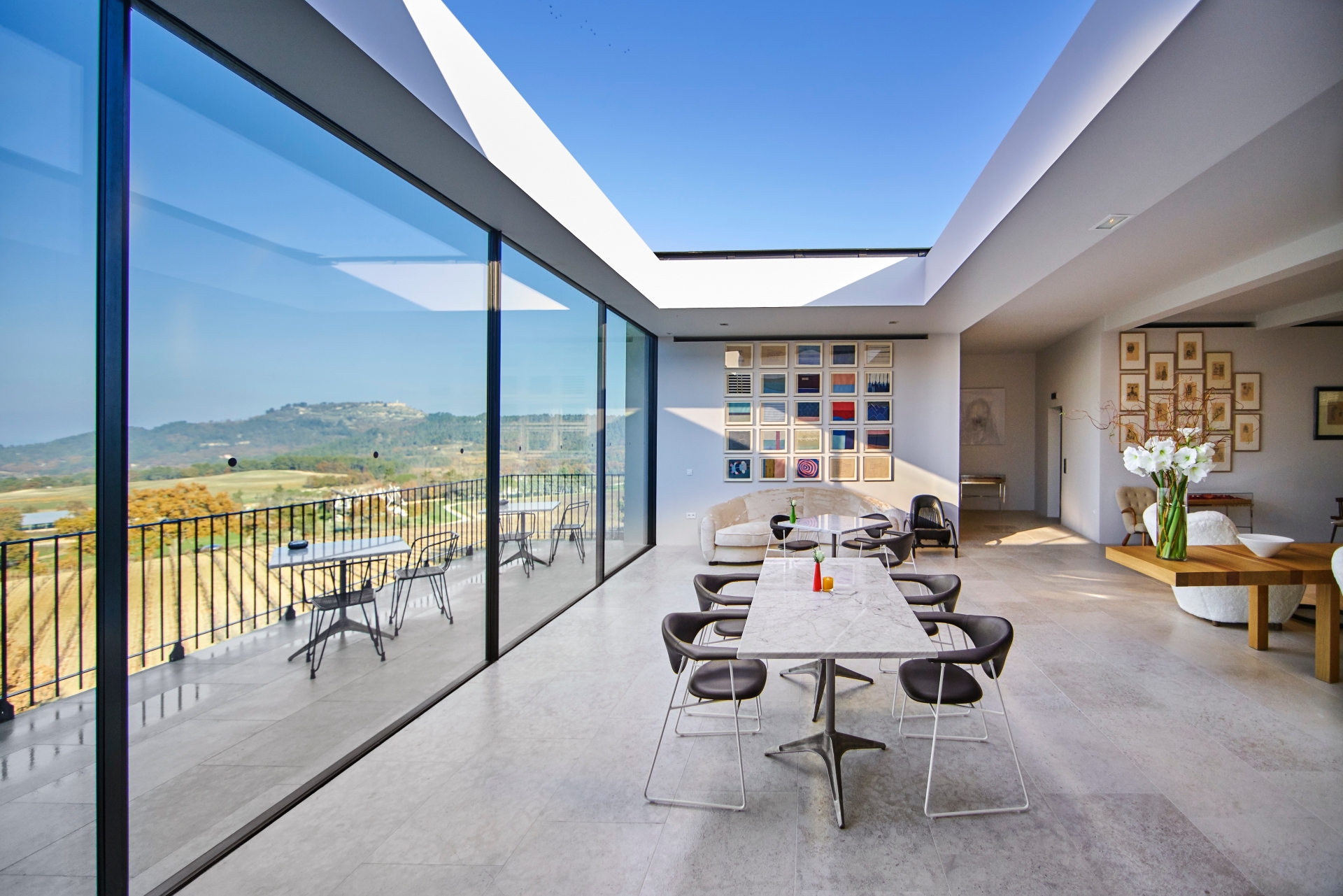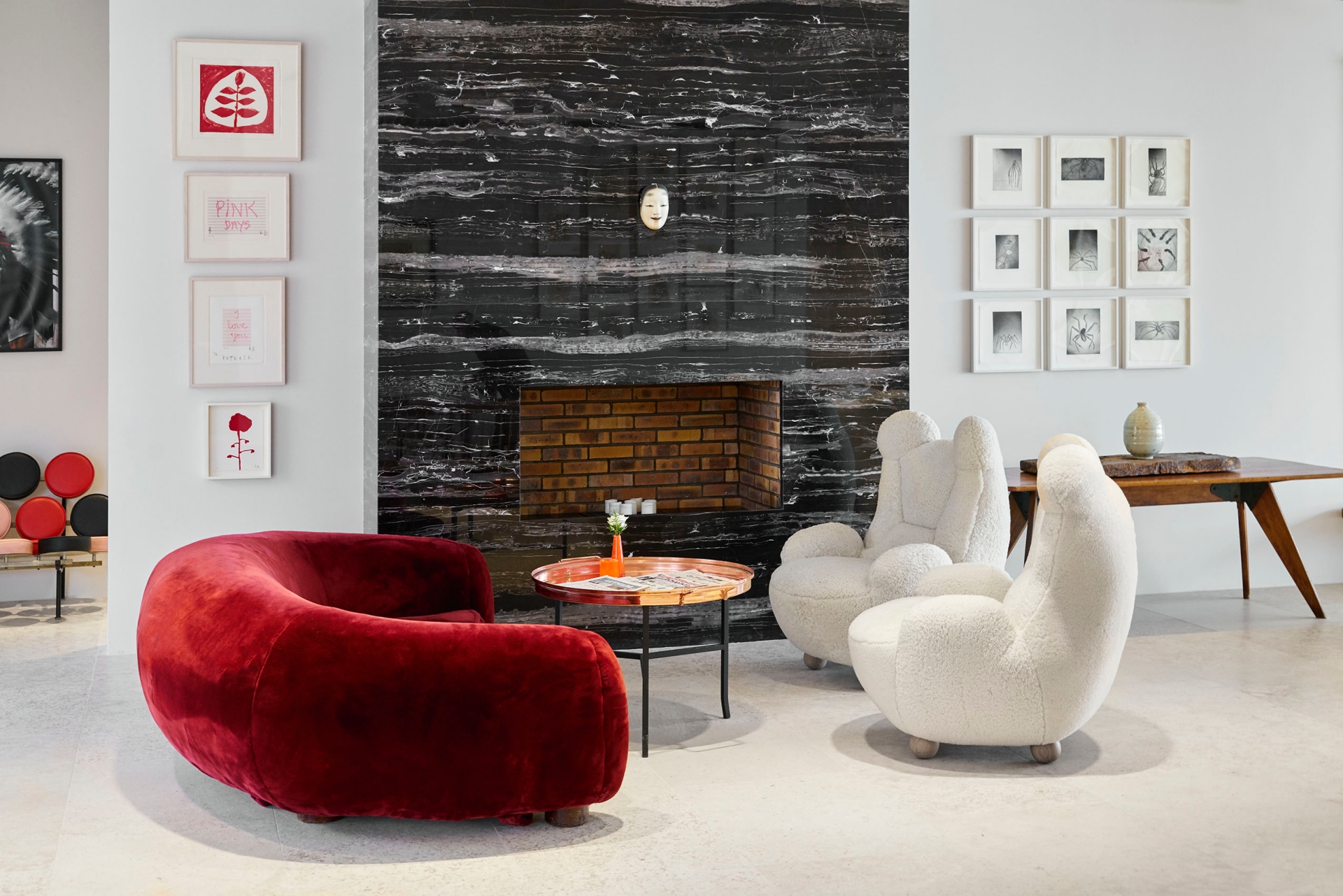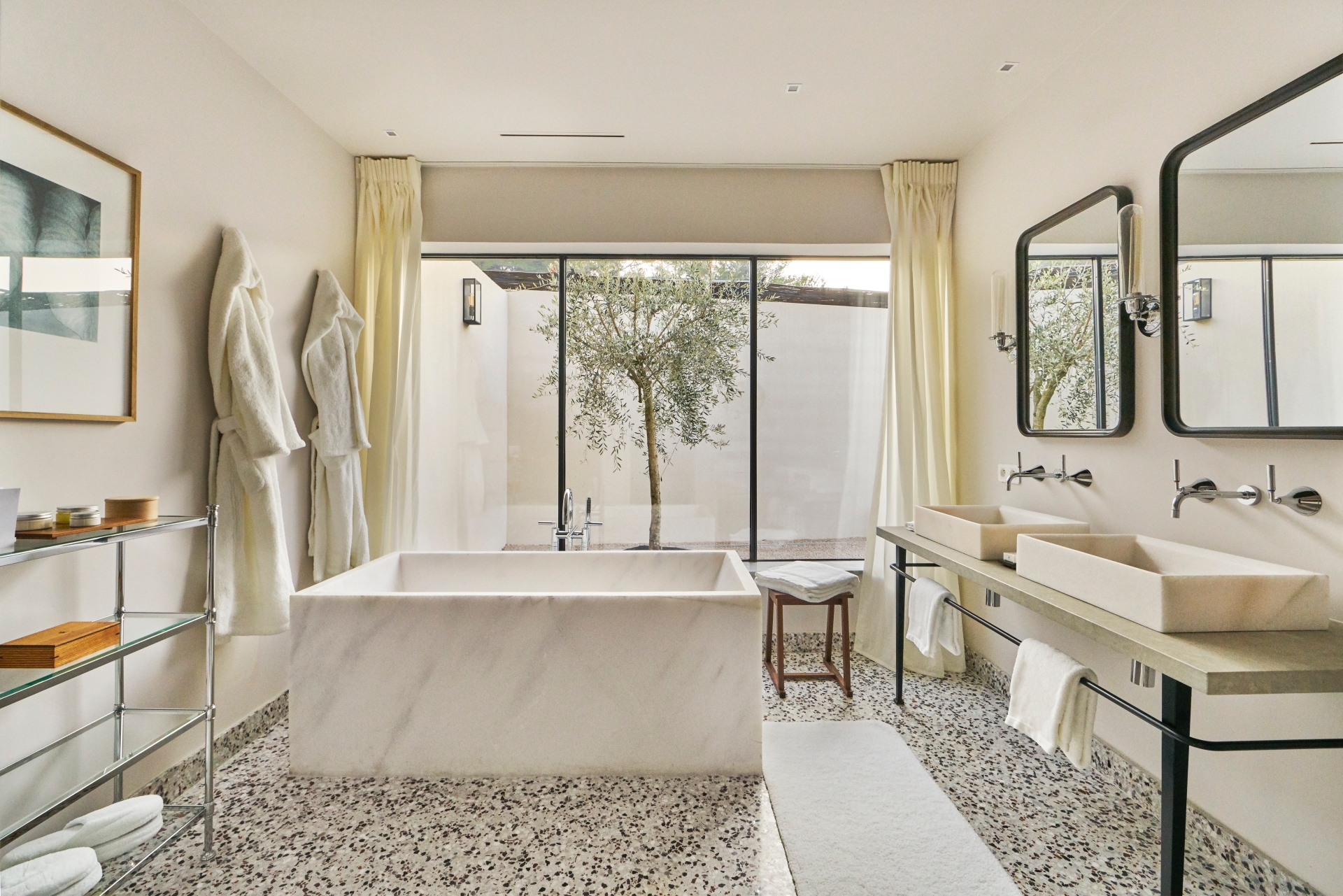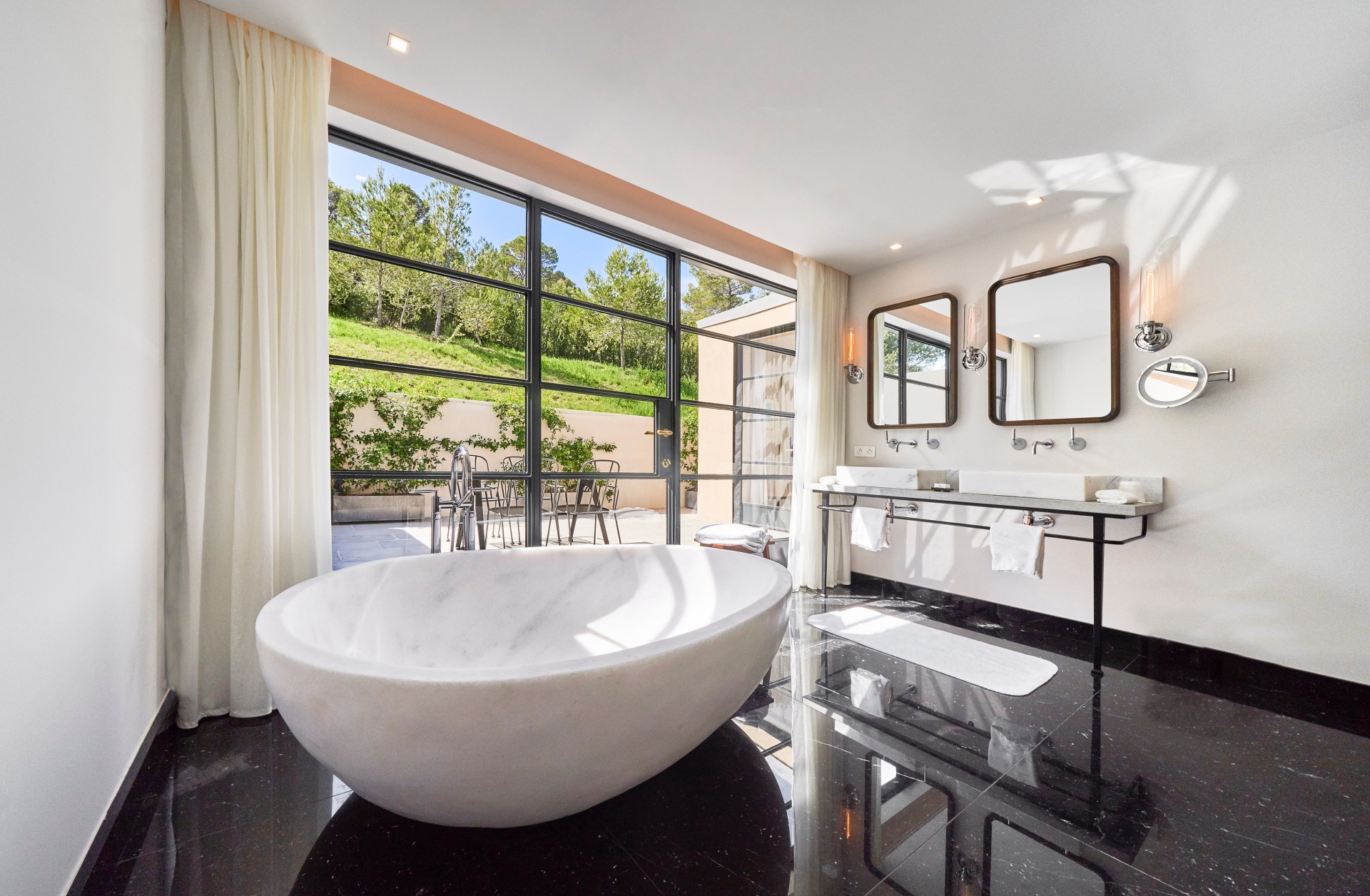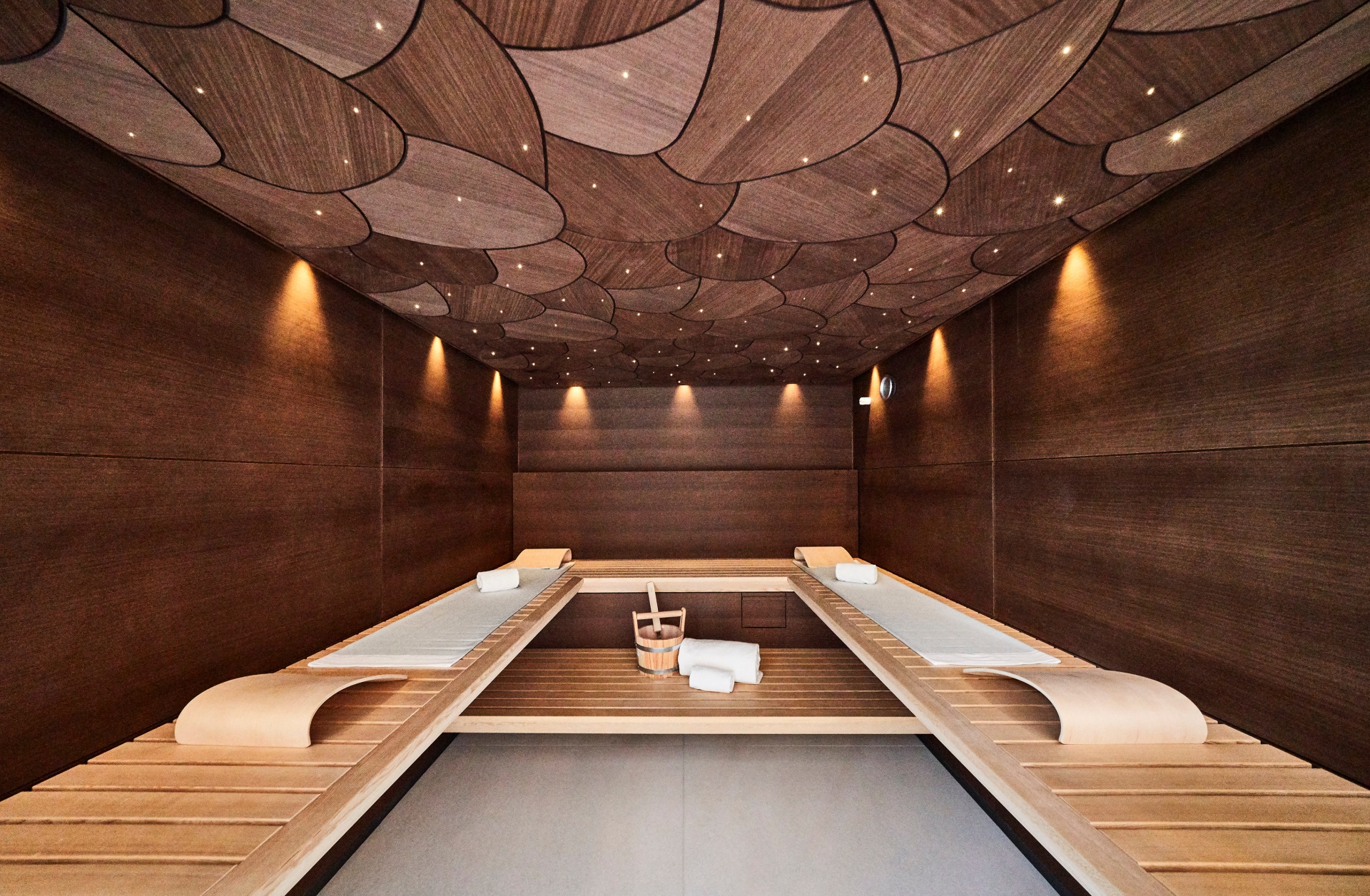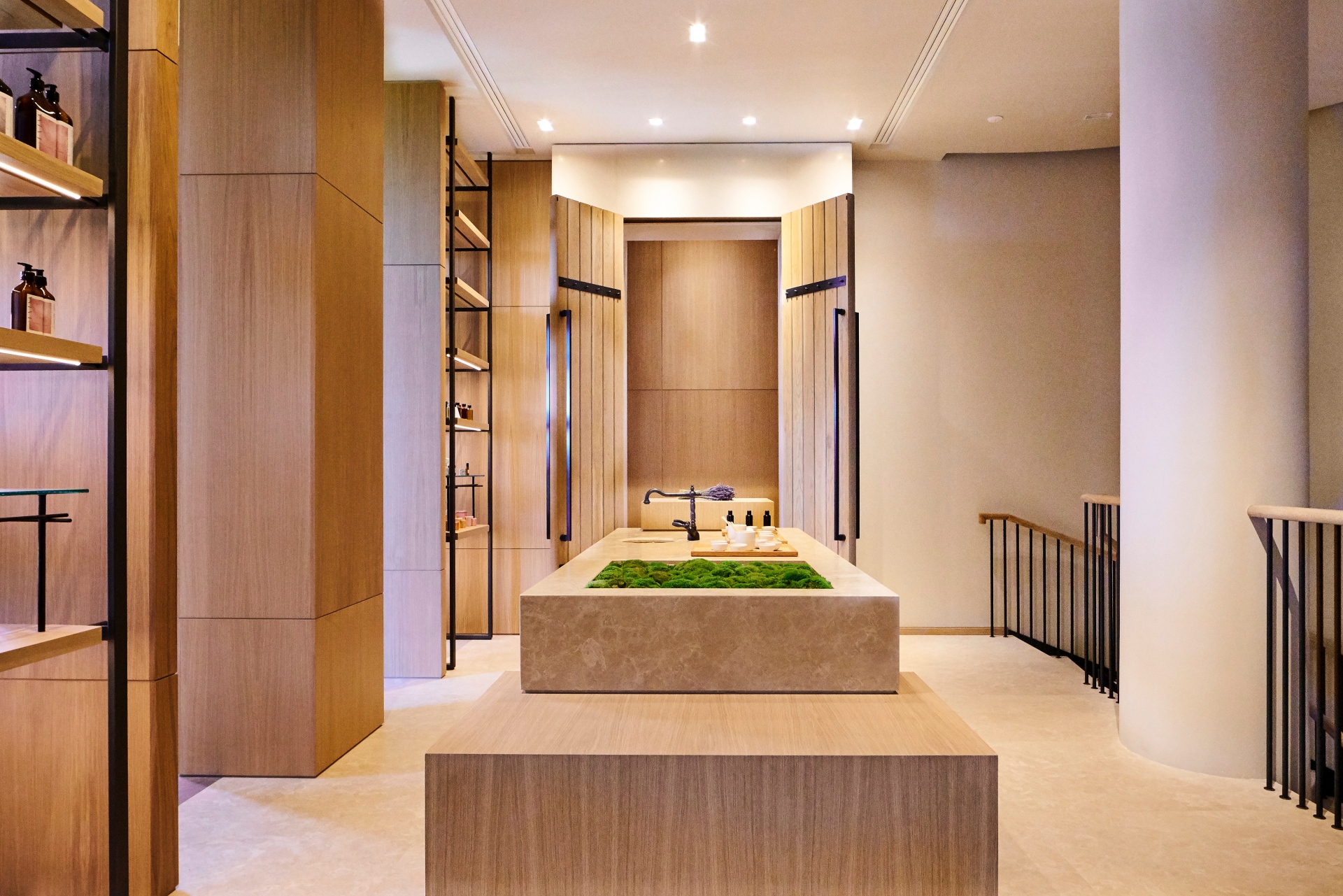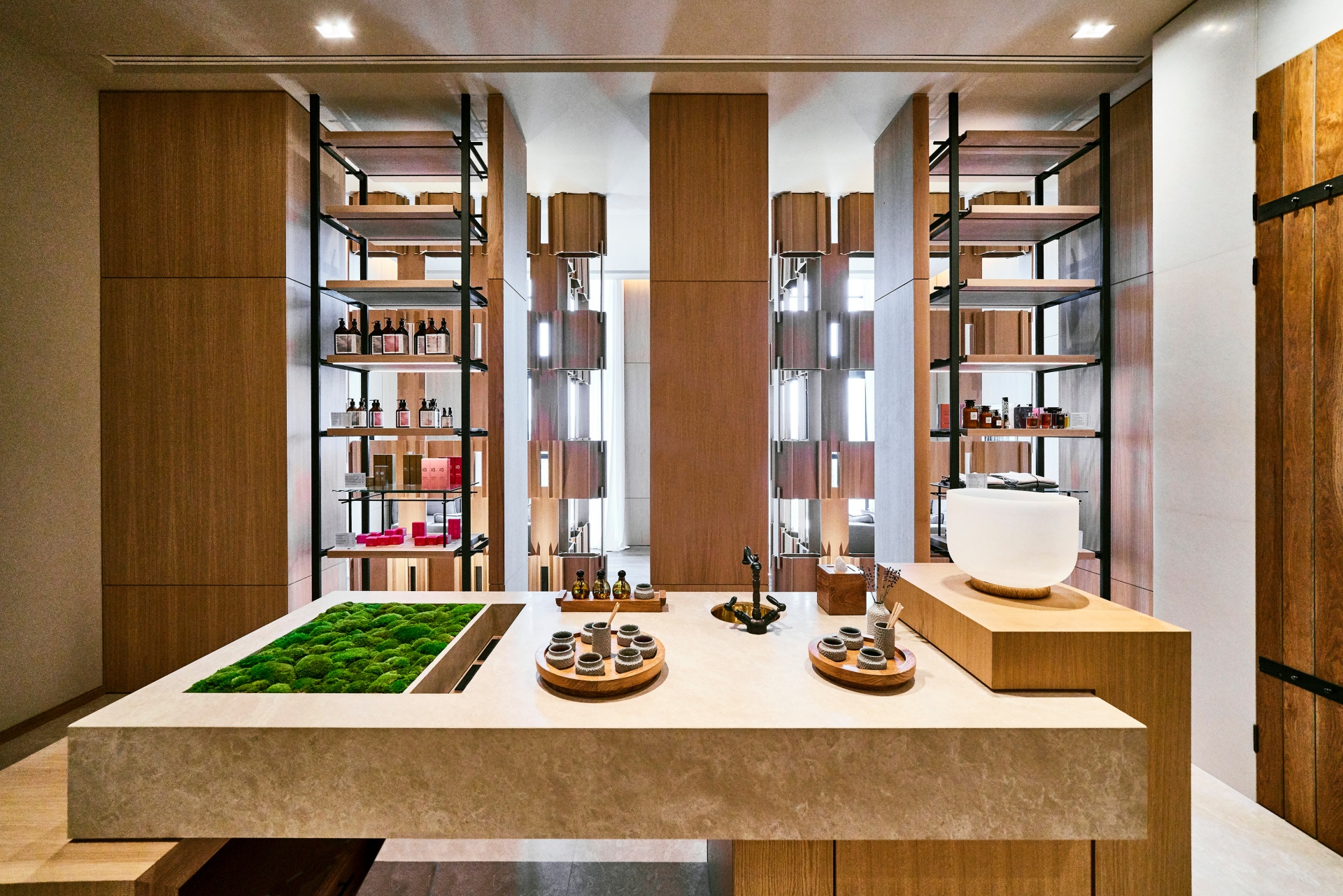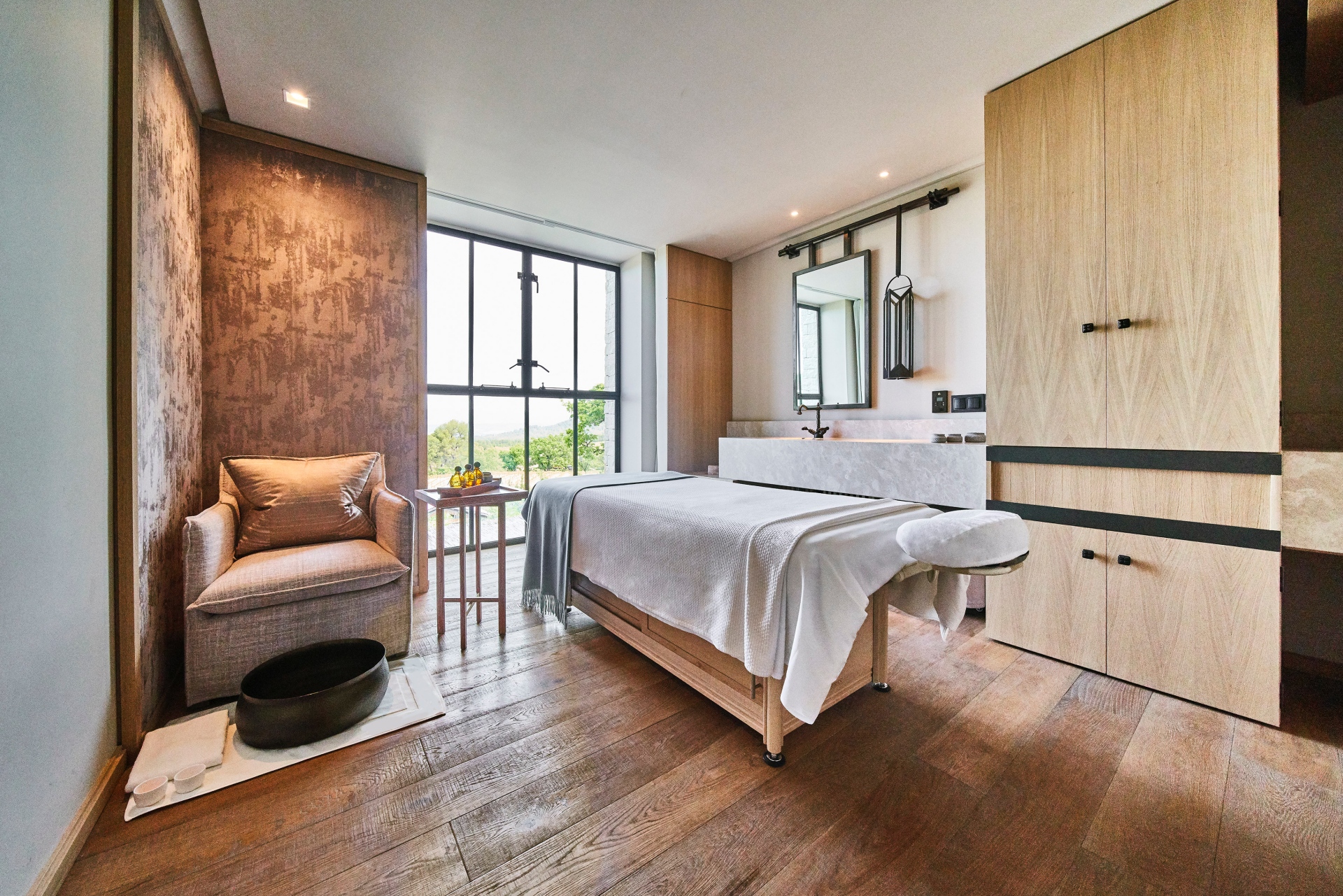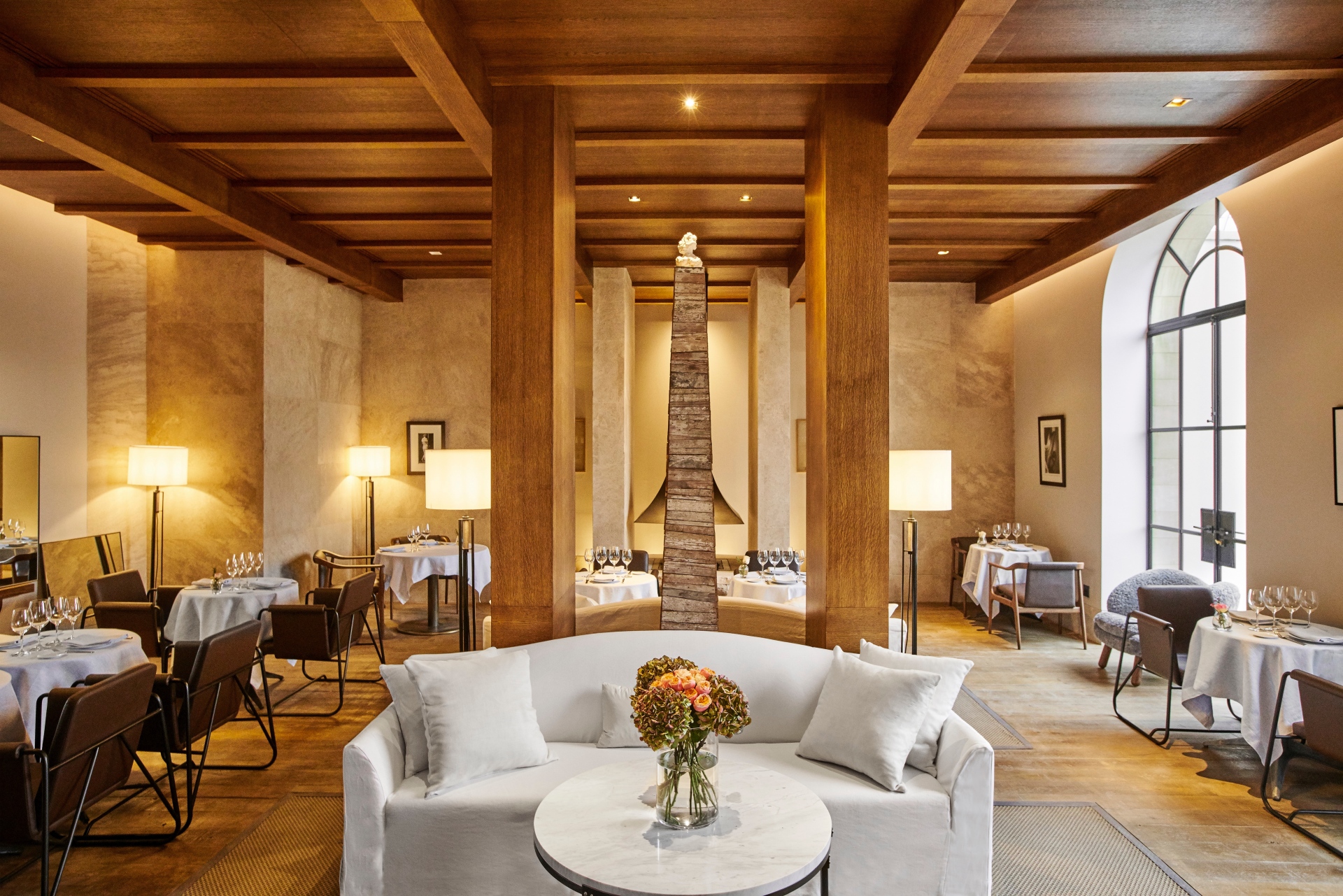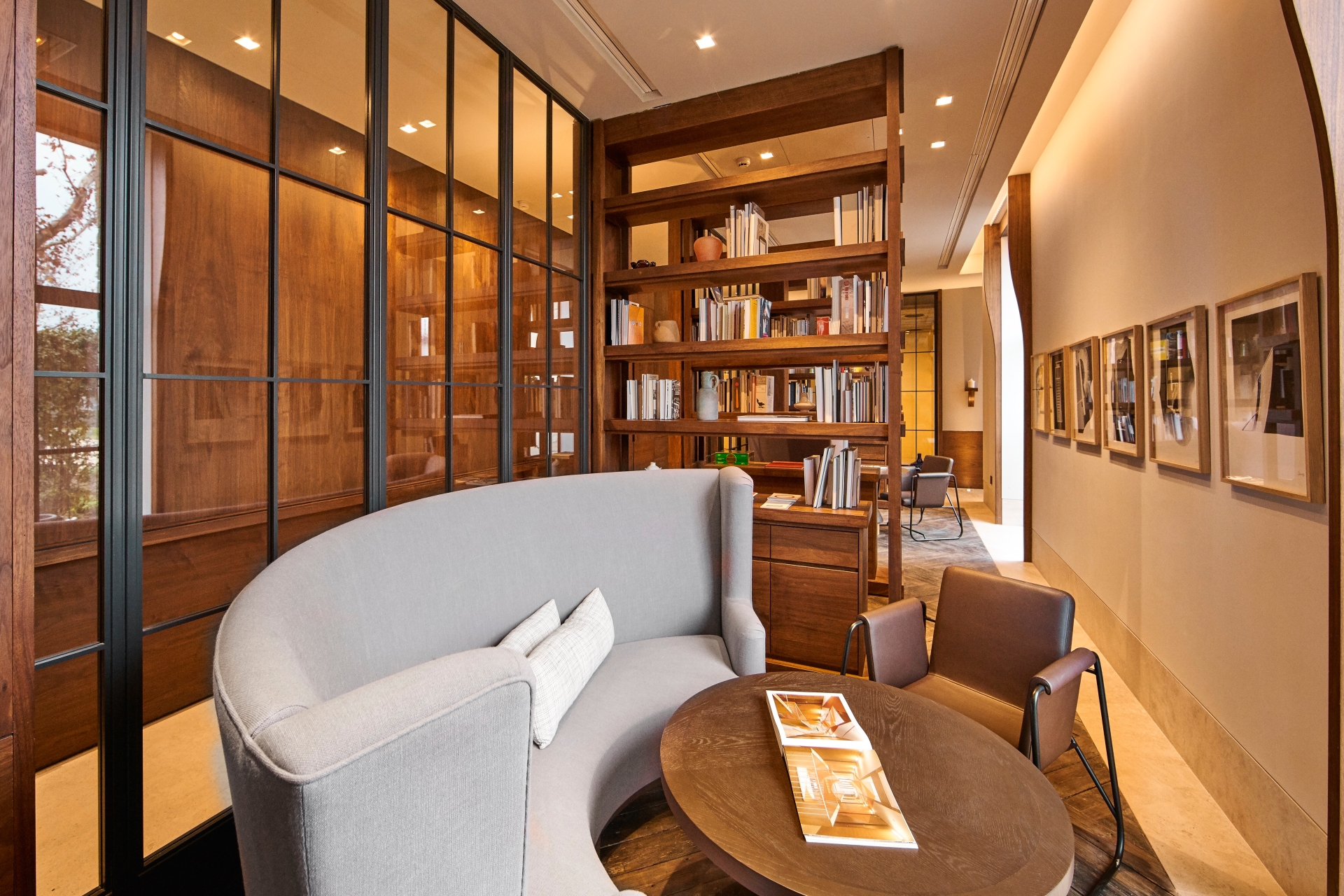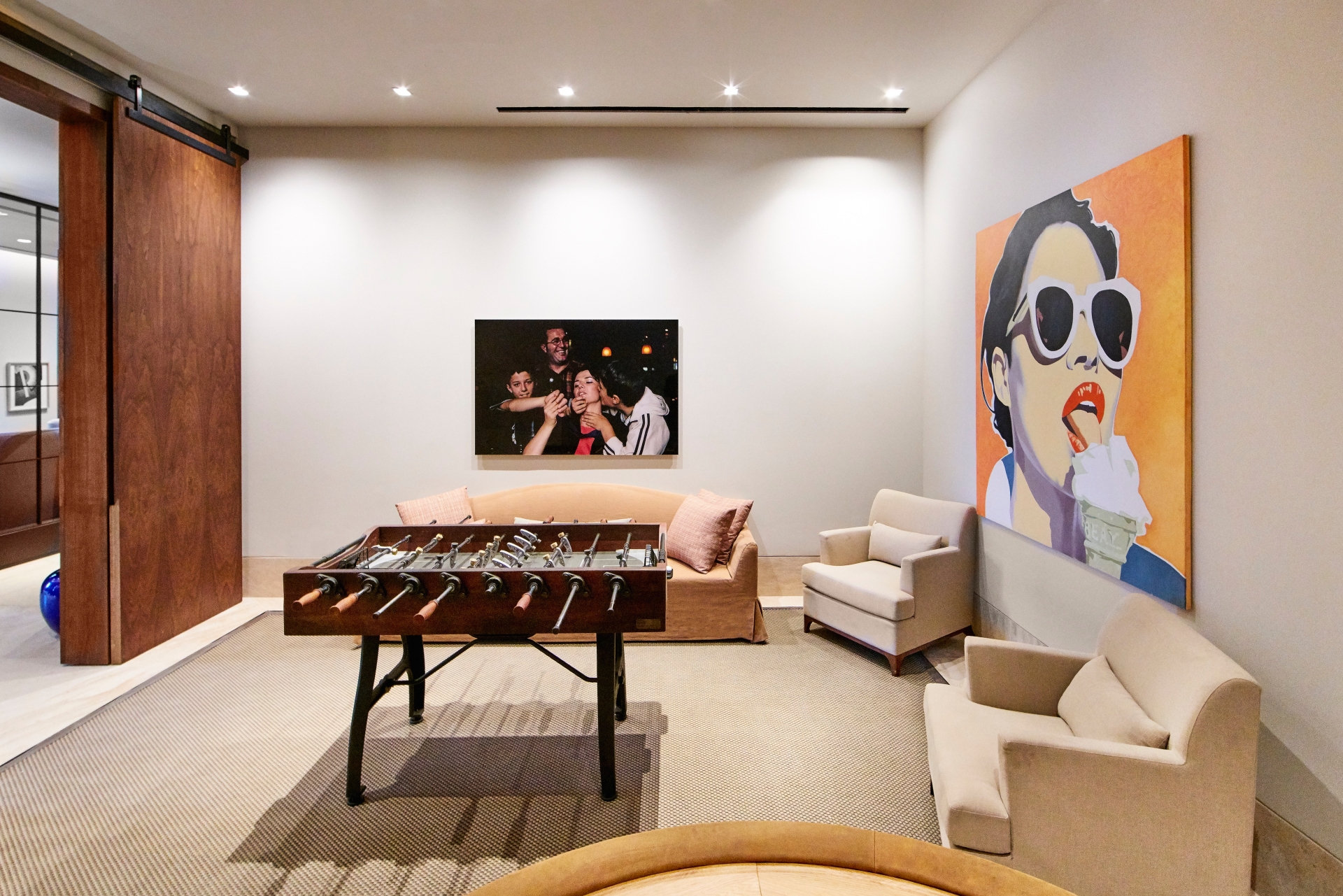 Each of the 28, 3,000 square feet villas overlooks the vines and has a walled-in courtyard. Ten have a private swimming pool. The guest rooms are minimalist but not cold. Four-post beds with breezy white canopies, Scandinavian-style shelving, and artworks by artists Bernard Frize and Hiroshi Sugimoto were all acquired specifically for the site by McKillen.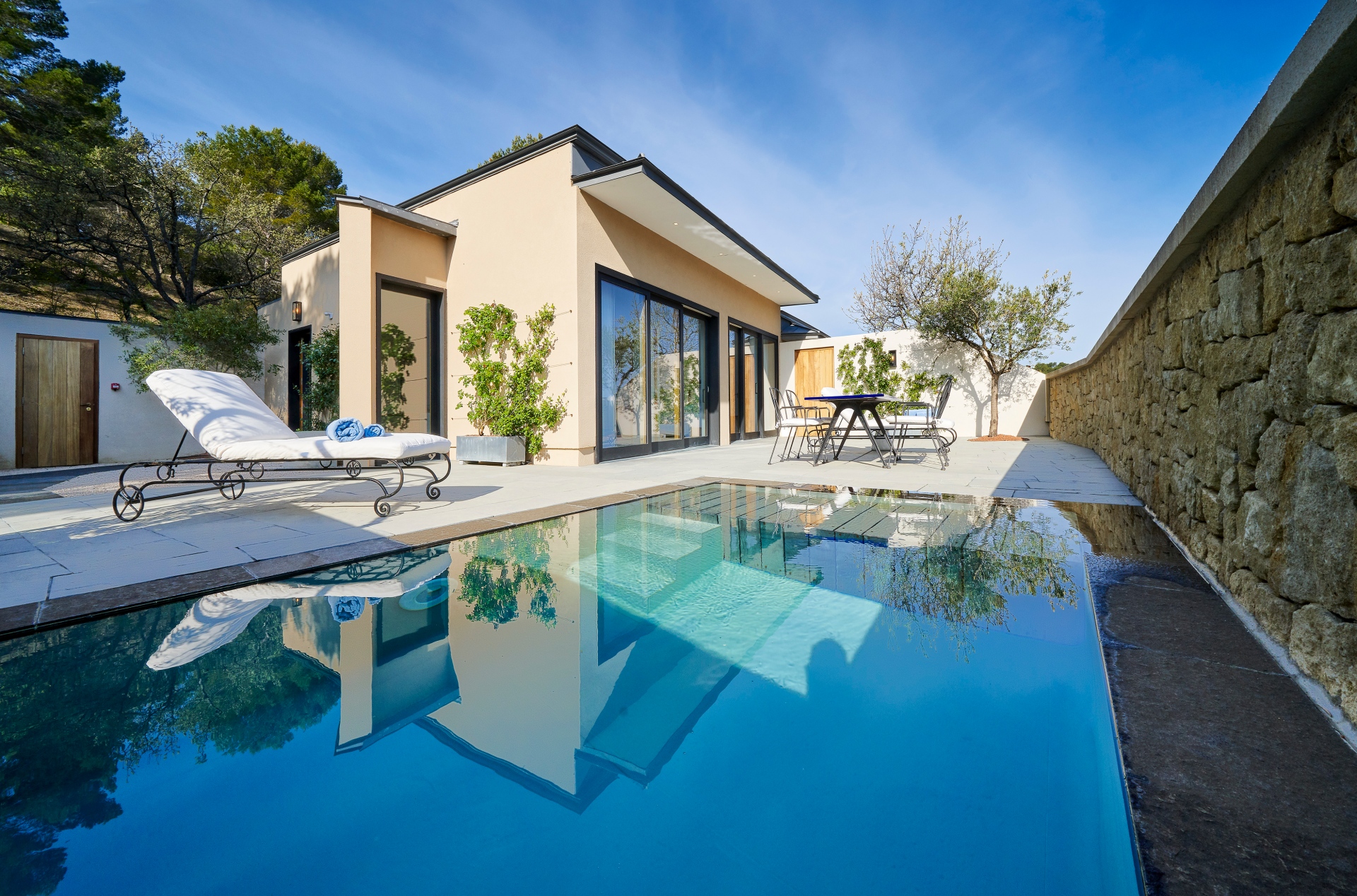 THE VINES
The ancient vineyard stems from Roman times. Whereas the region is renowned for its rosé, McKillen allocated half of the 570-acre estate to produce organic red wine, Cabernet Sauvignon, Syrah, Grenache, Vermentino, Sauvignon Blanc, Chardonnay, and Cinsault grapes. Jean Nouvel's winery, and the wine shop, are next to the Villa La Coste Village, next to the art centre.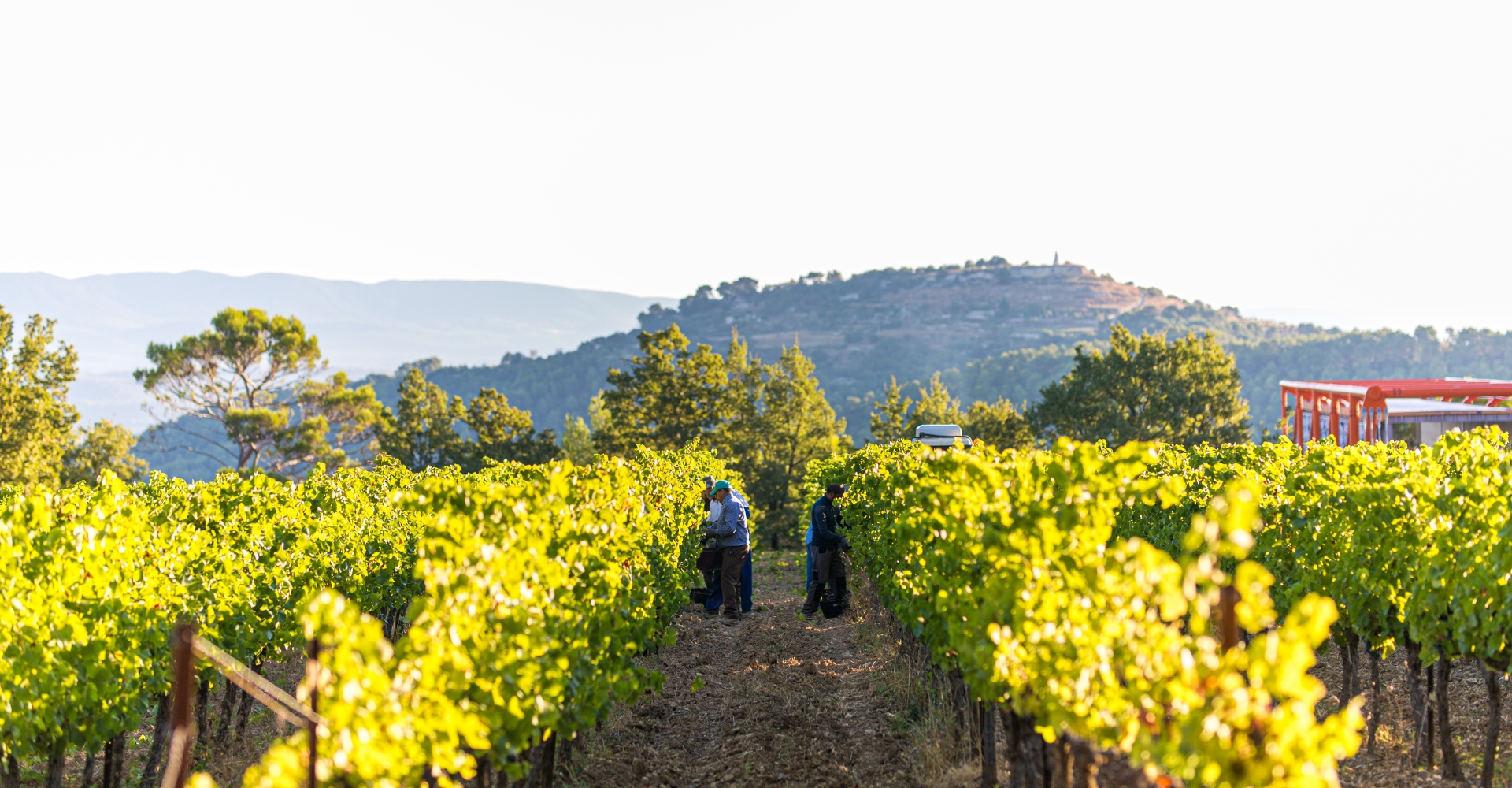 HELEN DEROZE
The restaurant, helmed by globally acclaimed Michelin chef Hélène Darroze sits in a glass cube that appears to float above the water. Pavilion Louise is a modernist free-standing glass pavilion, seemingly floating above the extensive water pond. The dining room's centrepiece is a prominent sculpture, where The Couple, by Louise Bourgeois hangs spectacularly in the centre of the room.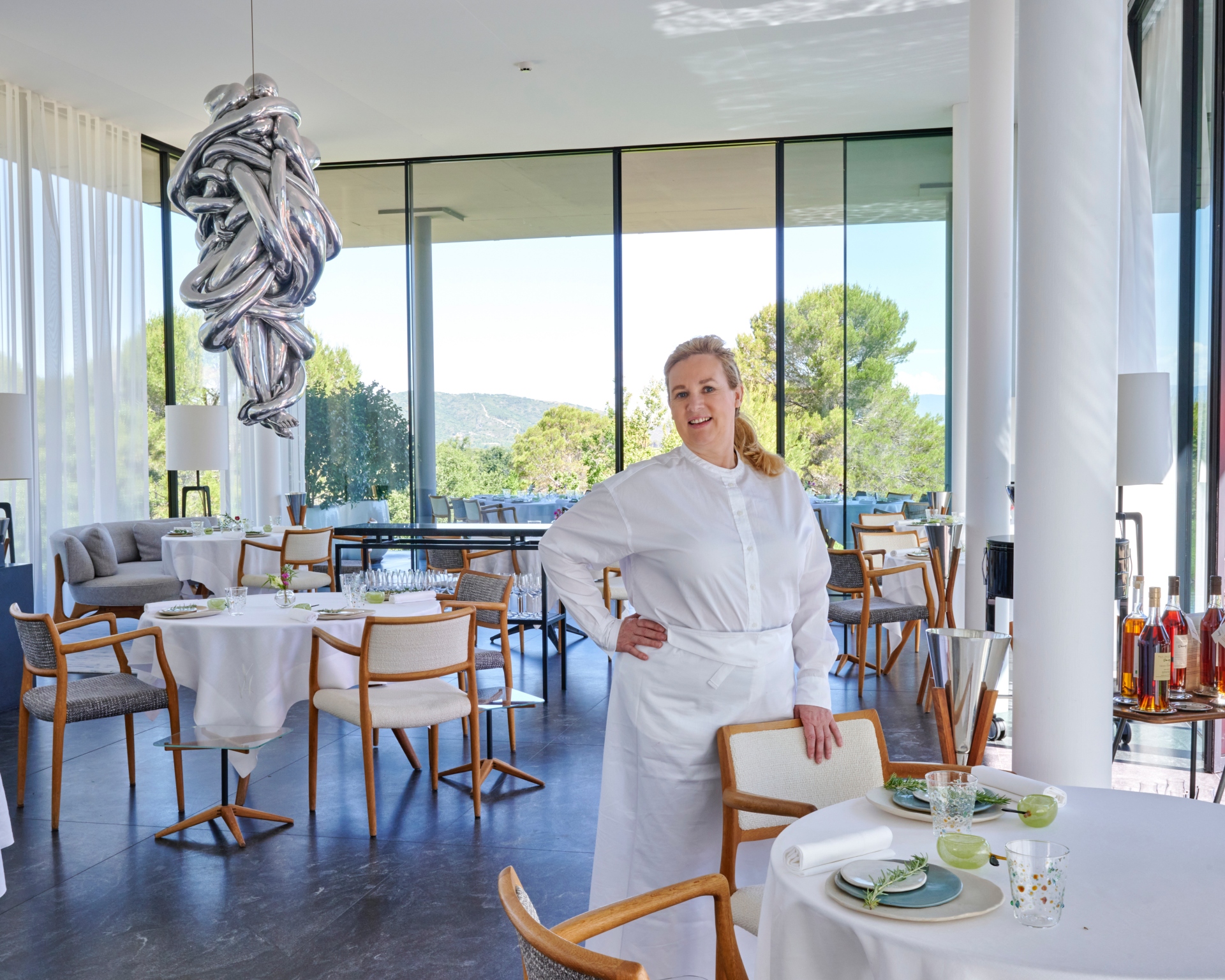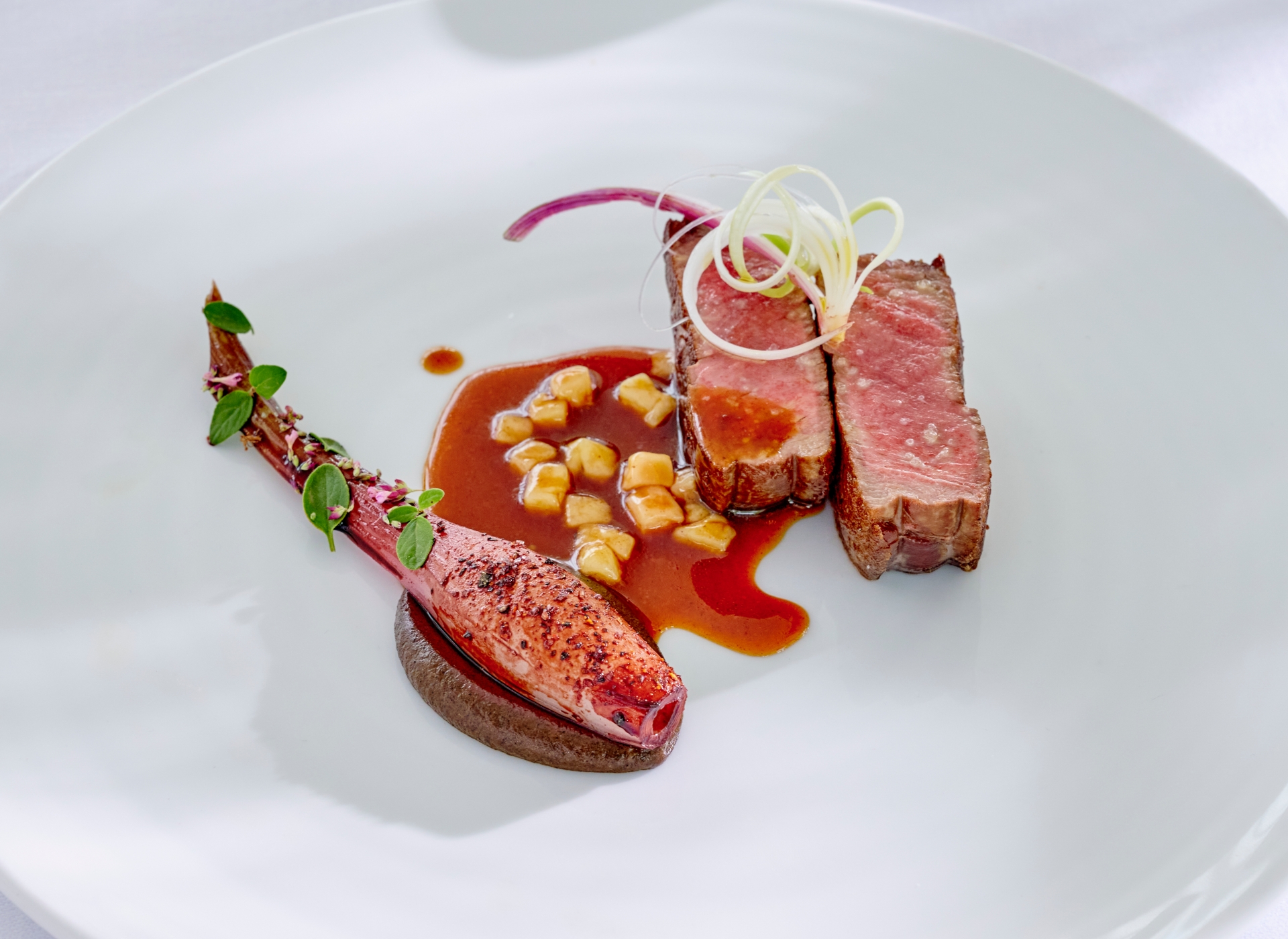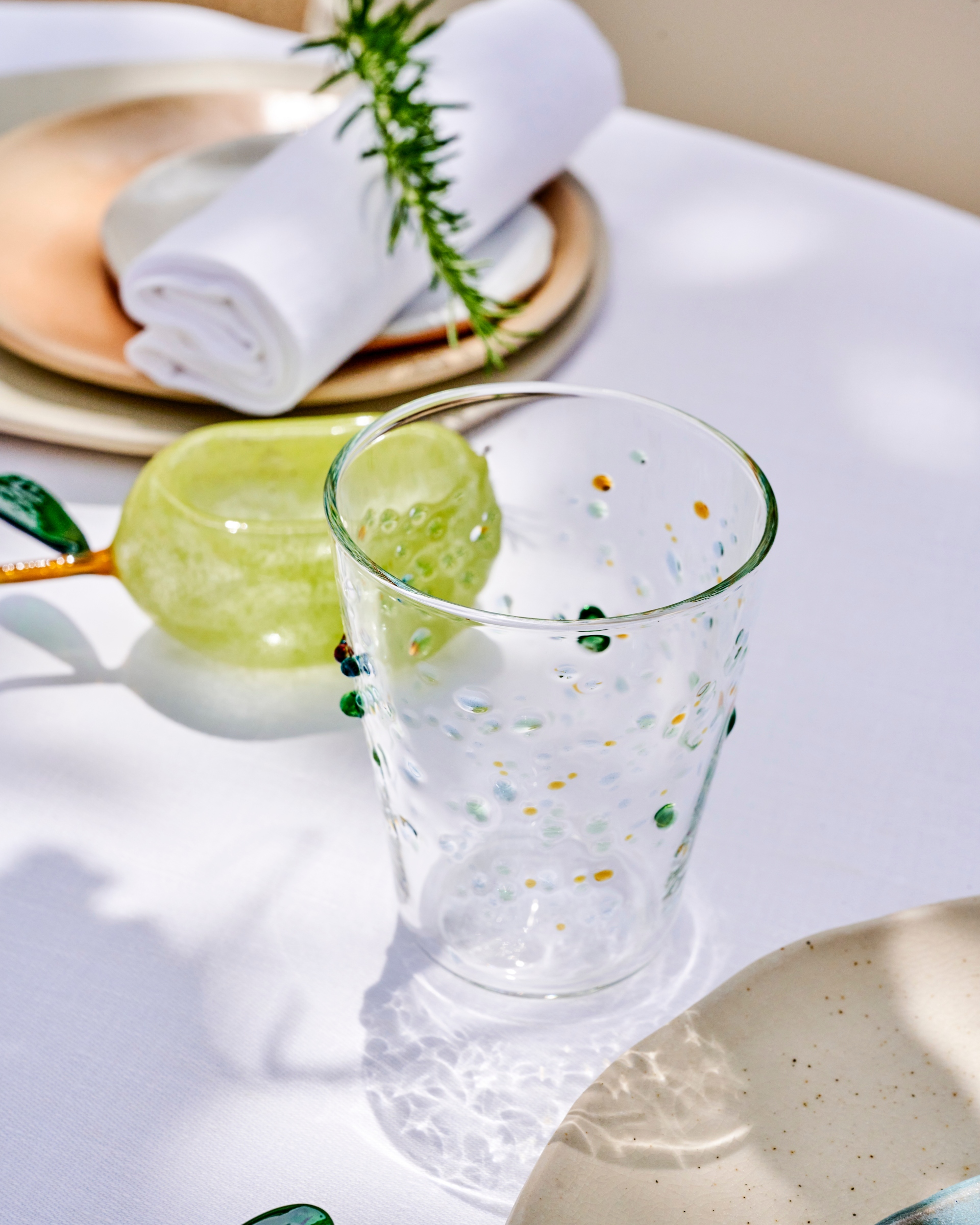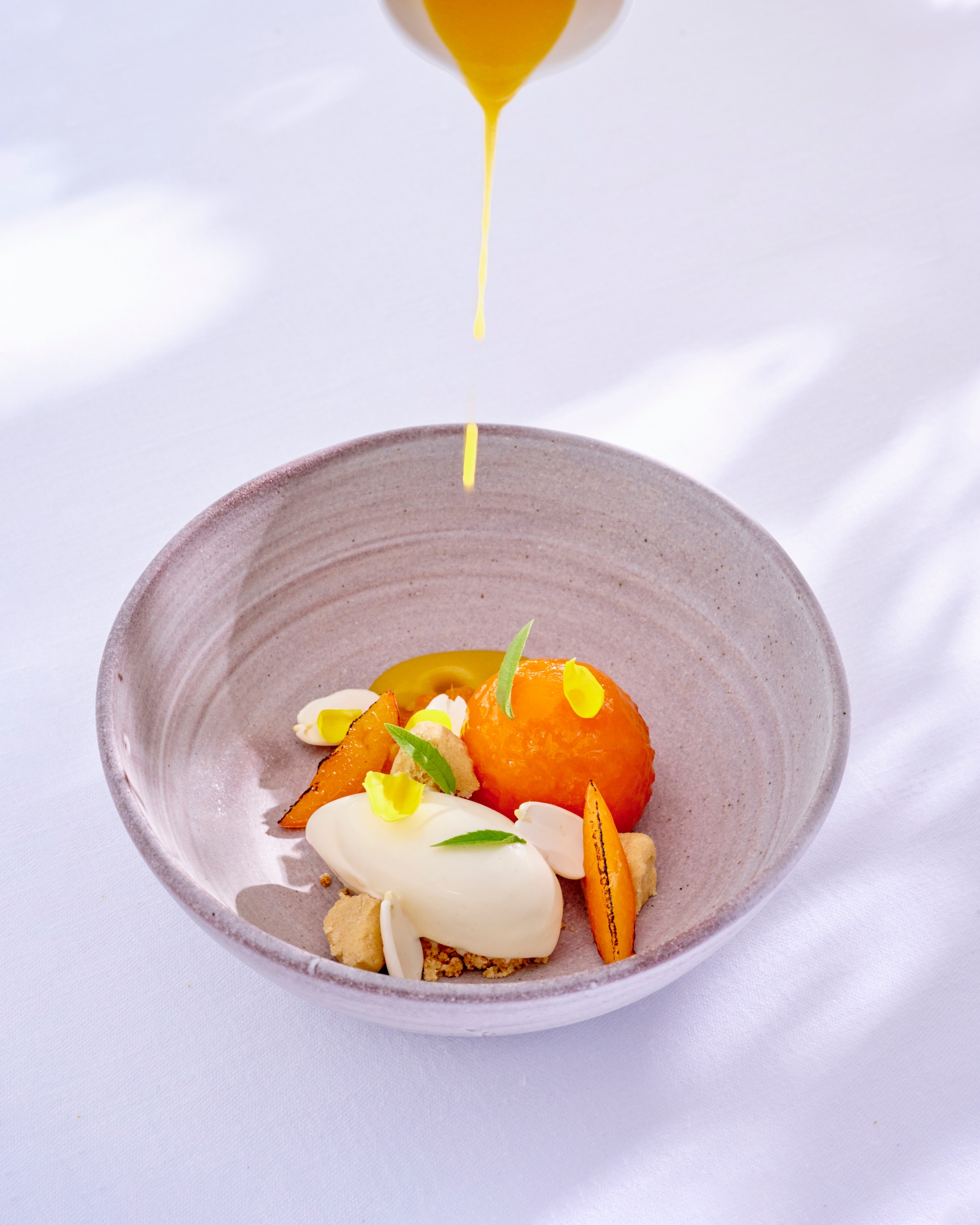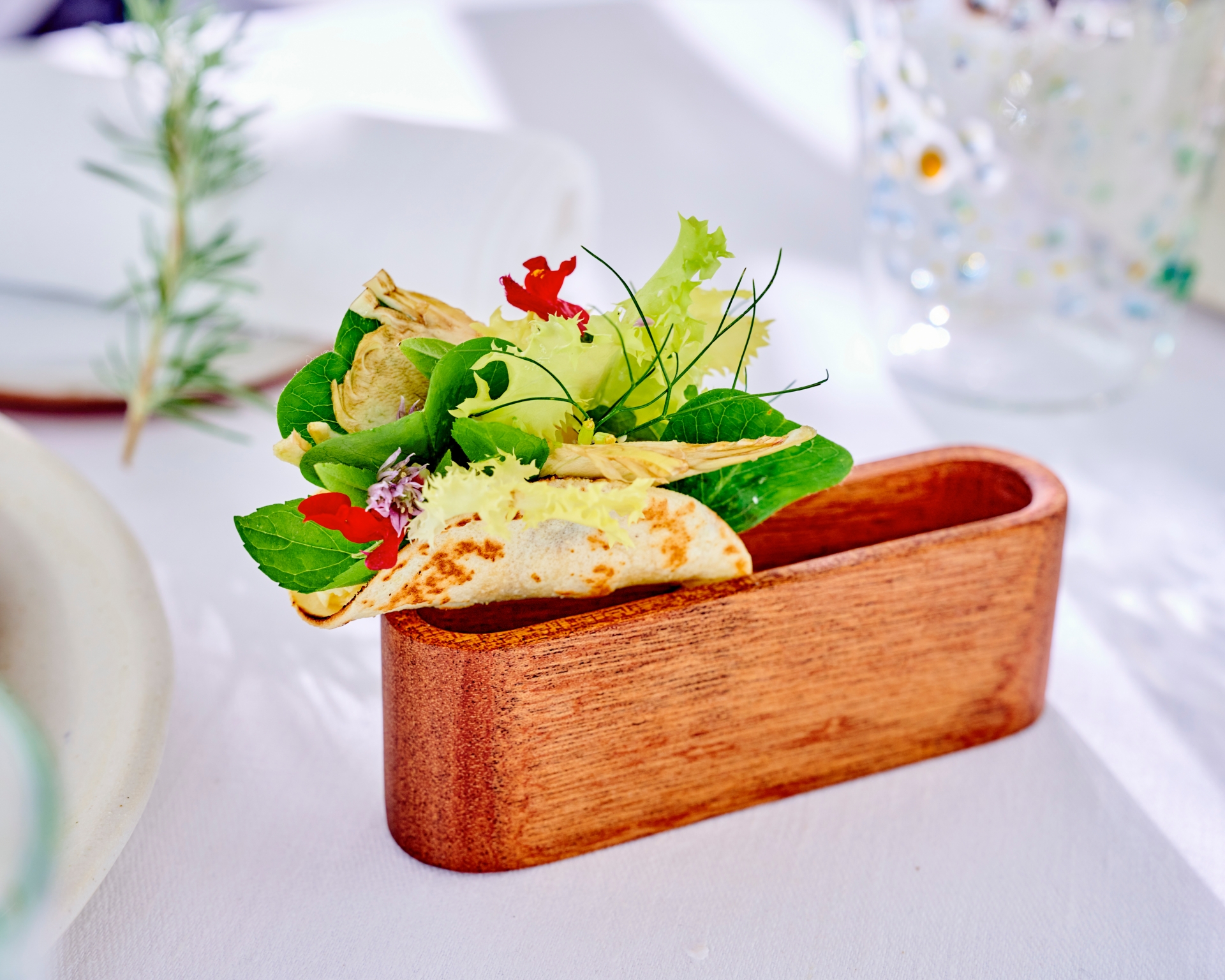 TADAO ANDO CAFÉ RESTAURANT
The beautifully light and bright café restaurant, designed by the Japanese architect Tadao Ando, lies in the sleek and spacious Art Centre. The café restaurant's menu changes with the seasons, using fresh produce from the vegetable garden designed by Louis Benech composed of nine squares of equal size of aromatic herbs, vegetables and flowers for cutting.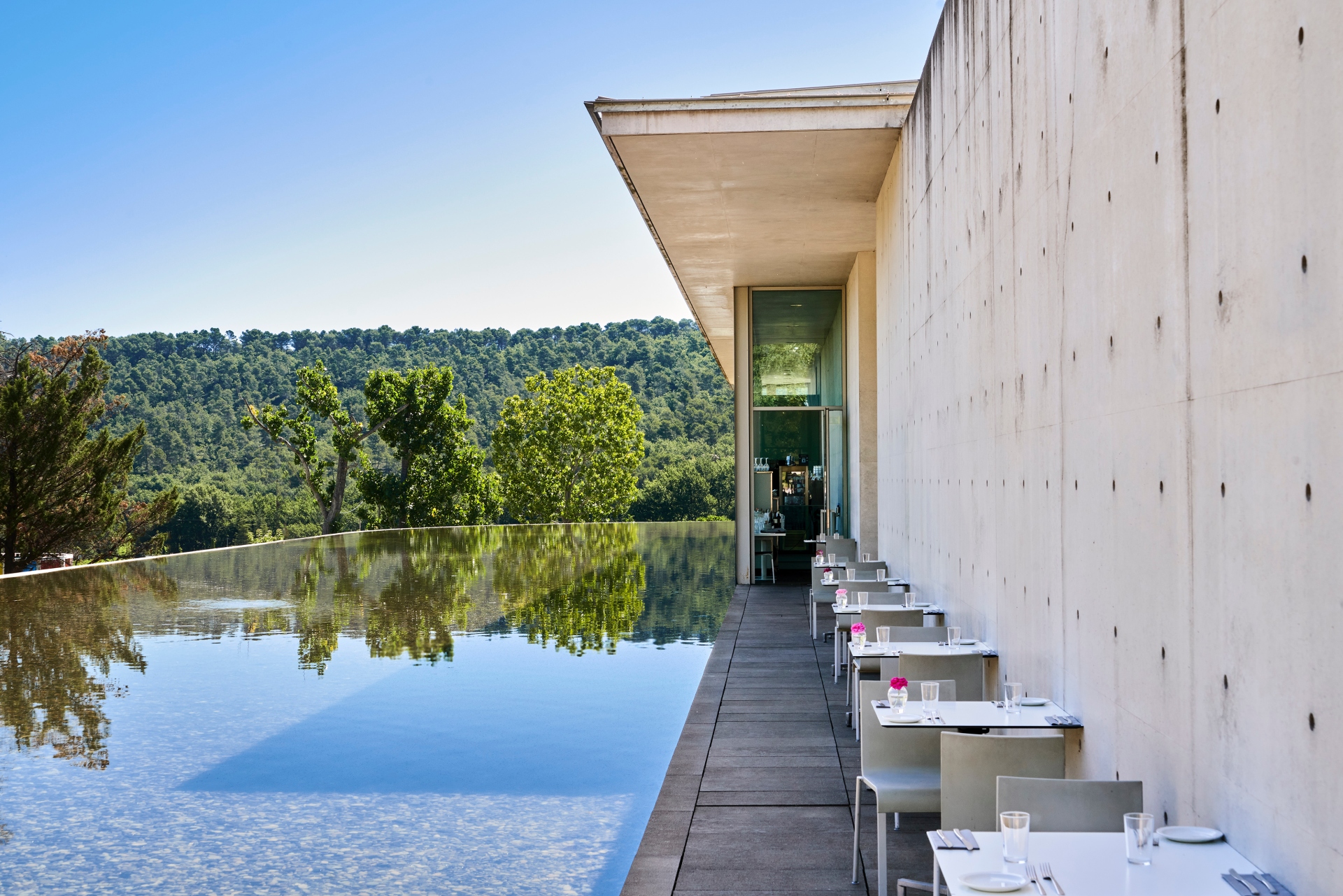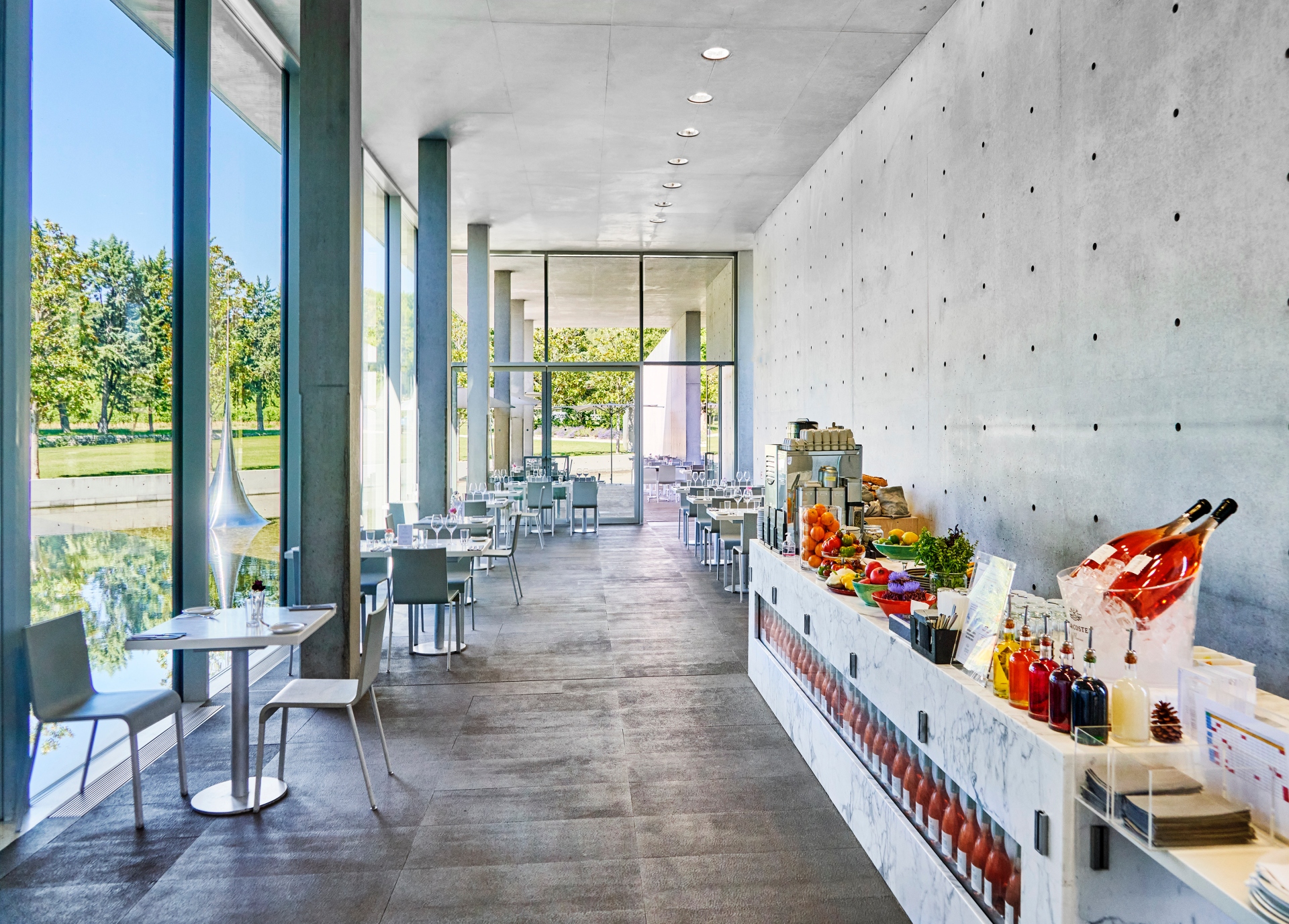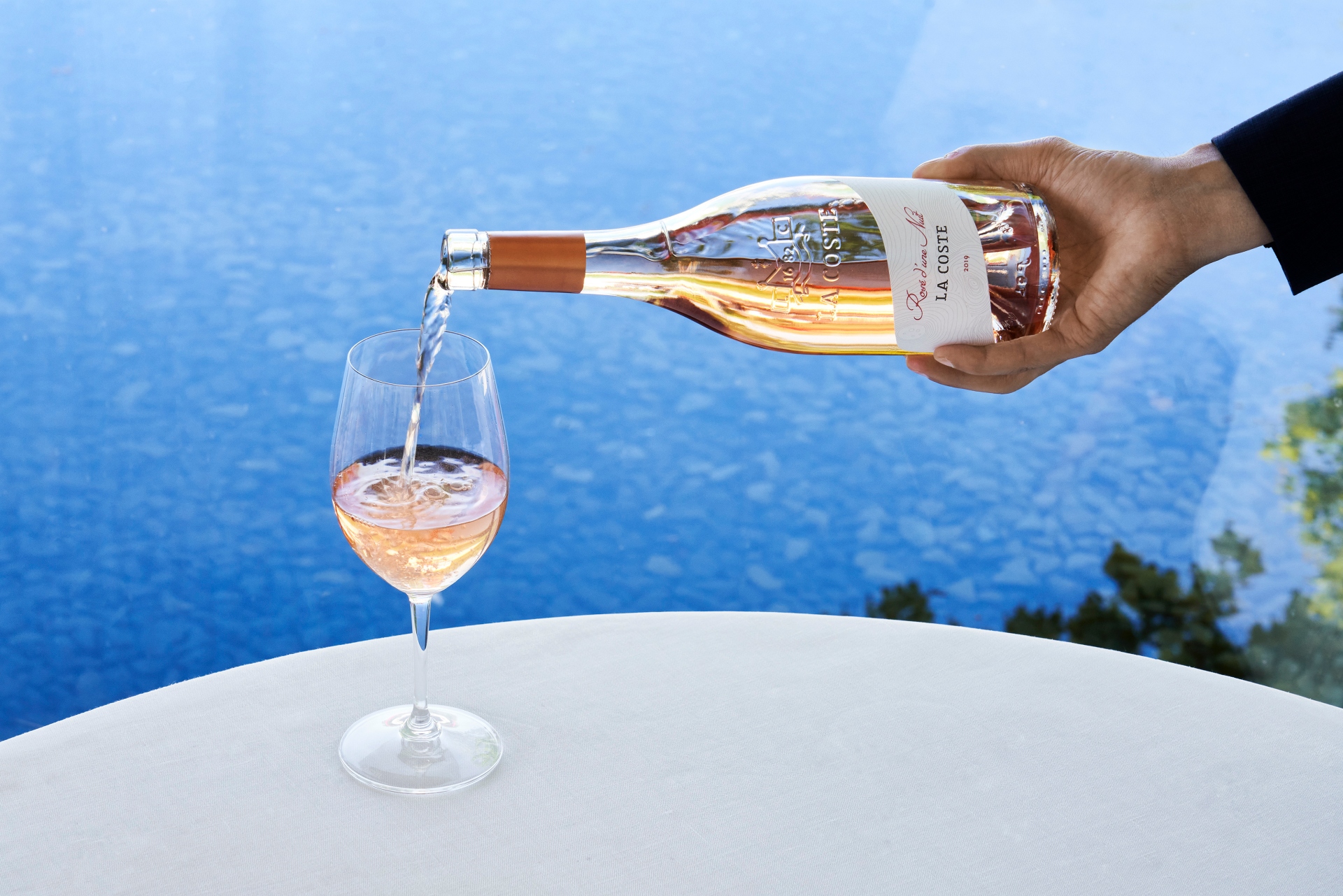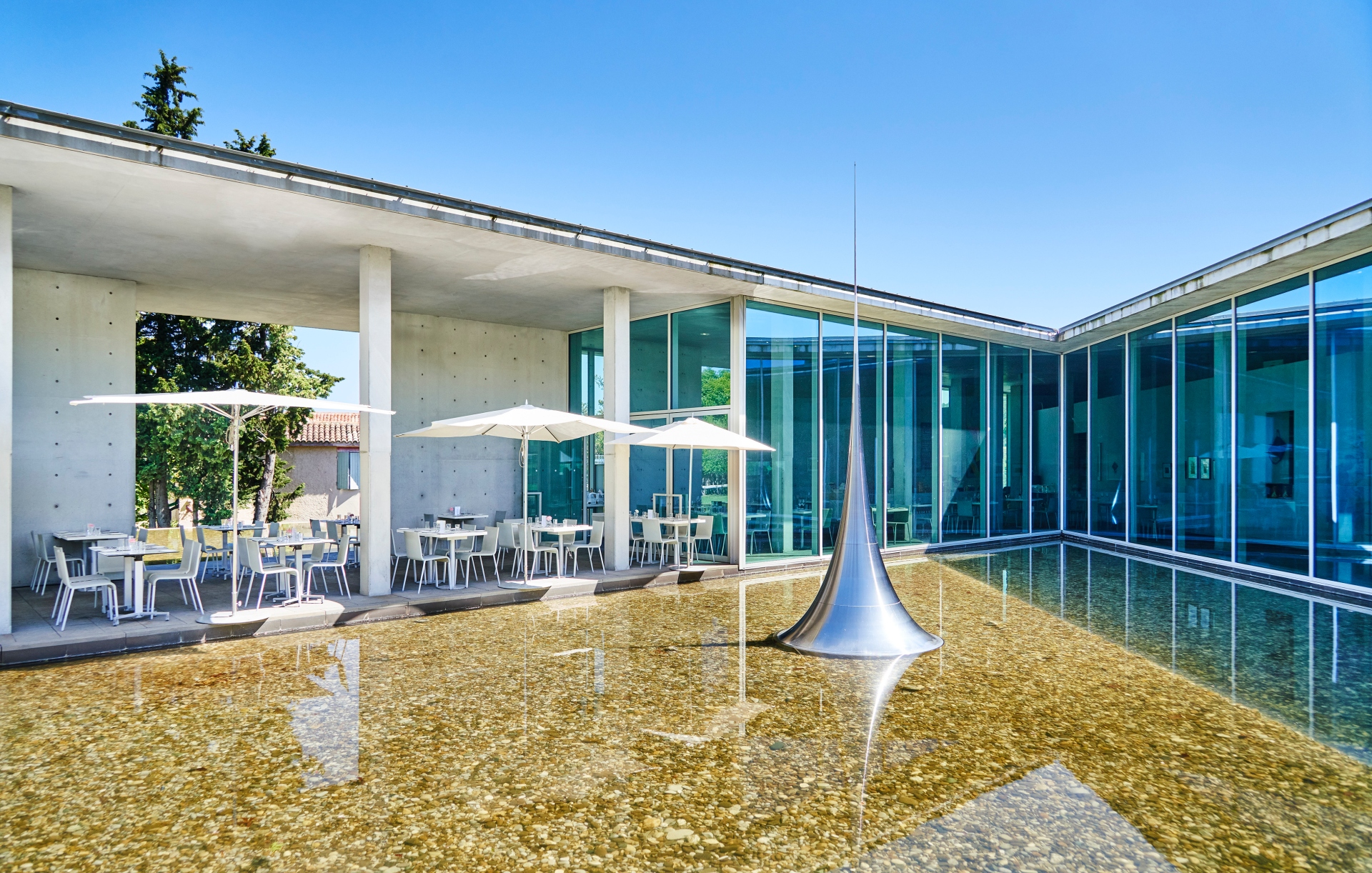 FRANCIS MALLMANN
The Argentinian restaurant Francis Mallmann stands out with its black and white décor and has a welcoming, lively hacienda feel. Here you can feast on olive focaccia and Cremona puff pastries, tender rib steak, scarlet prawns à la plancha and aubergine Milanese with Beaufort cheese. The desserts include dulce de leche flan and banana cooked in ashes and gently smoked pineapple (a 10-hour process).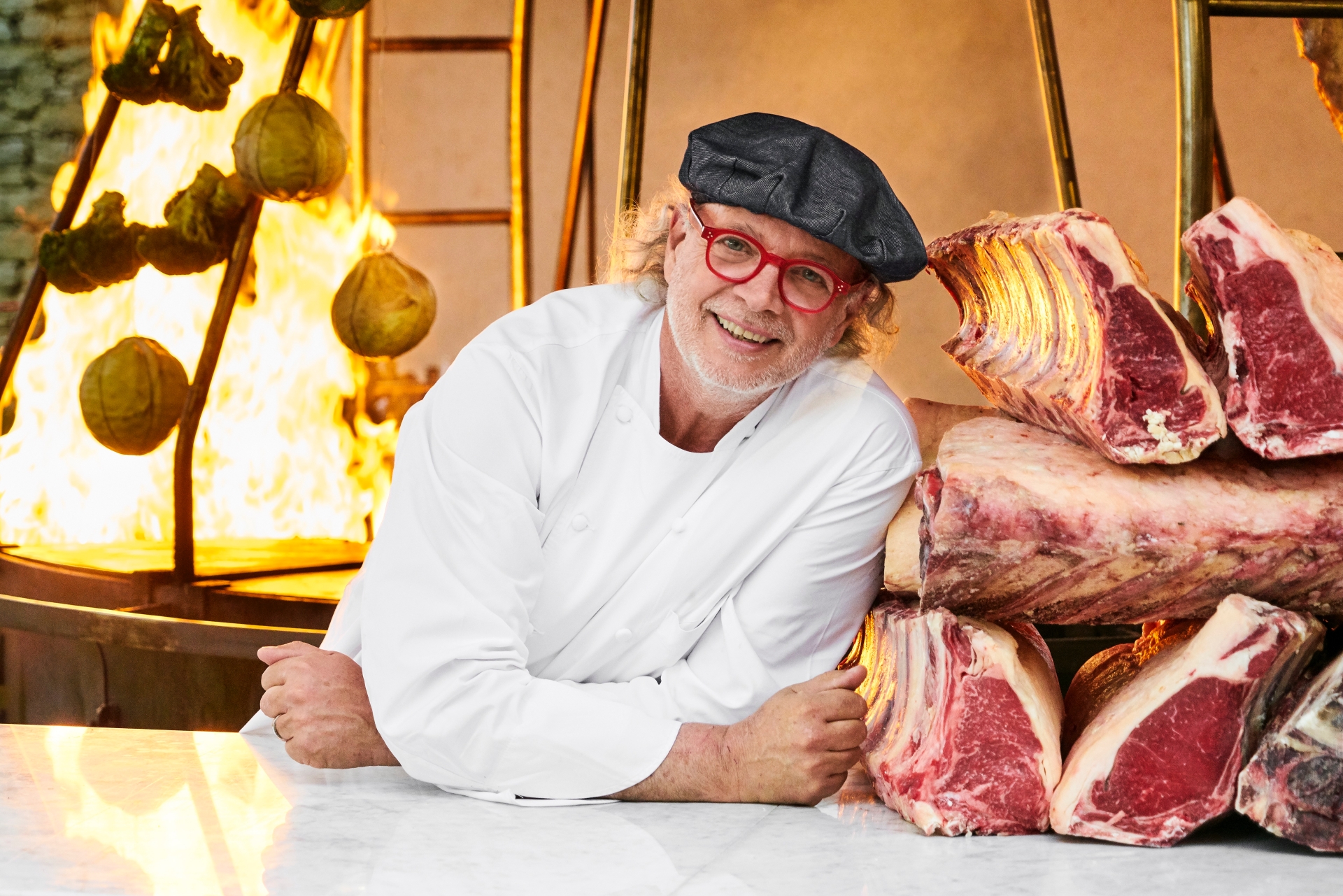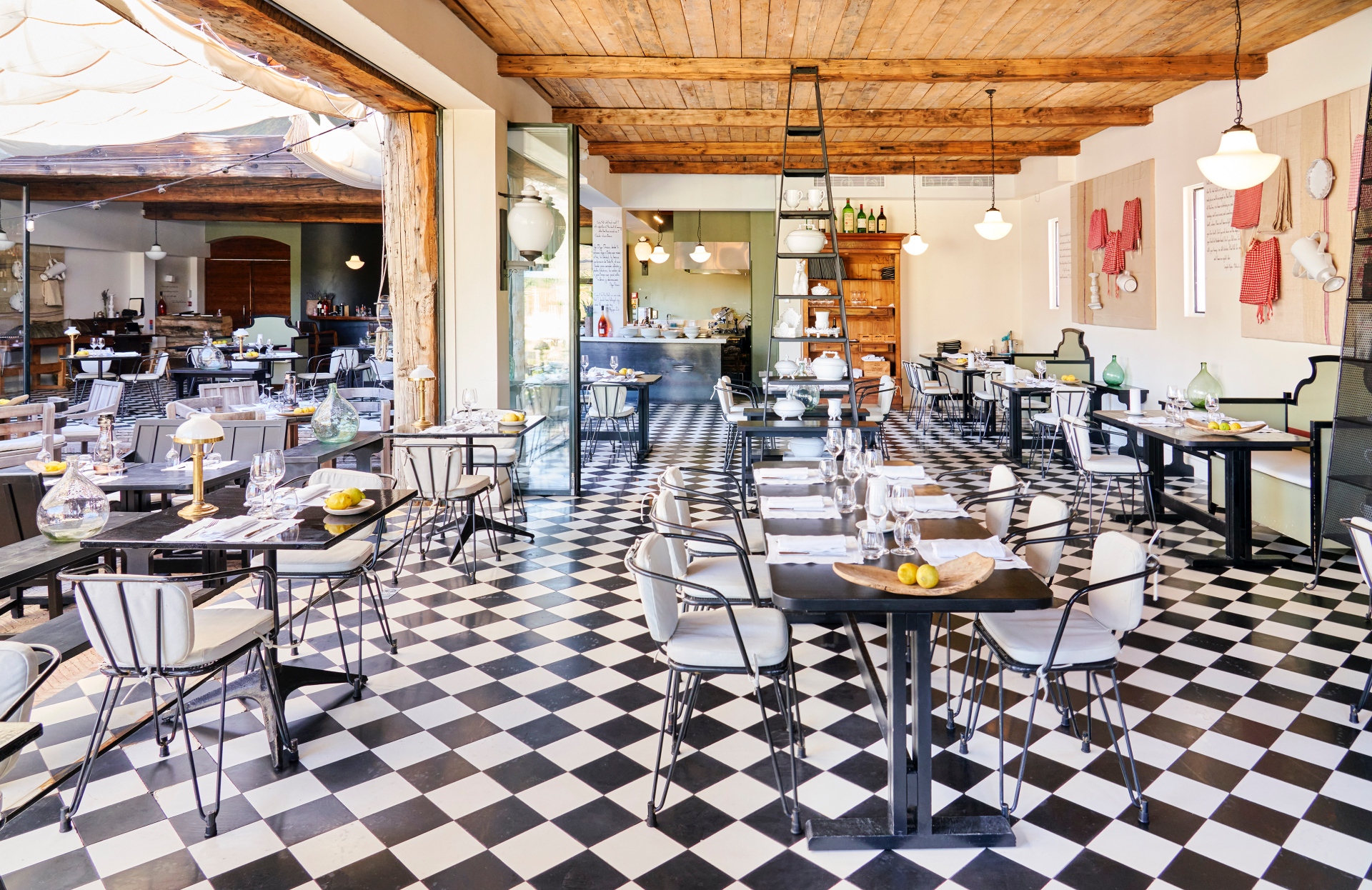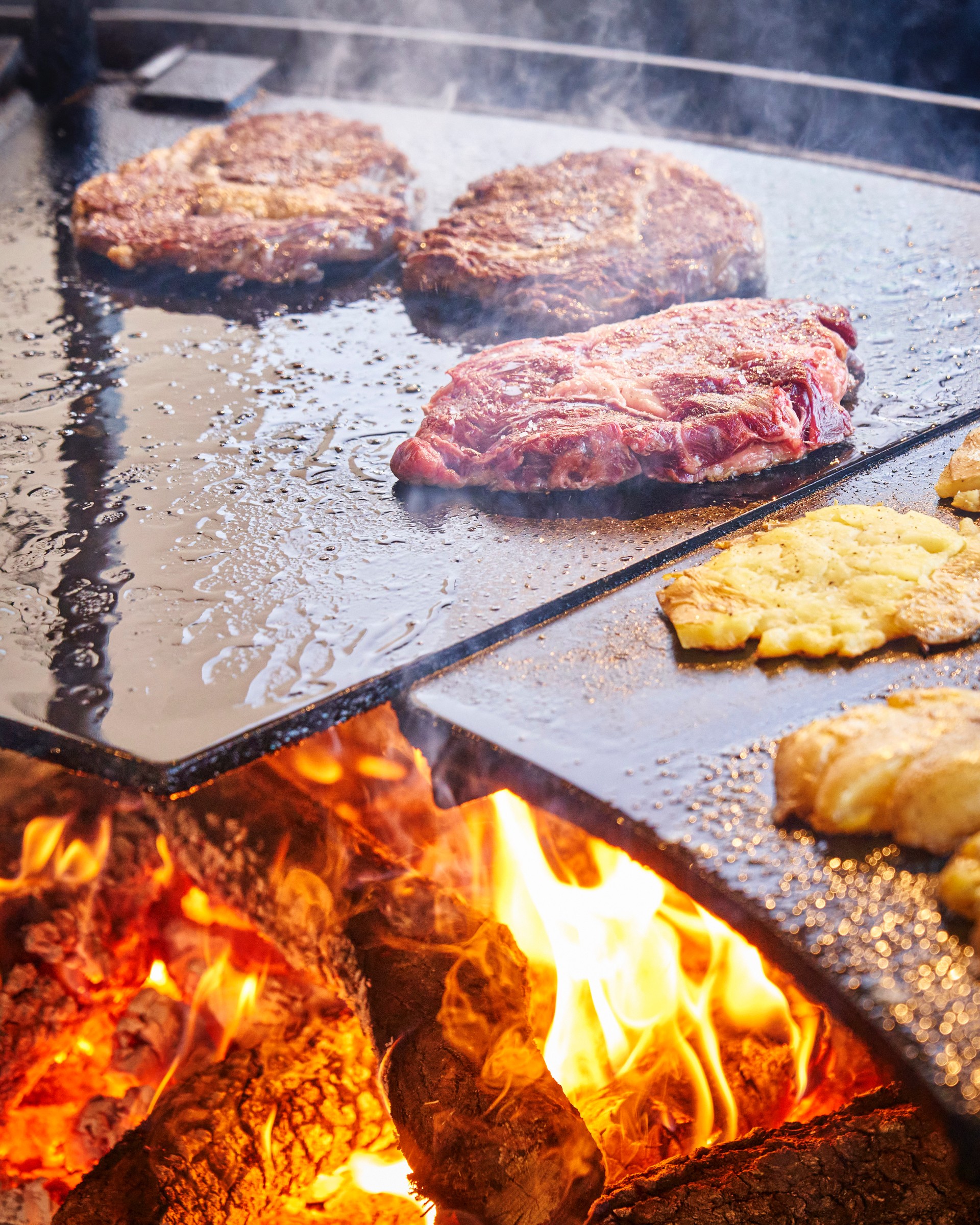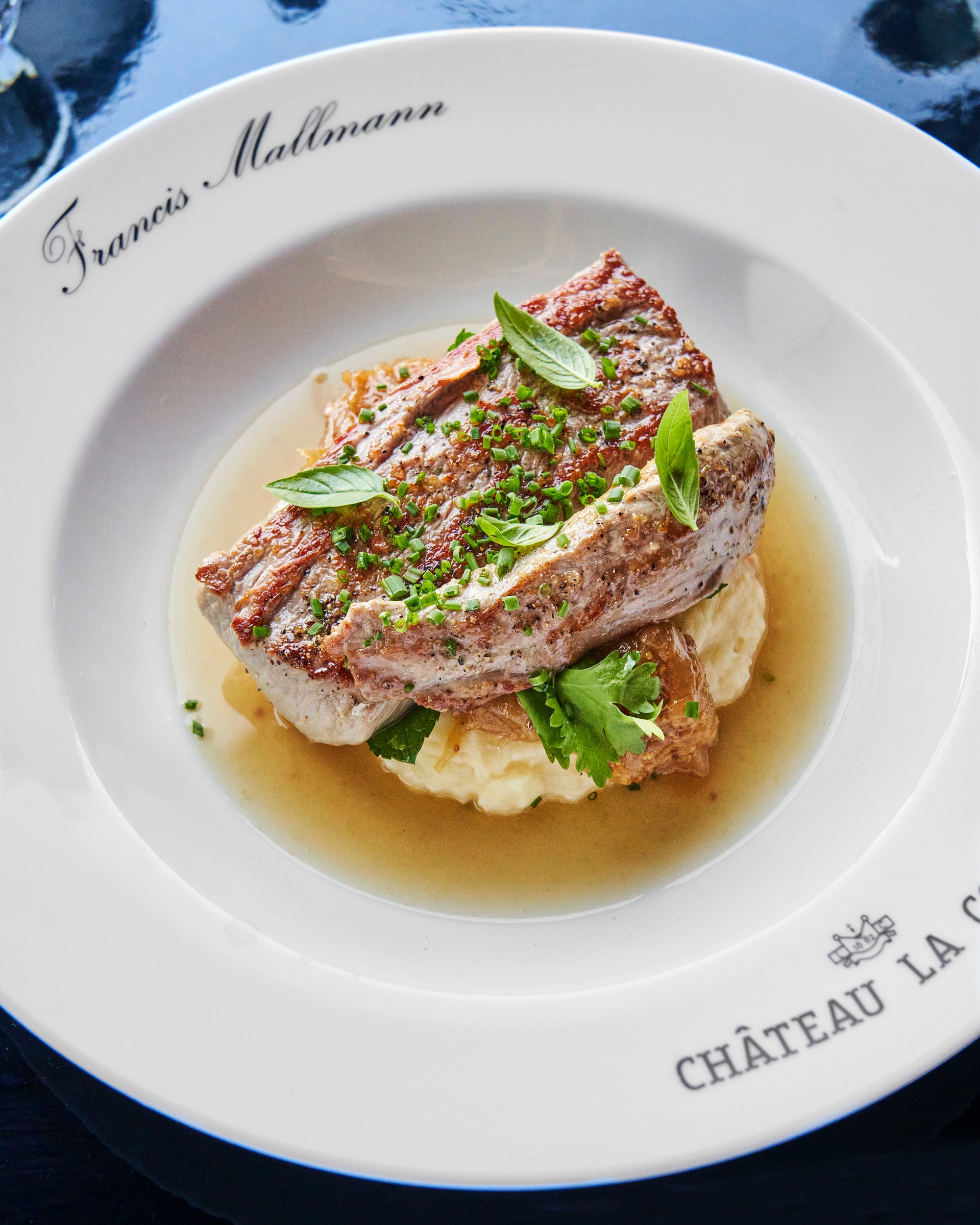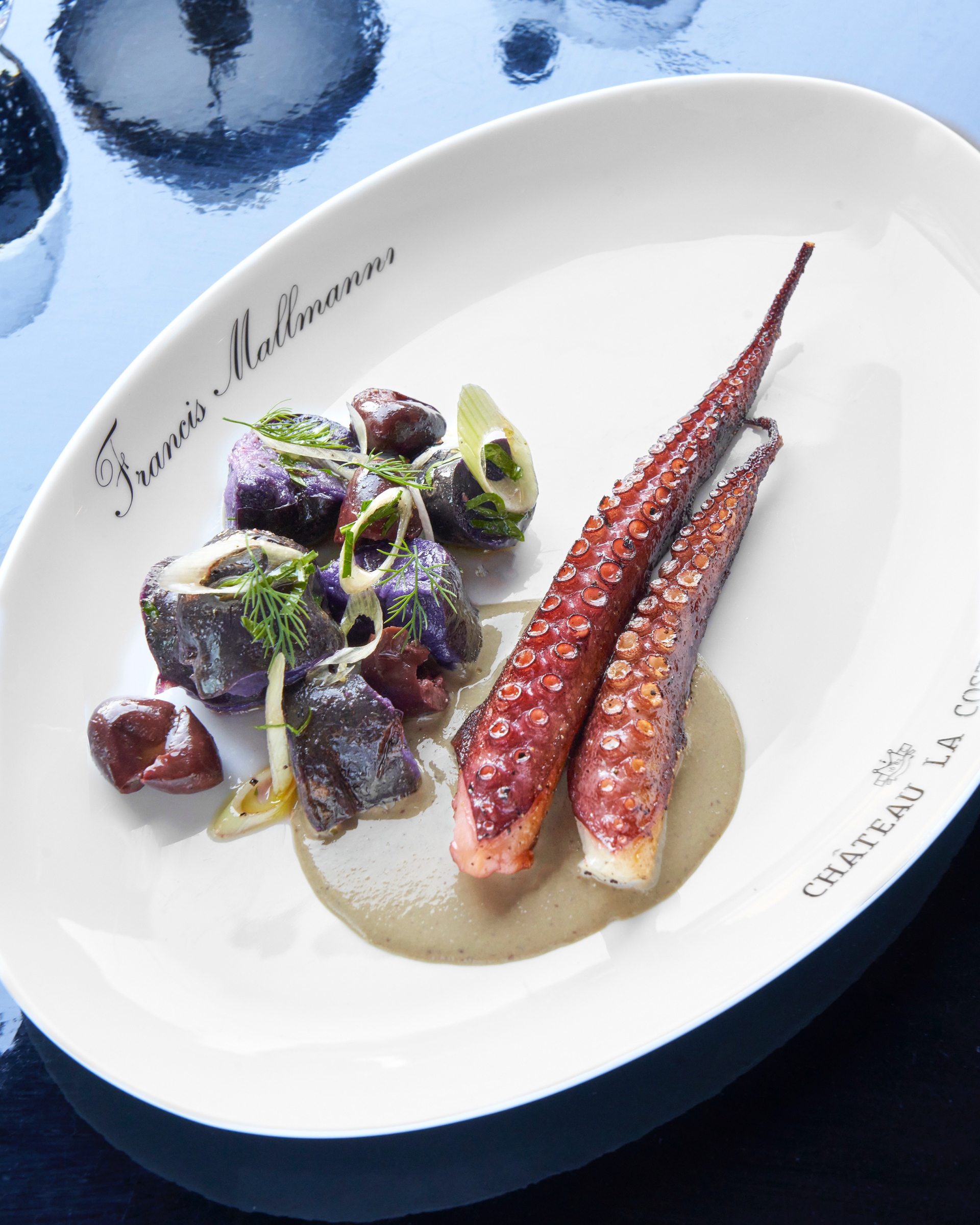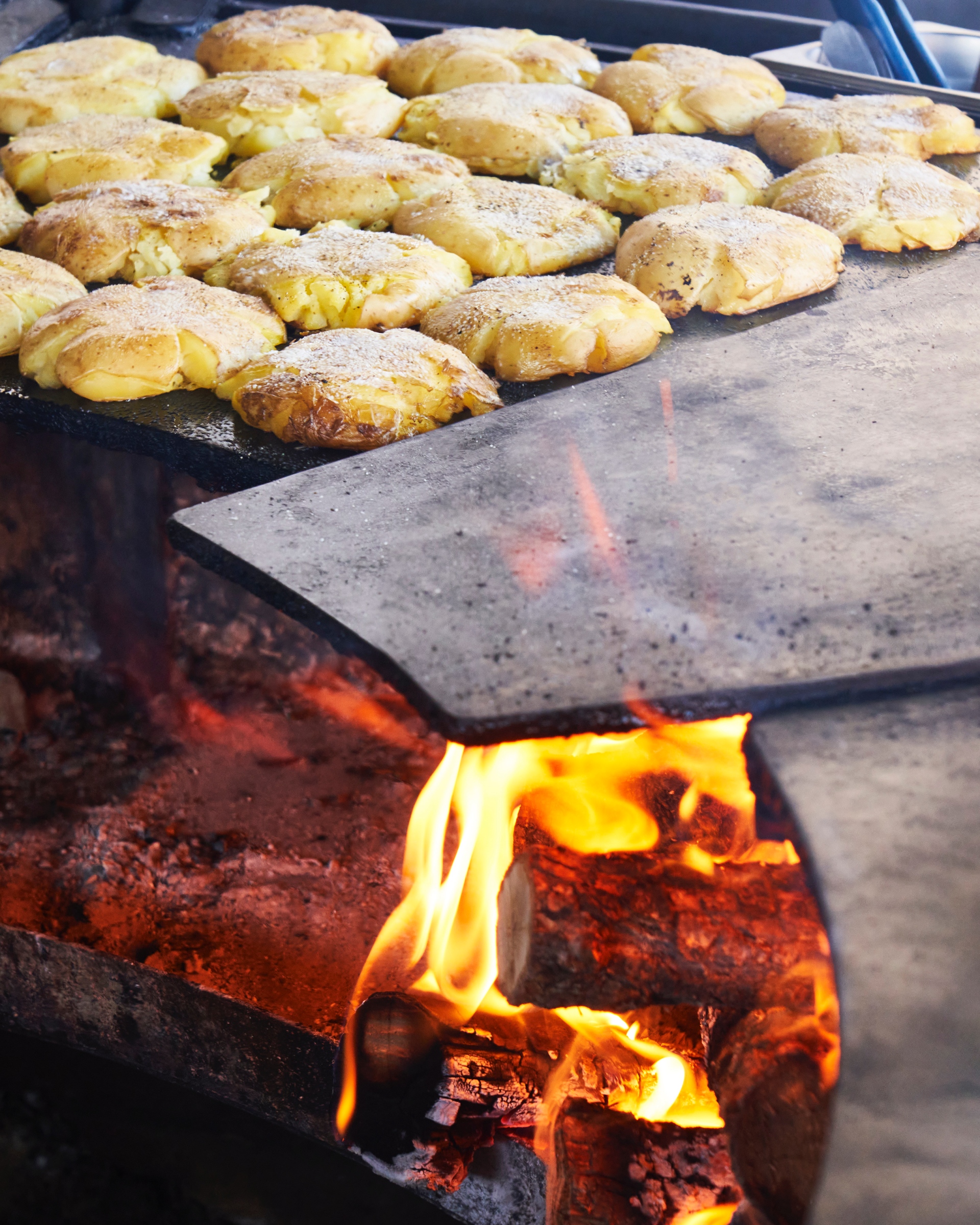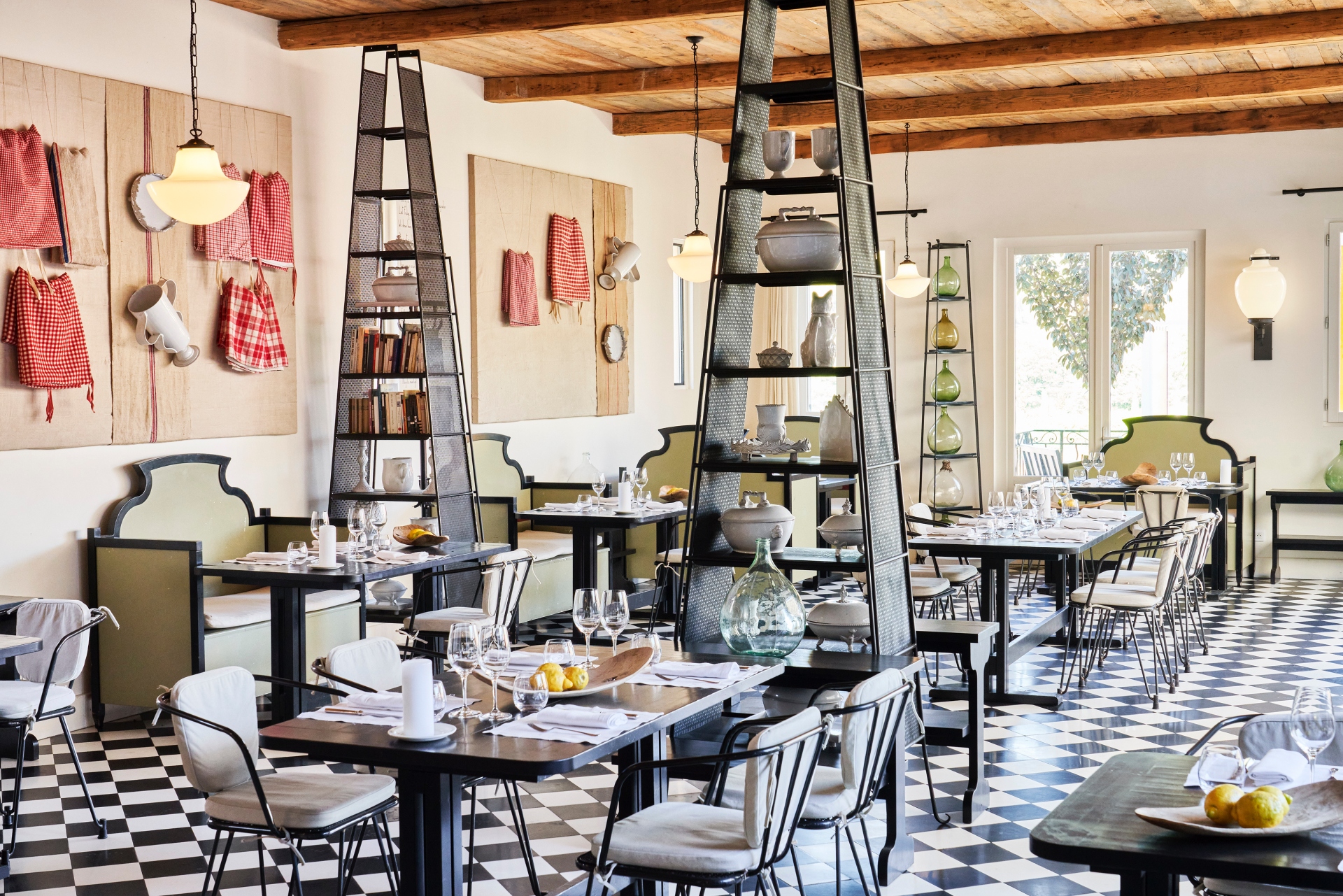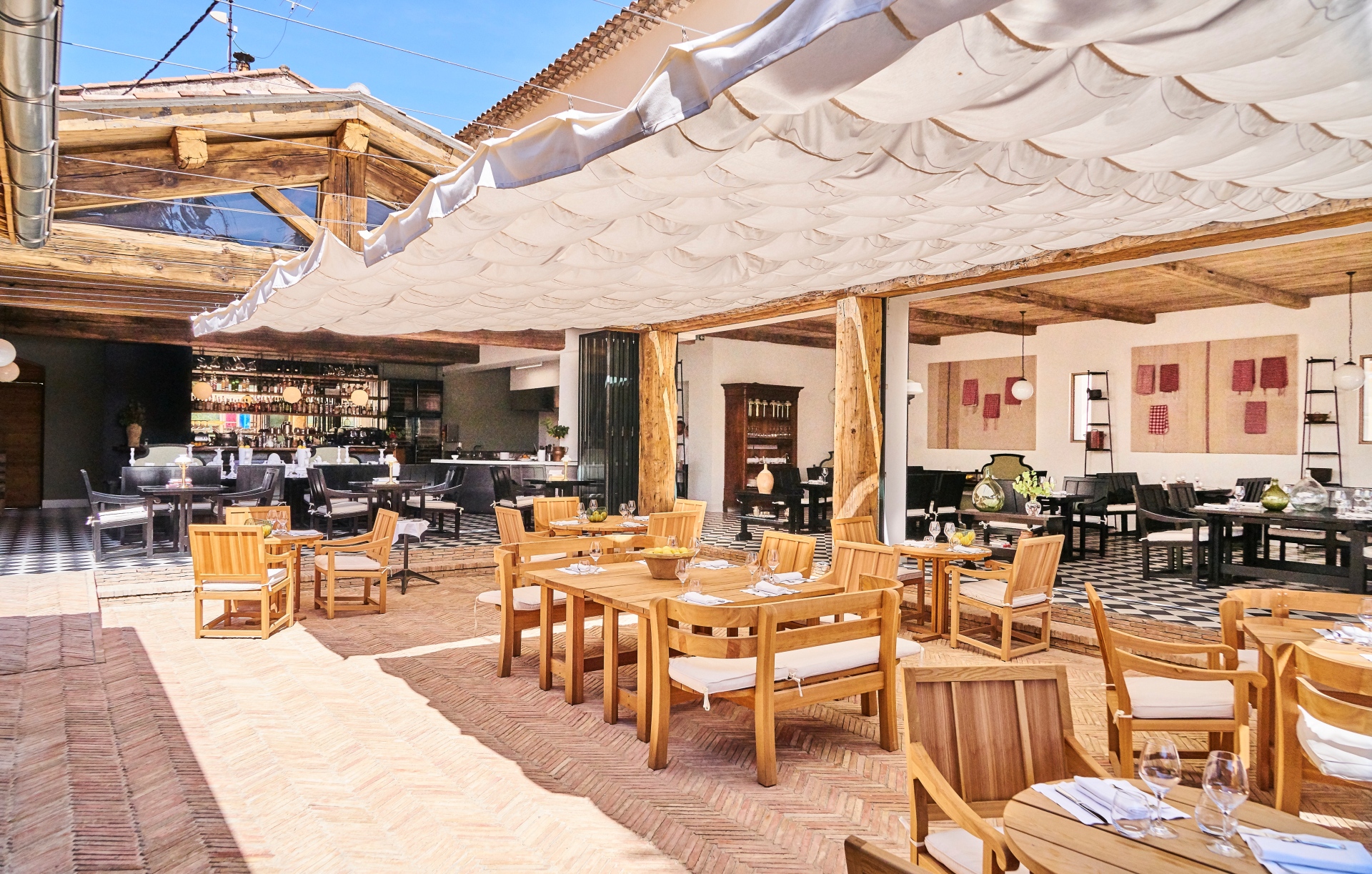 LA TERRASSE
Château La Coste's La Terrasse serves authentic and traditional Provençal cuisine. As well as the permanent installations, Château La Coste runs temporary exhibitions, art workshops, music concerts, and film screenings throughout the year.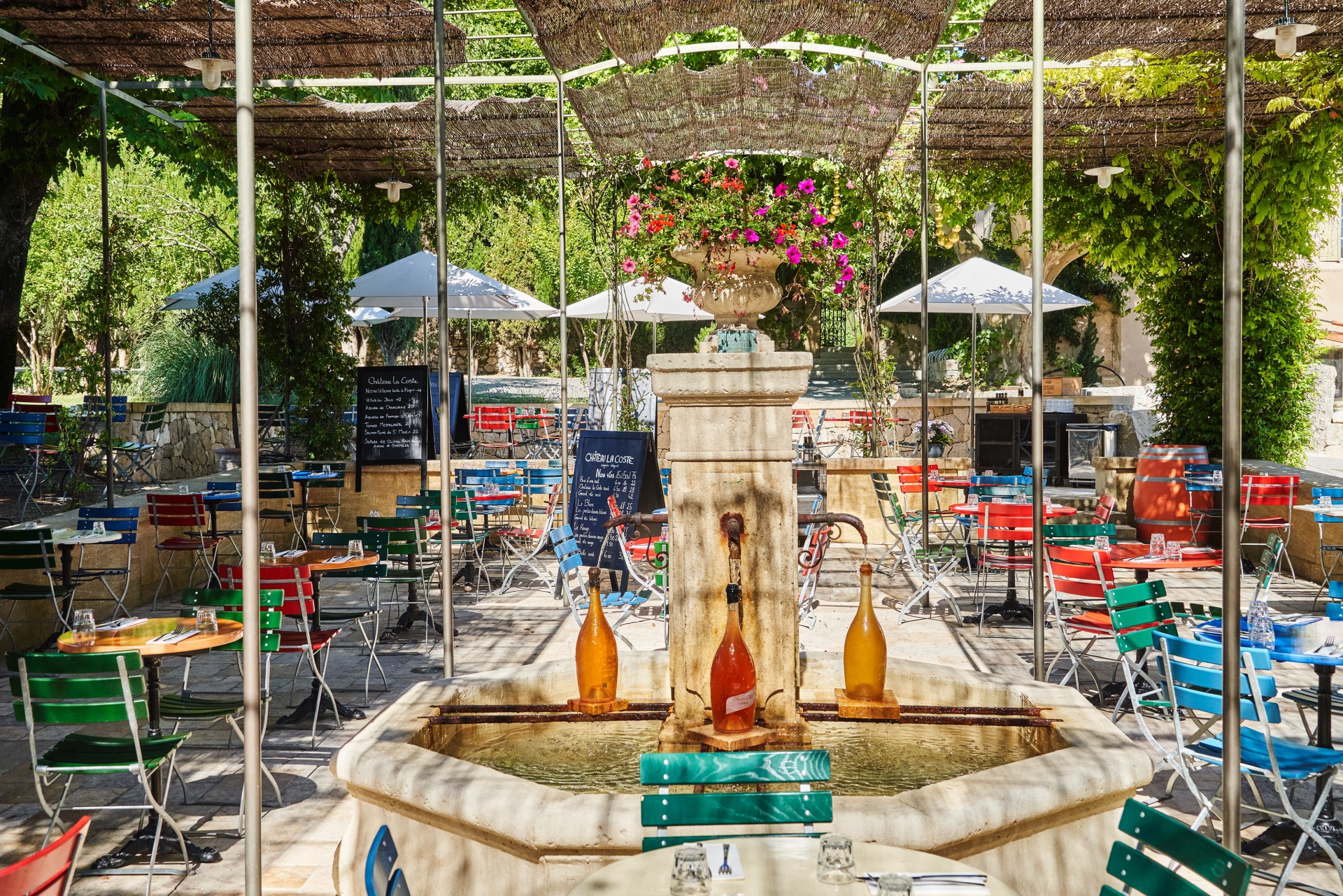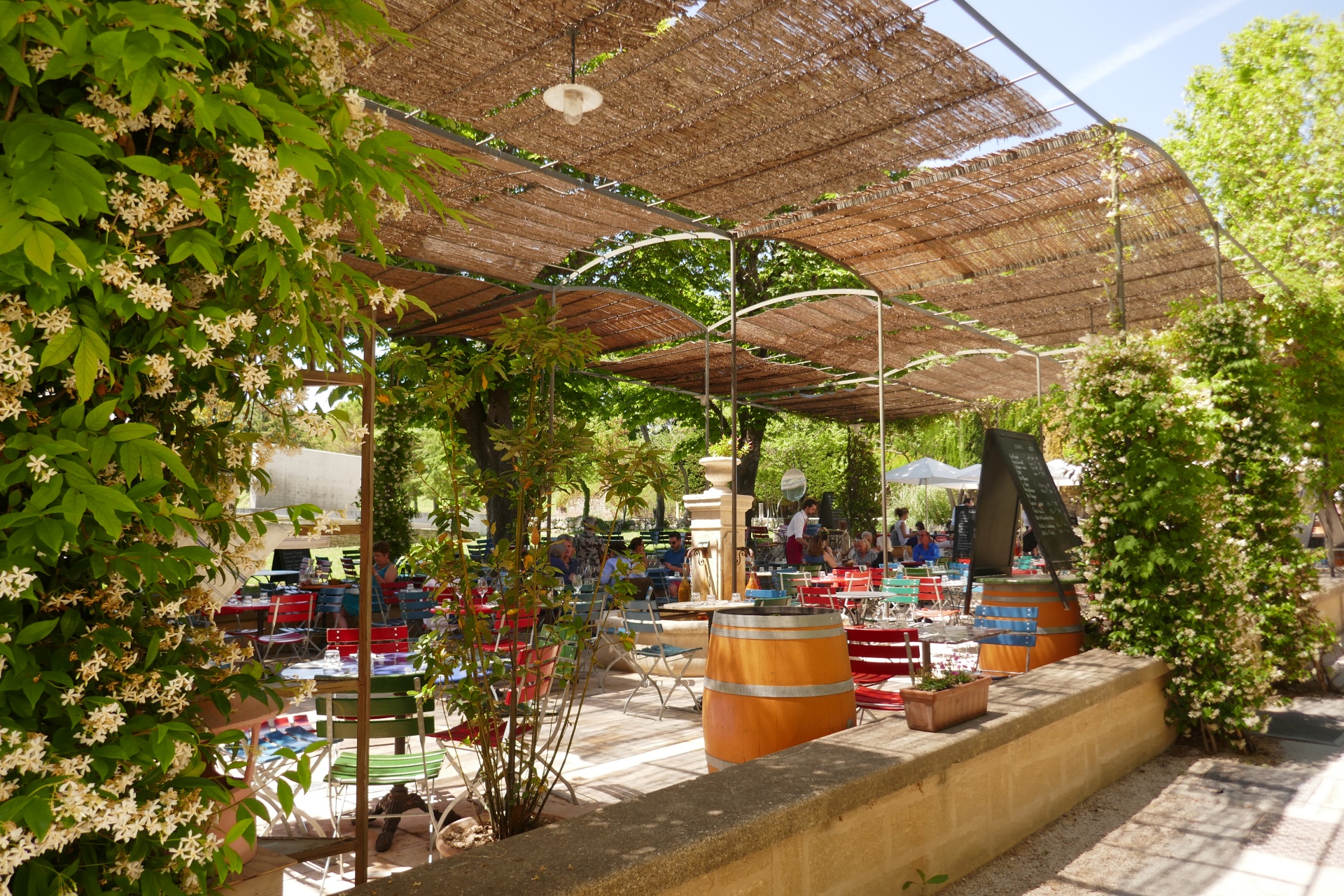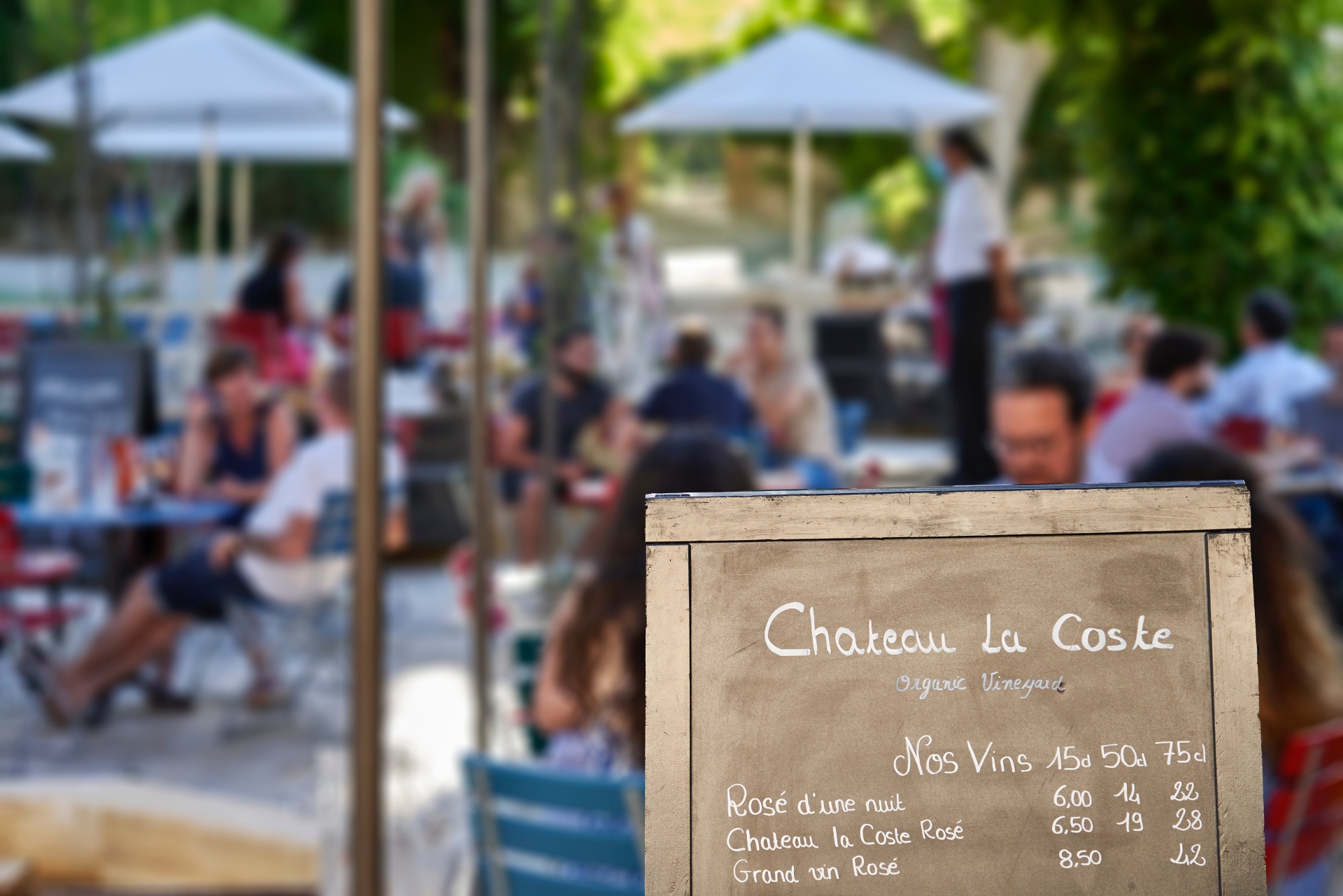 This is an extraordinarily special place that brings much joy and inspiration. What is nice too is that it's open to everyone, not just the hotel guests. Spend the day, or if you're lucky enough, stay awhile…