How many of your childhood memories do you recall? Are they vague or are they still vivid? No matter what your experience, it seems that the footprints and memories of youth will always re-emerge at the correspondingly right time, quietly affecting each one of our life's trajectory and accompanying us throughout our lifetime. 
Born in Hong Kong and based in Athens, Chi Wing Lo is a global design icon and architect, an artist, a scholar, educator and mentor to many. He holds an MA in Architecture from Harvard University, taught at Syracuse University in New York, was a member of Akademie Schloss Solitude in Stuttgart, Germany and is highly respected in both academic and design communities. Despite his international acclaim and success however, this teacher has never forgotten his roots and his origin - where he lived in a small fishing village in the east of Hong Kong Island as a child is still imminent in his memories. His childhood and upbringing has affected his work in unimaginable ways. He recalls his curiosity and mischief as a young child. "I would jump into the sea many times and come close to drowning before someone pulled me back out," he recalls with a twinkle in his eye. Surrounded by the seas and the sky, Chi Wing imagined these 'angels' as his companions, allowing him to escape from the mundanity of time and his surroundings.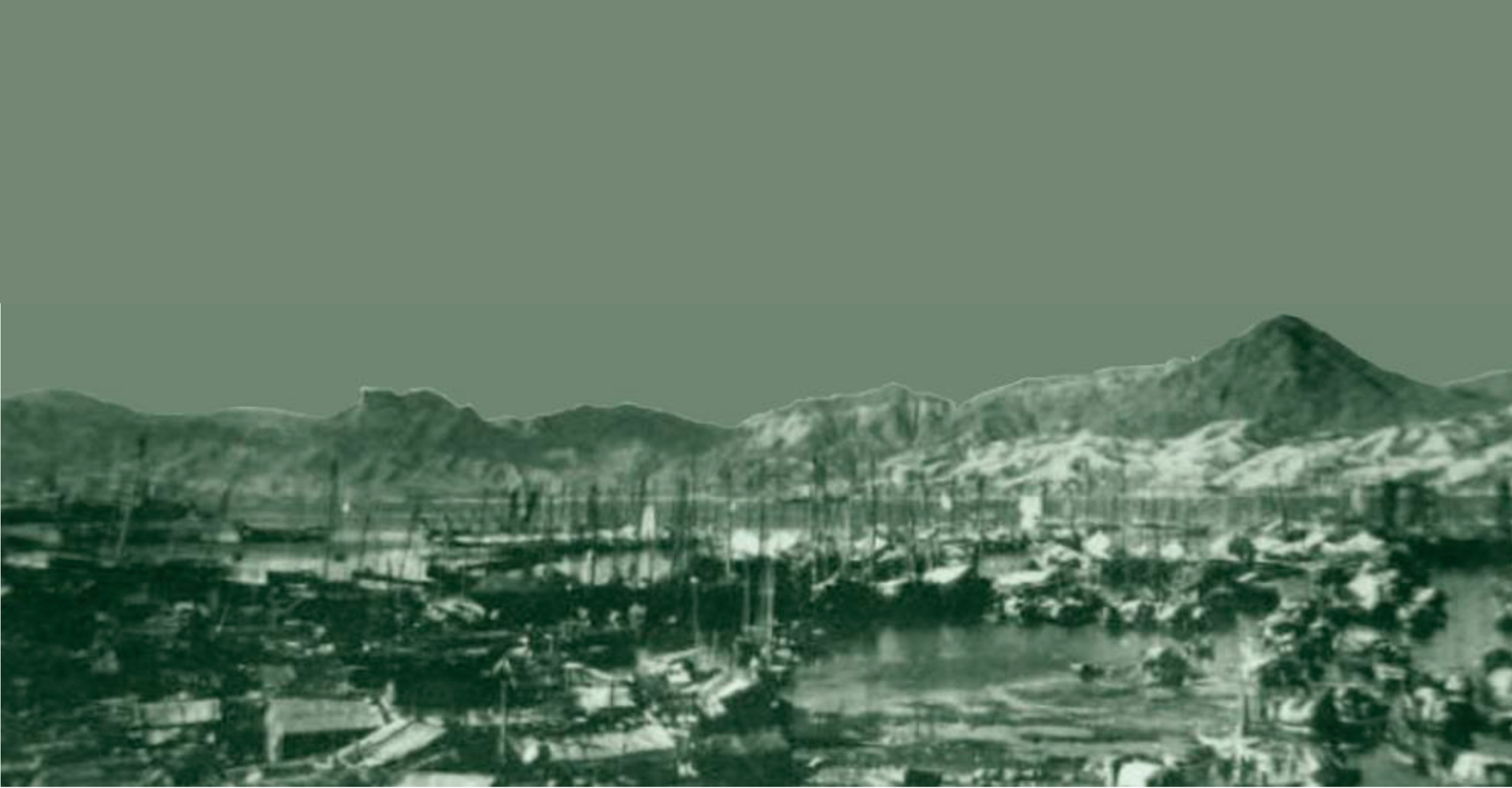 In his words, he elaborates, "A long, long time ago, somewhere on the east coast of Hong Kong Island, these angels were tied scrap papers folded to hover in the breeze that smelled of sun-dried fish. They also appeared as rubber band paddle rafts of popsicle sticks navigating dirty water. I fell and drowned many times to catch them back. They were the angels whose wings I grew to take my days far; they were the angels whose momentum I implanted to propel my childhood through the stillness of the ordinary. When I looked back, these and my later angels provided no escape into dreams but discovered a hidden reality. They whispered to me of the existence of another domain, another dimension, another civilisation. They cut a slit, when I least expected it, on my four walls to let in from the horizon the light, the colour, and the infinitude of longing for the beyond. They quietly dismantled my frame of mind, replaced it with a frameless void, and, while I was teetering on the edge of the abyss, they clothed me in that rare lightness with which I could shield away from the cruel solidity of time."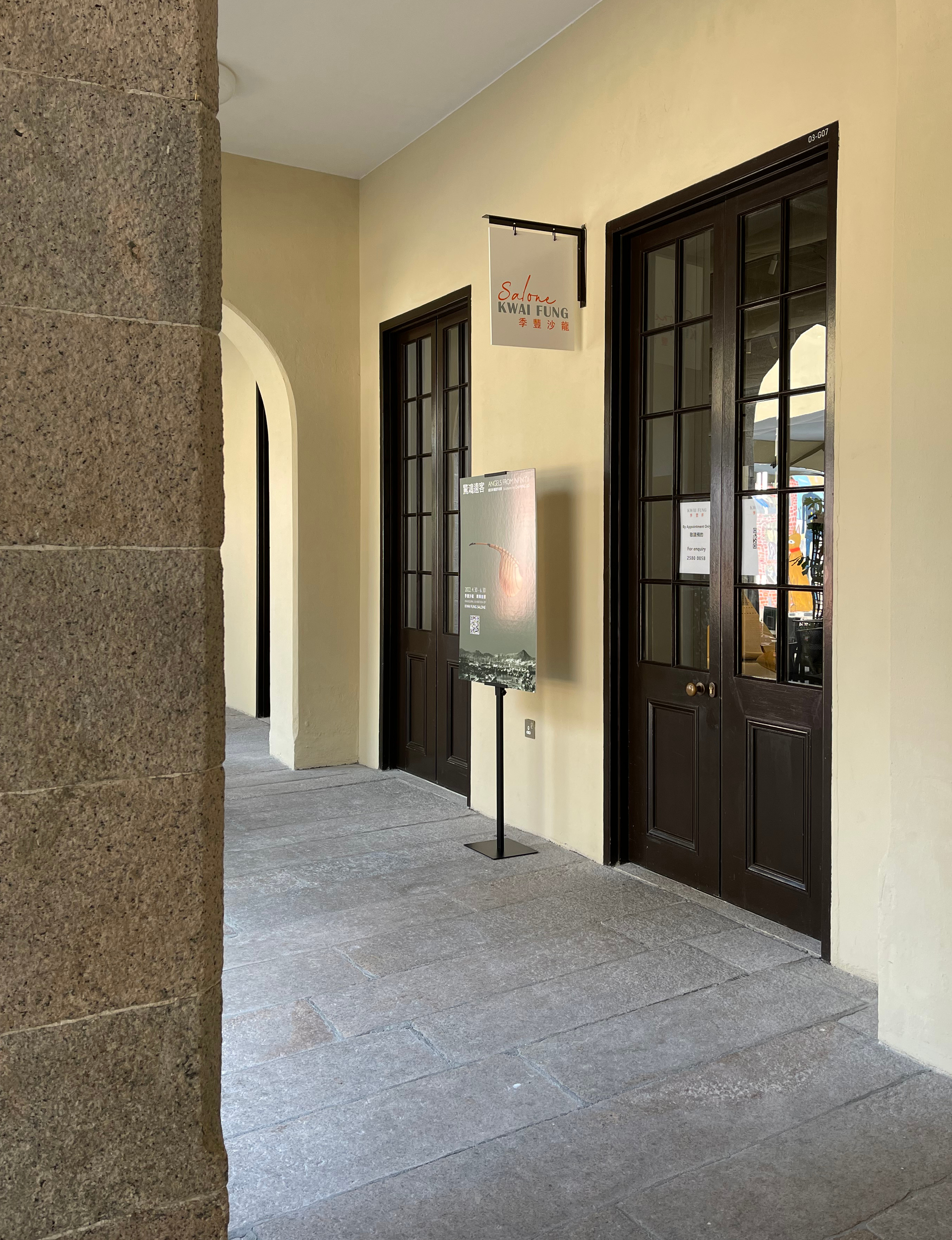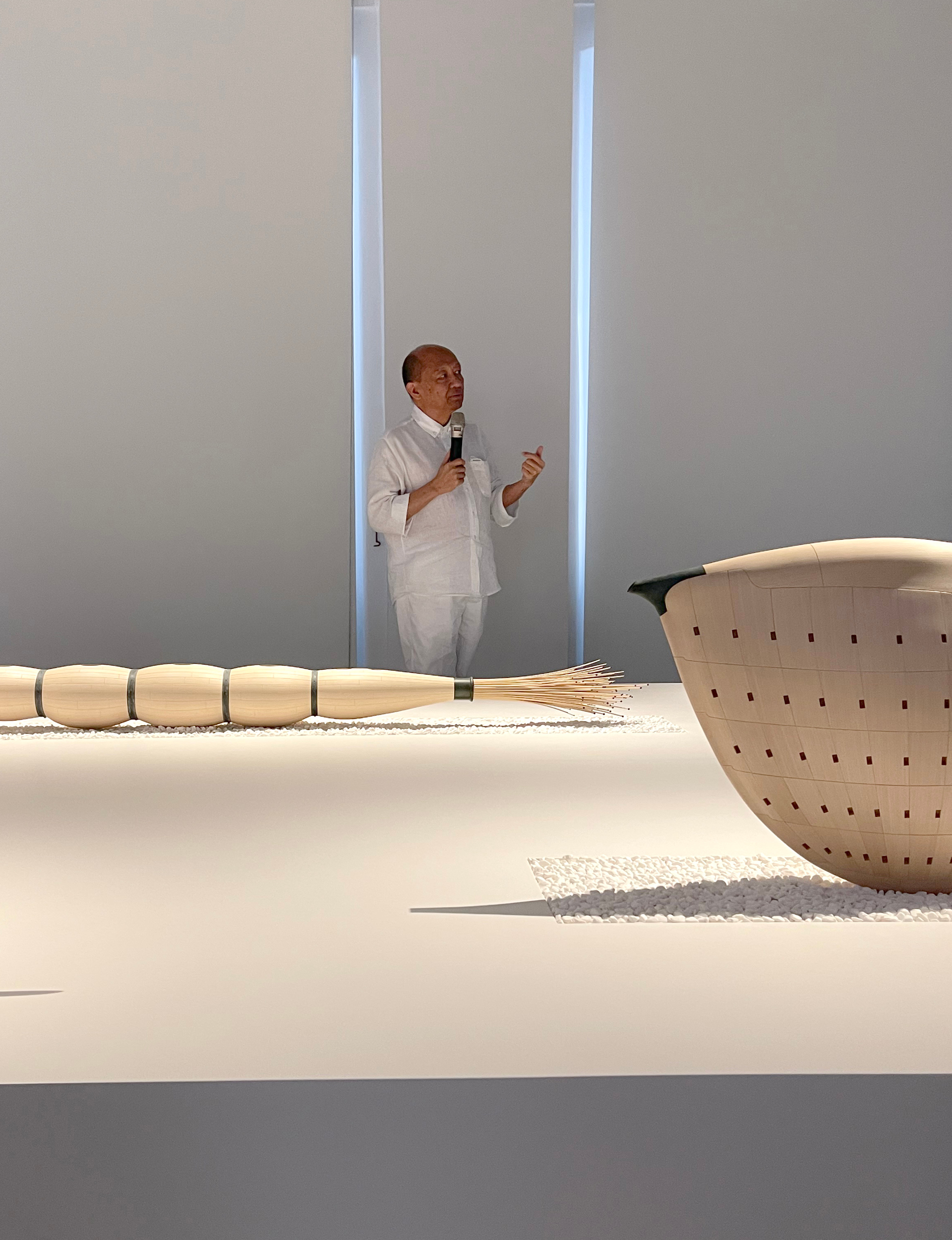 Having been away from Hong Kong for a few decades, he has recently returned to his homeland to share with us his perception of aesthetics, life and civilization as reflected in his collection of fascinating sculptures. From now until June 30, 2022, the Kwai Fung Salone - an elegant new chamber at Tai Kwun aimed at housing and promoting art and culture events and exchanges and intellectual conversations - will be home to Angels From Infinity, Sculptures by Chi Wing Lo. These sculptures, referred to by the artist as "angels" were his companions throughout his childhood, as well as spiritual pillars with healing power.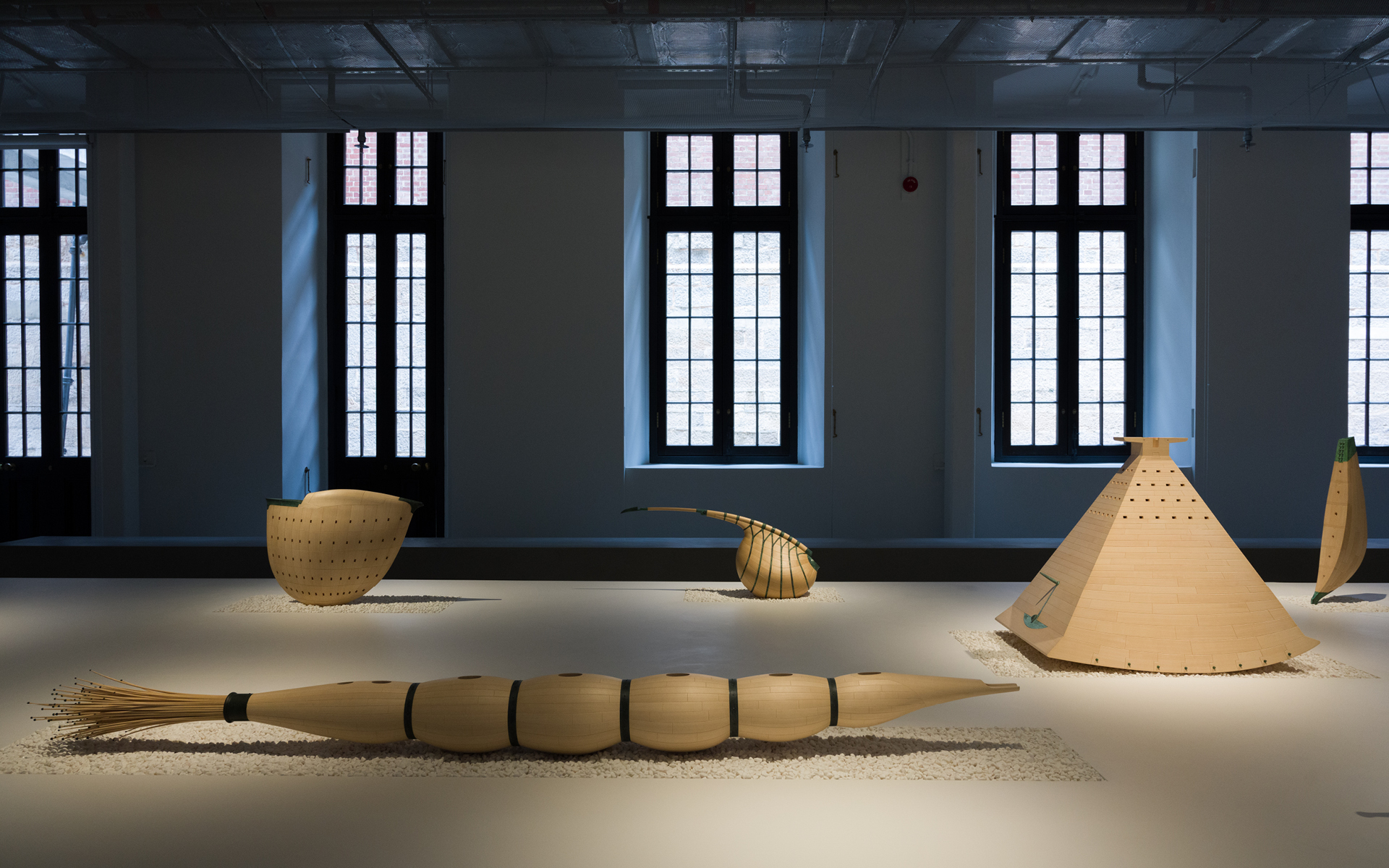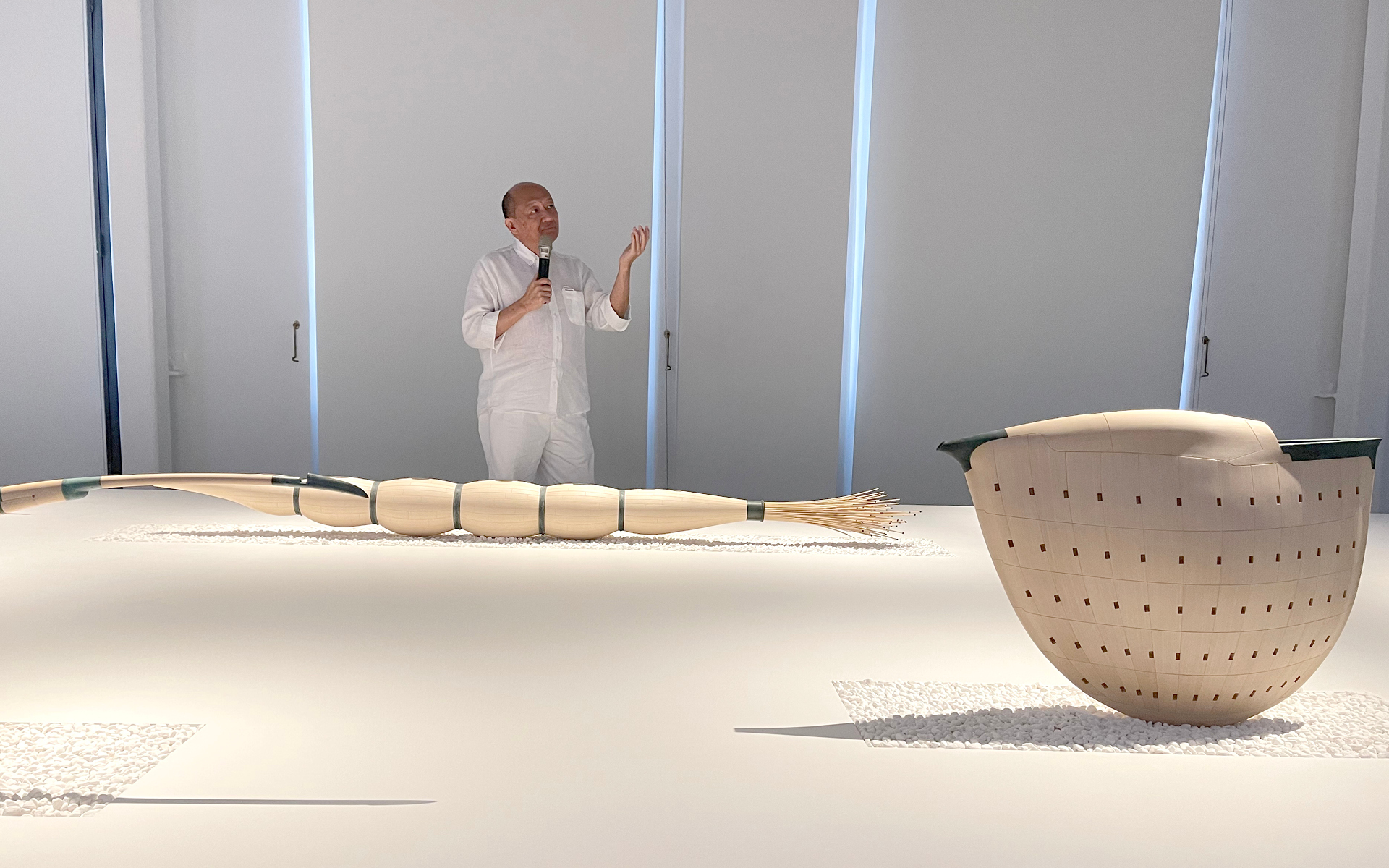 "You will find that the more you look at them (the sculptures), the more lost you become," explained Chi Wing with a smile during the two private tour and dialogue sessions led by the artist on April 29th and May 4th. "This is absolutely normal. It is also the purpose of the exhibition." For those who have encountered his genius and perceptive mind are aware that a dialogue with this artist is never straightforward - there is never a clear cut answer, rather, always an analysis and thought-provoking conversation to get lost and relish in. Special guests invited to these two intimate sessions included established professionals engaged in the fields of interior design, architecture, real estate and art, all of them admirers of Chi Wing Lo's work and who possess a deep sensitivity, passion and expertise towards their own projects.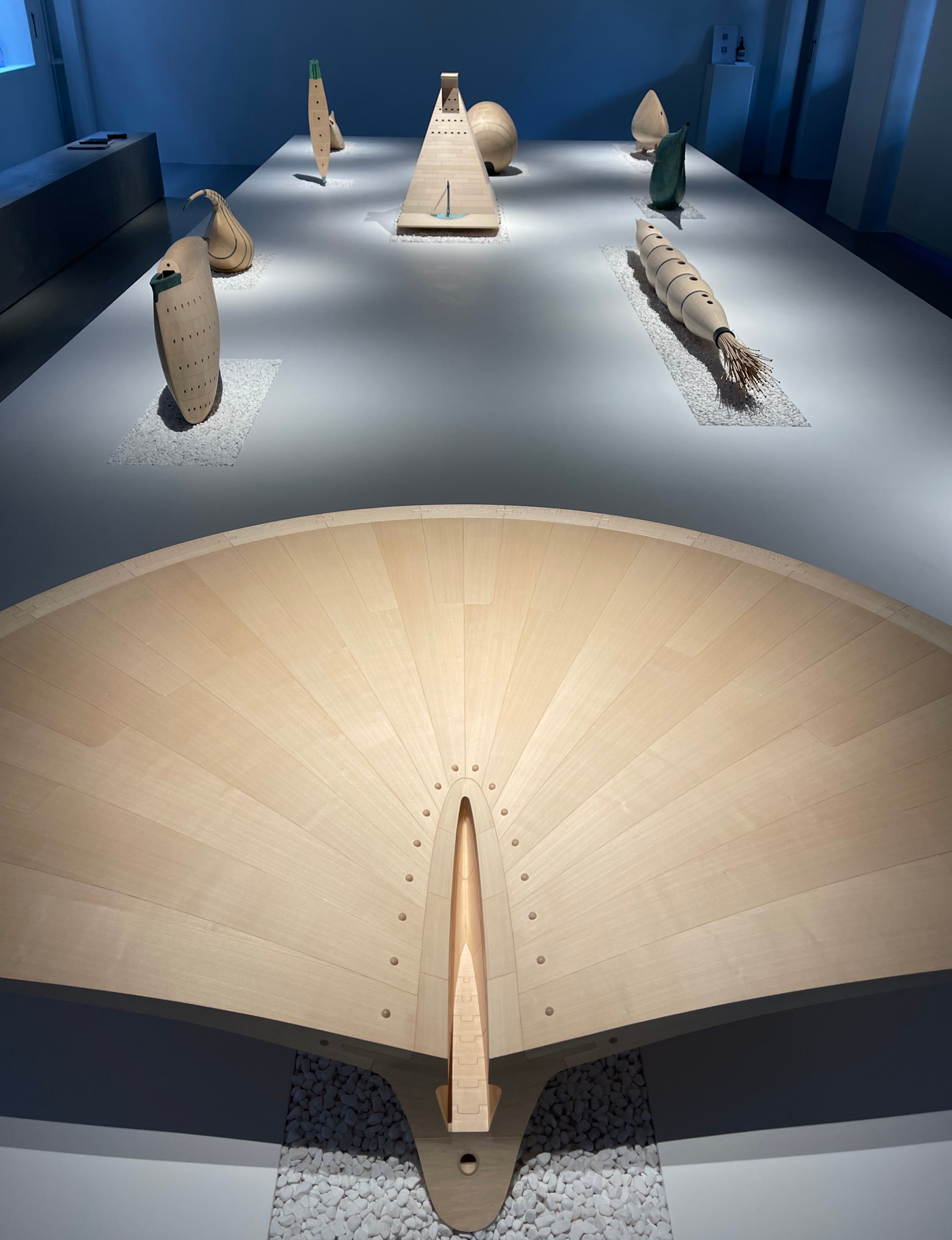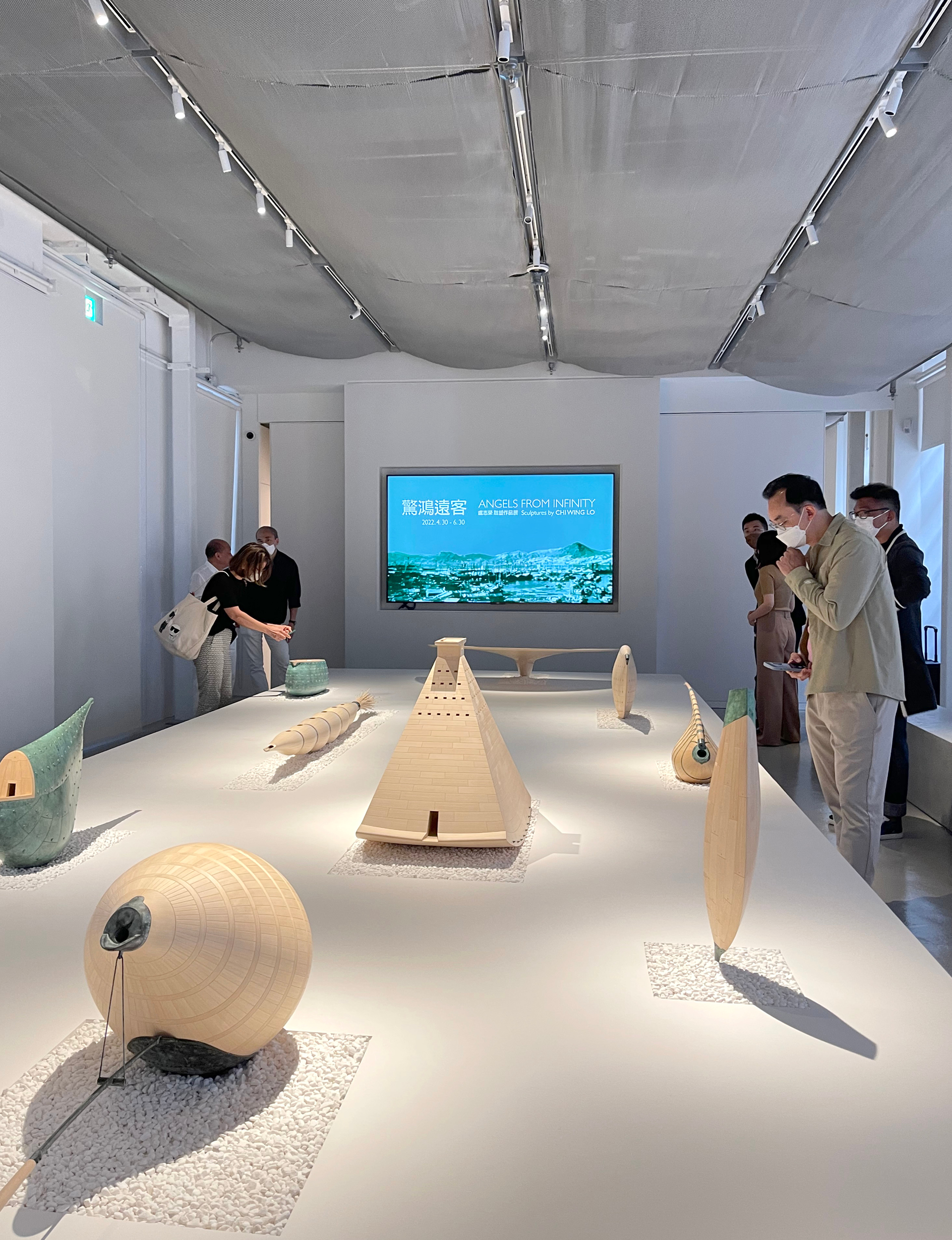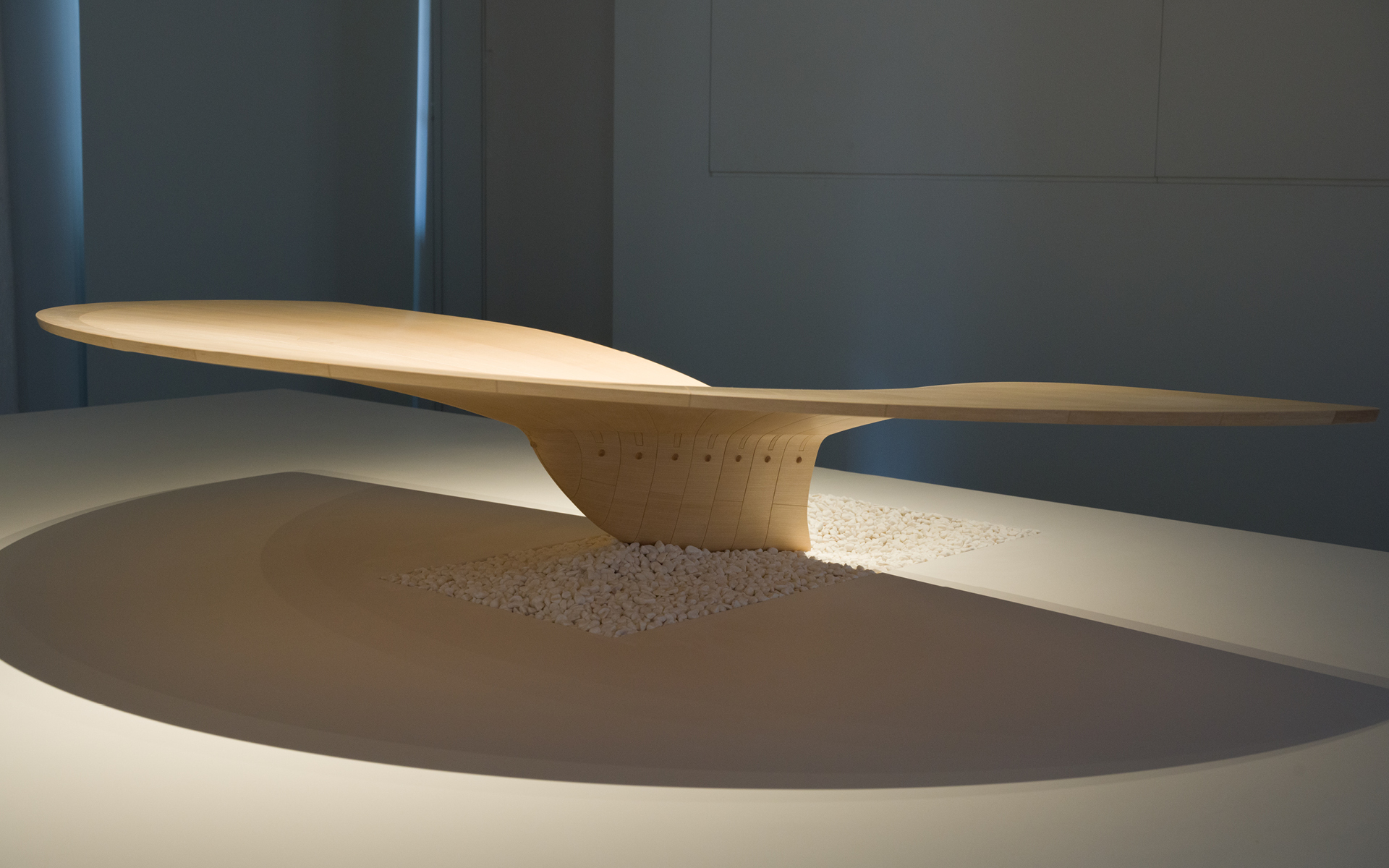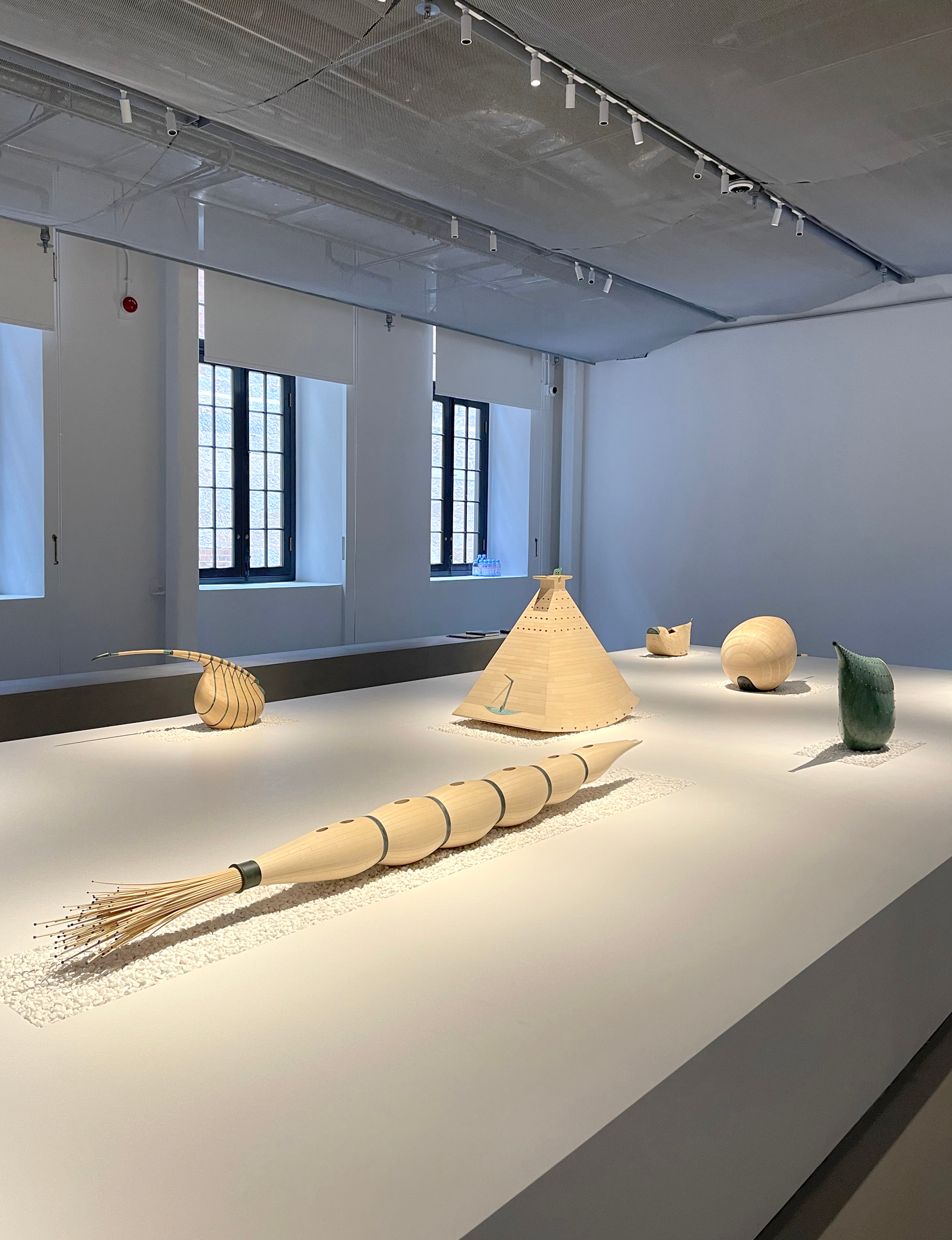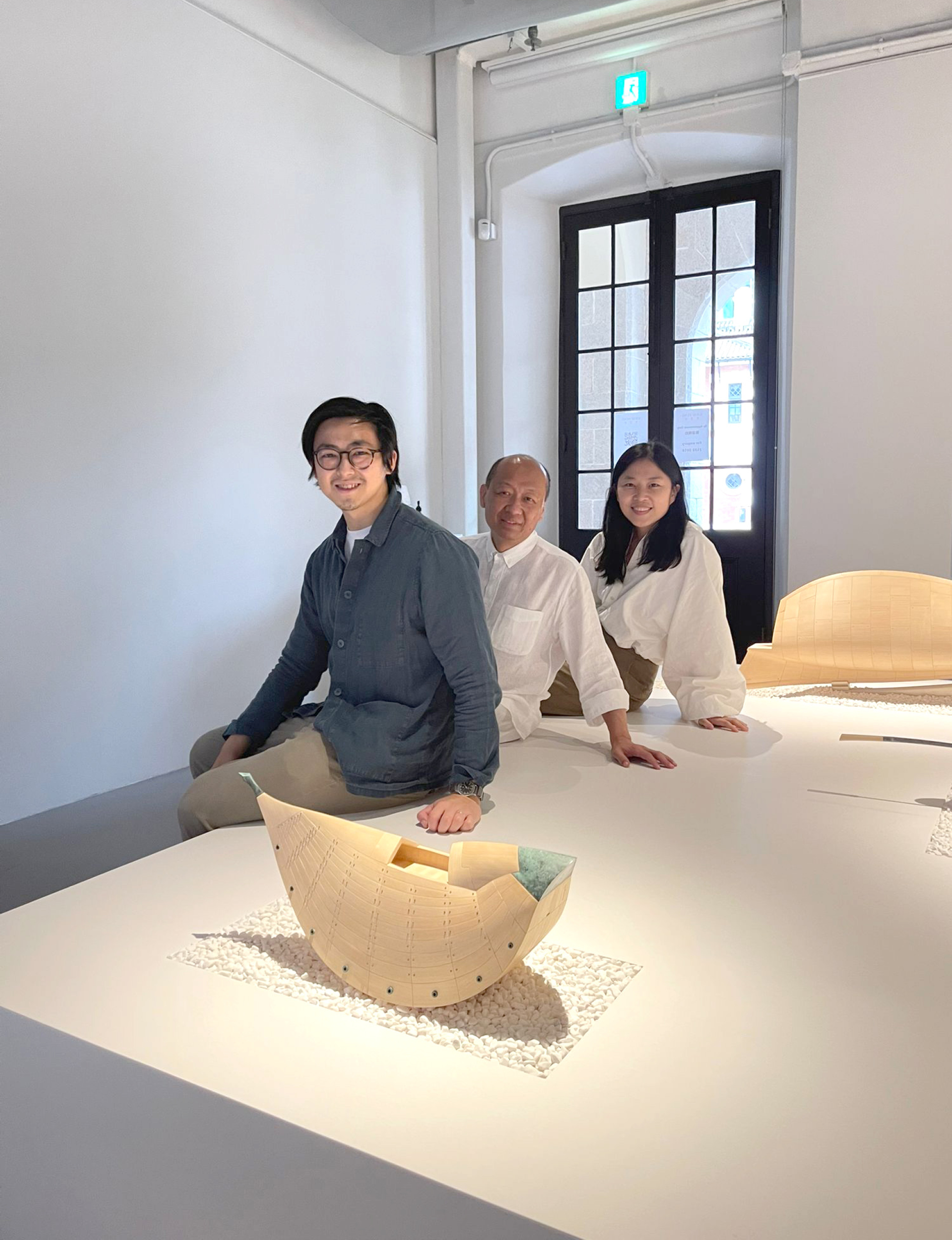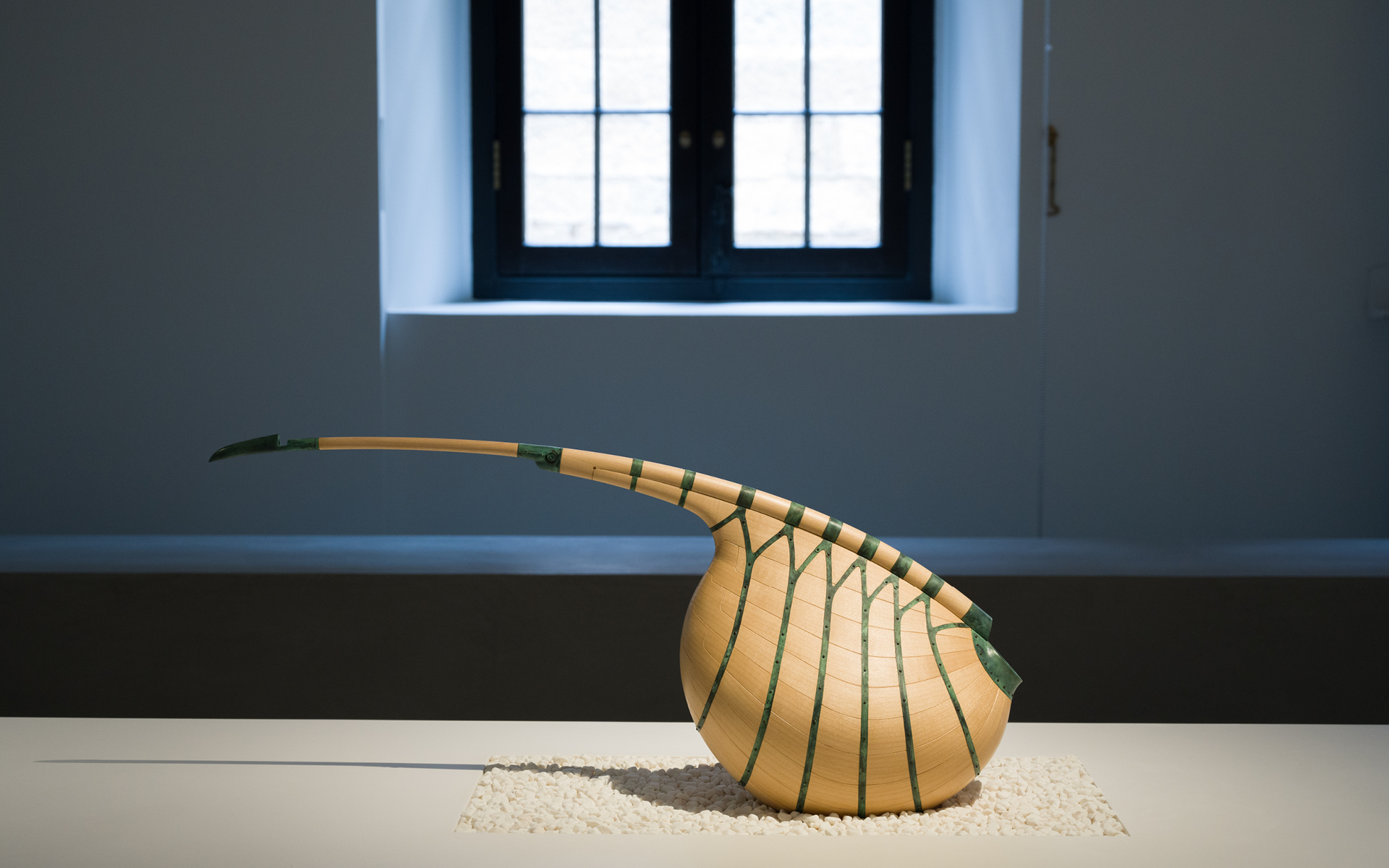 Each of the sculptures have their own natural and unrestrained silhouette, harmoniously pieced together with bronze and Canadian maple wood. From Chi Wing's perspective however, these two materials seem to be exactly the same. When asked how he contemplated the placement of the sculptures, he wittily replied, "No one knows where they come from or who made them. They may be floating in the air or sailing at sea. I will ask if they have just come, or are preparing to go away?... "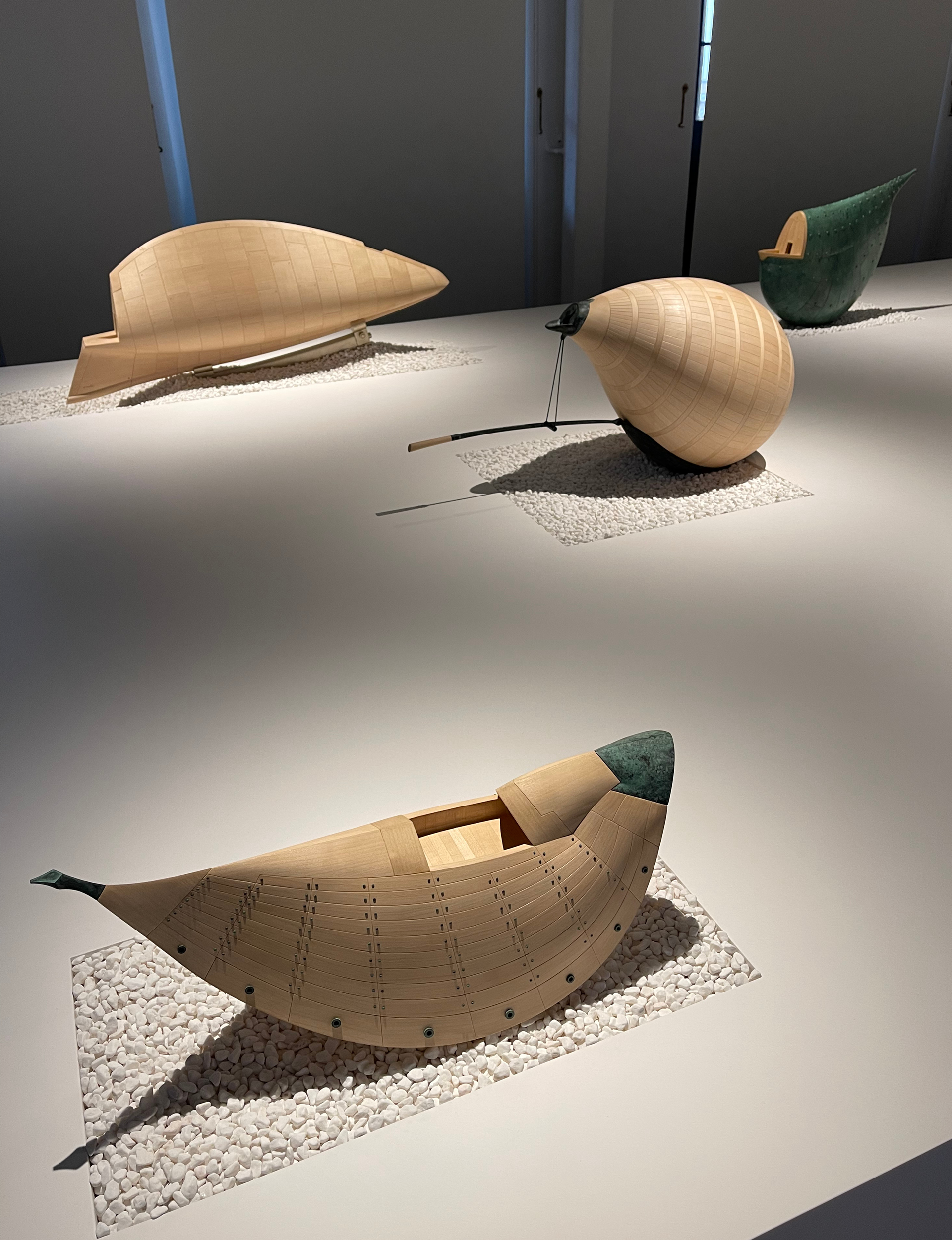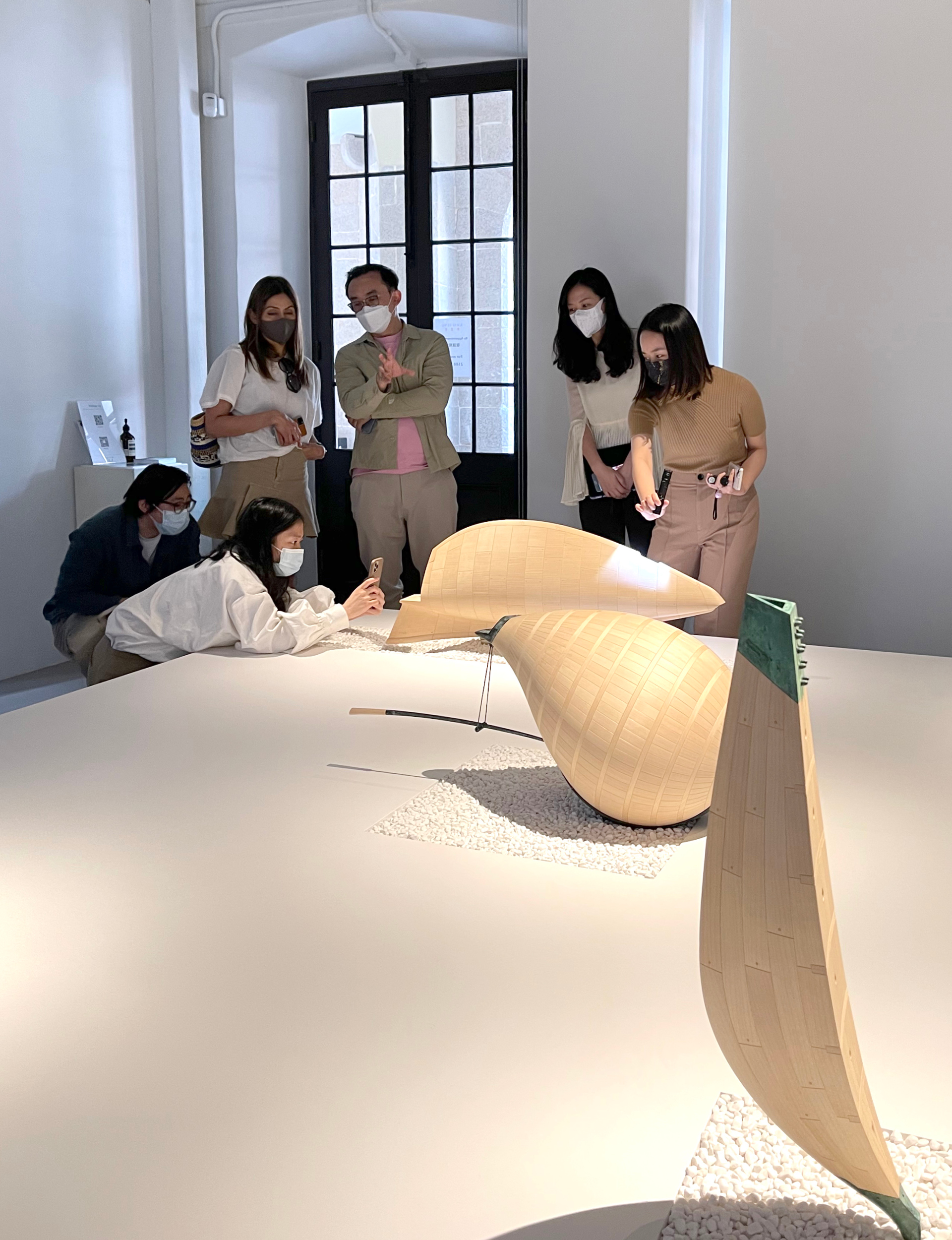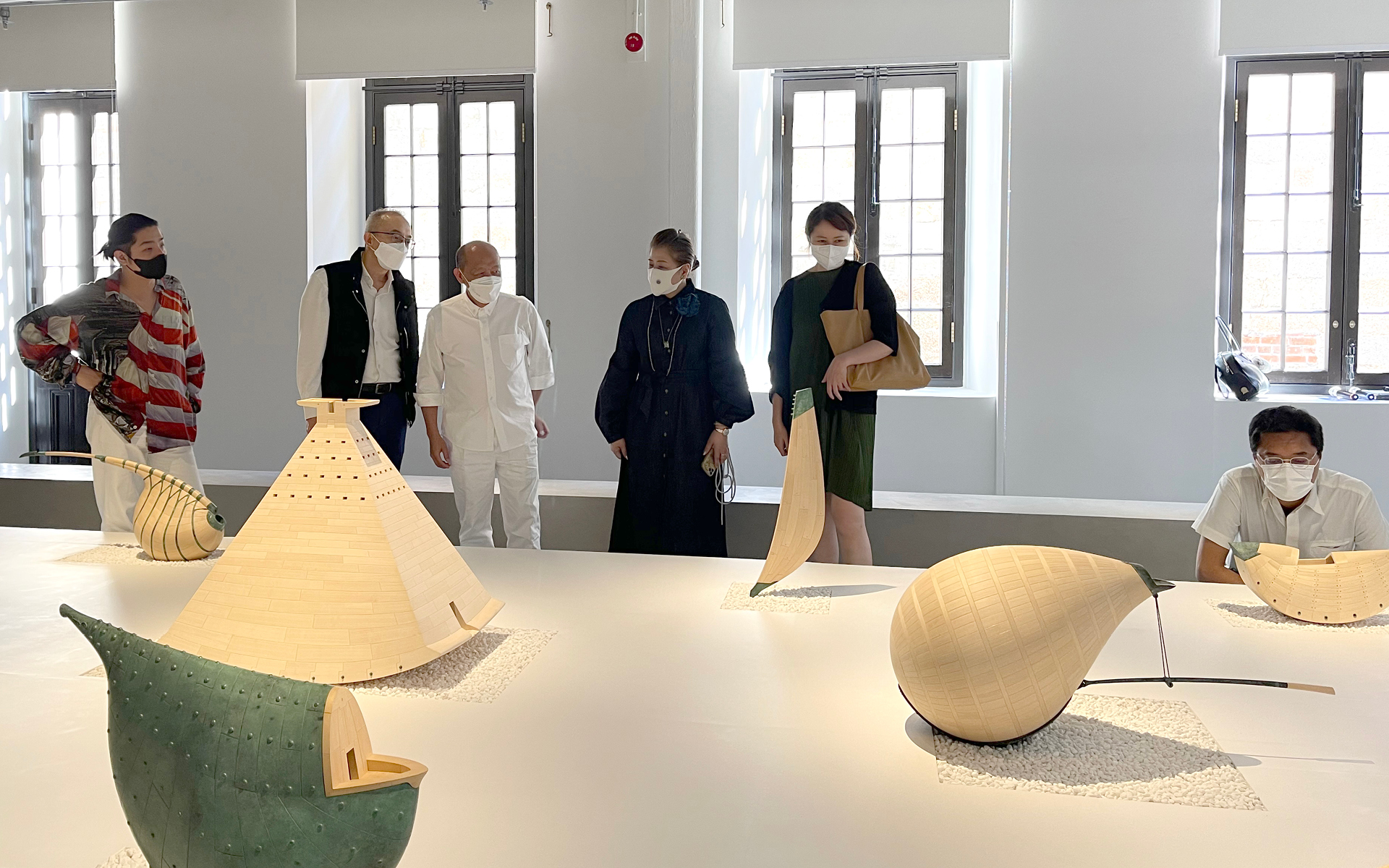 It is this freedom that is unconstrained by any framework that governs the origin and whereabouts of each of these sculptures, and breaks through the limitations of time. After all, not everything can be coherently explained and each person has a different association or interpretation with the stunning sculptures. "Some people have suggested that seeing these sculptures is like witnessing Noah's Ark in different forms." Chi Wing pointed out. "For me personally, they are the messengers from afar who saved me when I was a child."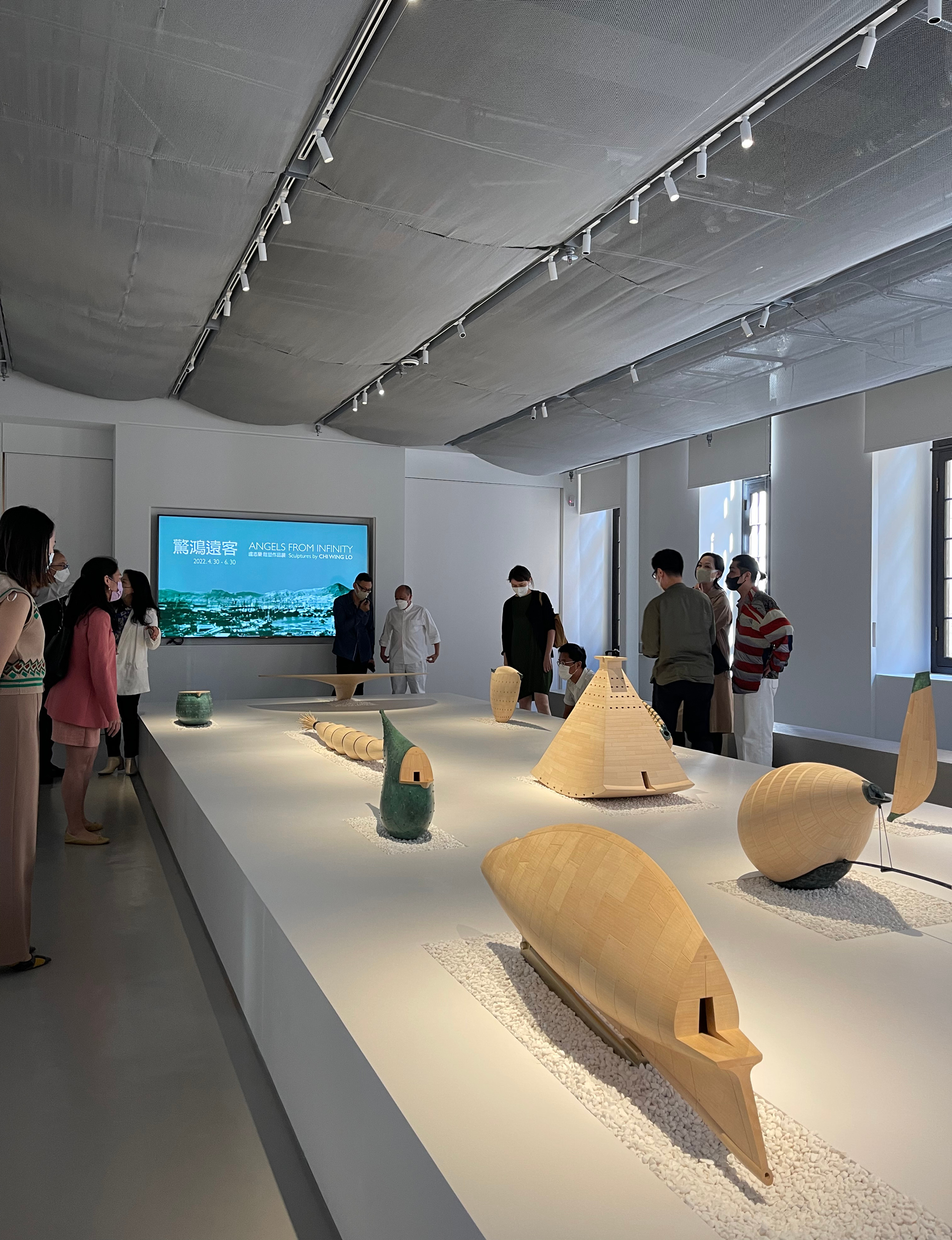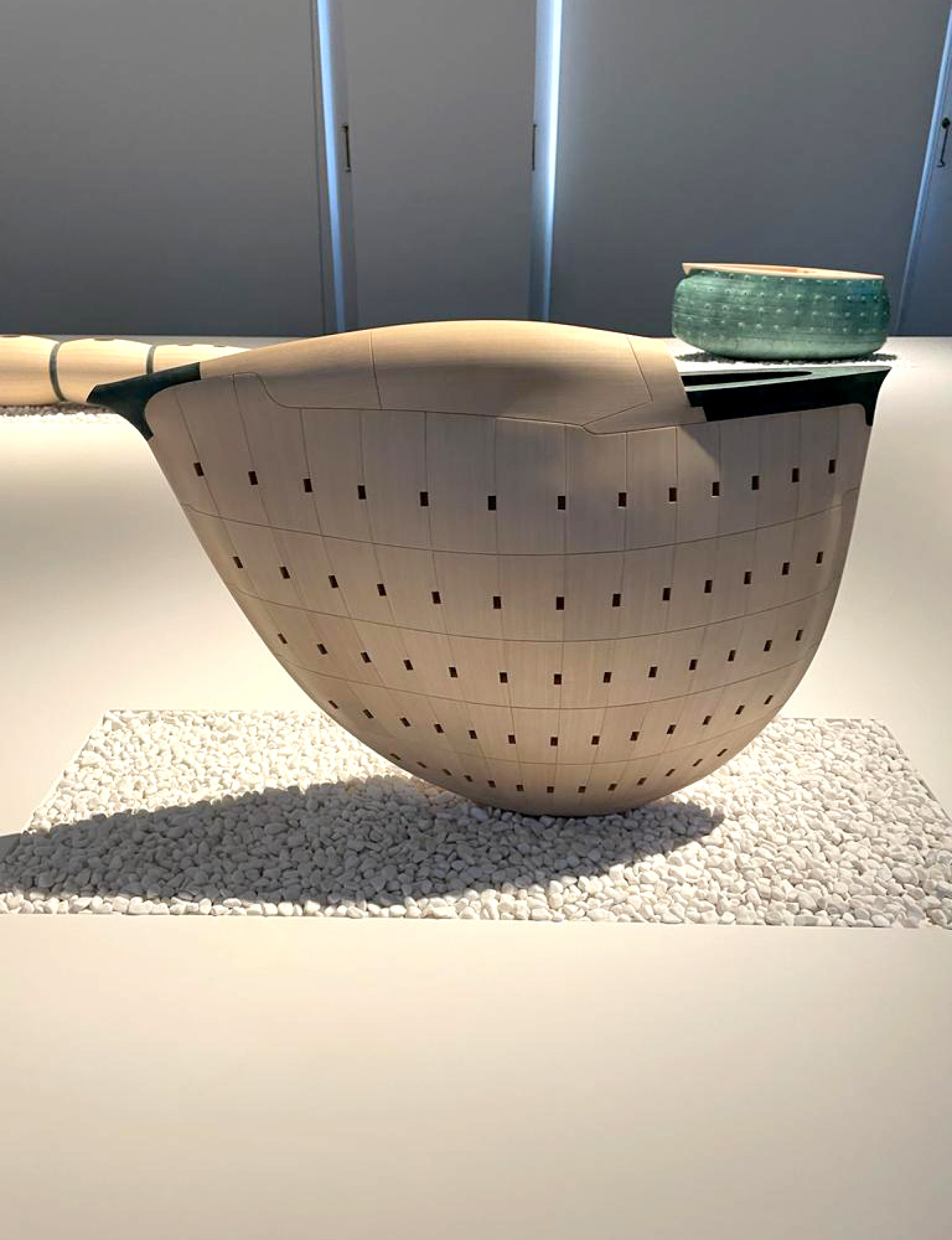 While sharing his perspectives, the artist further elaborated, "Many may have thought that these angels are flying machines, inviting us to embark upon journeys of the imagination. Yet, this infinity of time and space is forever a vacuum. It is waiting to be defined, filled in, and experienced afresh by each of us: however visible these angels are when they are about to take off, however tangible they are when they are about to land…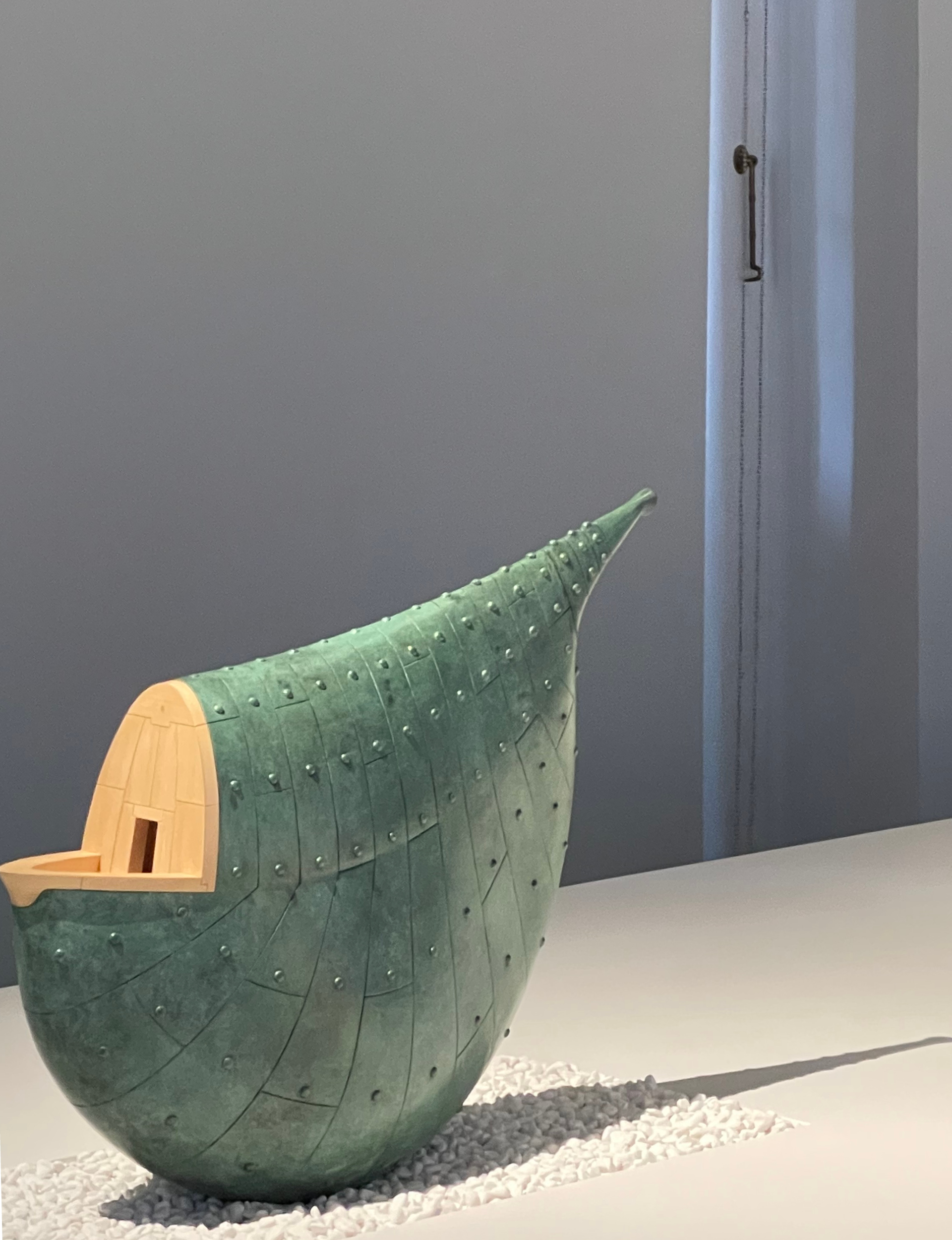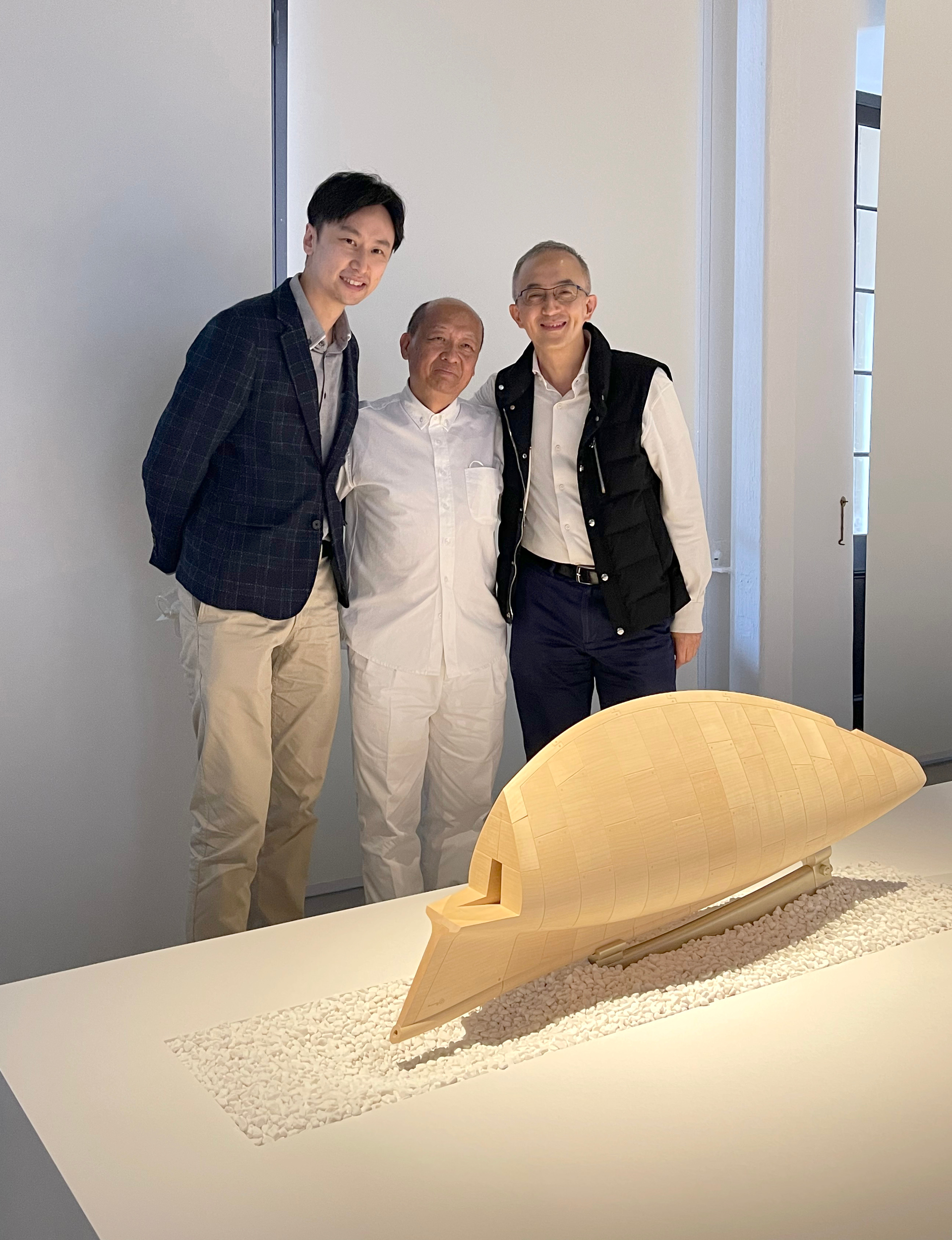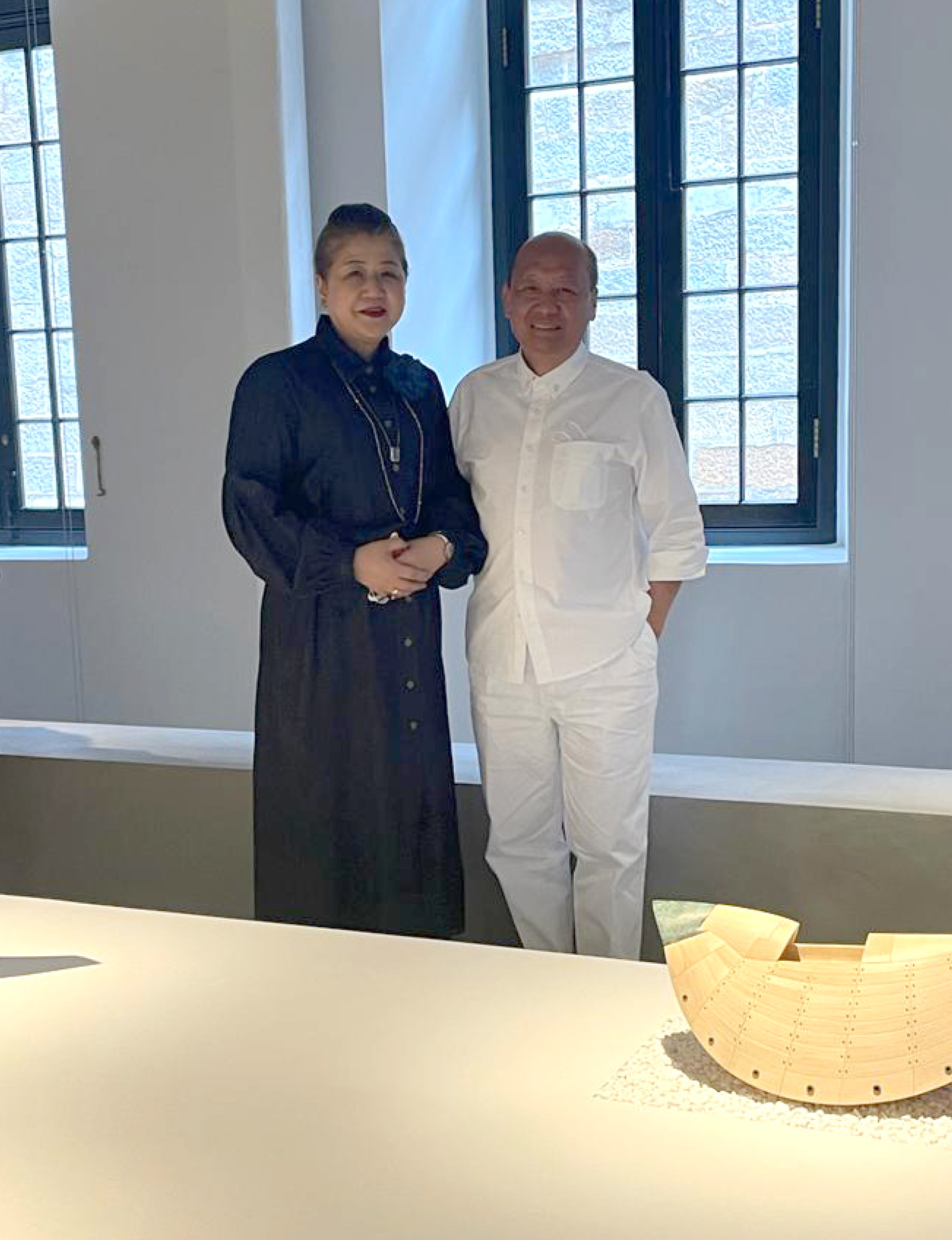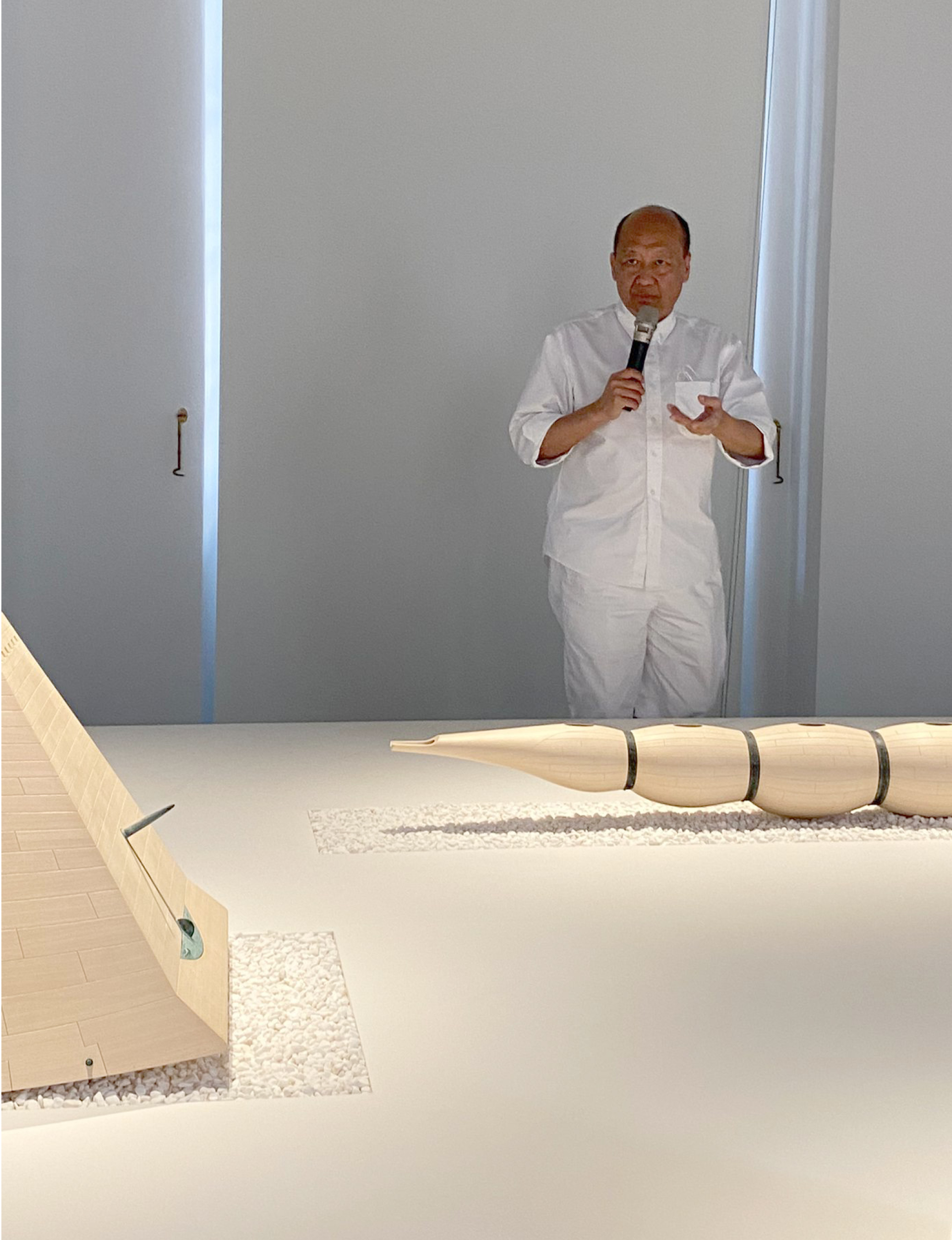 Others may see these angels from an archeological perspective. They would argue in their scientific debate about whether such angelic artefacts had existed but no longer exist, or whether they must not have existed but will exist. Some may have even deduced that these intact angelic remains will be from the future, that only in this future period an archeologist digging could identify its unfolding from one infinity to the next. We will be continuously perplexed in exposing ourselves to this extent of exactitude that seamlessly spans past, present and future. These three domains of time we know of suddenly merge and become indistinguishable, no matter how we examine their postures, compositions, materials, or details. These are no angels; they possess a demonic ambivalence that unlocks our finite perception. They want us to contemplate our existence, not just somewhere between the celestial province of GN- z11 and the centre of a subatomic particle. They want us to leave behind the burden of time till time cannot find us, till time loses its dimension when confronting timelessness."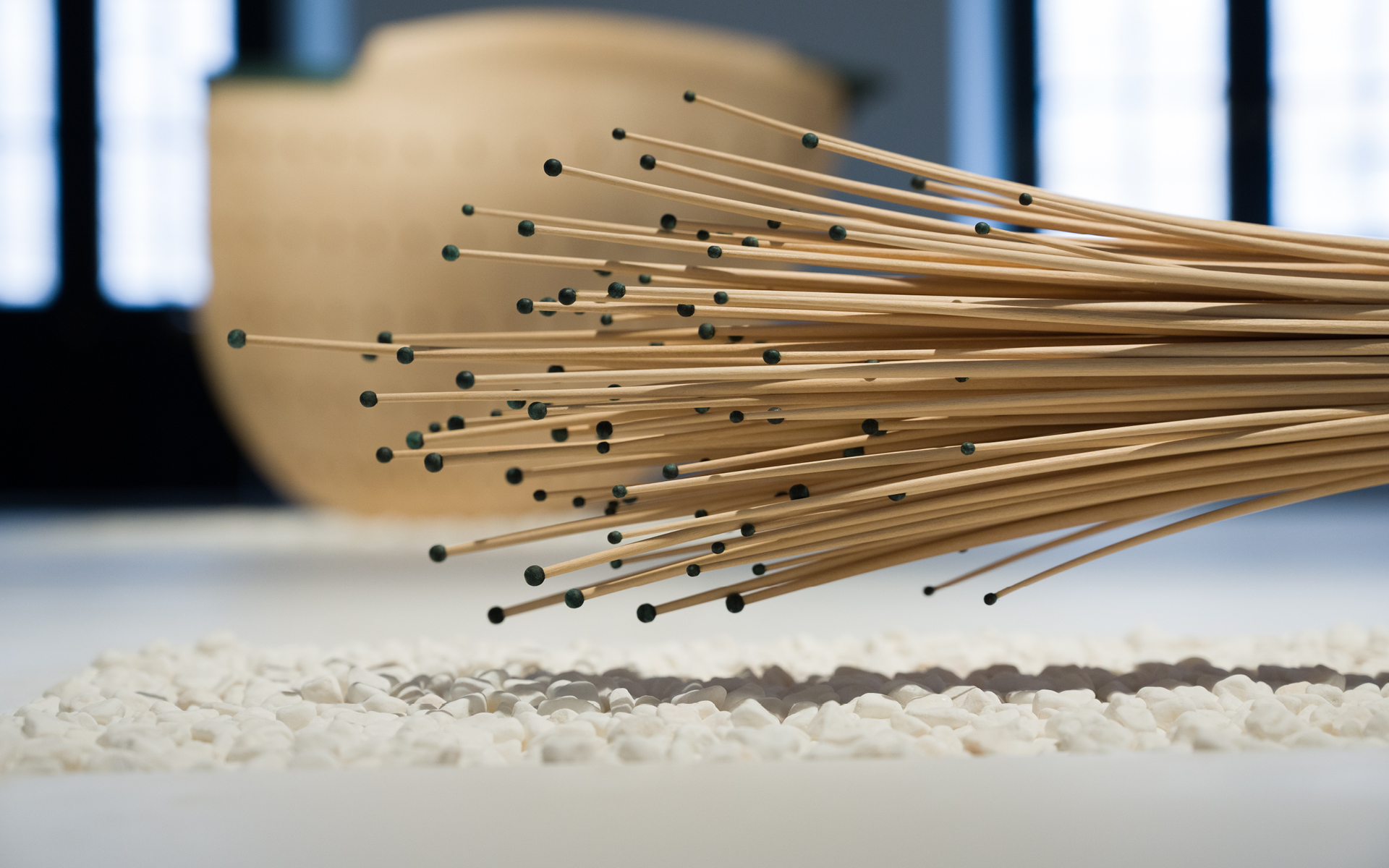 Rather than fill the whole session's duration with his own sentiments, the artist was most excited to ask the audience their thoughts and reflections. "This is my happy time," he shared, "as every time I see and perceive the sculptures with new people and new lenses, I see something else and I'd love to find out what you think." Chi Wing engaged the audience by prompting them to think about how, what, where, why and even who? Whether pondering on the scale of the sculptures or the time and space they are from, these "angels" are messengers to inspire questions, cast doubts, stretch limits, define unknowns, and decipher enigmas that may never be decipherable. These angels are here to ignite the love of art and to kindle the graciousness of the soul. In his own words, "They always come to my rescue and set me free from the mundanity of time and space…"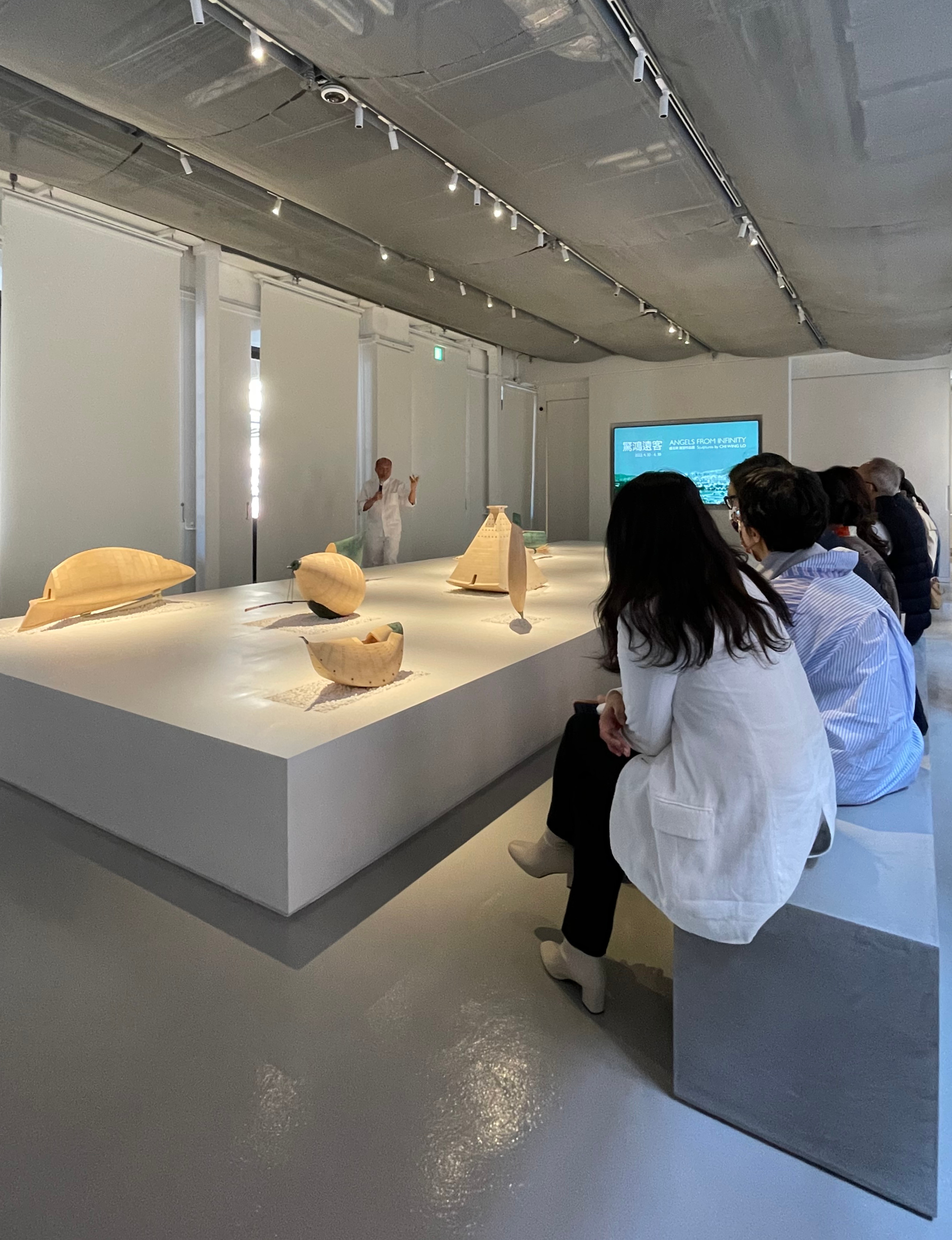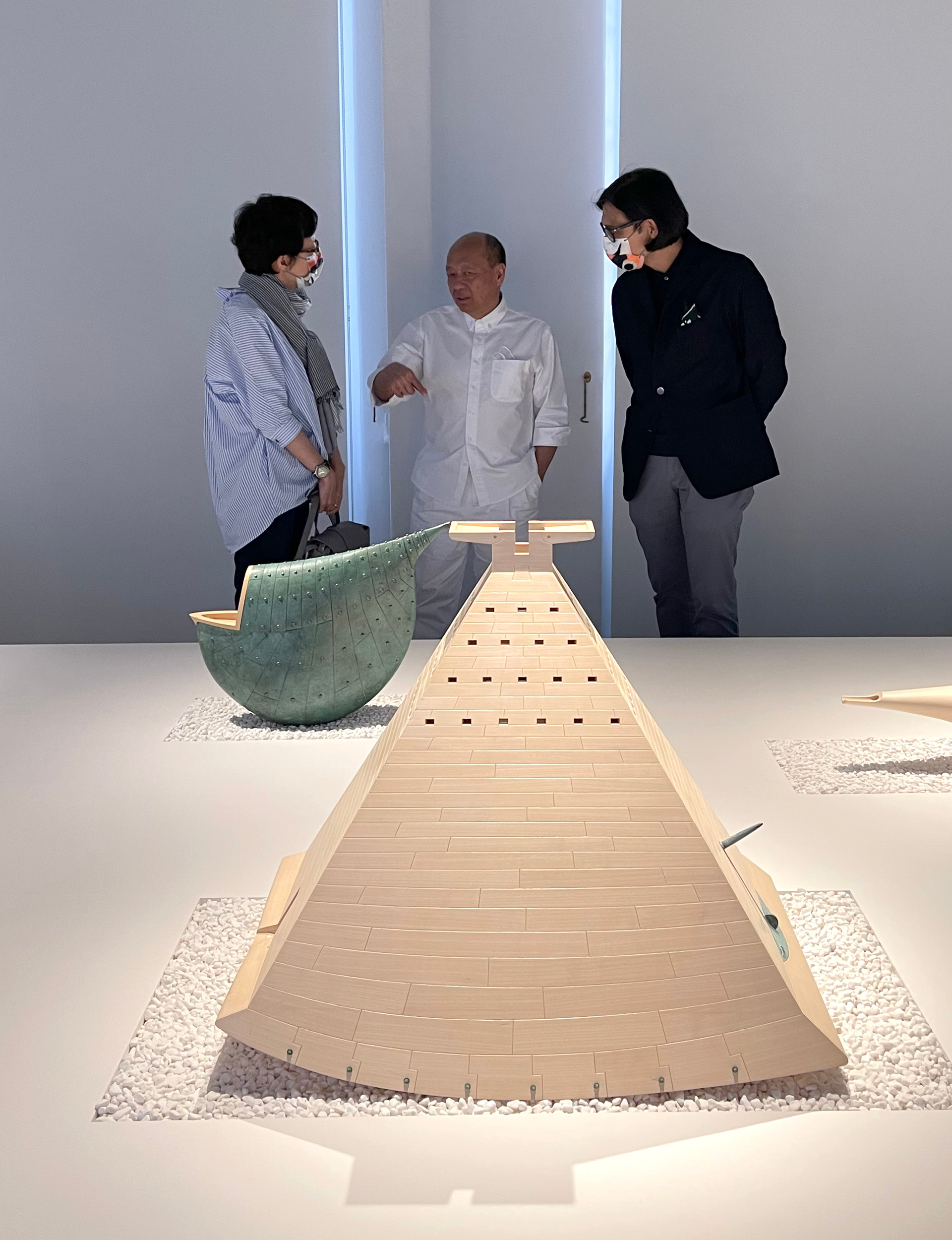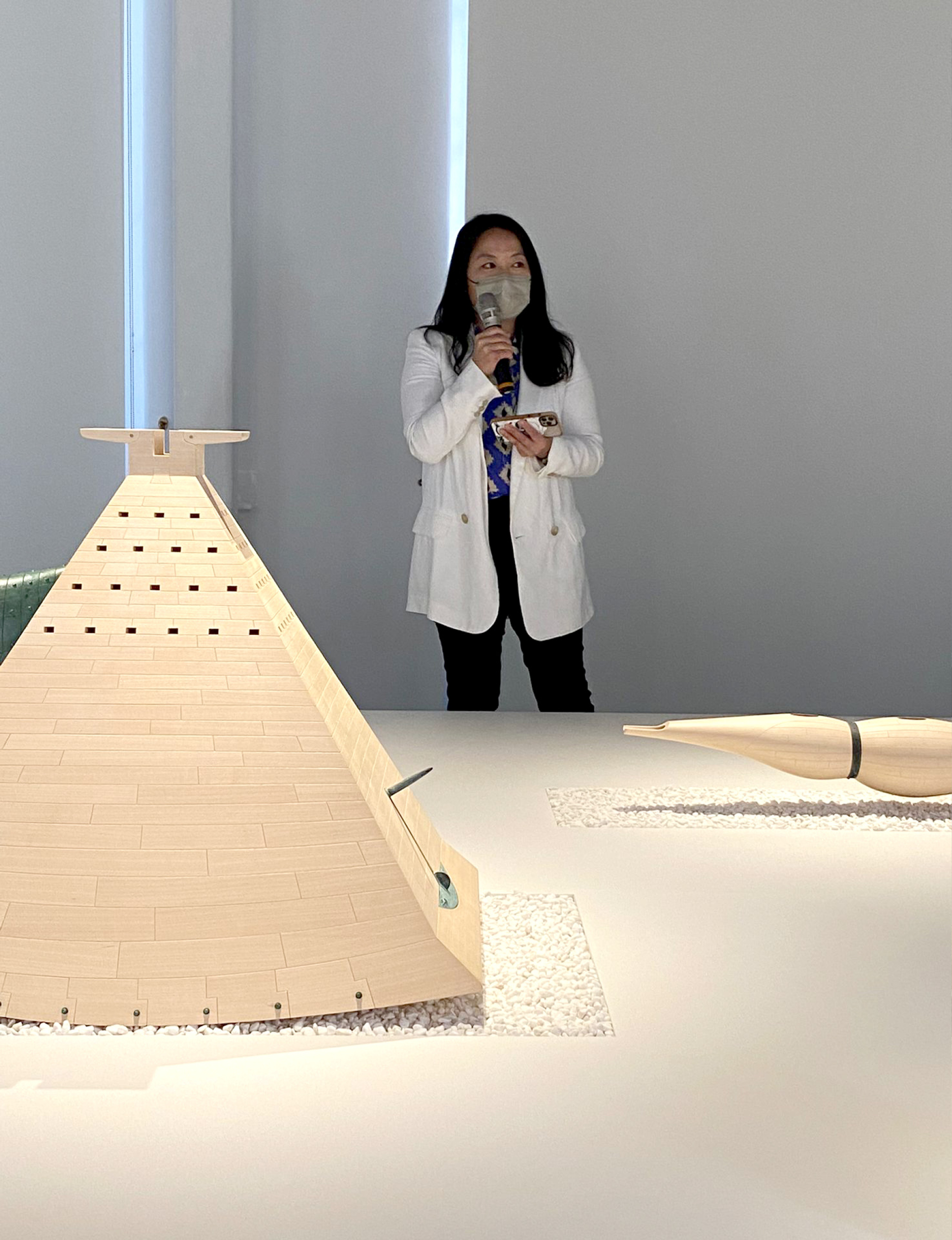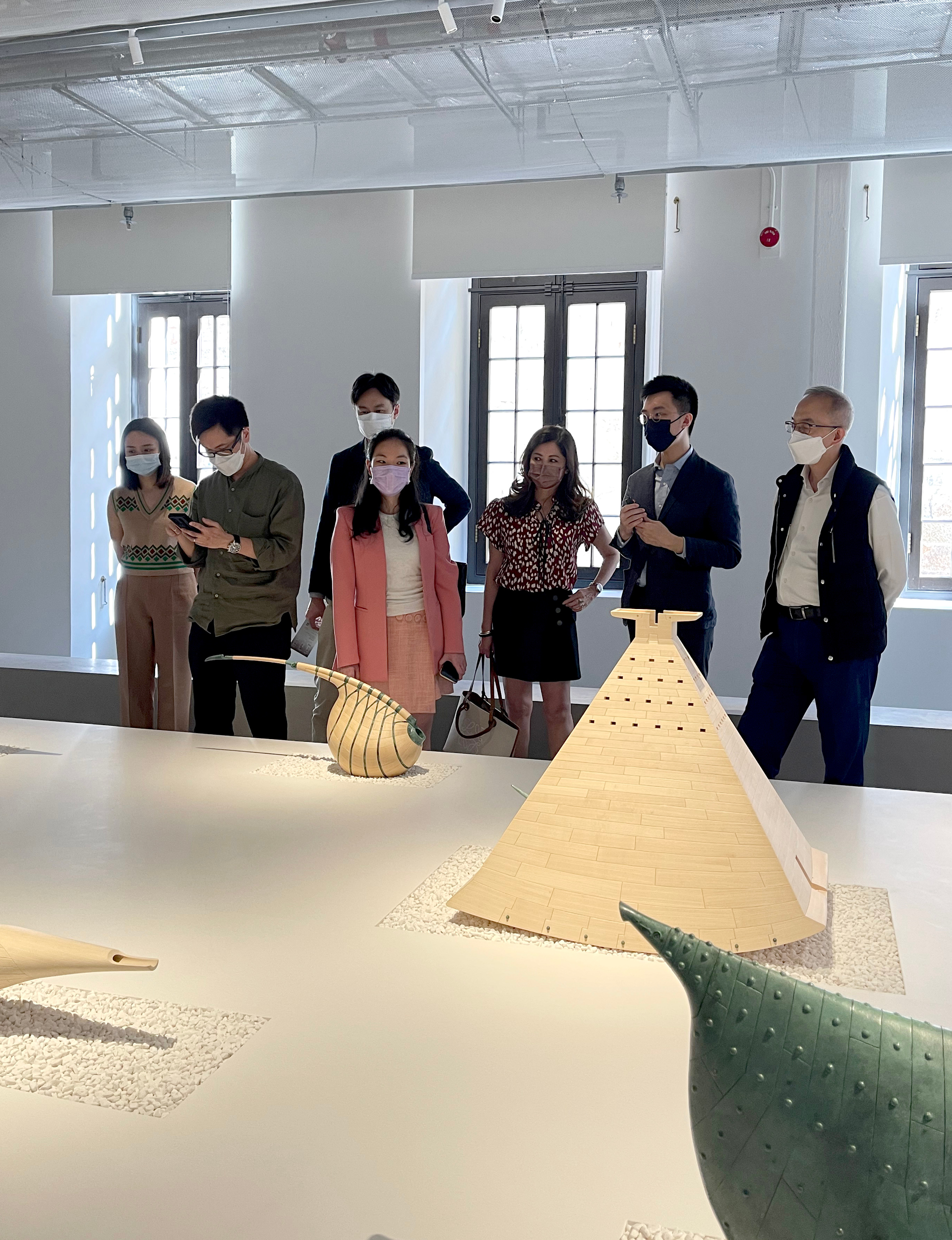 It would seem though that no matter what dazzling journeys, precious delicacies or stunning new scenes he has experienced, the simplicity of the fishing village from his childhood has never left him. Chi Wing Lo has travelled far and wide, and indeed, he has come full circle, but in his heart, his homeland has always been close. He has never swayed from his original intention, his origin. This is obvious when he cites his indissoluble bond with salted fish and white porridge in his article, "From Food to Design, 12 Dishes Waiting for your Cooking Interpretation". Here he states, "I have loved eating salted fish since I was a child, and I remember that before the roof of the boat was dry, I secretly ate half of the fish that was drying in the sun, row after row! To this day, that taste of salt has a special personal meaning. Most salted food is for preservation reasons, so that the food does not perish easily. At the same time, in case of starvation, there is also a little left for distribution. Because of the salted aspect, it is difficult to eat too much. A little piece of salted fish, which is about 3cm, can be paired with 14 bowls of white porridge, and that will last me a week if I eat two bowls a day - that's the most satisfying and fulfilling meal to me. This satisfaction has not dissipated with my current life. Even though I am often away on business trips and I've been entertained by relatives and friends, tasted the unique flavours of various places, saw beautiful sights and experienced endless eating methods…... But this little brick of salted fish and bowl of light, fragrant white porridge is always waiting for me in my mind on my way home."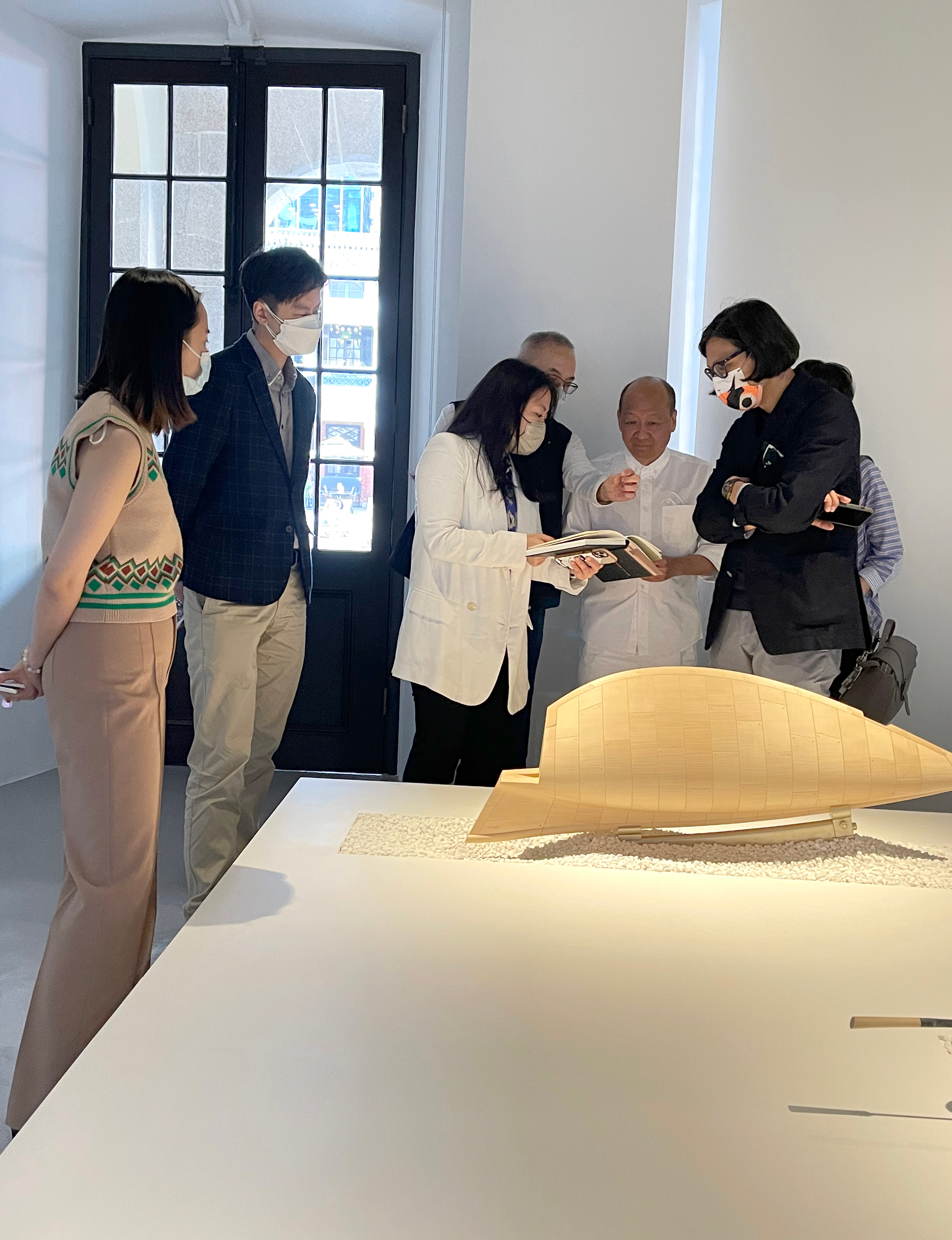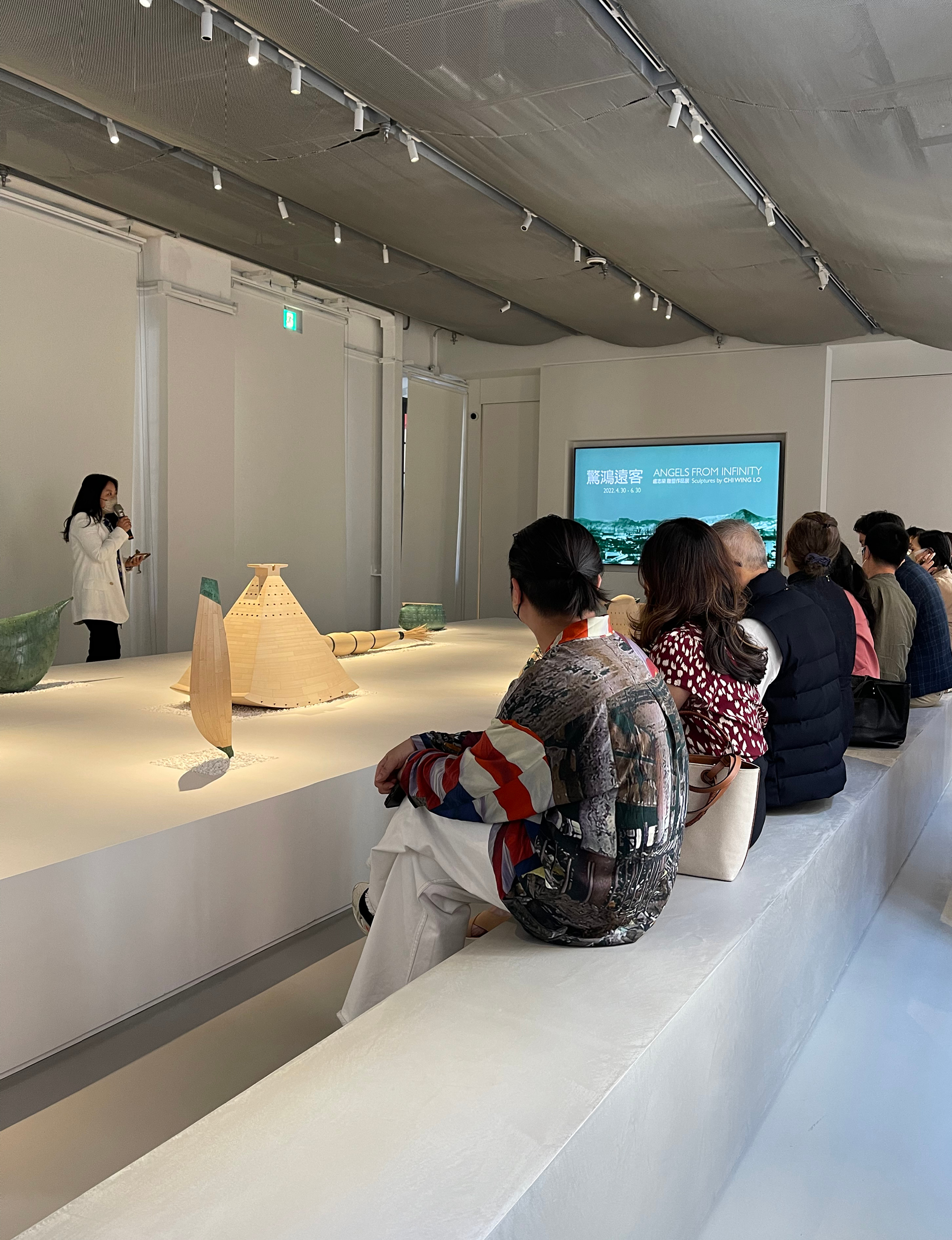 Guests at the exhibition were so in awe of the sculptures - the synergy of the collection, the craftsmanship and the eternal enigmas they pose - they asked the creator, do you have any one which is your favourite? Is it the first one you sketched? Or the first one you constructed? Chi Wing Lo only smiled and responded calmly, "They are all my children and they are all different but I love them all." With love and compassion at the root of all his works, as well as his pursuit of timeless beauty, one will leave the exhibition space in awe, in love and thoroughly touched by the works of art. And of course, filled with countless enigmas.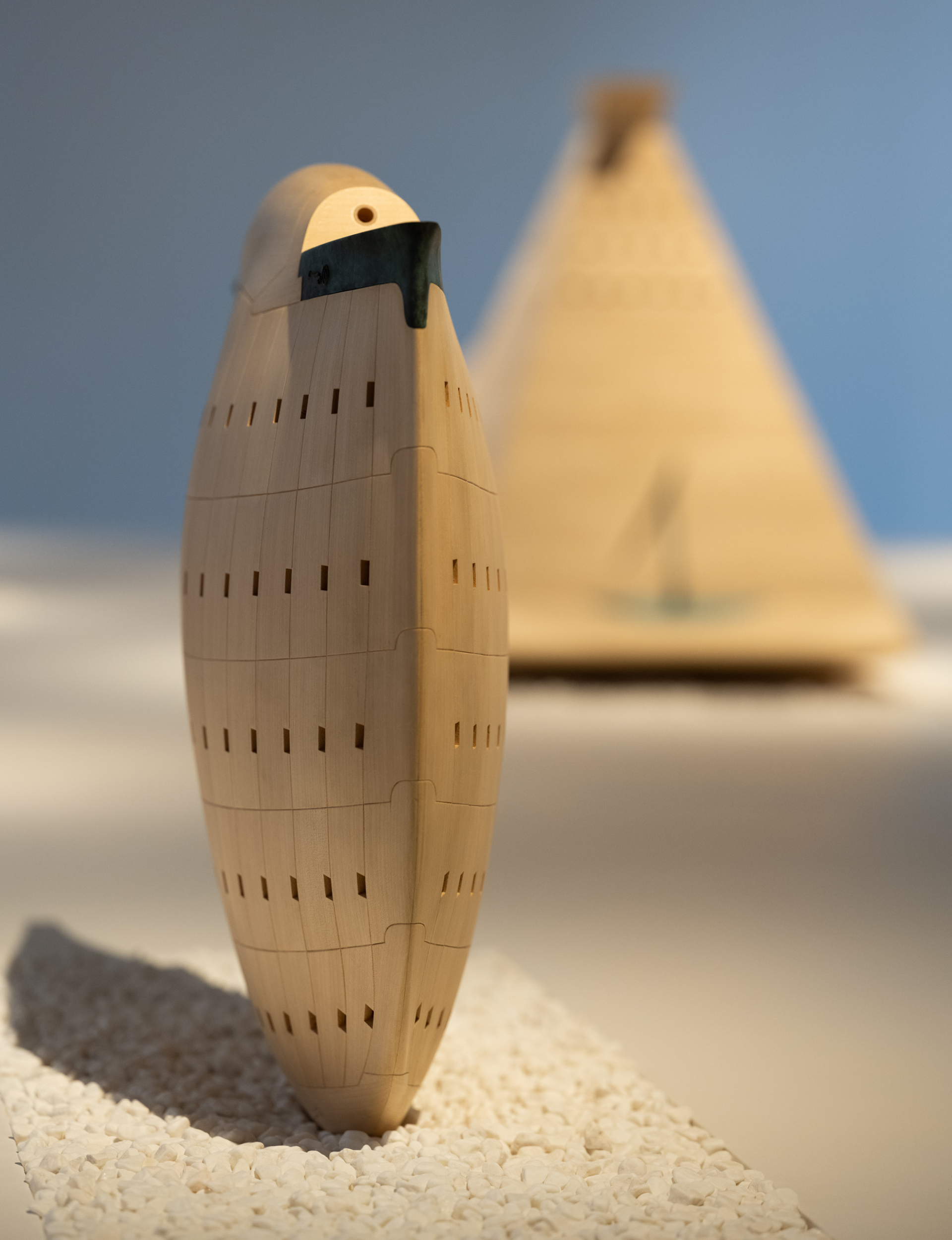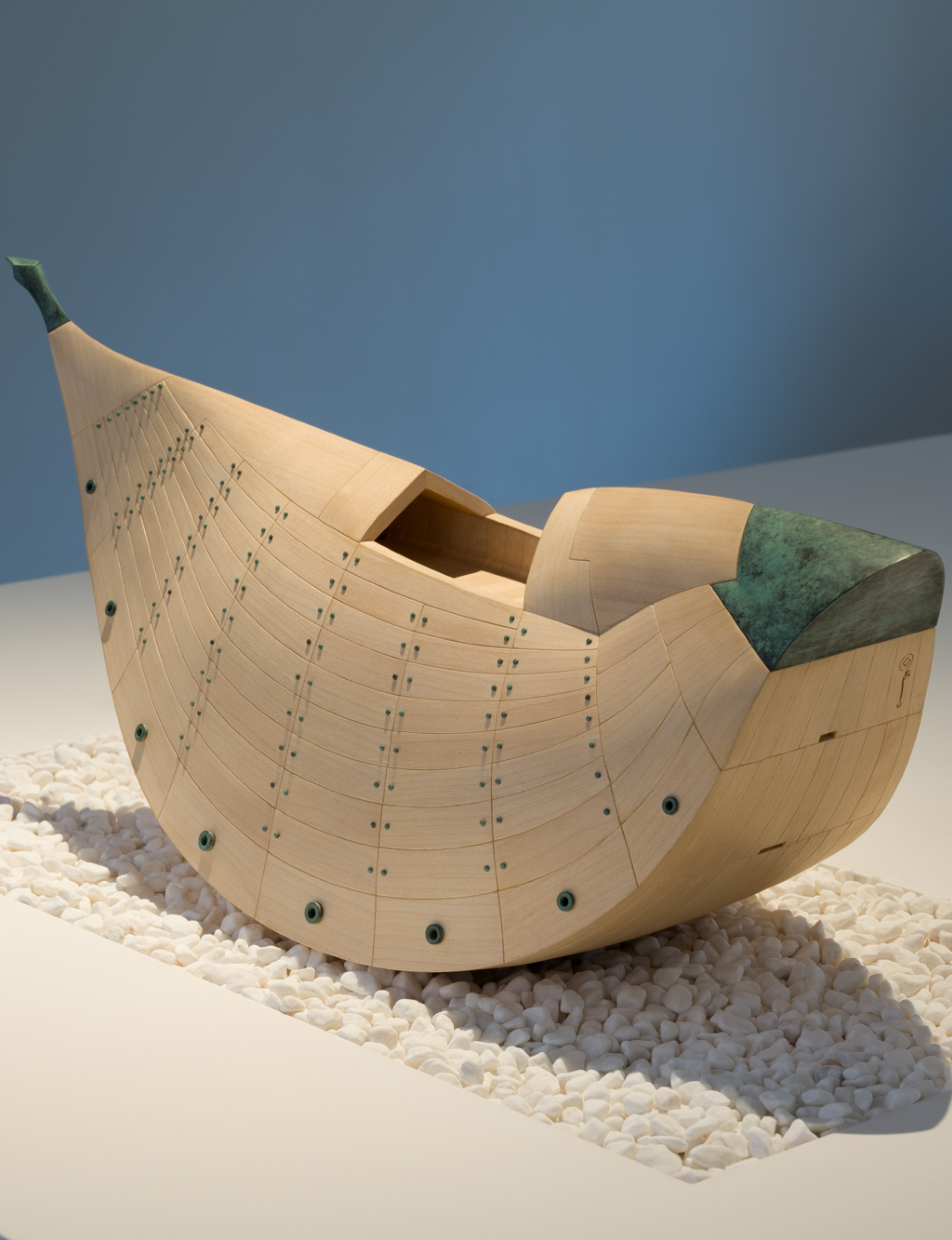 This exhibition, Angels From Infinity - Sculptures by Chi Wing Lo, will be showing until June 30 2022, at the Kwai Fung Salone. This brand new art and cultural platform was conceived under Kwai Fung Hin Art Gallery, and located on the ground floor of the Tai Kwun Barracks Building in Hong Kong. Its mission is to house sophisticated art and cultural exhibitions, intellectual exchanges, educational events and activities to promote a wide range of art and culture, while championing both local talents and international masters across different artistic, literary and cultural disciplines. As well, the Salone also organises collaborations, joint ventures and partnerships with local and overseas artists, galleries, literati, academics, public and private institutions, art foundations and corporations to enrich its cultural and social impact.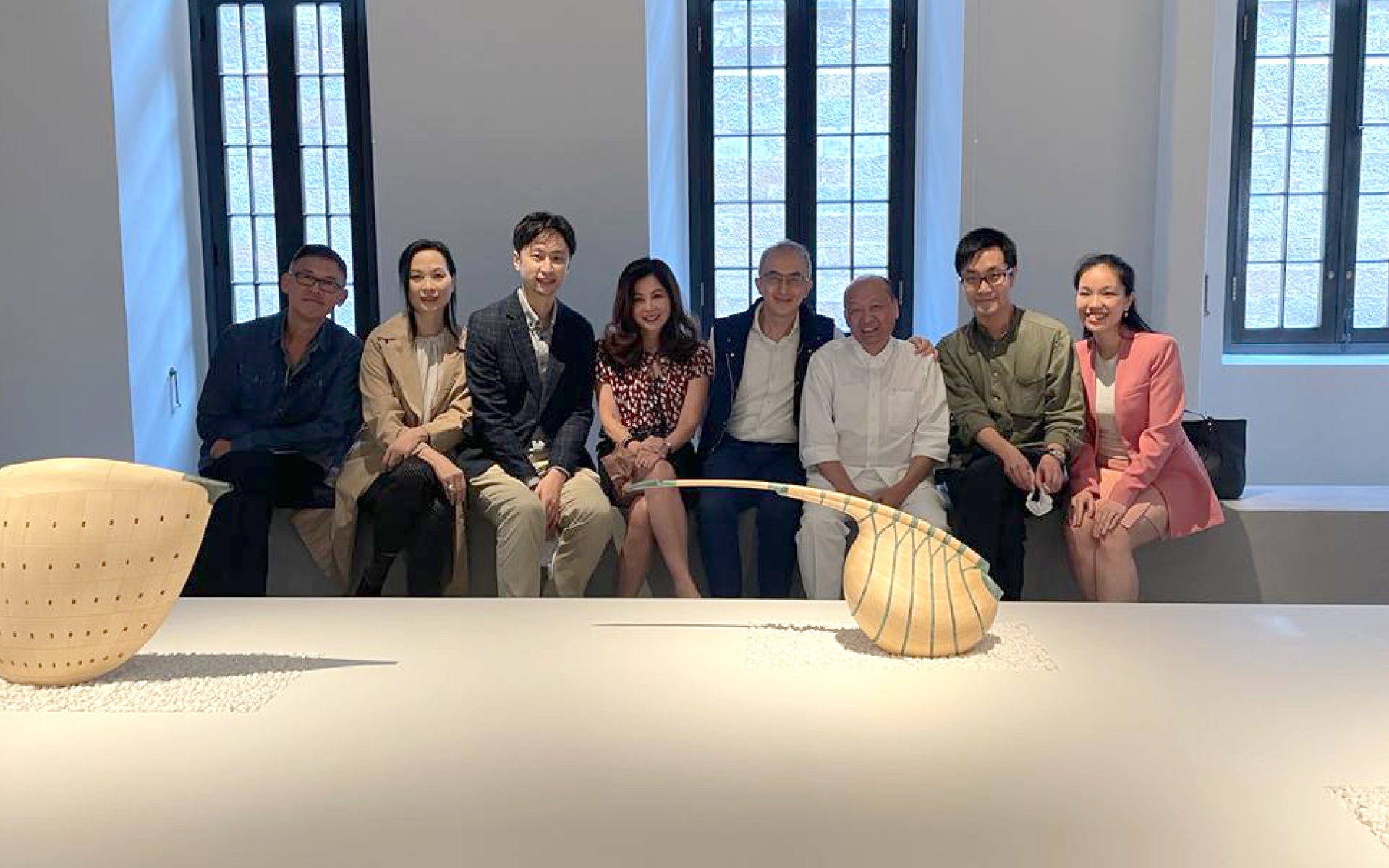 Angels From Infinity - Sculptures by Chi Wing Lo 
Exhibition period: April 30 to June 30, 2022
Opening Hours: Monday to Saturday, 10am to 6pm (by appointment only)
Location: Shop 03-G07, G/F, Tai Kwun Barracks Building, 10 Hollywood Road, Central, Hong Kong