A one time mecca for musicians and the music industry, and a hub of the recording industry for almost a century, Denmark Street is affectionately known as the United Kingdom's Tin Pan Alley after New York's famous musical street, and as punk music's ground zero. All the musical greats have at one time or another shopped, recorded, rehearsed, or written songs in the street. Jimi Hendrix, John Lennon and McCartney, David Bowie's alter ego Ziggy Stardust was born here, Black Sabbath, The Eagles, Elton John, Eric Clapton, The Rolling Stones and even Charlie Chaplin wrote his song Smile here. The list goes on; Billy Fury, The Shadows, Jimmy Page, The Clash and Paul Weller, Chuck Berry, The Kinks, The Small Faces, Bob Dylan, AC/DC, The Who, Stevie Wonder, Brian Eno and The Sex Pistols - are all written in the history of this iconic street.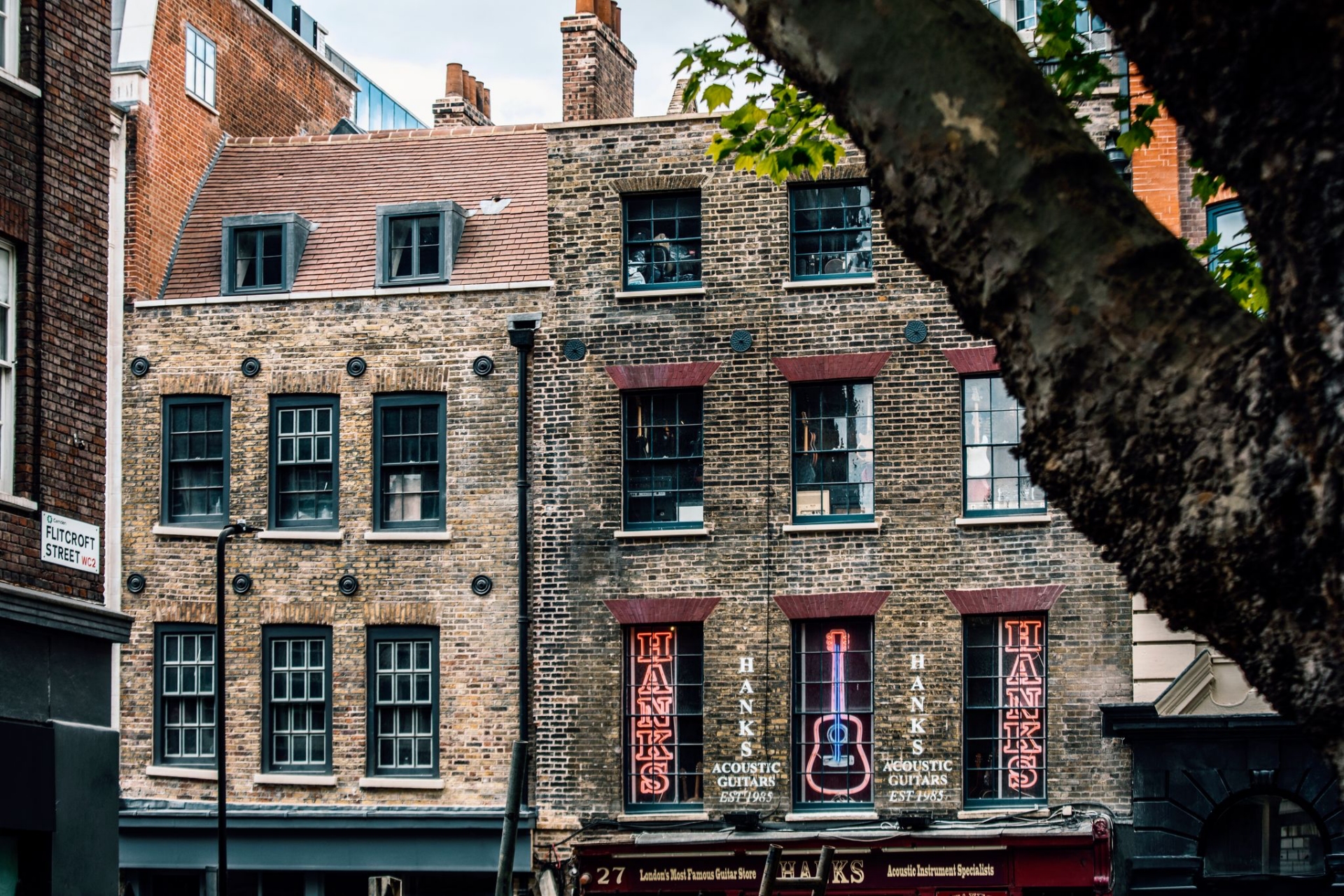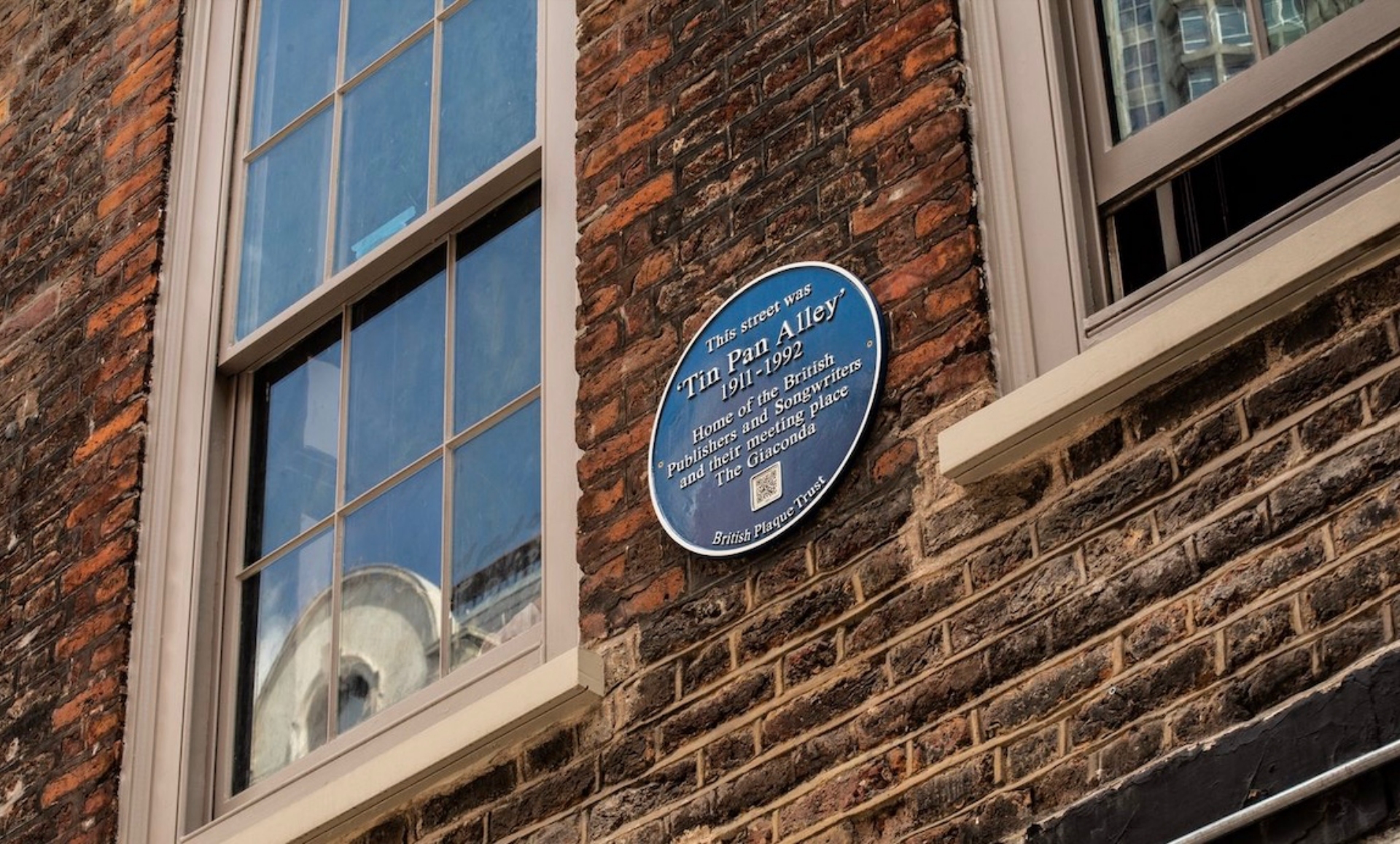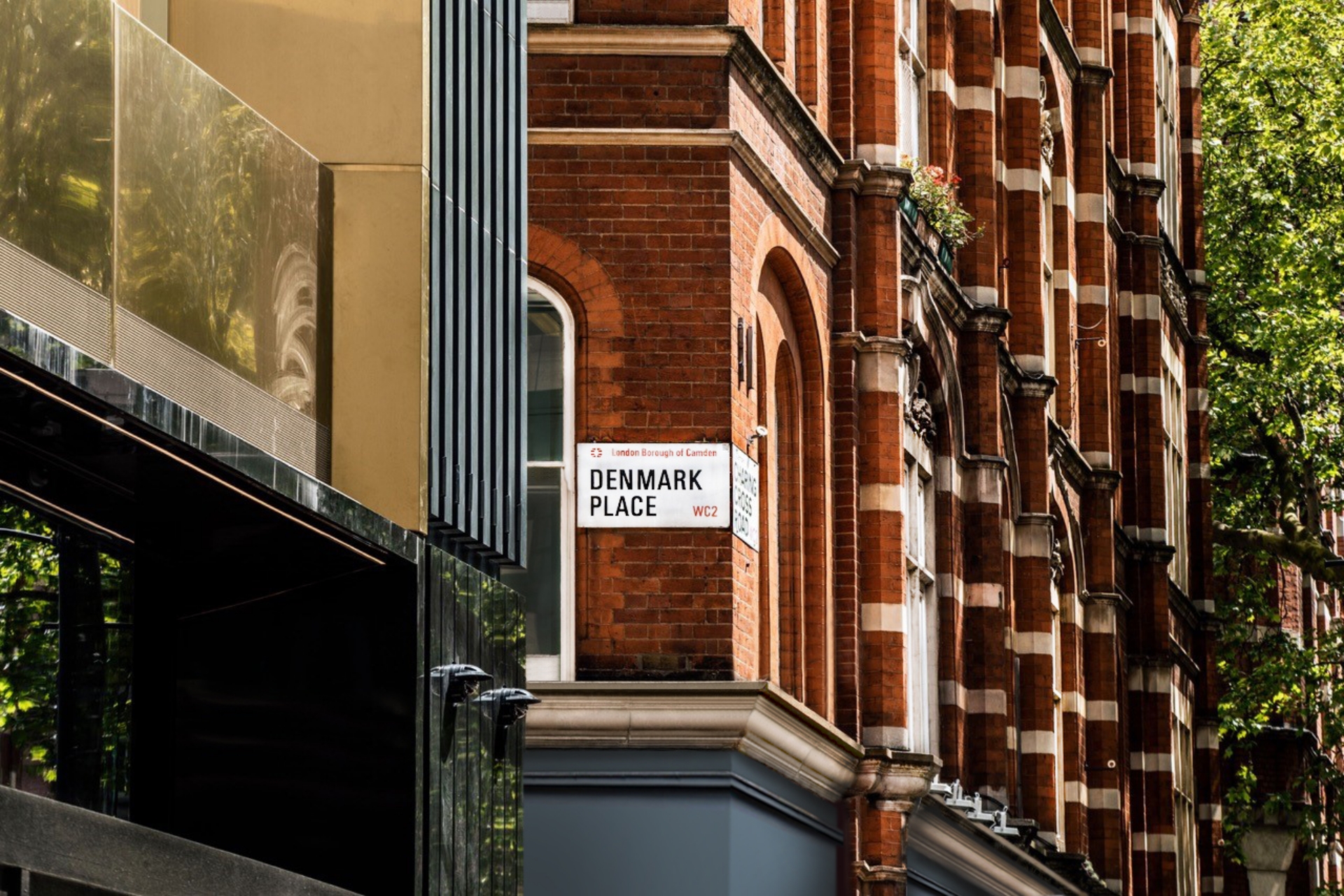 However times moved on, rents sky rocketed and Denmark Street lost its cachet somewhat. Until now that is: Chateau Denmark is a new independent brand operated by Carrie Wicks' CAW Ventures, and part of the brand's new immersive media district Outernet Global are bringing the rebellious spirit back to the street, restoring the buildings that have helped change the course of the British music scene. 
But what exactly is Chateau Denmark? Wicks puts me straight, "It's not a hotel, and that's one thing we believe is rather special about it. It's a series of eccentric guest houses located across 16 buildings, along a one hundred yard street that's known for creative expression." The Chateau Denmark experience begins on the street, where you are met by your personal butler, or in Chateau Denmark speak, your 'BTLR'. Don't worry, you will know who they are - you can't miss them as they strut along the street, in their gender-fluid uniform, a cross between a Prince ensemble [the fiercely fluid king of androgyny] costume and Talaxian clothing from Star Trek Voyager. Your BTLR is there to channel the good times and facilitate escapism through their "little purple book".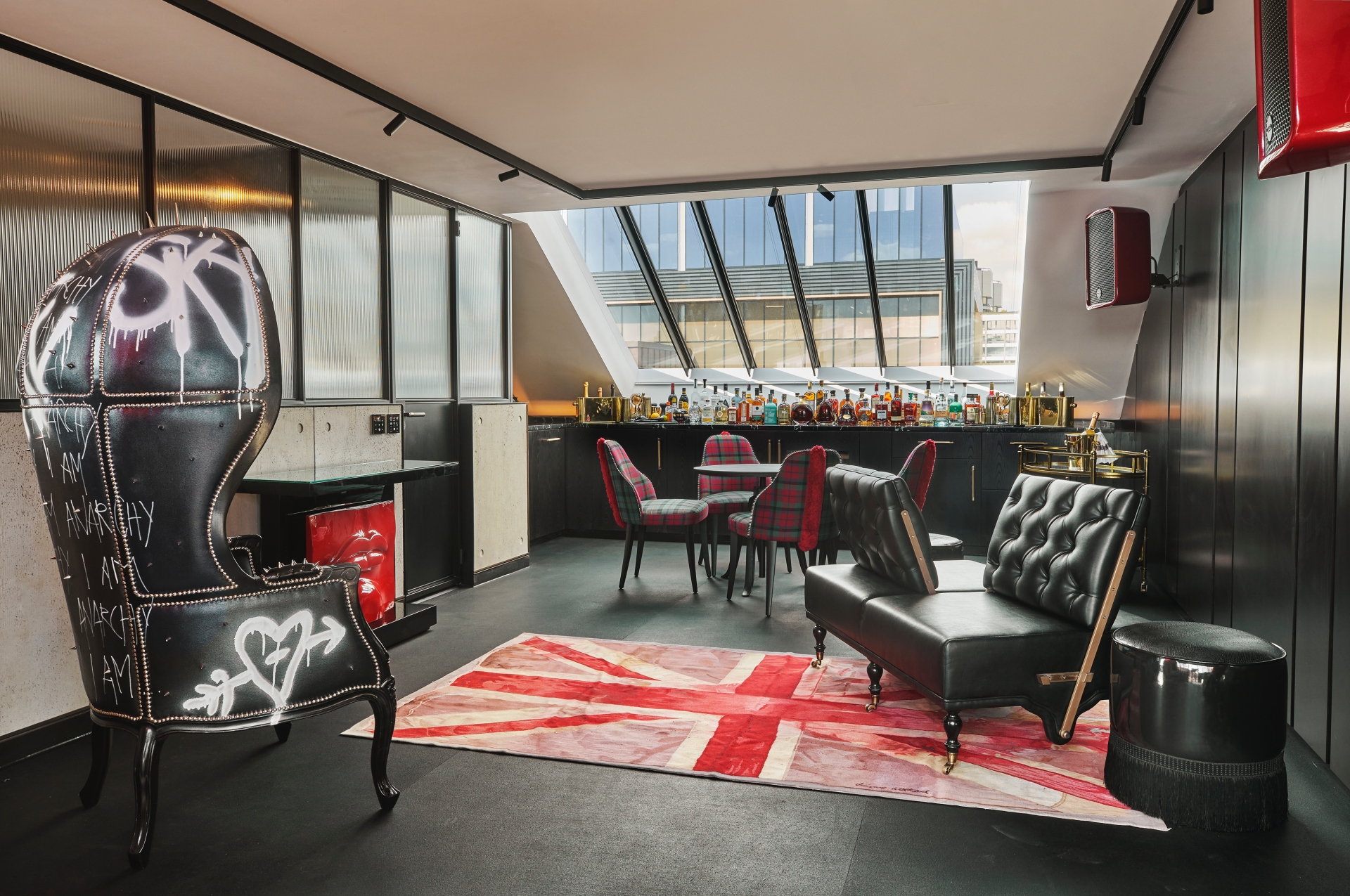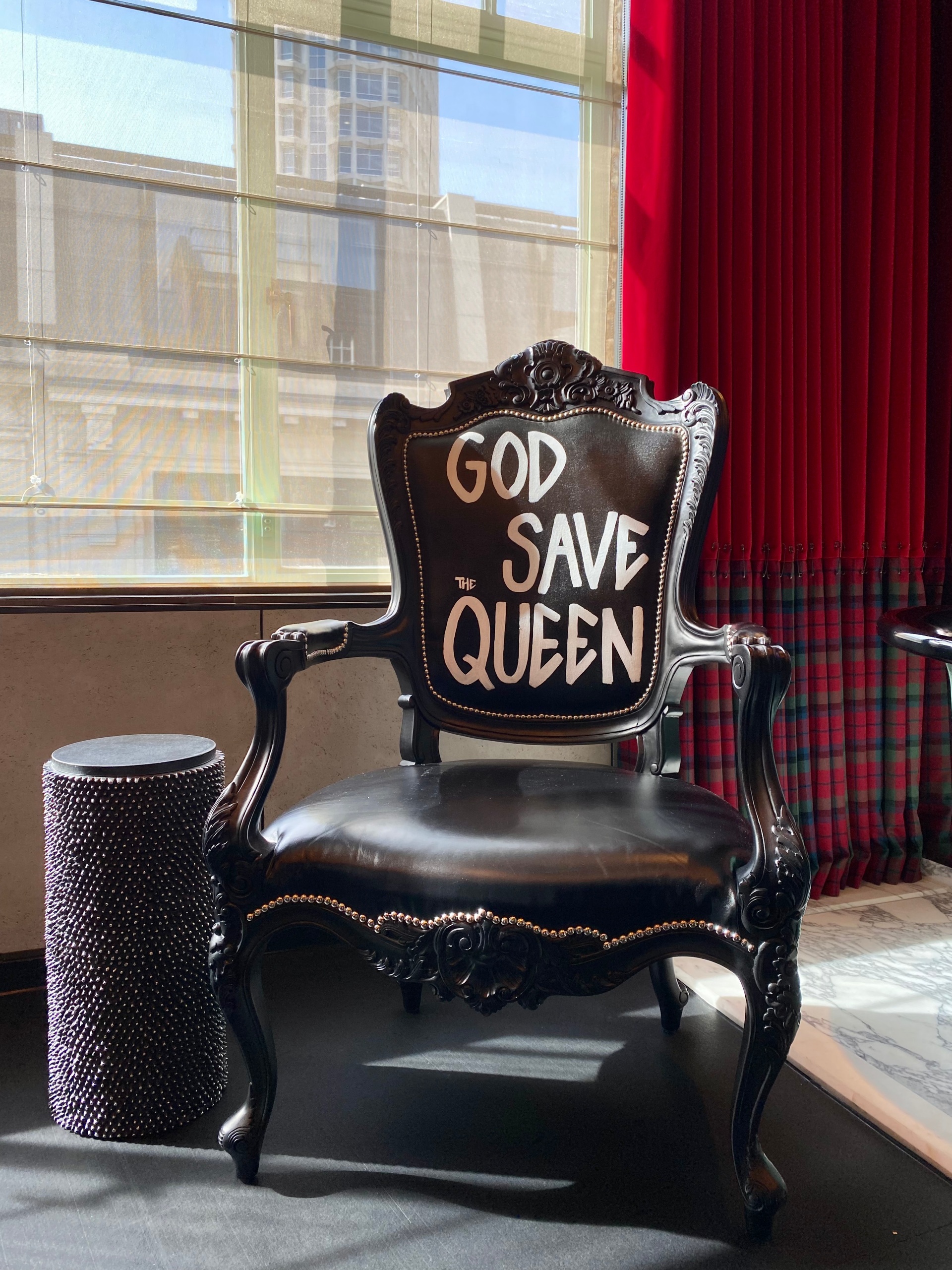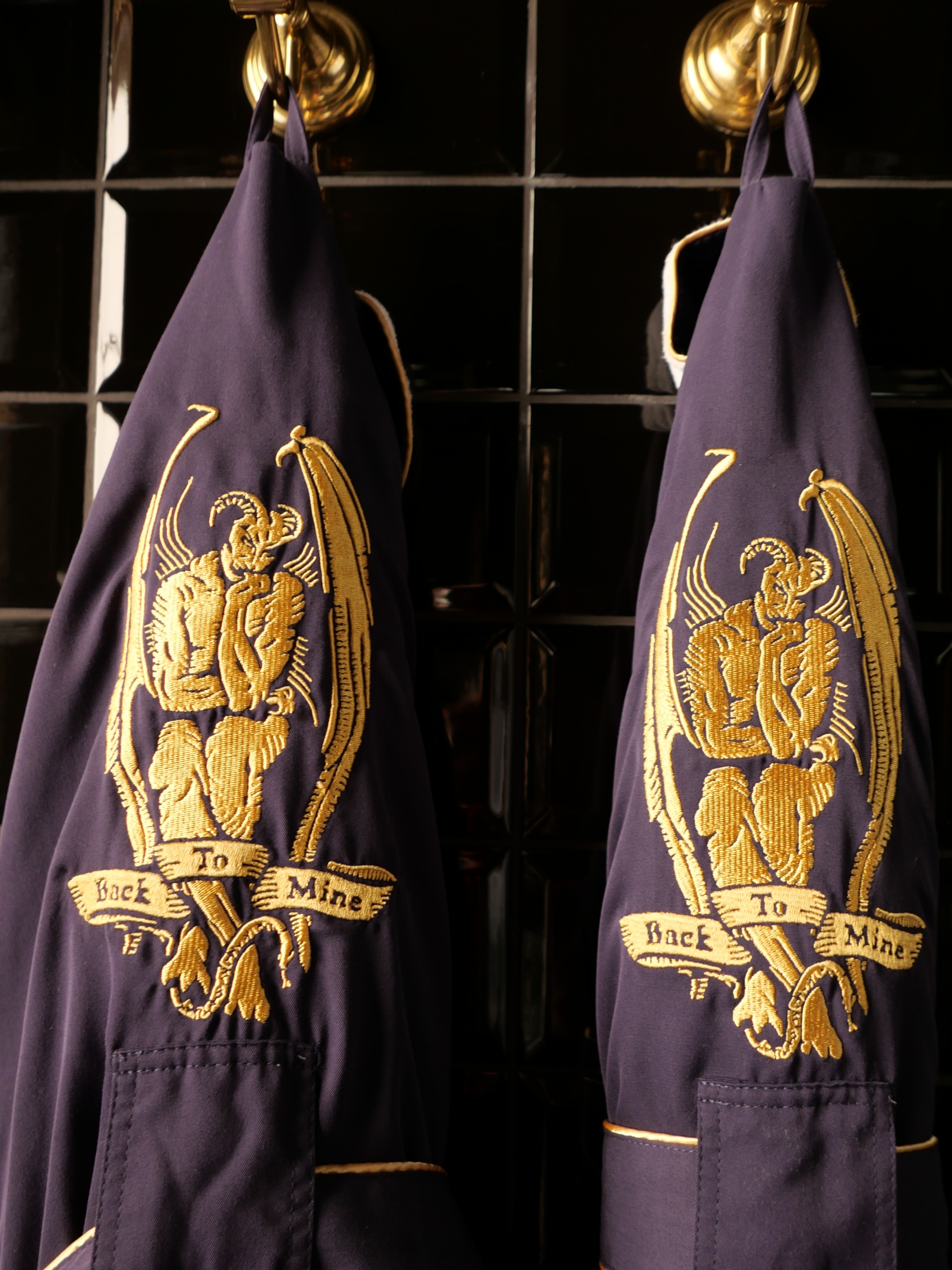 Award winning designers Taylor Howes were commissioned to create the interiors of the 55 Session Rooms and Apartments set across the 16 buildings featuring distinct designs inspired by the musical history of the street. "At that time they were not synonymous with hospitality based designs – and that was something we saw as a great thing." Wicks explains. "Our brief was to dial into the rebellious spirit of Soho, the history of the area and the street's heritage with creative expression." Taylor Howes further elaborates, "It was so much fun to have such a creative brief which allowed us to create a playfully-edgy design which goes hand in hand with the hedonistic nature of Chateau Denmark. To be told that the only rule is, there are no rules, was a luxury that allowed us to be creatively free with regards to our designs, and if we thought we might be pushing things too much we were encouraged to go even further."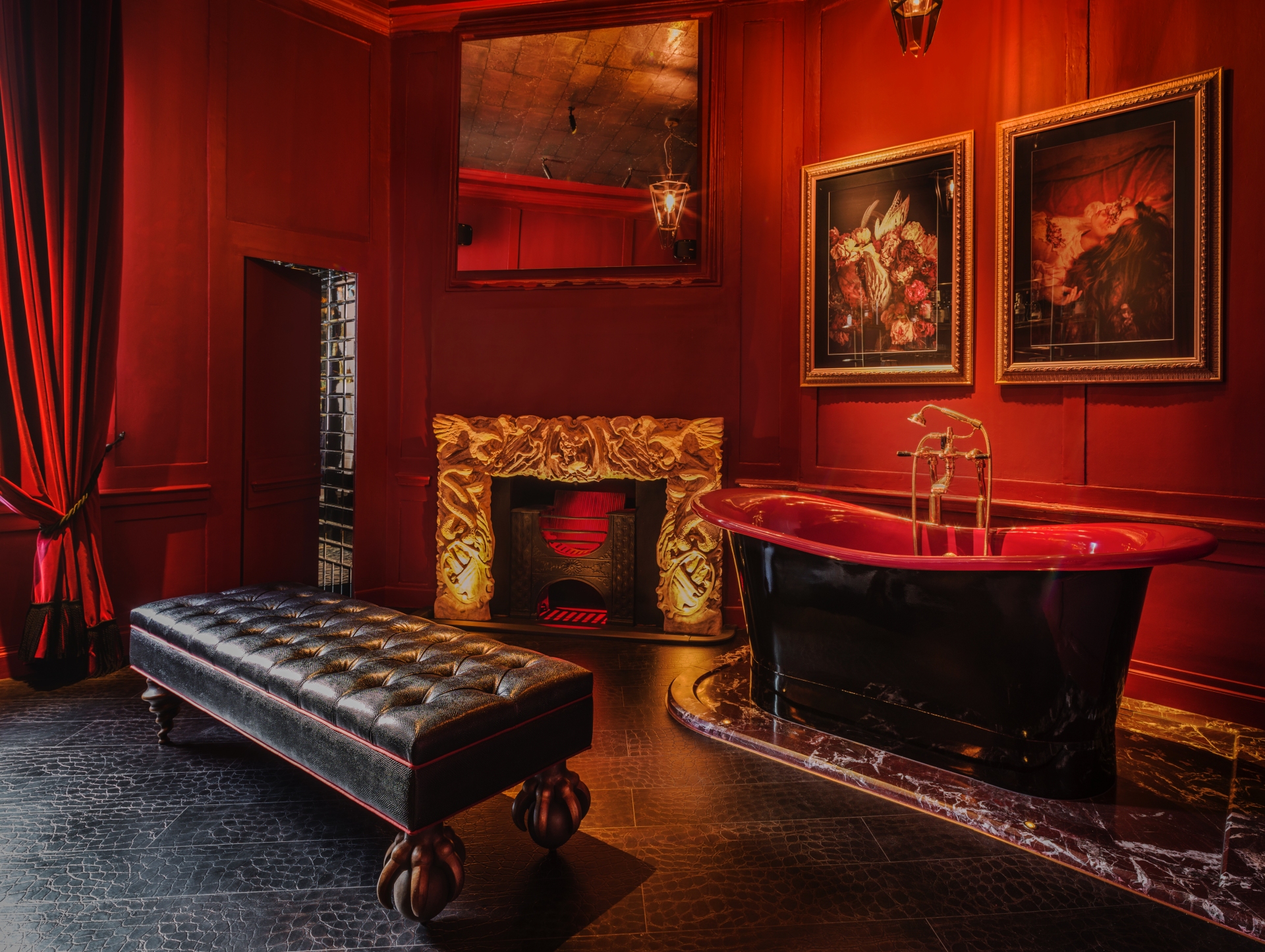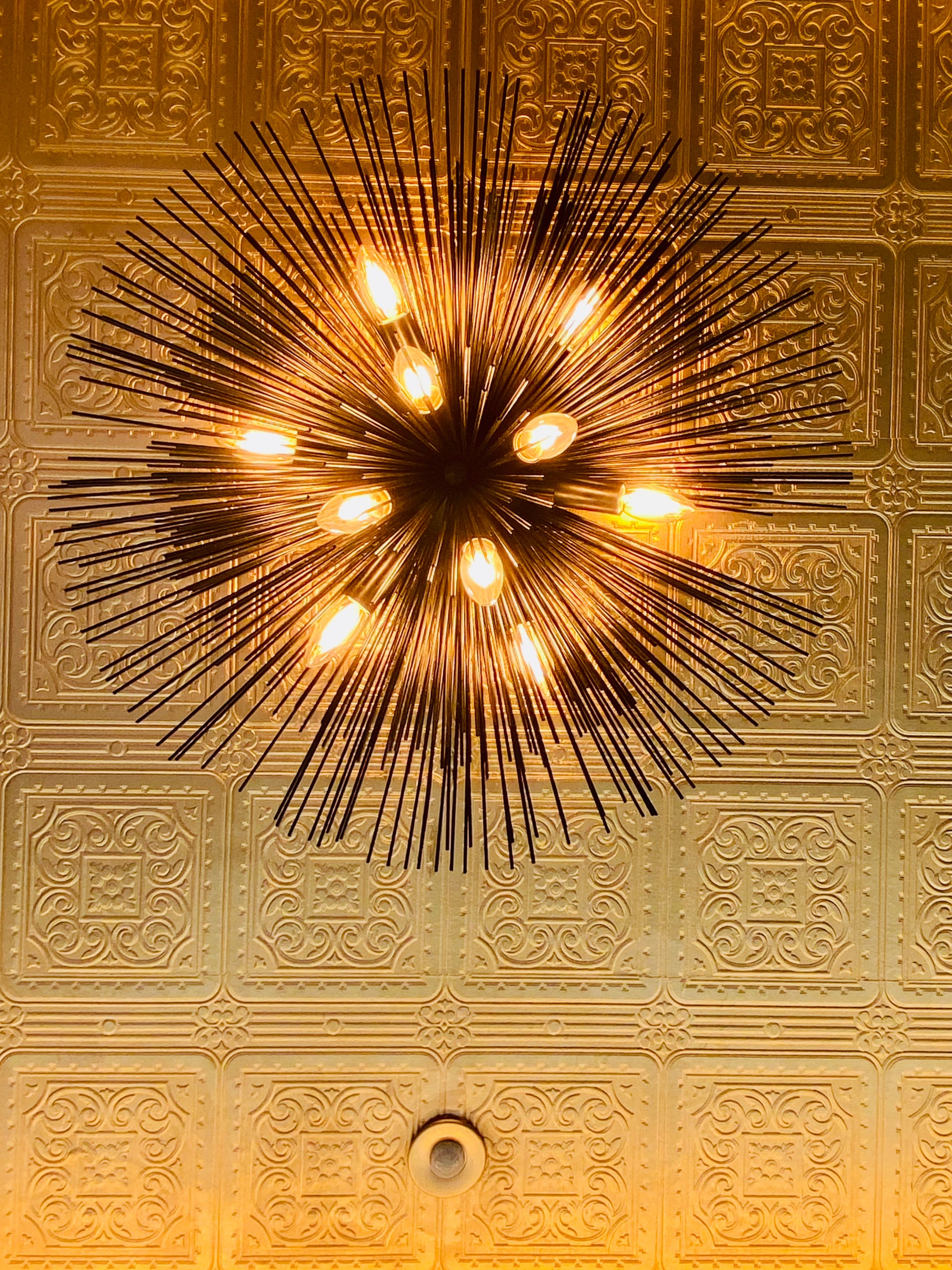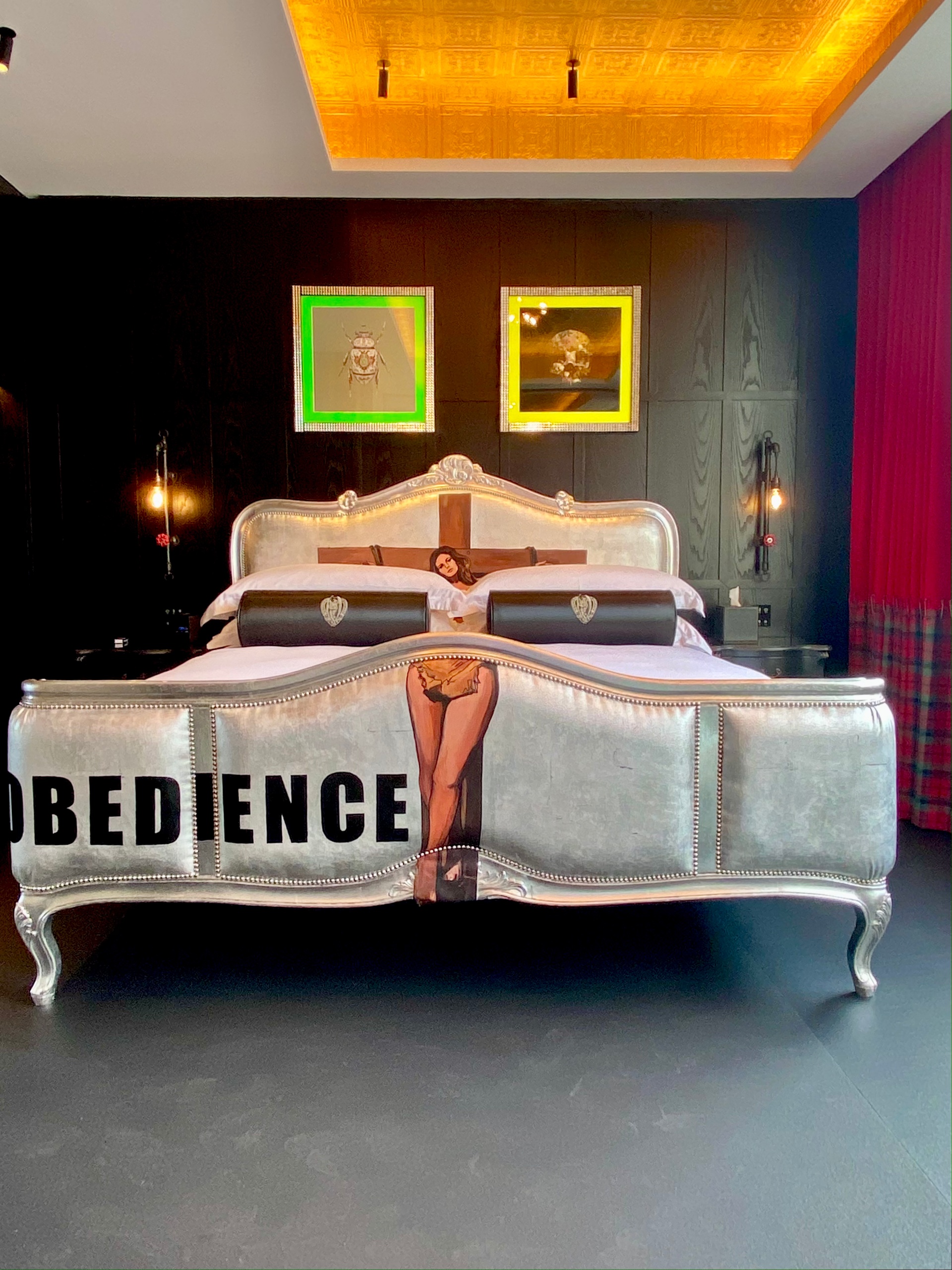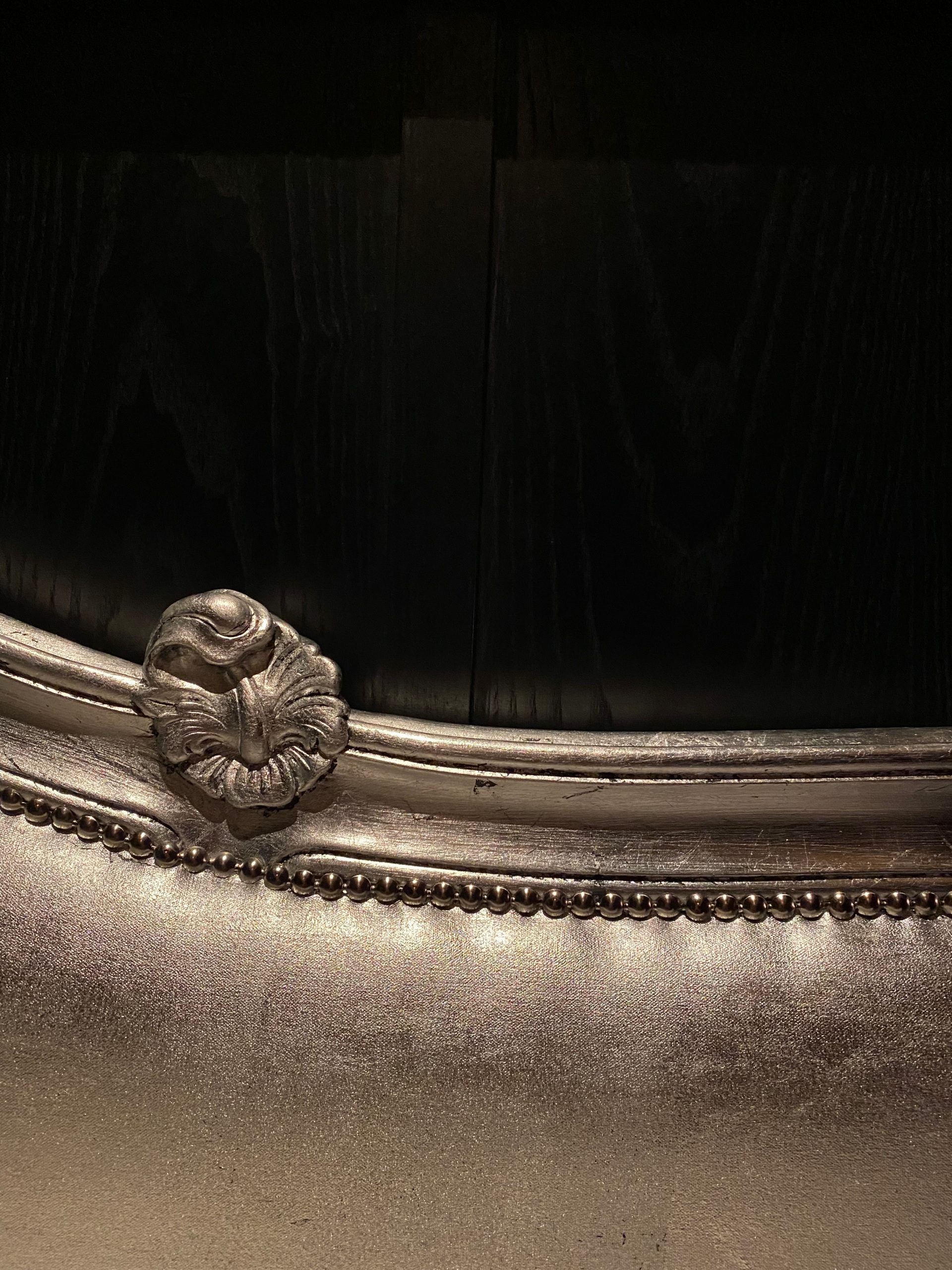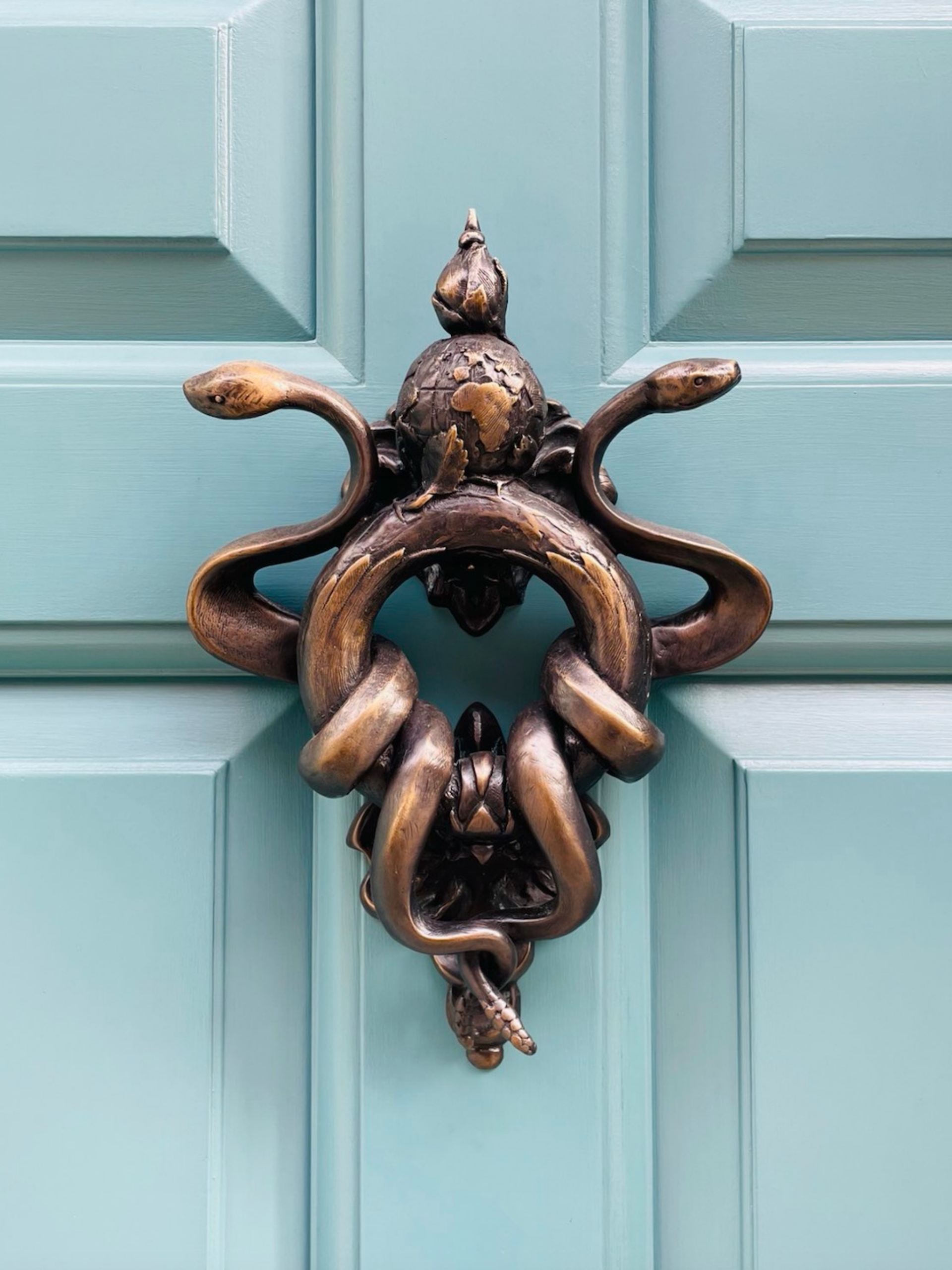 The Maxi-Bar
The star of the show is arguably the maxi-bar. The bottles are all full size, and there are over 30+ bottles of spirits and 30+ bottles of wine, including a cool draw brimful with Fizz, including vintage! Of course, your BTLR will happily shake up your cocktails day or night. Some of the rooms have the maxi-bar conveniently placed opposite the bathtub in the bar-bathroom and can handily double up as an ice bucket, when you throw a party — and "all-back-to-mine" is actively encouraged here at the Chateau.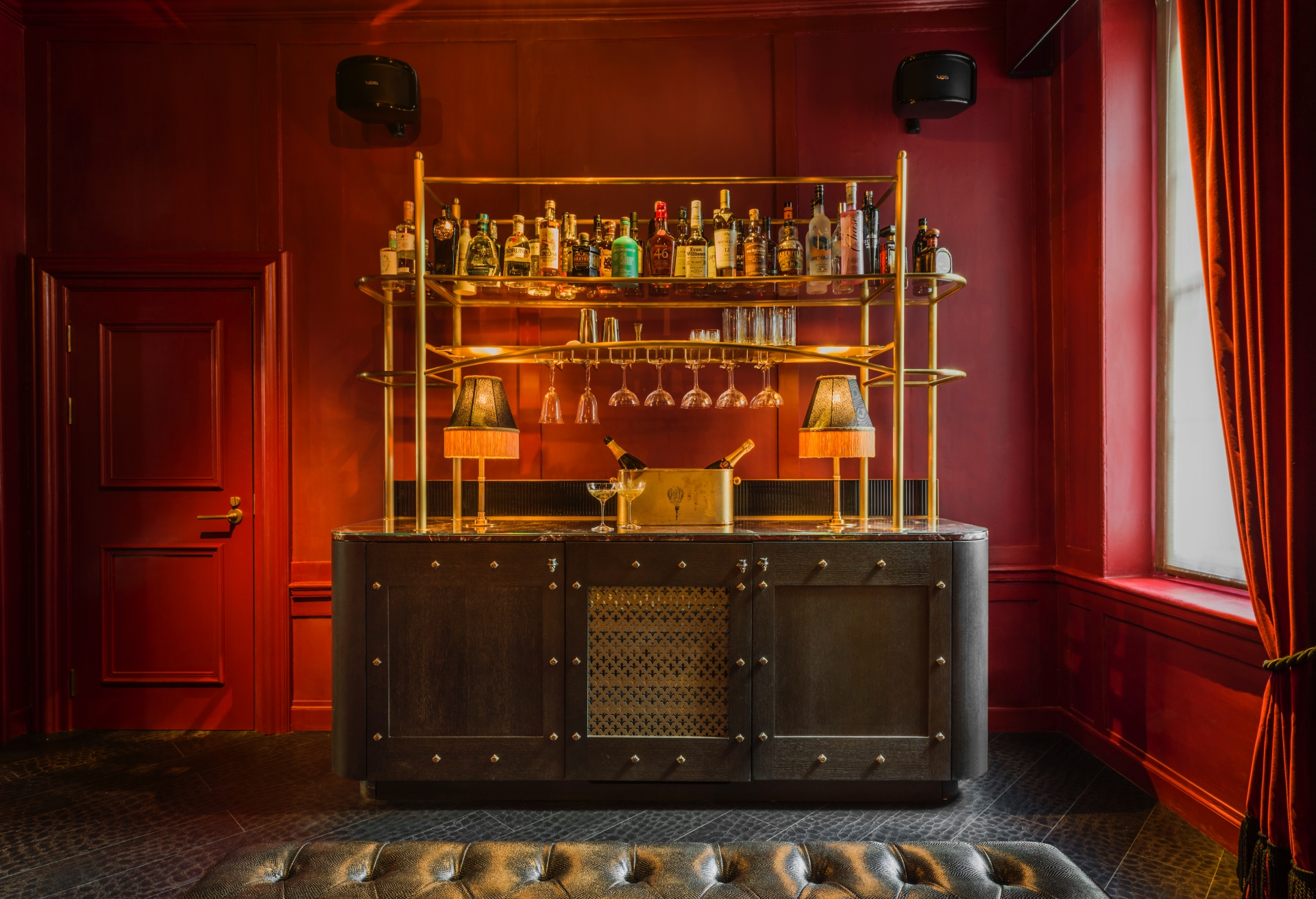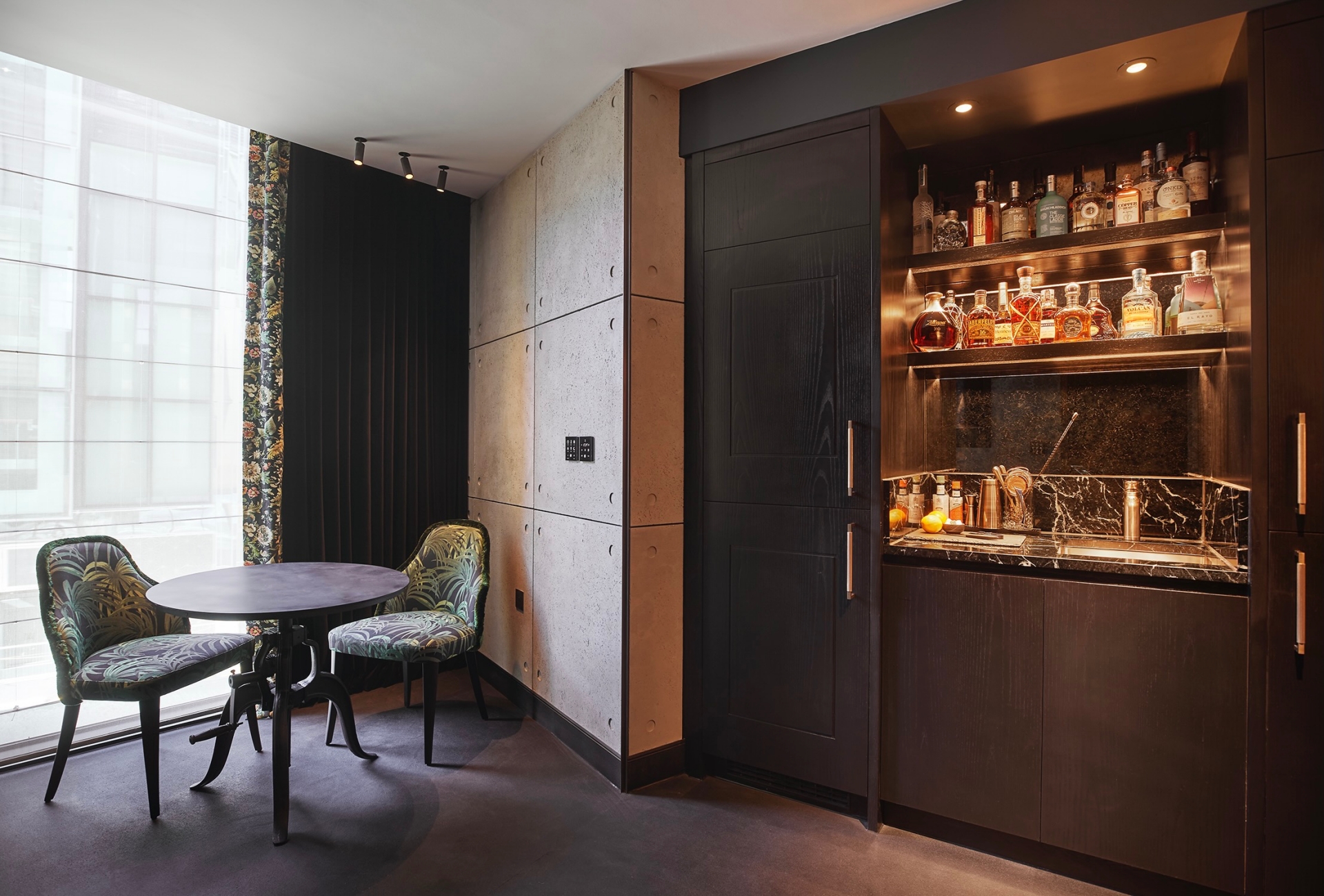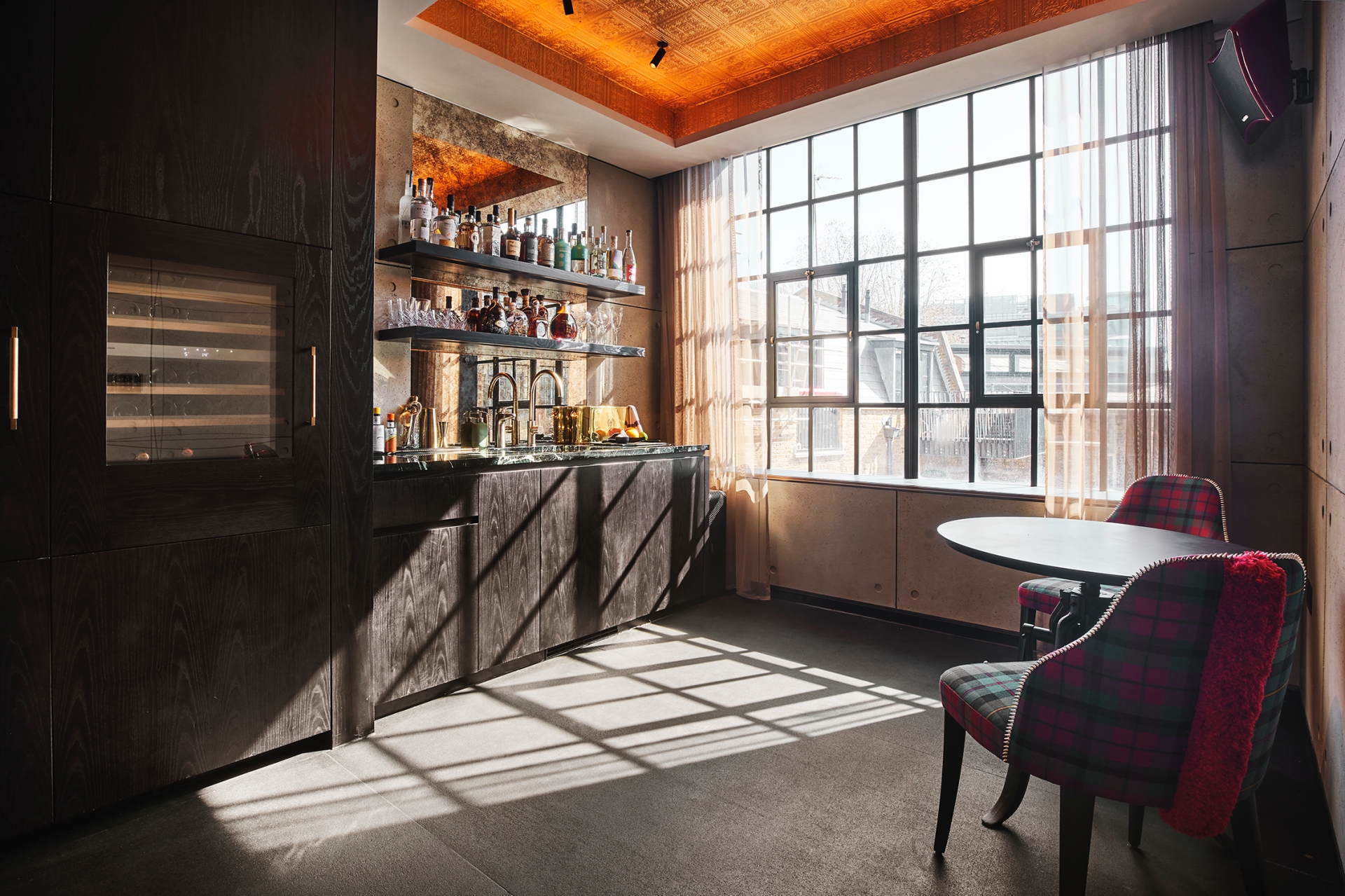 The Perks, other than a BTLR
The Blackcard is a wider district perk that affords unrivaled access, rare experiences and sneak peeks. Chateau guests get access to any gigs and events going on in the various on-site venues. Plus, a guest App acts as the room key, and room control, and keeps you posted on secret happenings. The concierge based in the reception will get you into all the places you can't.
The Eats
There is no hotel restaurant as yet but watch this space - a bar, basement club and gym will arrive soon. But there is no shortage of restaurants and bars in Soho. A second dining destination, Flitcroft Street, is set to open a bit late this summer. Tattu is the swanky new restaurant (already listed on the Condé Nast's Best London Restaurant Guide) crowns the Now Building, where cocktails come in glass skulls, blown-glass dragons with unexpected ingredients, and all the meals are accompanied with skyline views.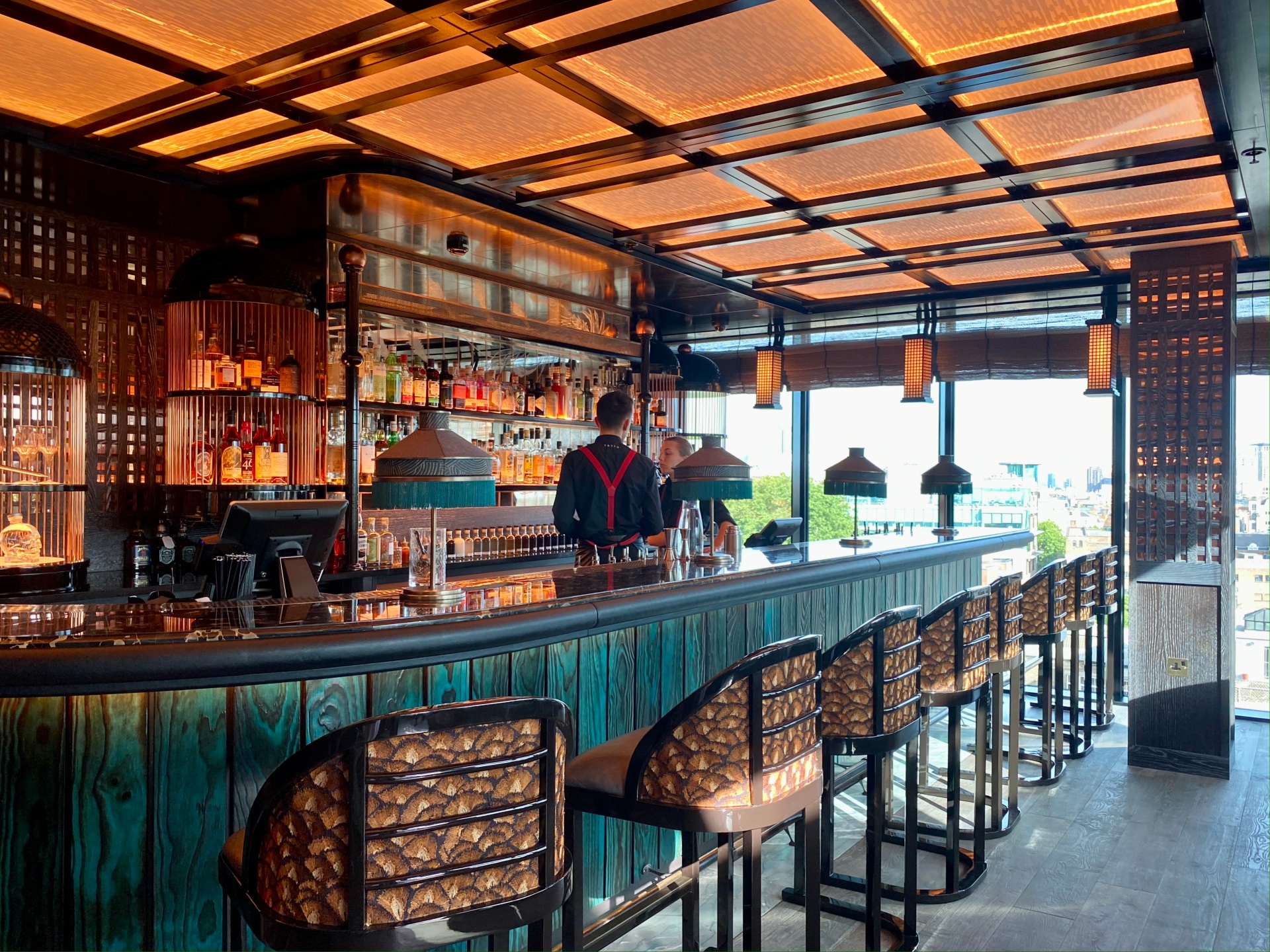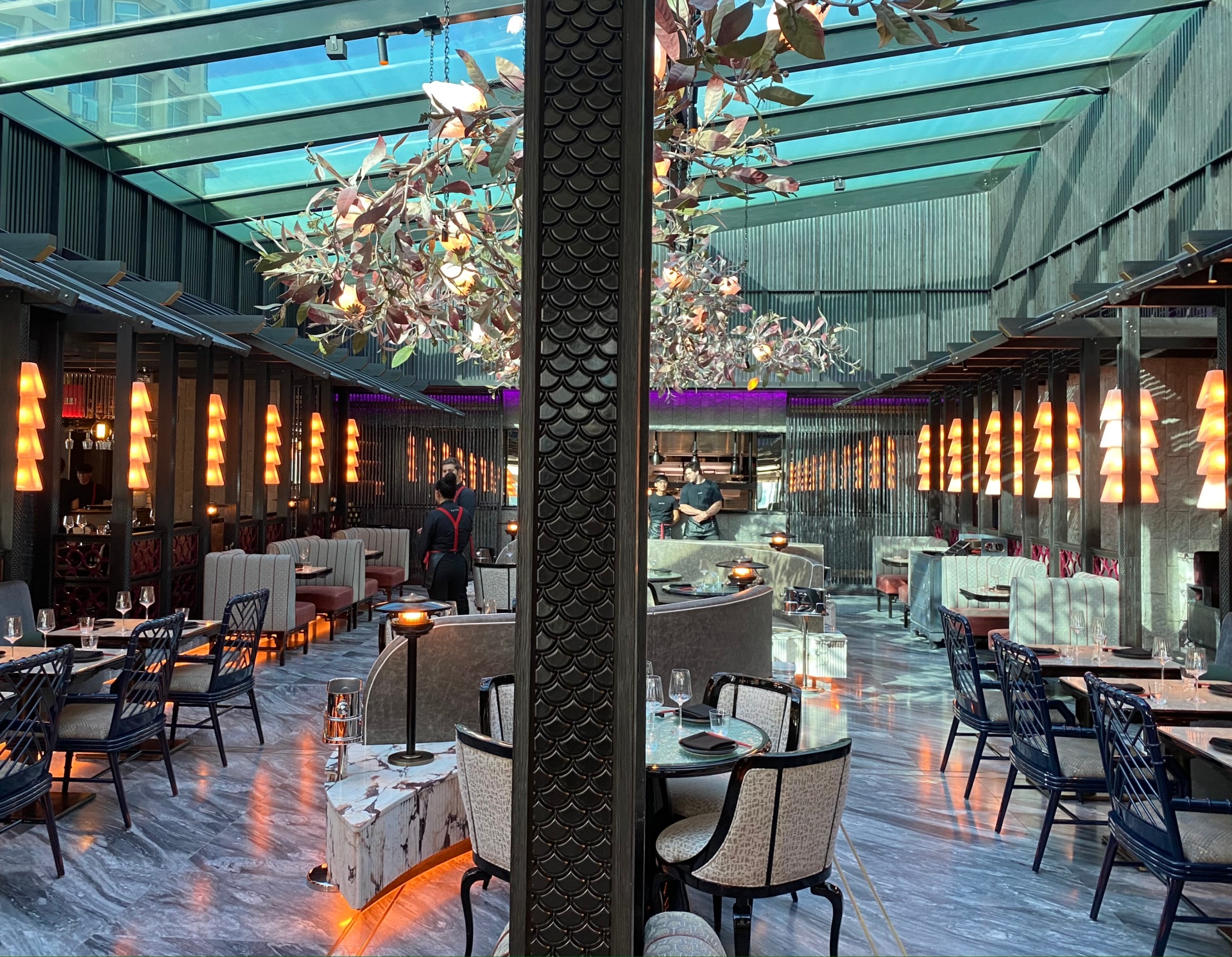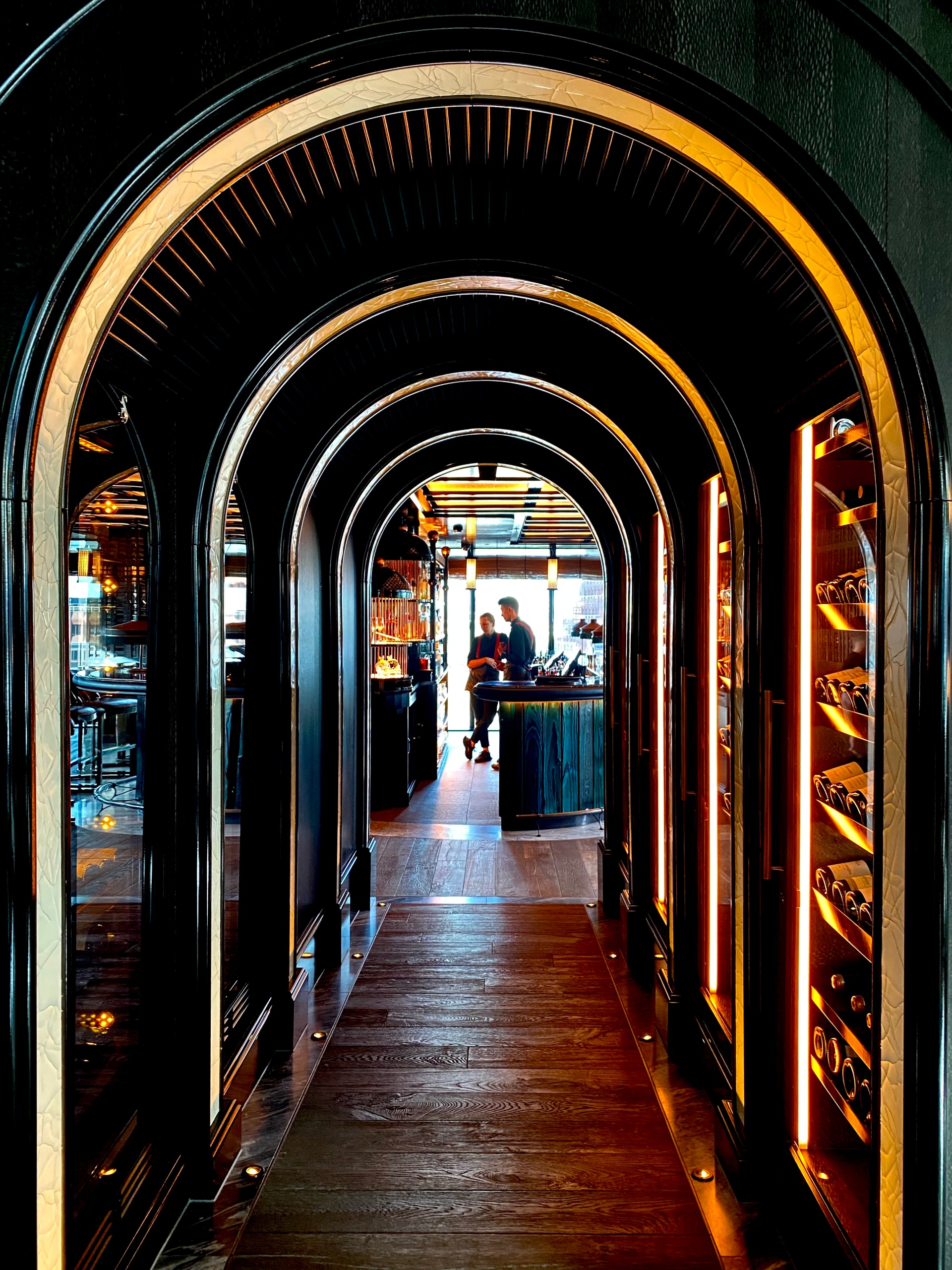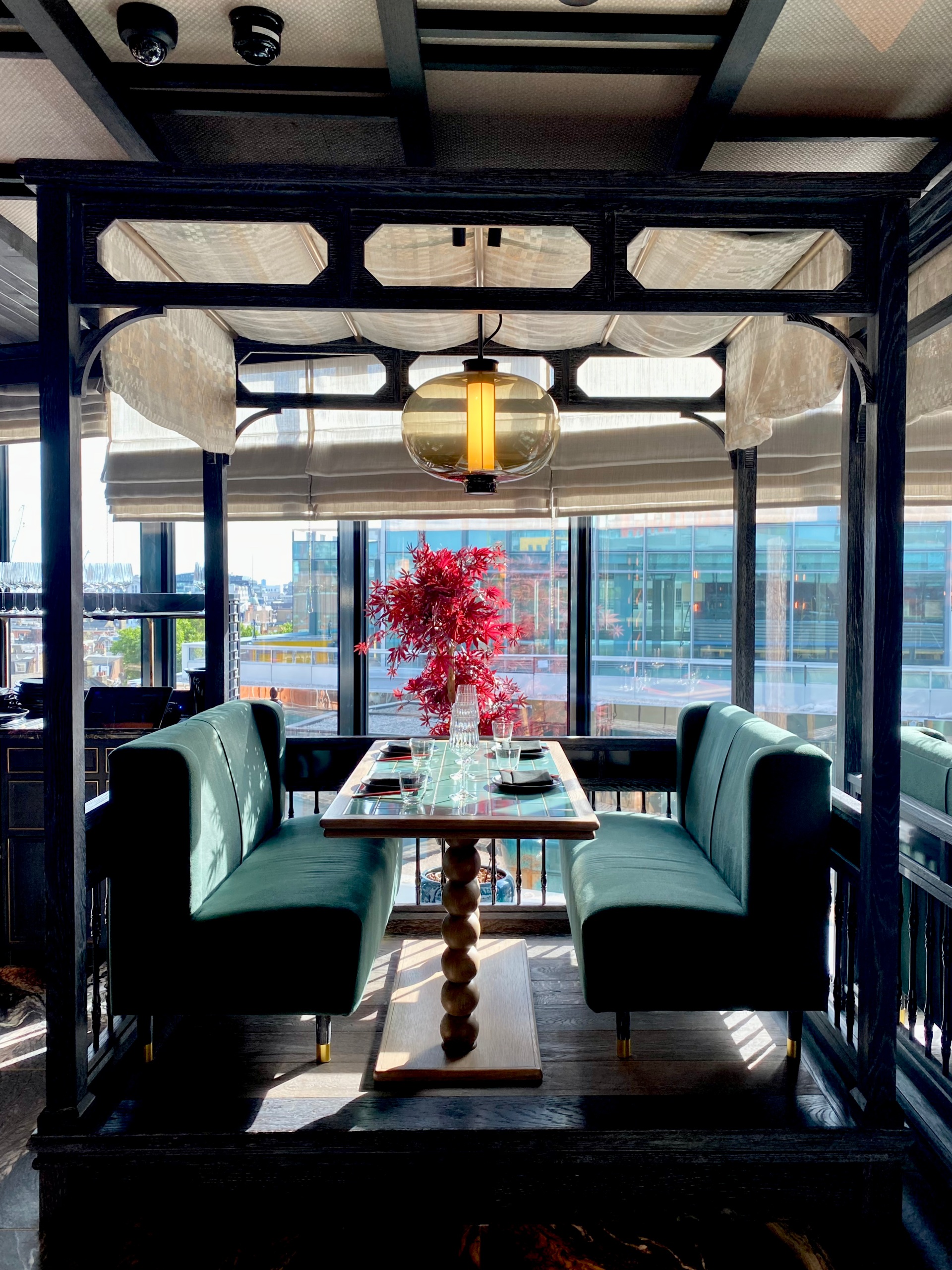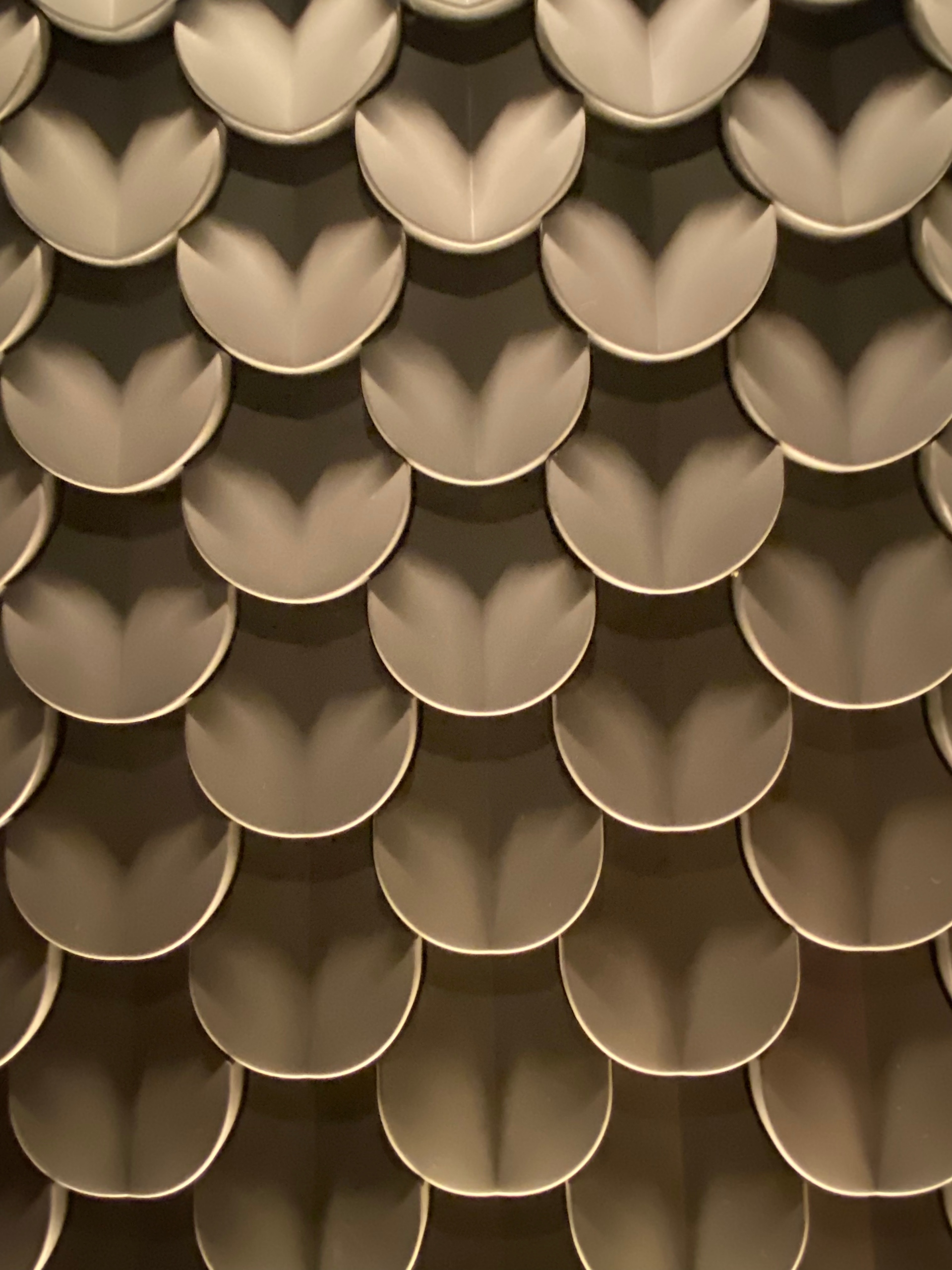 Which Room?
Any of them, all of them!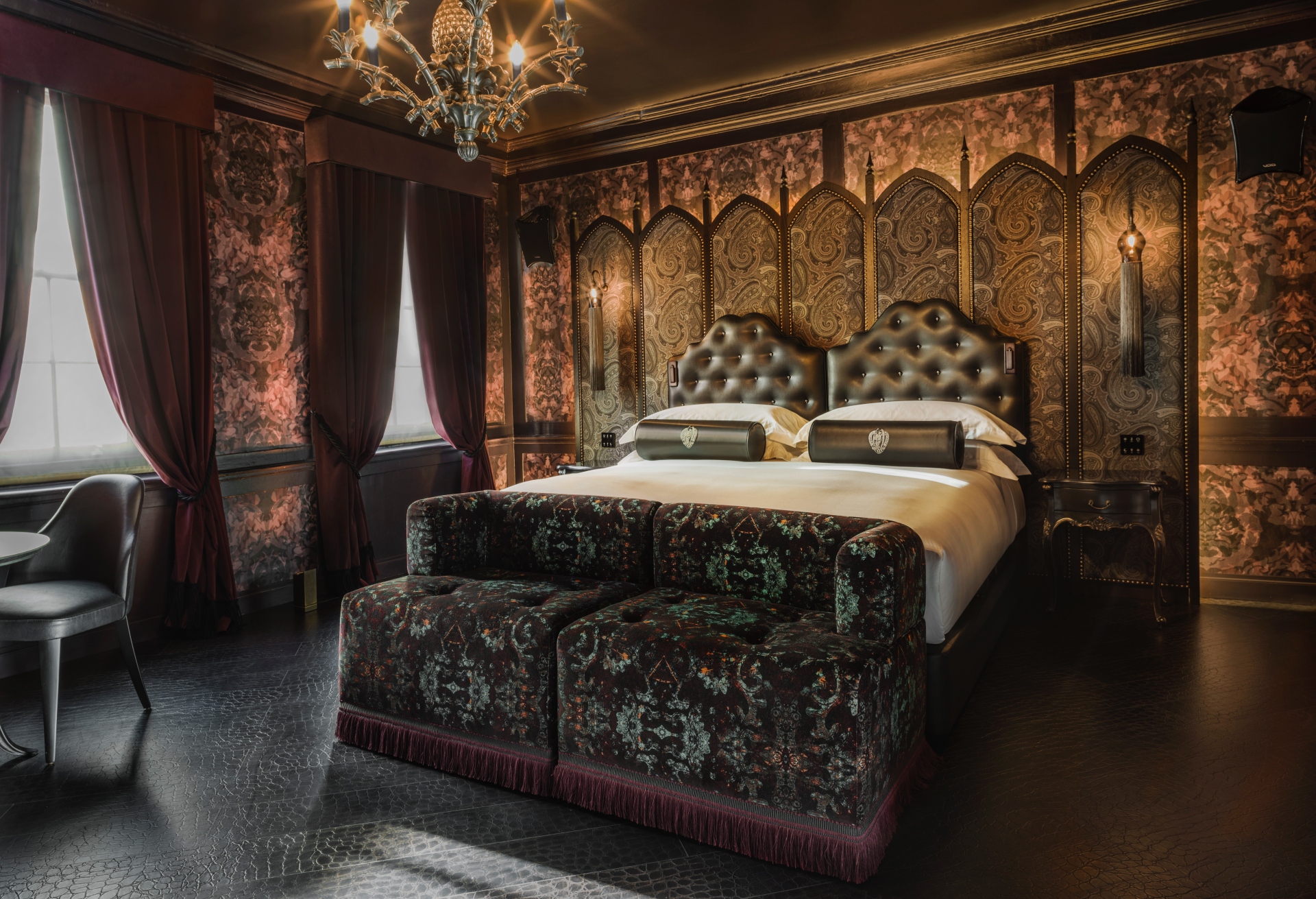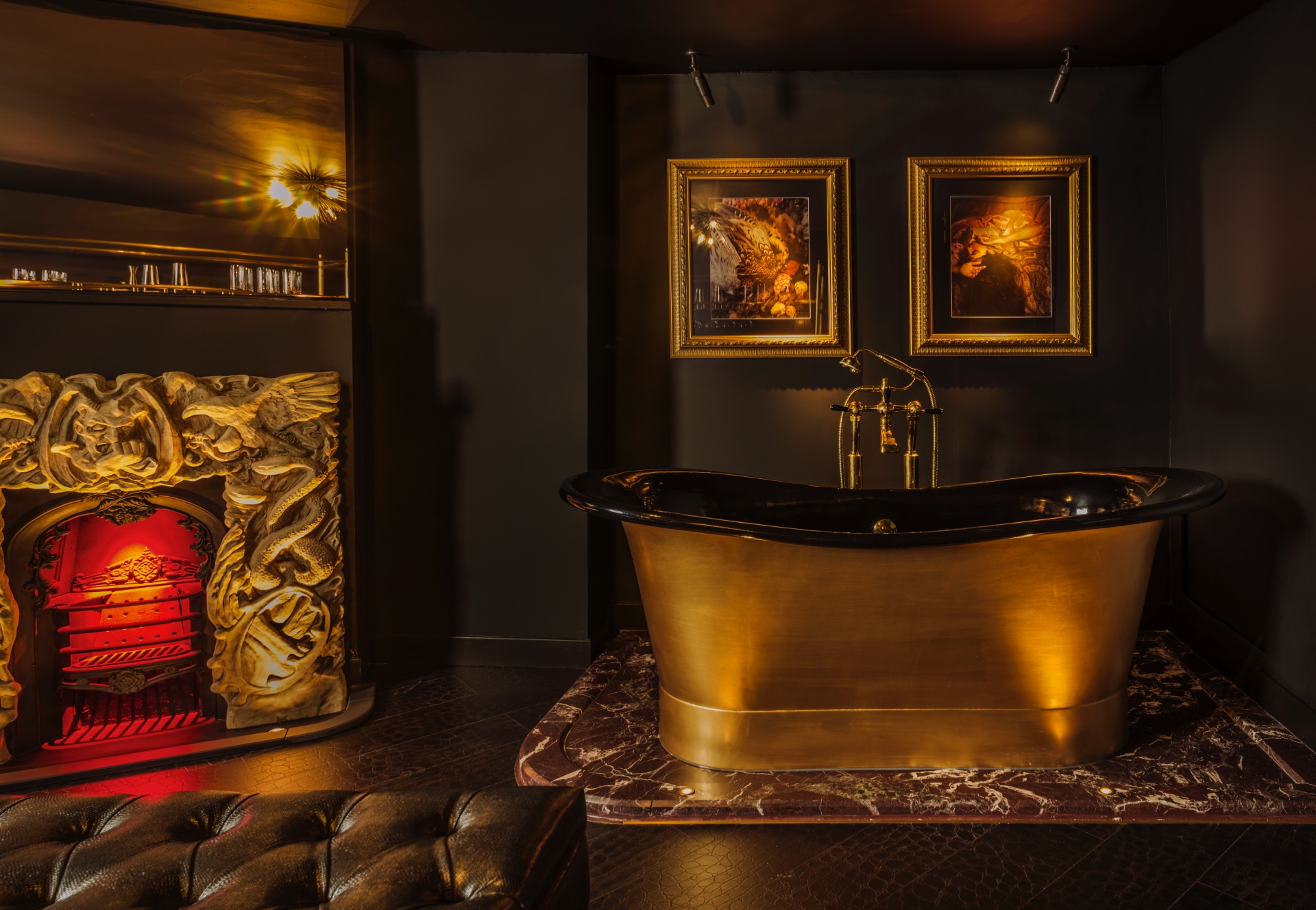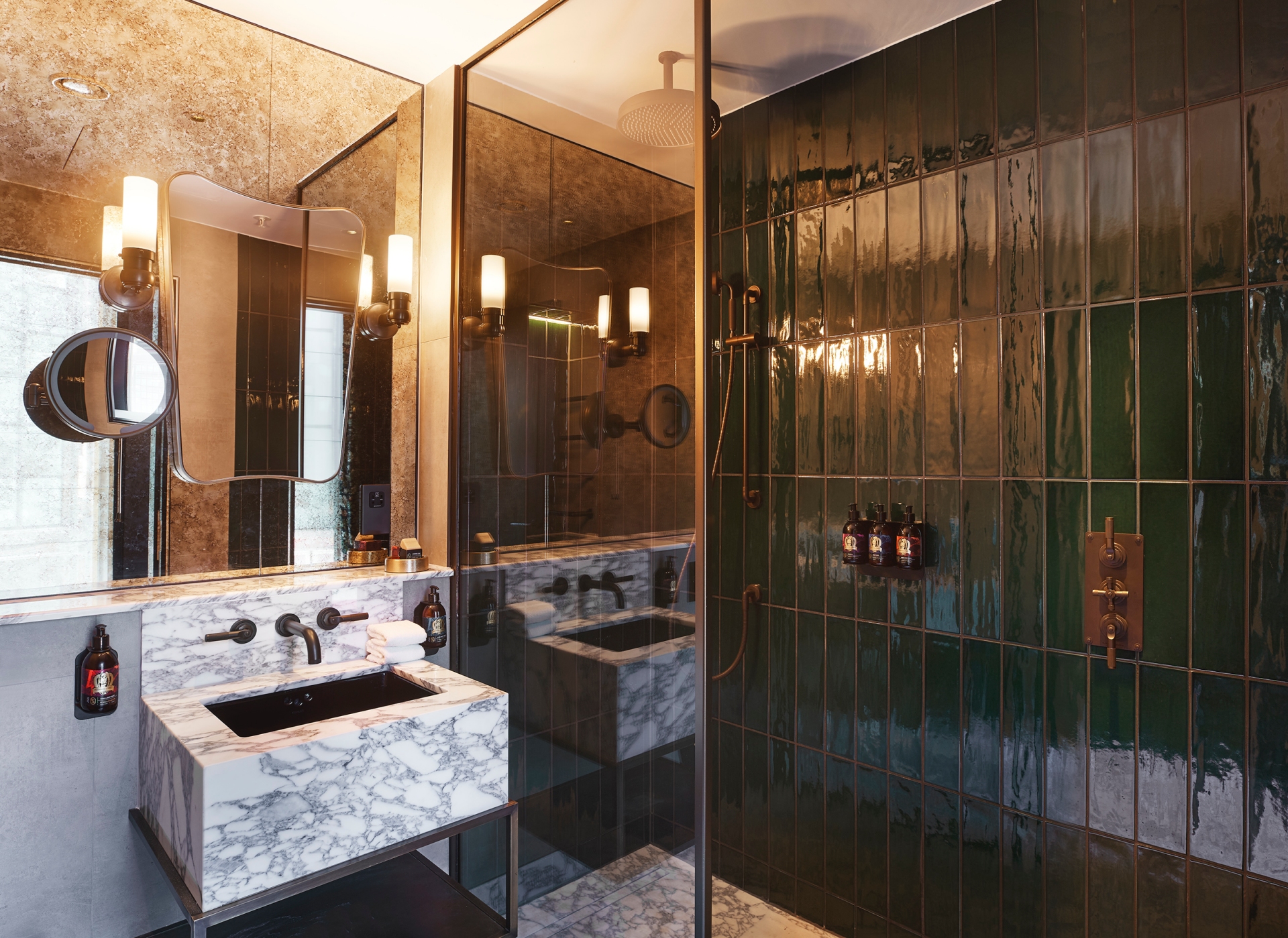 Why Go?
To live a rockstar lifestyle if only for a night or two. It's a fantastic place to stay, chill or throw the ultimate party. Chateau Denmark is bringing cultural legacy and first class hospitality, and as Wicks says, "Because you're after good times with bad company."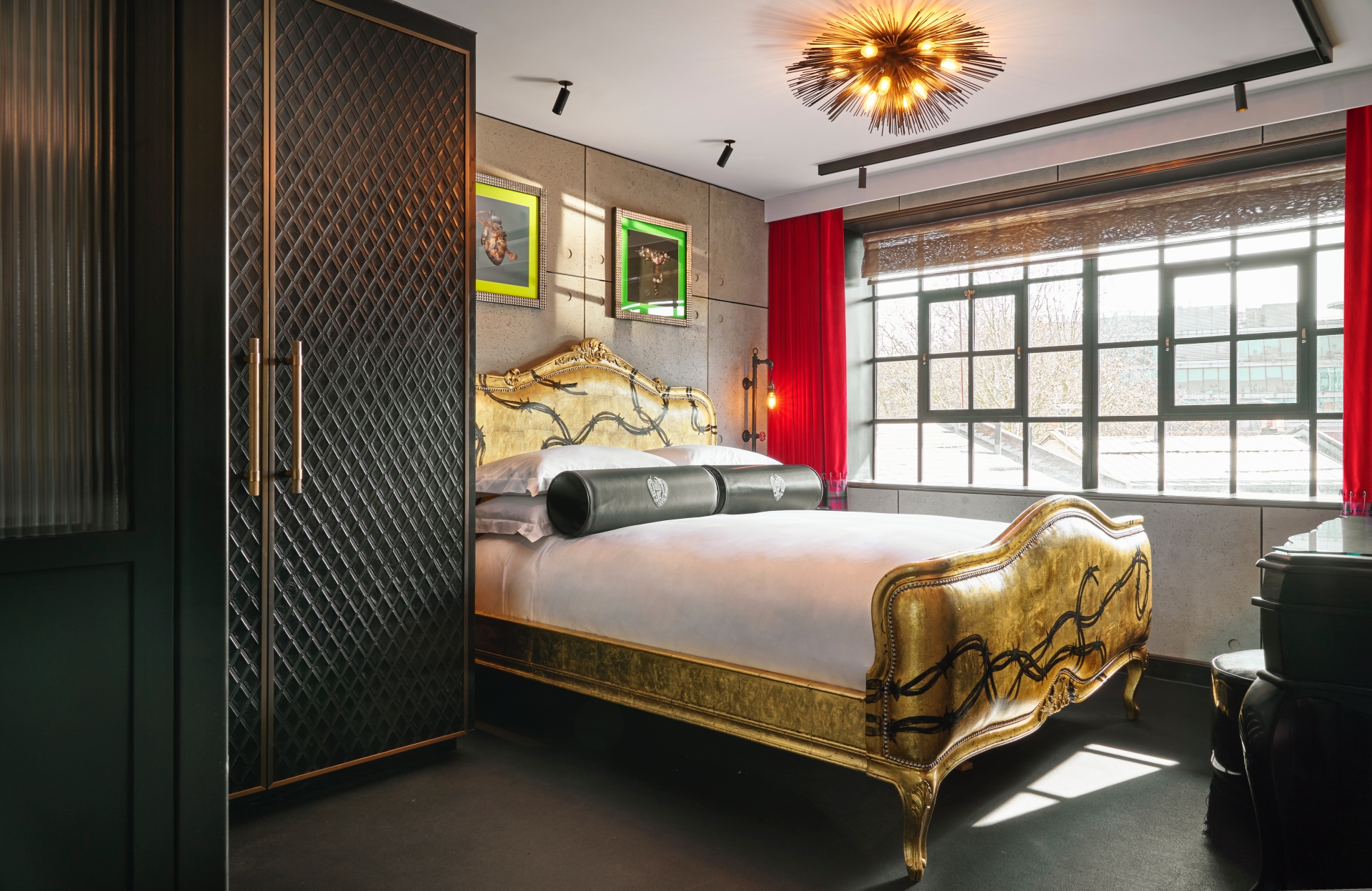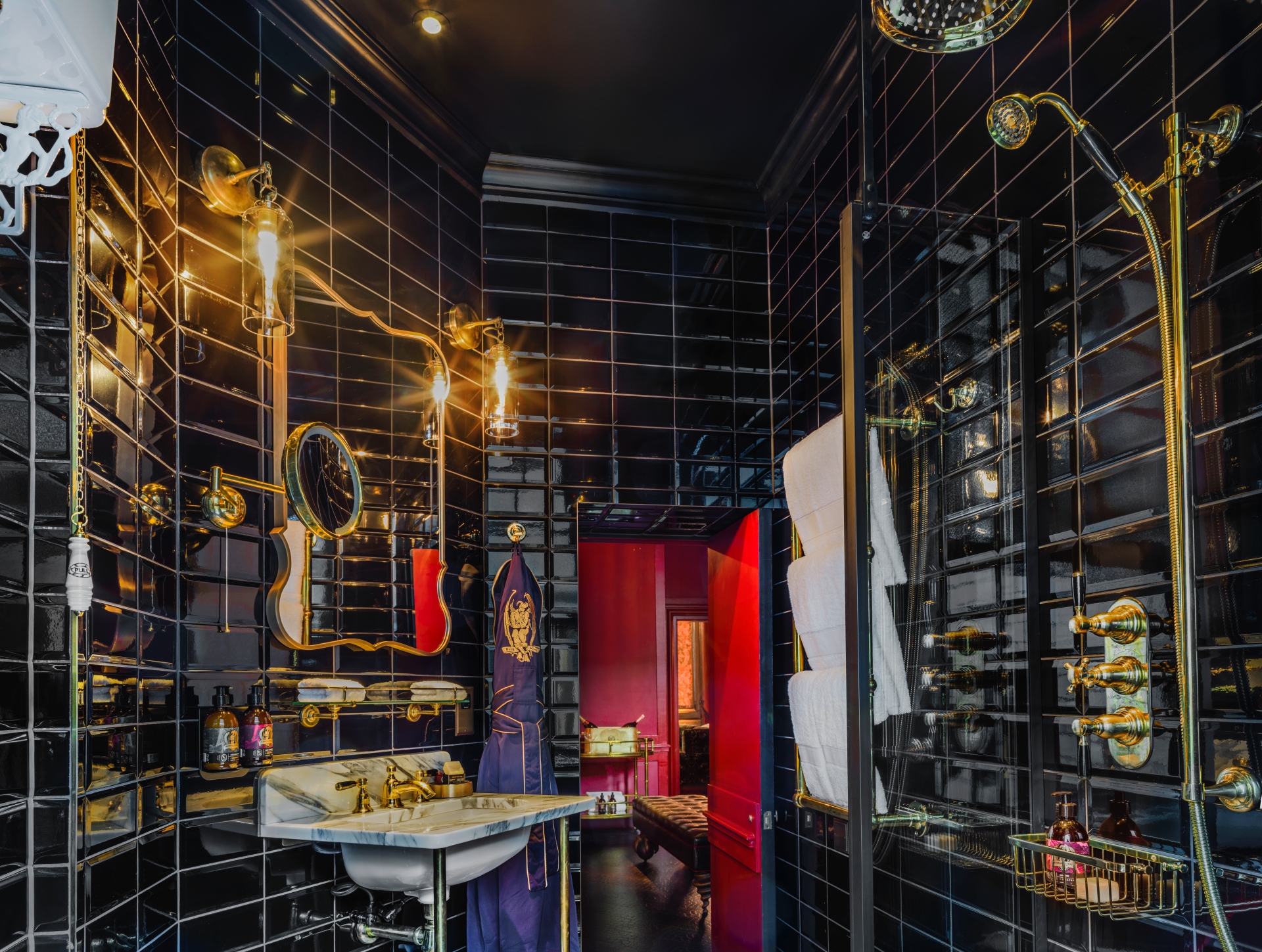 This stunning space is bringing a unique playfulness, and drama, while capturing the lost art of escapism, with a new modern experiential hospitality, and its fabulous! Live your best rock'n'roll life at Chateau Denmark!